Cherry White Chocolate Granola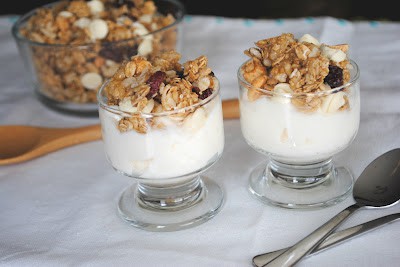 I had some leftover dried cherries from making this cherry fudge. What to do, what to do. I thought about making granola bars, like these and these, but ultimately decided I needed to eat more yogurt.
I have this breakfast eating problem. I don't usually eat breakfast, unless someone makes me breakfast…like pancakes, bacon, hashbrowns, french toast, etc. I KNOW how horrible this is, especially since halfway through my morning workout I'm starving, and tired.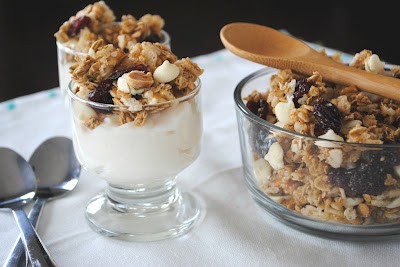 With this granola though? I could totally eat more yogurt for breakfast. Oh, and it's good on ice cream too. Which I wouldn't mind for breakfast either.
I make mine using store bought granola cereal, for a tasty little shortcut. I keep it stored in an airtight bowl, and it's ready for a quick breakfast, or just to grab a handful on my way to the gym. Enjoy!
Cherry White Chocolate Granola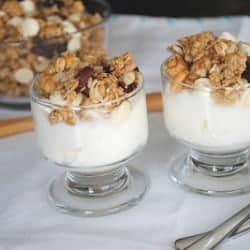 Ingredients
4 Tbsp butter
1/2 cup brown sugar
1/4 cup honey
2 1/2 cup granola cereal (I use Cascadian Farm Maple Nut Granola)
1 1/2 cup Rice Krispies cereal
1/2 cup lightly salted peanuts
1/2 cup white chocolate morsels
1/2 cup dried cherries
Instructions
In large saucepan, heat butter, sugar and honey over medium heat. Bring to a boil, reduce heat to low and cook about 2-3 more minutes.
Remove from heat. Fold in cereals and peanuts. Quickly add in chocolate and cherries. Pour onto a large baking sheet lined with parchment paper and allow to harden, about 30 minutes.
Break up large chunks and store in air tight container for up to one week. Enjoy by itself, or on yogurt, icecream, etc.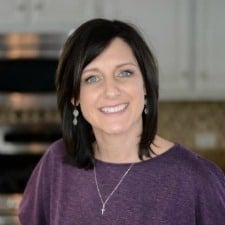 Aimee is a dessert lover (specifically rice krispie treats), workout enthusiast, self-taught foodie, and recipe creator. Her recipes have been featured in over 15 magazines, and her passion is to share her love of cooking with the everyday home cook! Learn more about Aimee.