Chicken Florentine Puffs with Red Pepper Cream
This was one of those dinners that just sort of happened. And I'm so glad it did! It was delicious! And the red pepper cream sauce? Totally an afterthought. Literally, while the puffs were in the oven baking!
I had actually meant to put the roasted red peppers INSIDE the puffs, and when I started cleaning the counters, there was my jar of drained roasted red peppers. I knew they had to be a part of this dish, I love red peppers! So I whipped up this sauce, which is a lovely complement to the spinach and chicken!
I hope you enjoy this is much as I did. It makes 8 LARGE puffs, which was too much for my family. So I just wrapped up the leftovers in foil, then in a ziploc freezer bag. Let's hope when I go to reheat this at a later date they are just as delicious. I don't see why not though, I freeze my quiche after baking it, they are made of puff pastry, and they turn out just as perfect after being frozen!
Yield: 8
Chicken Florentine Puffs with Red Pepper Cream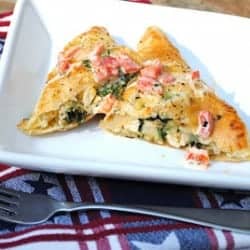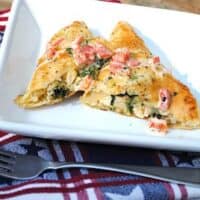 Ingredients
1 pkg puff pastry sheets (2 sheets), thawed
1 lb boneless chicken tenders, cooked and diced
10 oz frozen chopped spinach, thaw and drain
4 oz cream cheese, softened
1 cup shredded cheddar cheese
1 tsp kosher salt (plus a pinch)
1 tsp lemon juice
4 turns of fresh ground pepper
1 egg
1 Tbsp water
1 tsp Italian seasoning
1/2 cup heavy cream
6 oz jar roasted red peppers, diced
1/4 cup basil, finely snipped
1/4 cup parmesan cheese, grated
1/2 tsp salt
1/4 tsp pepper
Instructions
Lay both pastry sheets out and cut each one into 4 squares. I don't like to roll puff pastry, so pick up each square and stretch it gently to nearly twice it's size. Repeat for each square, then lay back on counter.

In large bowl, mix cooked chicken with spinach (be sure all the juice is squeezed out), cream cheese, cheddar cheese, 1 tsp kosher salt, lemon juice and fresh ground pepper. Mix with hands to make sure cream cheese is thoroughly combined.

Fill half of each square with the chicken filling. Then fold each square into a triangle, bringing the ends together. Use a fork to crimp the edges. Beat the one egg with water. Brush over each triangle. Sprinkle a pinch of salt over each one, and a pinch of Italian seasoning. Cut three small slits in the top of each triangle for venting.

Using two large sheet pans, cover with parchment paper, place 4 puffs on each pan. Bake in a 400 degree oven for 15-18 minutes, until browned on top.

While chicken is cooking, heat heavy cream in small saucepan. Add diced roasted red peppers, basil, parmesan, salt and pepper. Cook until heated through.

To serve, drizzle red pepper cream over each florentine puff. Enjoy!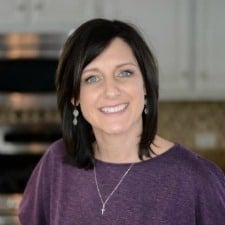 Aimee is a dessert lover (specifically rice krispie treats), workout enthusiast, self-taught foodie, and recipe creator. Her recipes have been featured in numerous magazines, and her passion is to share her love of cooking with the everyday home cook!