Chicken Parmesan (healthified!!)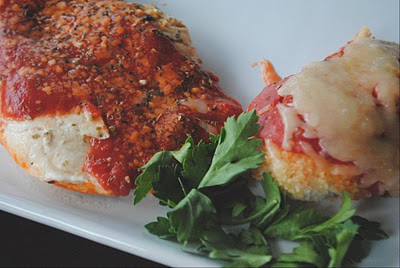 See that piece of chicken on the left? It's not covered in cheese? Yeah, it was mine, and it was surprisingly delicious. Let me tell you a little bit about it.
First, I've been trying to cut out some of my carbs since the first of the year. Last year, as my first year of food blogging, I gained ten pounds. YIKES. I had very little self control when it came to sampling my wares.
But I've learned (the hard way), that I need to bake in moderation. And sample in moderation. And I thought you all might enjoy this healthy dinner recipe. And if not, then make that piece of chicken on the right, with the panko crumbs and mozzarella cheese. Don't say I didn't give you a choice though!
Plus, TRUST ME, the chicken on the left is flavorful, and juicy, and perfect without all the extra calories.
Woah. Who am I?
Ingredients
1 Tbsp olive oil
1 lb. boneless, skinless, chicken breasts
2 egg whites, beaten
1 tsp kosher salt
1/4 tsp ground pepper
15 oz can no salt tomato sauce
1/4 cup parmesan cheese, grated
1 tsp Italian seasoning
Instructions
Pound chicken breasts to about 1/4inch thick, by place in ziploc bag and banging with large skillet.
In large oven safe skillet, heat olive oil over medium high heat. Dip each chicken breast in egg whites and place in hot skillet. Sprinkle with salt and pepper. Cook about 3-4 minutes each side, until browned. Remove pan from heat.
Pour tomato sauce over the breasts. Sprinkle with parmesan cheese and Italian seasoning.
Bake in a 375 degree preheated oven for about 20-25 minutes, until fully cooked. Remove from oven and enjoy!
**If you enjoyed this healthy recipe, you may also enjoy…
Turkey Taco Salad by A Southern Fairytale
Low Cal Three Cheese Chicken Penne by Tidy Mom
Spinach and Sun Dried Tomato Stuffed Chicken by Shugary Sweets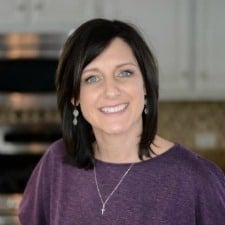 Aimee is a dessert lover (specifically rice krispie treats), workout enthusiast, self-taught foodie, and recipe creator. Her recipes have been featured in over 15 magazines, and her passion is to share her love of cooking with the everyday home cook! Learn more about Aimee.