Chocolate Cookie Dough Fudge combines two of life's best things: cookie dough and fudge! This velvety fudge is irresistible and so easy to make. No candy thermometer required!
Craving a different flavor? This Butterscotch Fudge recipe is always a hit. Or give our classic Peanut Butter Fudge a taste!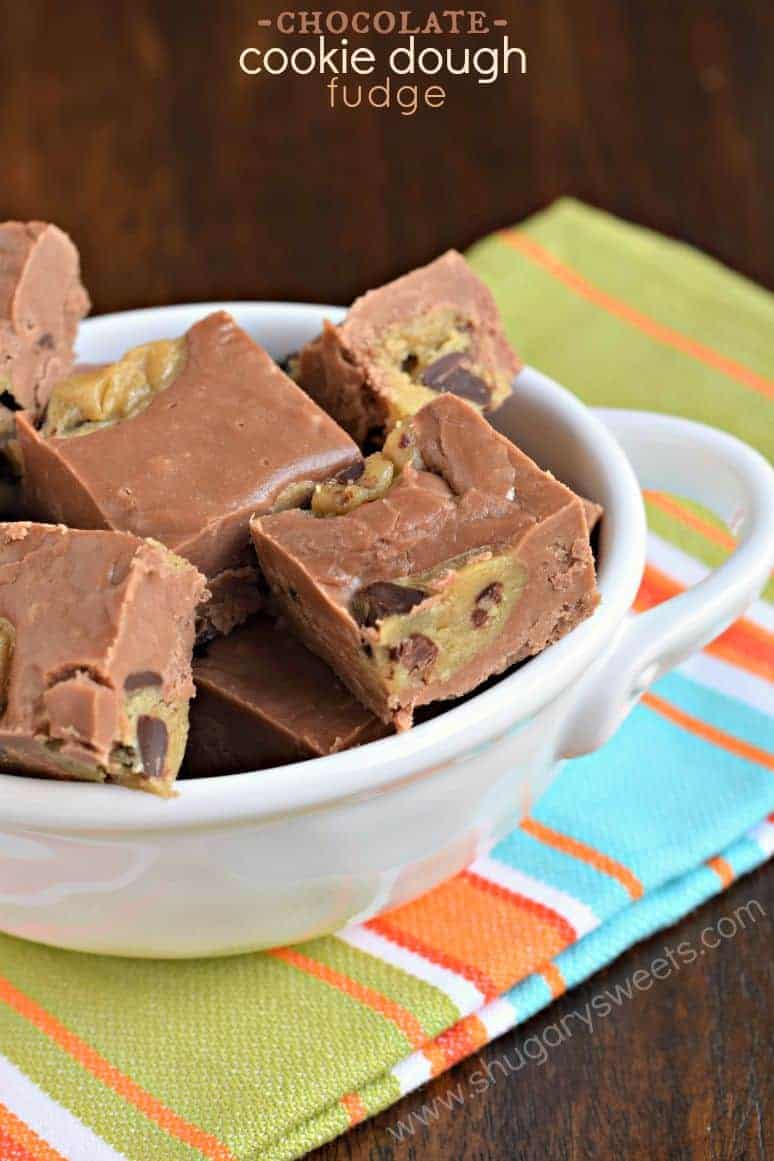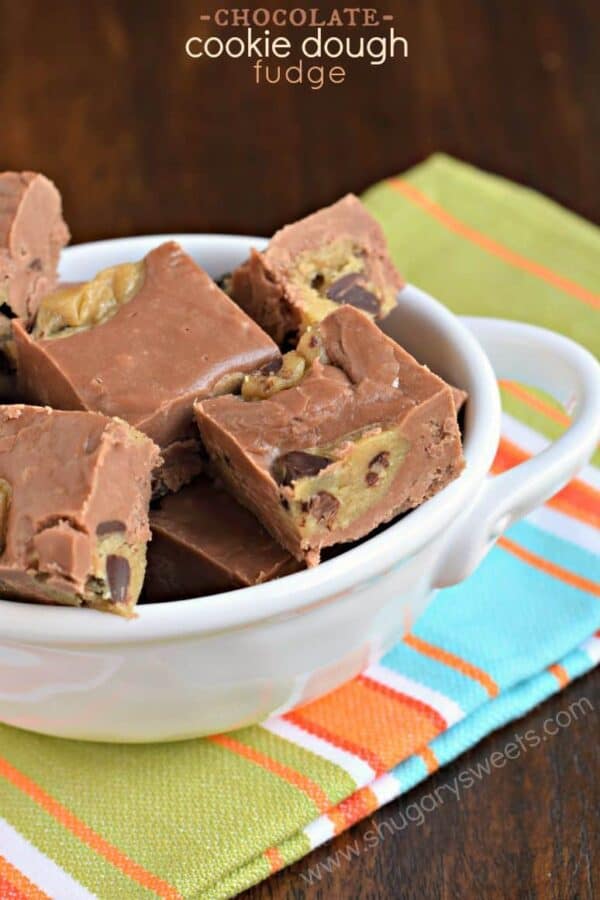 Why Add Cookie Dough to Fudge
The concept of this fudge recipe is simple. A layer of Chocolate Fudge is sandwiched between chunks of frozen chocolate chip cookie dough.
Adding cookie dough to fudge is an easy way to make it a little bit extra special. Who doesn't love sneaking bites of cookie dough from the mixing bowl when they're making chocolate chip cookies?
Like all of our fudge recipes, this chocolate cookie dough fudge is made without a candy thermometer!
The fudge takes just a few minutes to prepare, then you let it set up in the fridge for a few hours.
These little squares of decadent fudge make a perfect treat or homemade gift for any occasion. You'll be welcome anywhere if you show up with a plate of fudge to share!
Ingredient Notes
Frozen Chocolate Chip Cookie Dough – It's important to use a cookie dough that does not contain eggs! Most grocery stores carry a few egg free brands. You can also use the dough recipe from these cookie dough truffles.
Marshmallow cream- This spreadable marshmallow mixture is our secret for perfect fudge texture without needing a candy thermometer. It's also known as "marshmallow fluff".
Chocolate chips – We used milk chocolate morsels for this fudge. If you love dark chocolate, feel free to make this fudge with semi-sweet chocolate chips instead.
Butter – We recommend unsalted butter for fudge if possible.
Milk – You can use any milk here. Skim, whole, and 2% all work just fine in this recipe.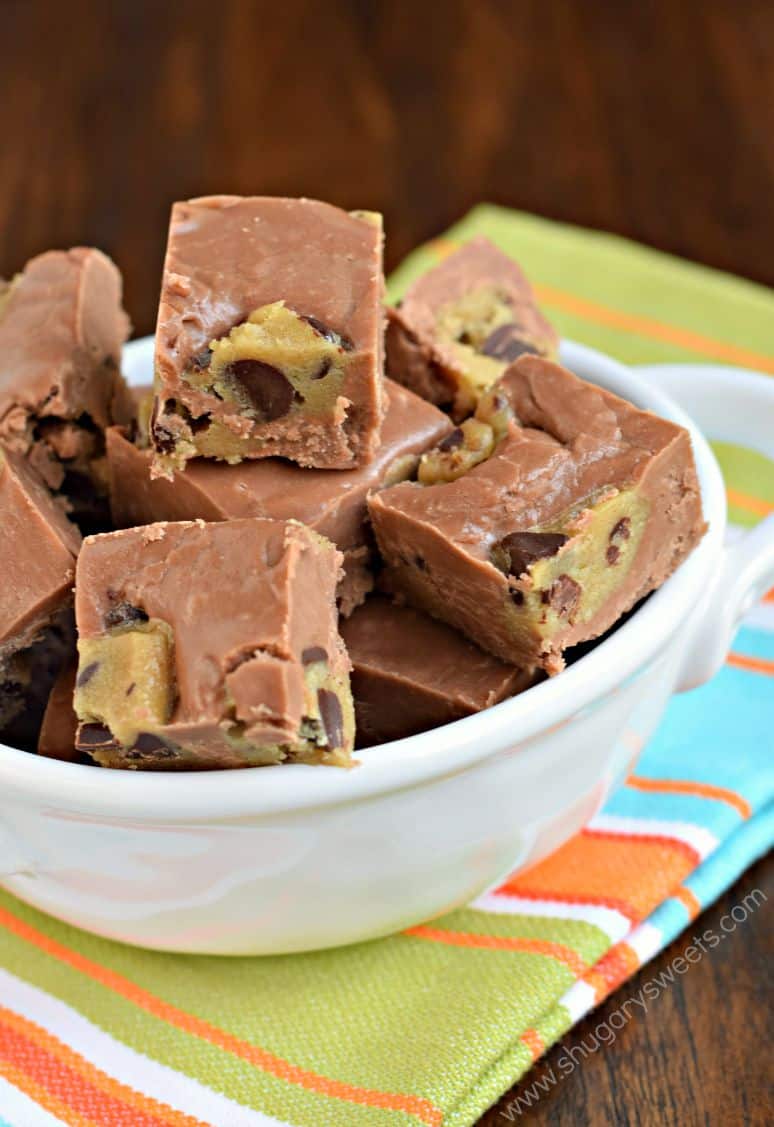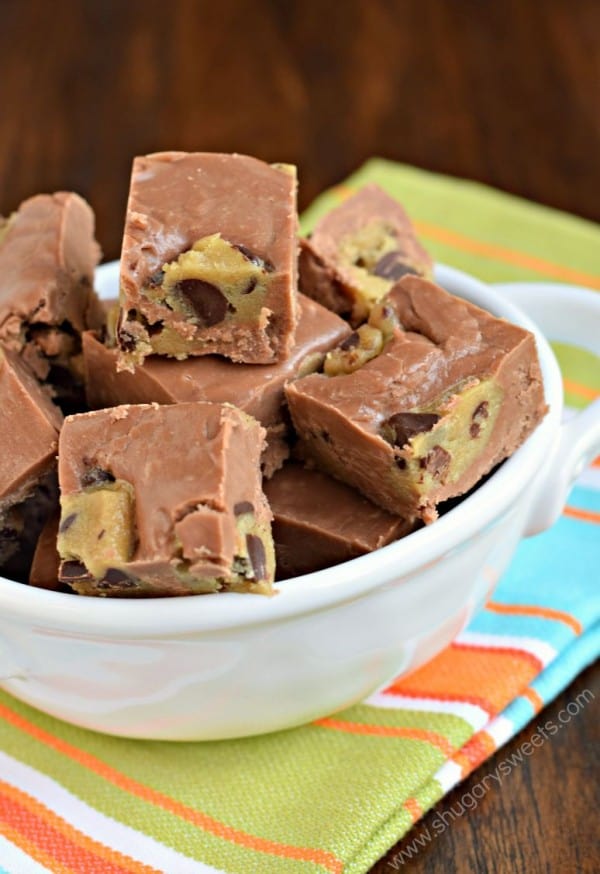 Tips and Tricks
Use a stand mixer: An electric mixer makes life easier when you're making fudge! You'll pour the hot butter and milk mixture right over the marshmallow cream and chocolate chips, then let the mixer do its thing.
Freeze the cookie dough first: As the fudge sets the cookie dough will thaw to the perfect consistency and temperature.
Food safety: If you're making your own cookie dough, you will need to heat treat (bake) the flour you use first. See our guide for how to heat treat flour.
Flavor variations: Once you know how to make cookie dough fudge, you can swap out the chocolate for any flavor you like. Chocolate Peanut Butter Fudge would be delicious!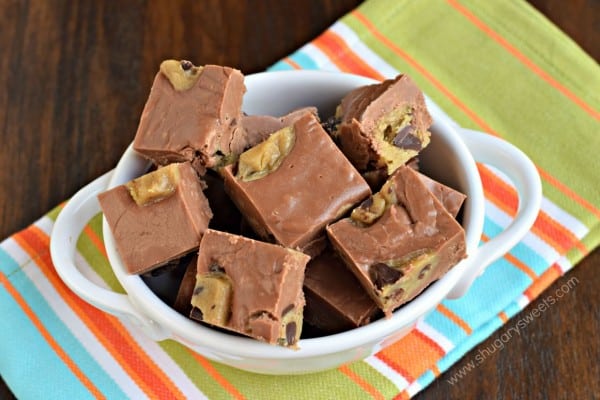 Recipe FAQs
I don't have a stand mixer. Can I still make this fudge?
YES! You can mix by hand or use handheld beaters instead! The key is to mix quickly and vigorously so the warmth of the butter mixture melts the chocolate chips.
How do I store this fudge?
Keep your chocolate cookie dough fudge fresh by storing it in an airtight container. You don't need to keep it in the fridge once it's set, unless you like eating it cold!
Can I use marshmallows instead of marshmallow cream?
I haven't tested this recipe with marshmallows in place of the marshmallow cream.
It might work but the texture will be different because marshmallows contain cornstarch and gelatin, two ingredients not found in marshmallow creme.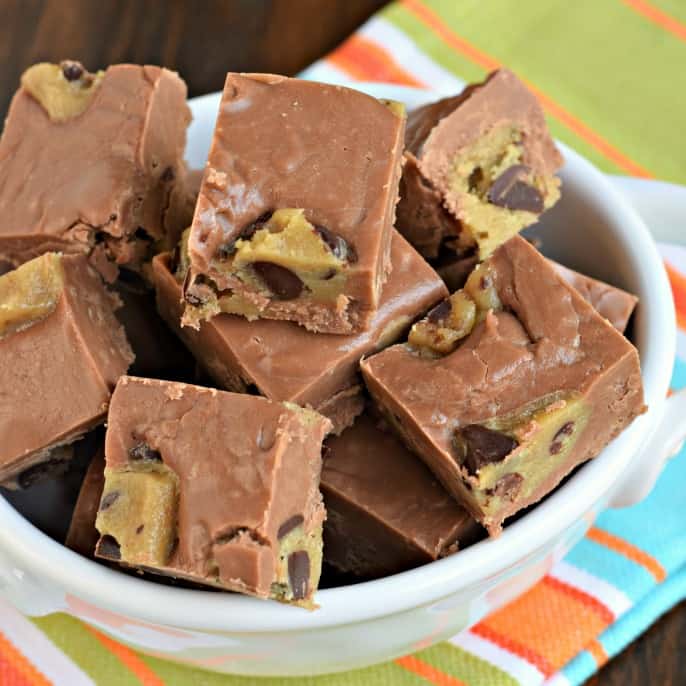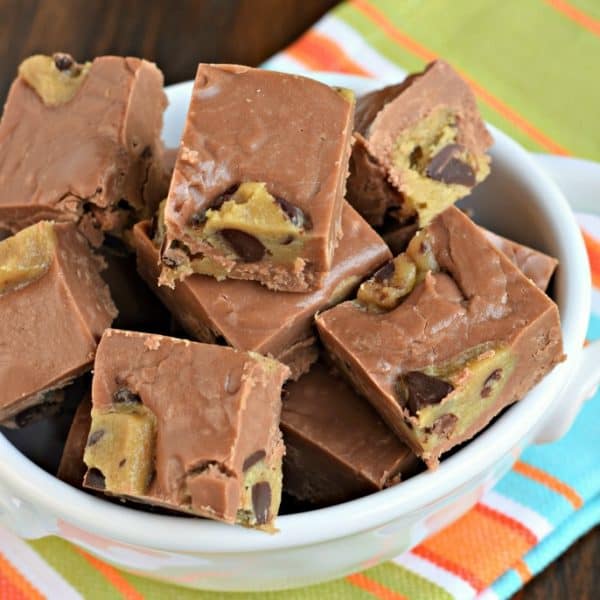 More Easy Dessert Recipes
Chocolate chip cookie dough meets fudge. This easy chocolate cookie dough fudge is two tasty treats in one!