Chocolate Covered Cherry Truffles for your love! You can whip them in an afternoon for the sweetest Valentine's Day yet.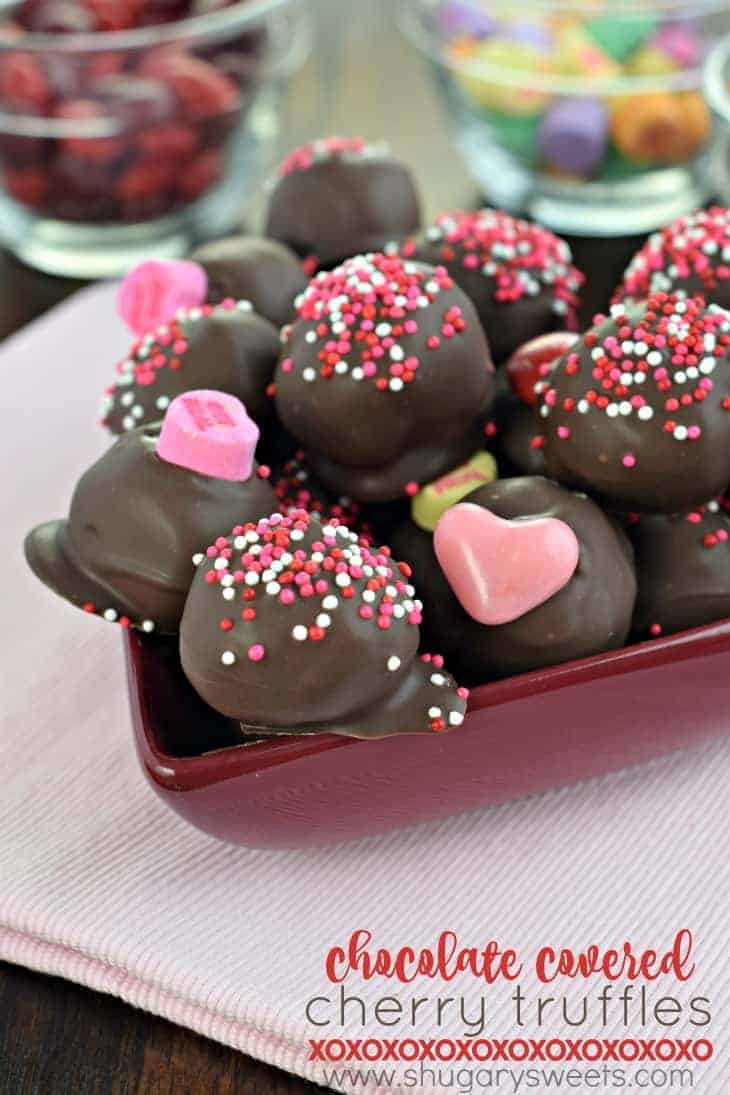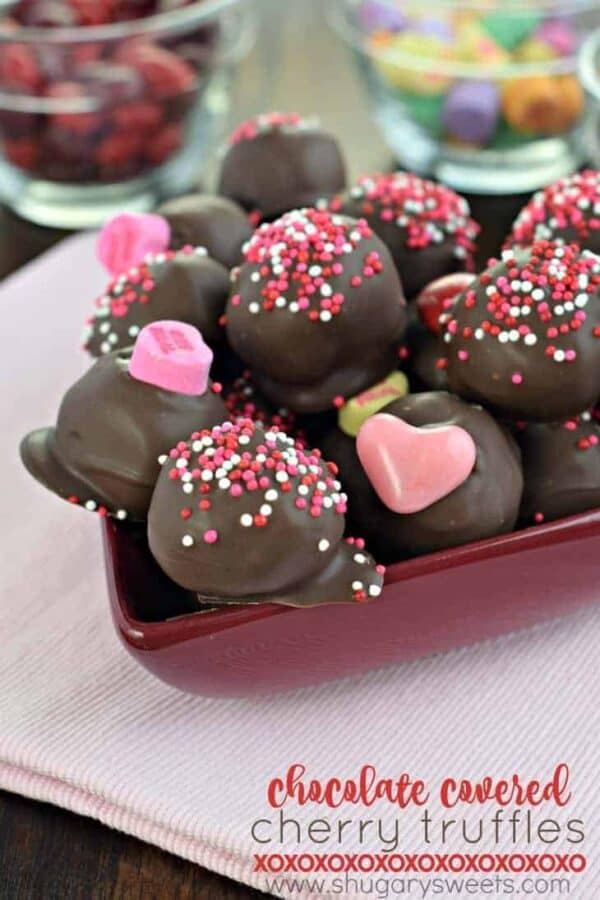 When my husband and I met (23 years ago, eeps!!) he informed me of his love of chocolate covered cherries.
Now, there are very few things that I do NOT like, and those Queen Anne chocolate covered cherries are on the list. But, like a good wife, I buy a box for my husband every single Christmas.
And every single New Years I throw them in the trash. Because as it turns out, he doesn't like them. And I forget this piece of information every year, that his taste buds have changed and he no longer enjoys that holiday treat.
But, you know what we DO have in common? Our love of homemade truffles. As it turns out, we BOTH enjoyed this Chocolate Covered Cherry Truffles recipe! I even made a quick little video for you, to see just how easy they are to make!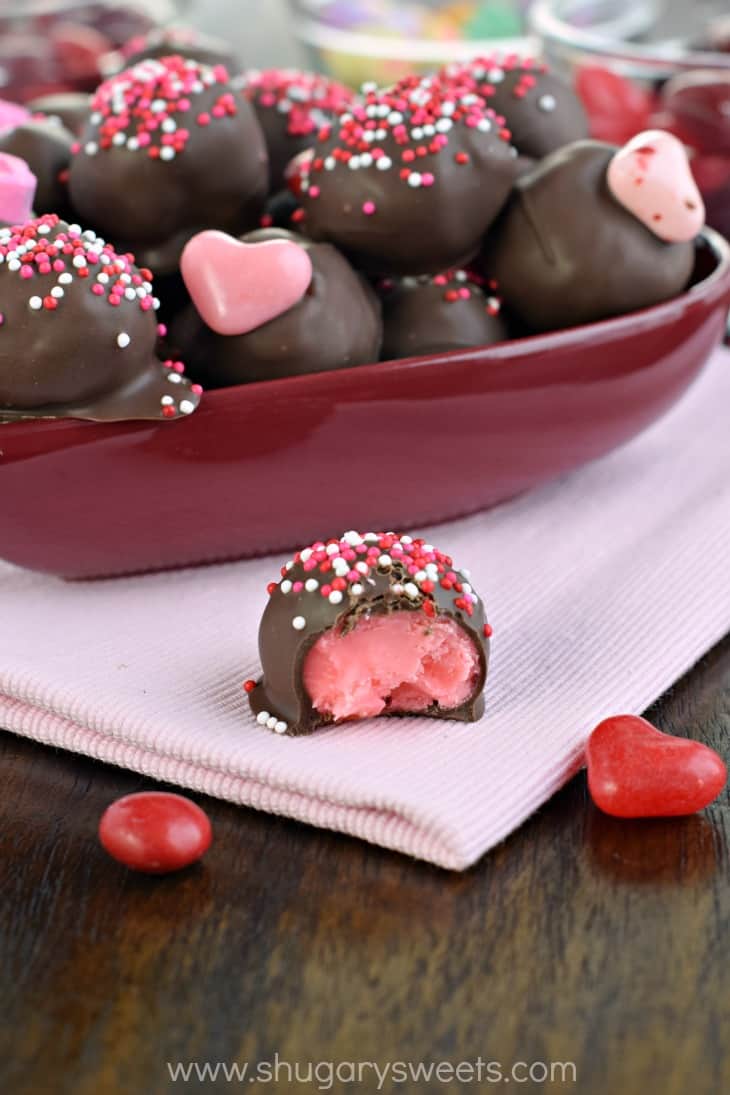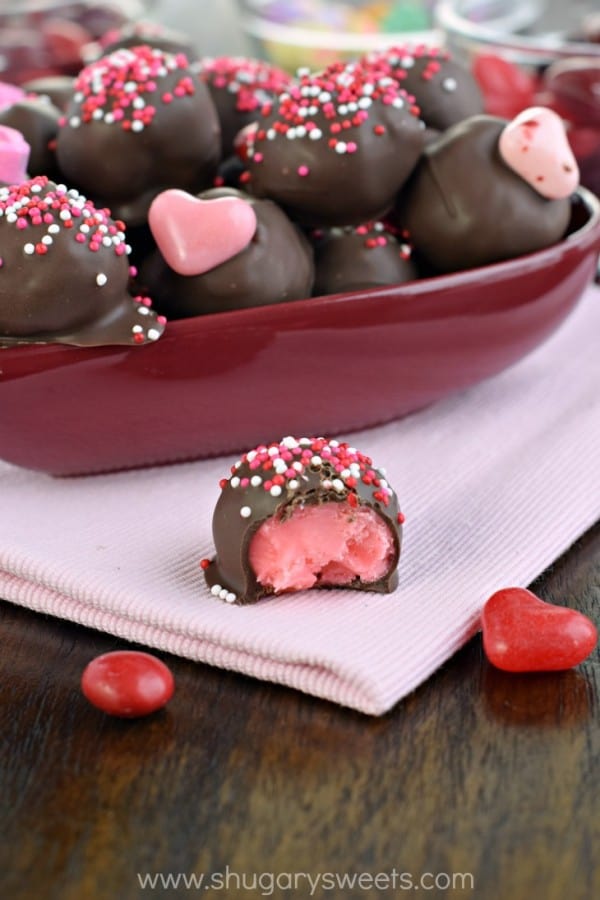 A few quick tips:
Use a good quality white chocolate chip for this recipe. The cheap ones, and the generic ones do not melt smooth! I find Ghirardelli to work wonderfully every single time!
Heat your heavy cream in saucepan on low heat. Add your butter until melted, add your cherry gelatin powder and stir until smooth. Add the white chocolate chips and mix quickly until they are completely melted.
Refrigerate the white chocolate mixture for about an hour.
Once chilled, it should be soft (but not hard). Use a 1 Tbsp scoop to drop truffles onto a parchment paper lined baking sheet. FREEZE truffles for about 30 minutes.
Use finger tips to shape frozen truffles into a ball. Then use a toothpick to dip truffle into melted chocolate. Again, USE GOOD CHOCOLATE. I love the bags of Ghirardelli Melting Wafers. Not only do they melt smooth, but they taste delicious too. Be sure to add your sprinkles or candy immediately, before the chocolate hardens.
Check out some of my other favorite truffle and candy recipes for the Valentine's Day! Be sure to stop over at Food Fanatic for this delicious Chocolate Covered Cherry Truffles recipe!