Chocolate Covered Pretzels

So many pretzels, so many choices, so much fun to make.
Did you know that you can go to a specialty store online and pay $35 for a dozen of these bad boys?
Not mine of course, but some companies charge people that much money!
A bag of Snyder's is about $4, plus some chocolate and sprinkles and you can make your own.
I made the basket of pretzel rods for our church bake sale last weekend. The big knots we ate ourselves.

(From left to right) We have milk chocolate with peanut butter drizzle (made from melted Reese's Peanut Butter Chips
.
White chocolate with milk chocolate drizzle and pink Wilton's candy melt drizzle.
Then the other ones are white chocolate with sprinkles, YUM.
And of course, dark chocolate with white chocolate drizzle.
I haven't decided which one was my favorite yet. I need to make them again, and do another set of taste testing.

So many lovely choices in this basket. From chocolate with white chocolate drizzle, to white chocolate with peanut butter drizzle. Then you also have sprinkles, Heath bits and praline crunch.
But of course, for Easter, one must have Peeps.

Peeps in various colors.
And pretzel bags. I had no idea they even made such a thing. I was at Michael's looking for party treat bags when I stumbled upon these! I love it!
Now, go make some pretzels for Easter!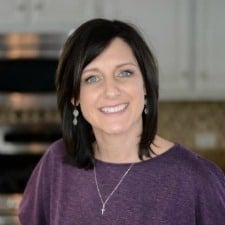 Aimee is a dessert lover (specifically rice krispie treats), workout enthusiast, self-taught foodie, and recipe creator. Her recipes have been featured in over 15 magazines, and her passion is to share her love of cooking with the everyday home cook! Learn more about Aimee.