Top your favorite Chocolate Cupcakes with some sweet Caramel Toffee Frosting! Bring these to your next bake sale or bbq and I bet they will be gone quickly!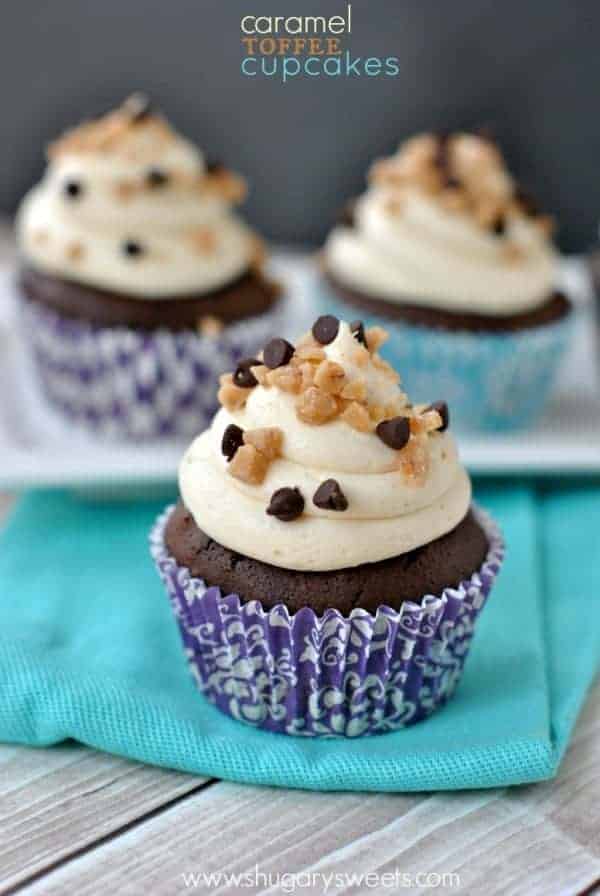 I go through stretches of making lots of cupcakes, then months of no cupcakes ever.
Does anyone else have dessert swings like me?
Some months we eat cookies every night. Some months it's all about rice krispie treats. And some months I seem to make a lot of cupcakes.
One thing is pretty constant. My favorite chocolate cupcake recipe as the base. I've tried lots of different versions, but why change something delicious? These don't dome up like a traditional boxed mix…instead they keep a pretty flat top. Which is fine since I like to pile on the frosting!
I made this recipe months ago. My daughter was having her birthday party and she wanted some cupcakes (of course)! I tend to try out new recipes in situations like this. I made a  batch of my favorite chocolate cupcake recipe. Then I made two flavors of frosting. The first was this Butterfinger frosting (YUM). And the second was this creamy caramel frosting topped with toffee and chocolate chips!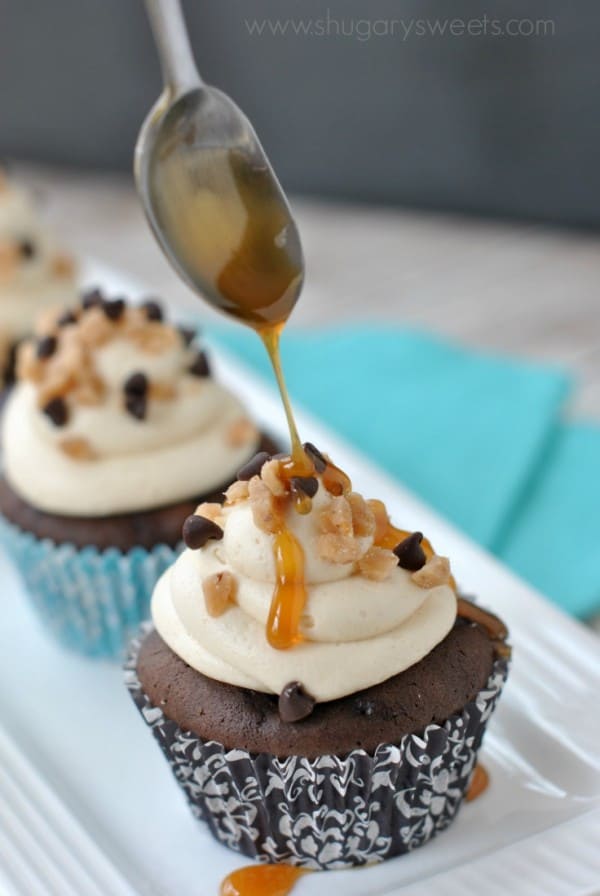 And that is today's recipe. I added caramel sauce (I used caramel ice cream topping) to my standard buttercream frosting. Once piped high onto the cupcakes, I added some Heath toffee bits and mini chocolate chips!
Then I decided they needed more caramel. Cause more caramel is ALWAYS a good idea!
I think you might want to make these for your next potluck. I'm pretty sure that your friends and family will thank you. With their mouths full of cupcakes!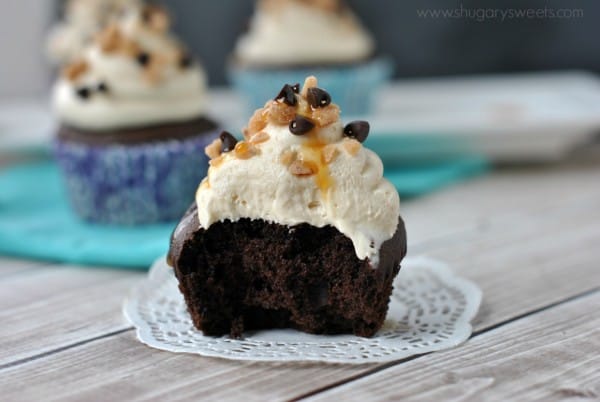 Connect with Shugary Sweets! Be sure to follow me on my social media, so you never miss a post!
Pinterest | instagram | Bloglovin'