Show your Valentine you love them by making this Chocolate Decadence with Raspberry Sauce!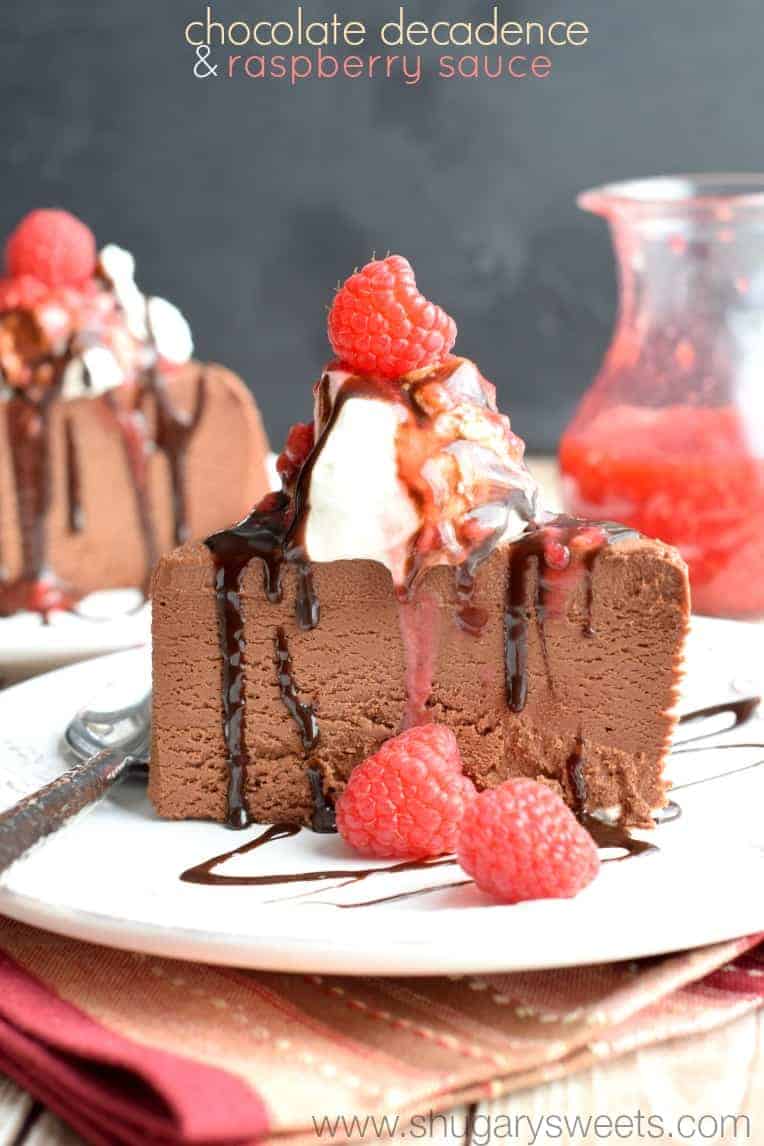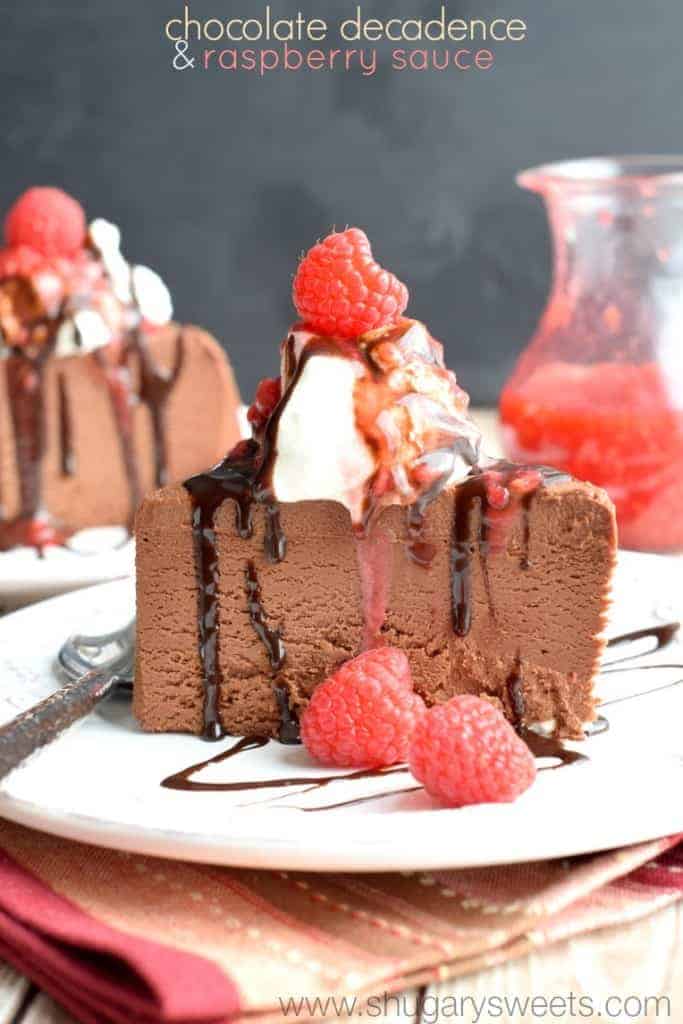 I'm curious how many of you celebrate Valentine's Day? And what kind of plans you make for this special day….
It's funny, when I was single, Valentine's Day was either filled with chick flicks and tubs of ice cream….or a night out with friends.
Then I started dating my husband and we shared romantic dinners with expensive cuts of meat and bottles of wine! Of course sappy cards and gifts were involved too.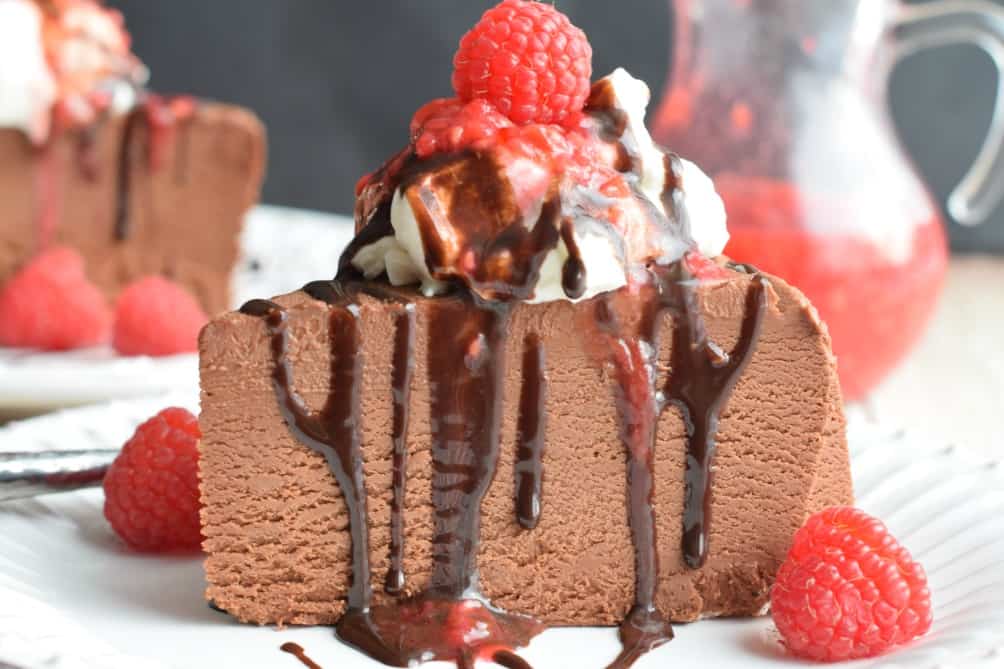 After marriage and a few kids…Valentine's was more about cute stuffed animals, fighting with my kids to write their names on 26 Valentine's cards, and then baking 100 cupcakes for four classroom parties!
Now that my kids are older and the classroom party days are over, Valentine's Day is a quiet night at home, with comfort food. And chocolate.
Today's recipe is on the menu at our house, it's so rich and decadent, you're going to want this too!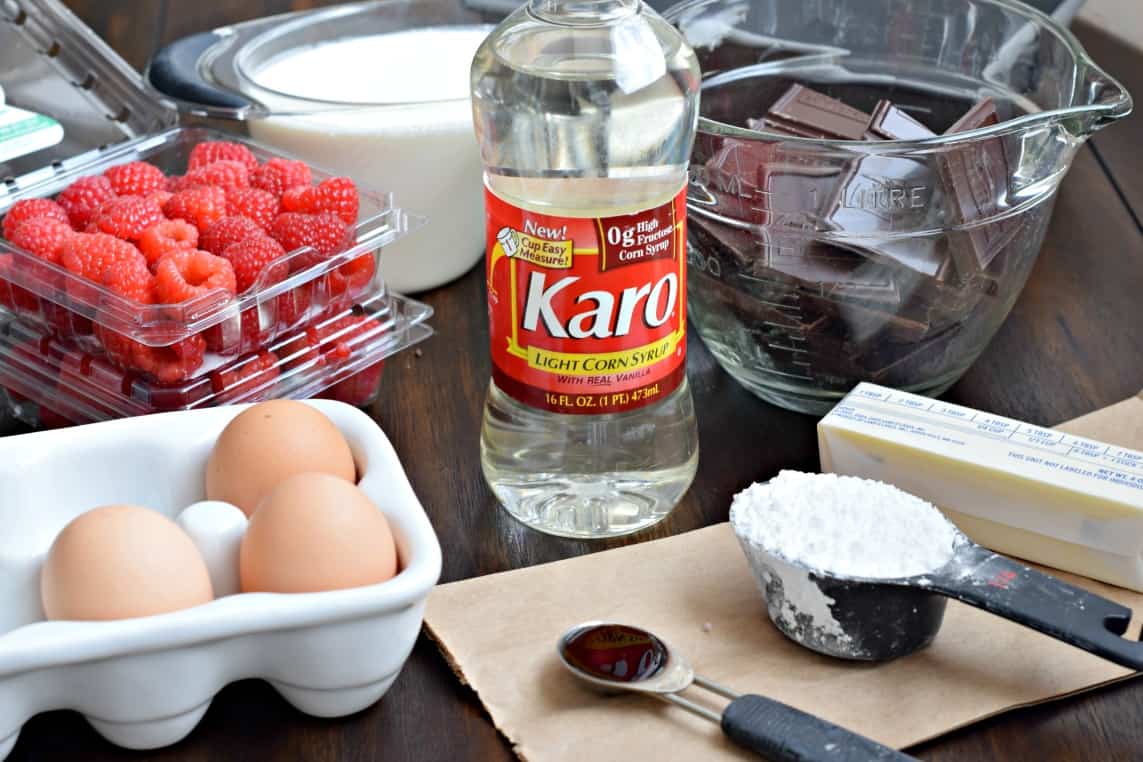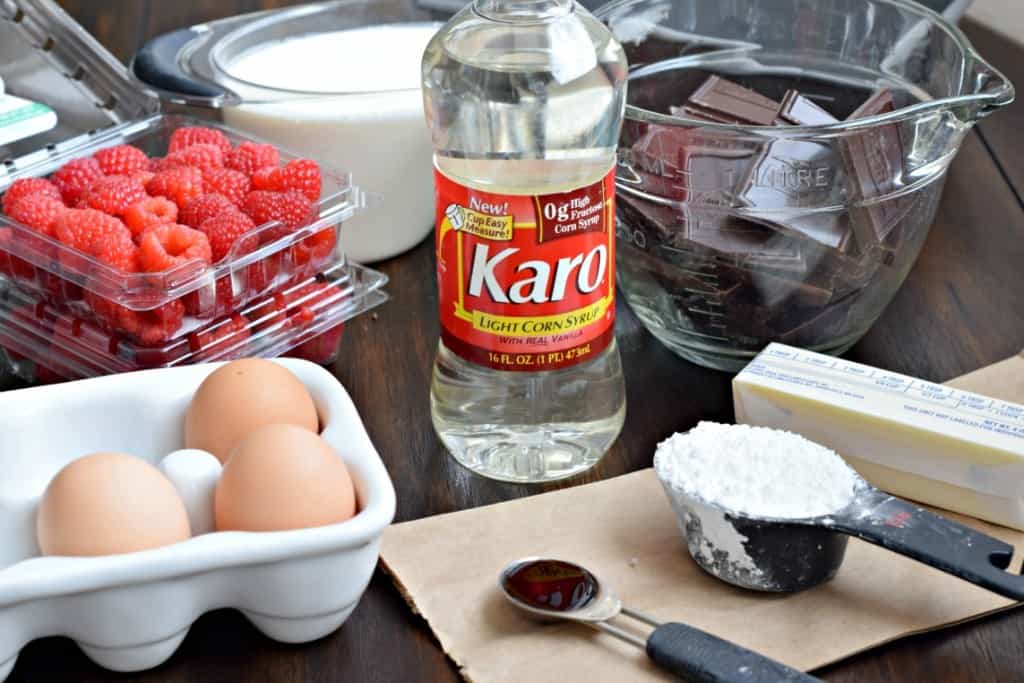 It starts with some easy ingredients you probably already have in your pantry!
While this is an easy to make dessert, you do need to plan ahead in order to freeze the chocolate mousse for at least 4 hours (or overnight)! The original recipe came from the Karo® website. I swapped out the frozen raspberries for fresh, added a drizzle of chocolate syrup, and whipped up a quick batch of homemade whipped cream.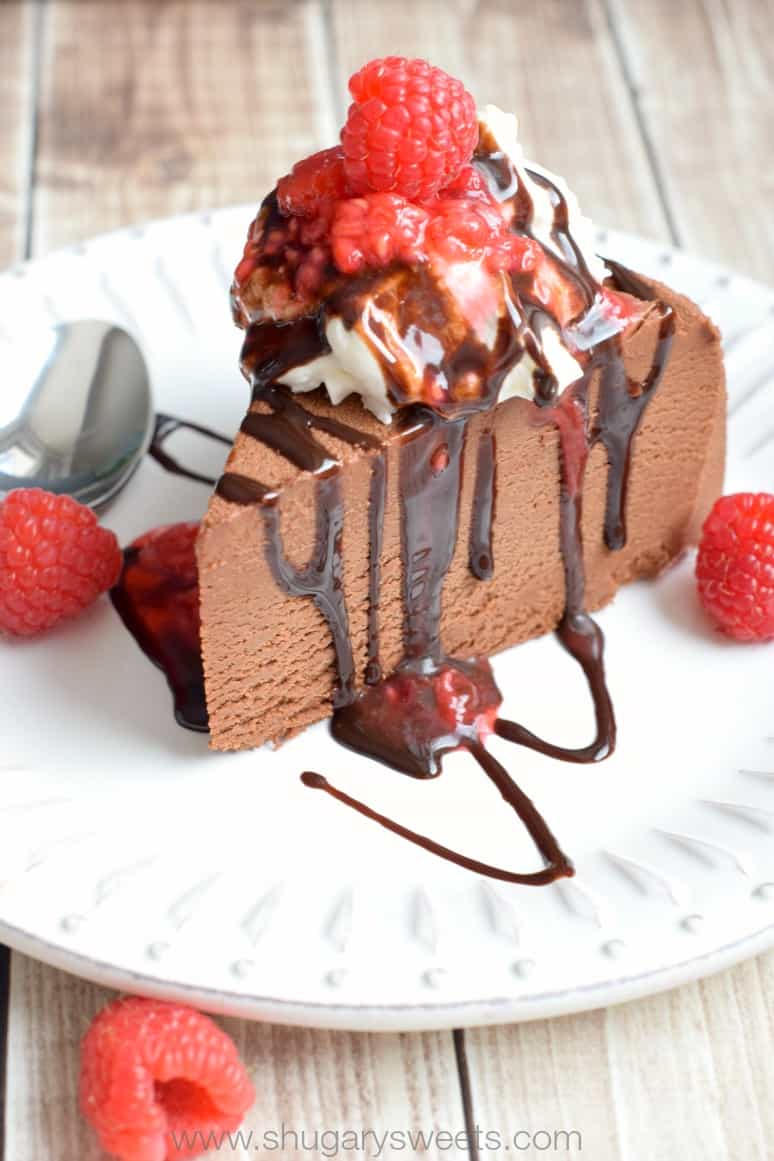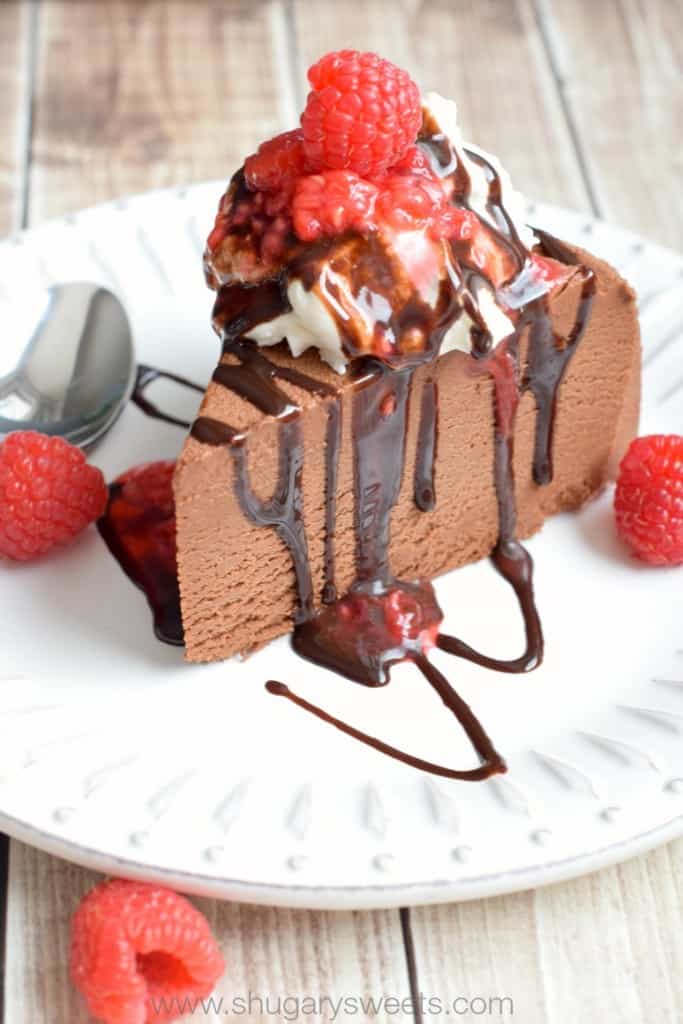 Wowza. Sometimes I surprise myself with how much I love food! And chocolate. And in my book, raspberries go hand in hand with rich chocolate desserts like this one! Now tell me…what are your Valentine's Day plans??
Yield: 12 servings
Chocolate Decadence with Raspberry Sauce
Prep Time
4 hours
30 minutes
Ingredients
For the Chocolate Mousse:
1/2 cup Karo® Light Corn Syrup
16 oz bittersweet chocolate (60% cacao)
1/2 cup unsalted butter
2 cup heavy cream, divided
3 egg yolks
1/2 cup powdered sugar
1 tsp Spice Islands® Pure Vanilla Extract
For the topping:
12 oz fresh raspberries, divided
1/2 tsp pure vanilla extract
1/4 cup Karo® Light Corn Syrup
1 cup heavy cream
1/4 cup powdered sugar
1/4 cup chocolate syrup
Instructions
Line a 9x5x3-inch metal loaf pan with plastic wrap. Set aside.
In a large saucepan over medium heat, combine corn syrup, chocolate and butter. Stir until chocolate is melted and mixture is smooth.
Mix 1/2 cup of the cream with the egg yolks in a small bowl. Add to the melted chocolate mixture and cook for about 3 minutes, stirring constantly. Remove from heat and cool completely.
Once the chocolate mixture has cooled, continue on by beating 1 1/2 cup heavy cream with powdered sugar and vanilla in a mixing bowl on high speed. Beat until soft peaks form. Fold in the cooled chocolate mixture and stir just until combined. Pour into loaf pan and cover with plastic wrap. Freeze for 4 hours or overnight.
To prepare raspberry sauce, combine 6oz of the fresh raspberries with the corn syrup and vanilla extract in a small blender. Process quickly until combined (you still want some chunks of raspberry).
For the whipped cream, beat heavy cream with powdered sugar until soft peaks form. Refrigerate or use immediately.
To assemble, slice frozen chocolate mousse and arrange on plates. Dollop a large spoonful of whipped cream onto each slice. Drizzle with raspberry sauce, chocolate syrup and add the remaining fresh berries. ENJOY!


**I am part of the One2One Network and am working with ACH as a Baking Ambassador! While I have been compensated for this recipe post, all opinions about the product are 100% my own!**