Chocolate Malt Cupcakes and my Anniversary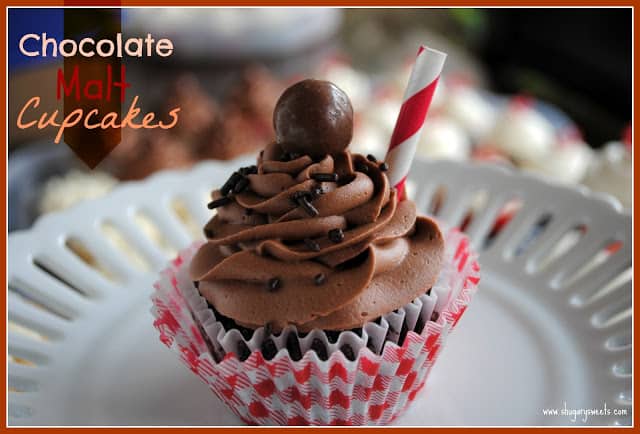 Today is my 17th wedding anniversary. 
Clearly I was very young (yes CLEARLY). 
Actually we were both young. But fortunately my parents were very supportive and at the age of 21, I married my soul mate. 
My husband, Michael is very supportive of me and my blog adventure. So much so that he even does the dishes after one of "those days." 
You know "those days." The ones where you spend so much time creating a giant mess in the kitchen, to get the perfect dessert, and there is no energy (or time) left to clean up! No energy or time spent planning dinner, cleaning the house, or showering. Don't judge me, like you shower every

week

 day.
Michael is also a great taste tester. For dessert only though. His picky palate is of no use to me and my dinner creations. 
He also helps me stay fit and healthy by getting the treats out of the house in a timely fashion and taking them to his work. 
Unless of course it's Rice Krispie Treats. They are either gone by the time he gets home from work, hidden in the pantry, or a note attached to KEEP AT HOME. Yes, back away from my Rice Krispie Treats. Sorry Michael's work friends, you will NEVER get to try those. 
However, we can both agree that chocolate is good. Chocolate Malt Cupcakes? Even better. 
But, in every marriage there are times we don't agree. We do have a secret to our marriage success though. Rock Paper Scissors. No, it's true, our friends and family can vouch for this one! It has gotten us through the diaper changing, bath duty, and vomit cleaning up years (yes, the kids are old enough to clean their own vomit, and hubby knows all dog vomit will forever be his to take care of). If you refuse to play you automatically lose and have to do whatever it was we were playing for. There was a good stretch of about 6 months where I went undefeated. Ahhhh, the glory days.
Anyways, here's to another wonderful 17 years AND MORE! I love you honey!
P.S. In celebration of my anniversary, Jocelyn at Inside BruCrew Life is hosting cupcake week. All her posts this week will be about cupcake related goodies. Head on over and say hello. Oh, and I'm a big liar. It's not in celebration of my anniversary, she's just a genius in cupcake creations! Don't believe me? GO NOW and check it out yourself!
Chocolate Malt Cupcakes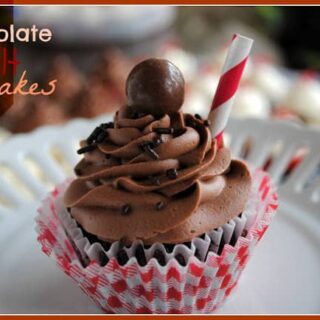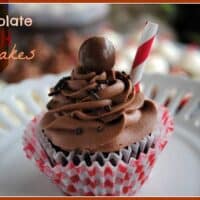 Ingredients
For the Cupcakes:
1/2 cup butter, softened
1 1/2 cup sugar
2 eggs
1 1/2 cup flour
1/2 cup unsweetened dark chocolate cocoa powder
1/2 tsp kosher salt
1 tsp baking soda
1/2 tsp baking powder
1/2 cup brewed coffee, cooled
1/2 cup milk
For the Frosting:
1 cup butter
1/2 cup chocolate malted milk powder (like Ovaltine)
4 cup powdered sugar
2-3 Tbsp heavy cream
1/4 cup unsweetened cocoa powder
malt balls for garnish
Instructions
For the cake, mix flour, cocoa, salt, baking powder, and baking soda. Set aside.

In a measuring cup, mix together cooled coffee and milk. Set aside.

In mixer, beat butter and sugar for 5 minutes, until smooth and creamy. Beat in eggs one at a time. Slowly add dry ingredients, alternating with coffee mixture (about 3 additions of each).

Prepare cupcake pans with liners. Fill cupcakes about 1/2 full. Bake in a 350 degree oven for 15-20 minutes. Cool completely.

For frosting, beat butter on low with chocolate malt powder, sugar, heavy cream and cocoa powder until combined. Increase to high and beat for about 3 minutes until fluffy. Pipe frosting onto cooled cupcakes, garnish with malt ball and straw. Enjoy!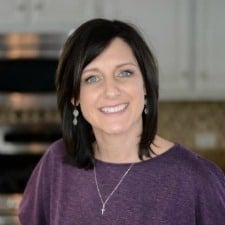 Aimee is a dessert lover (specifically rice krispie treats), workout enthusiast, self-taught foodie, and recipe creator. Her recipes have been featured in over 15 magazines, and her passion is to share her love of cooking with the everyday home cook! Learn more about Aimee.