Chocolate Mint patties between two crunchy pretzels. Dip in white chocolate and add sprinkles for a festive St.Patrick's Day touch!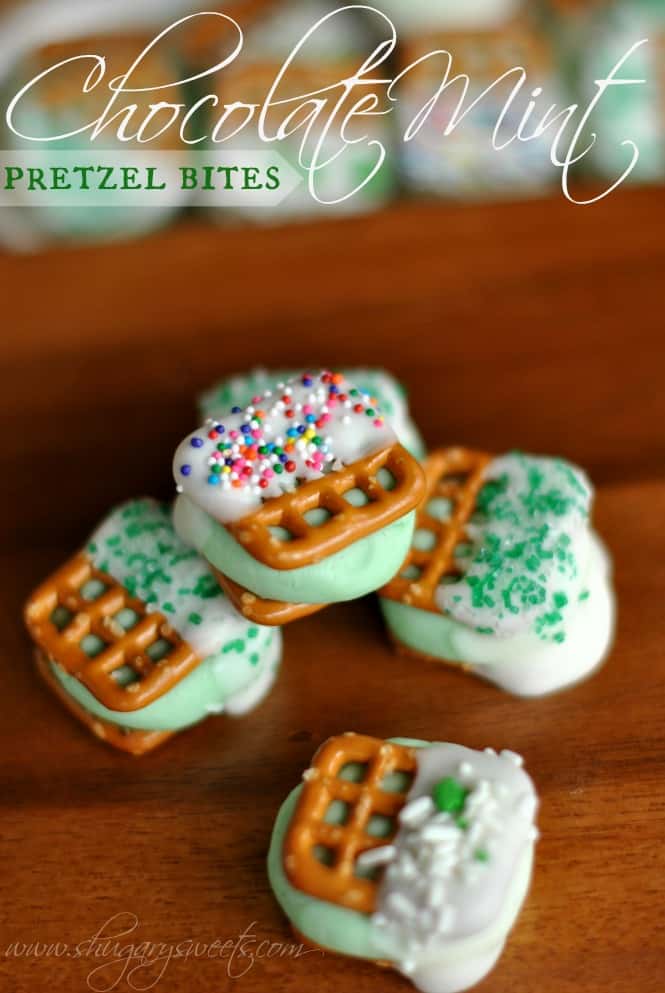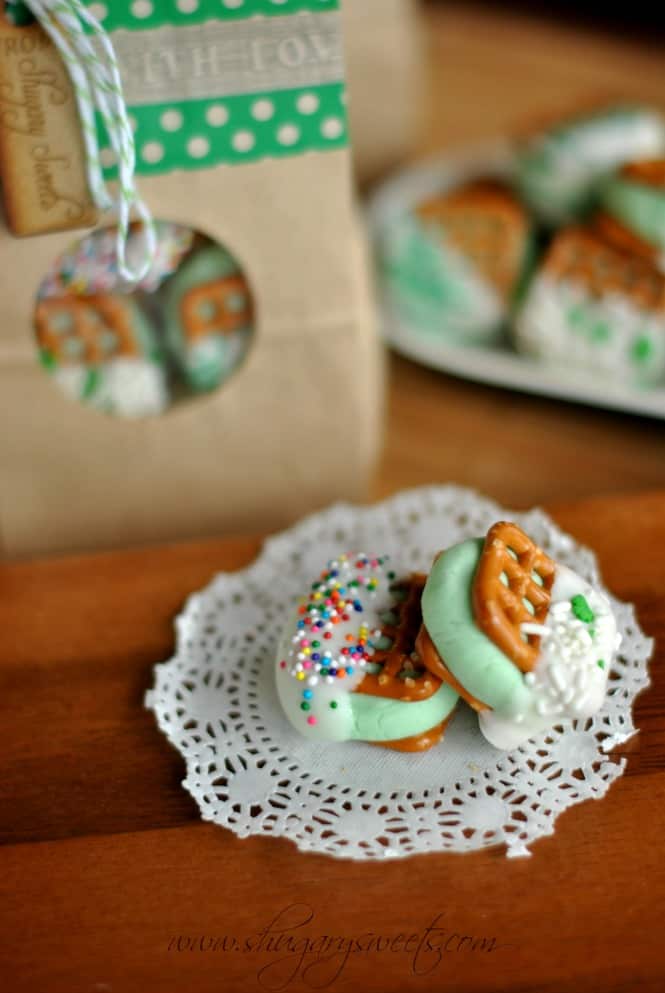 This is what happens when Homemade Peppermint Patties mate with Cherry Cheesecake Pretzel Bites.

The best of both recipes in one delicious bite.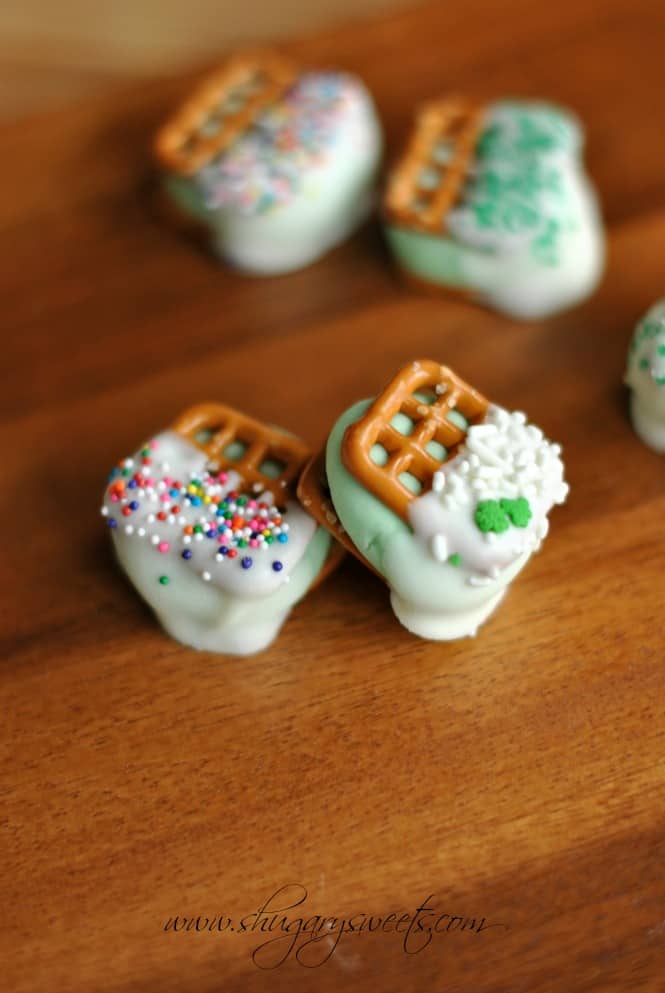 So the day I was making these bites, I originally had no idea the center would be green. I planned on just using the same filling as my peppermint patties. I thought about using some green candy melts to drizzle on the white chocolate for pizzazz, but not actually making the filling green. Then I reached into my cabinet and realized I was out of peppermint extract.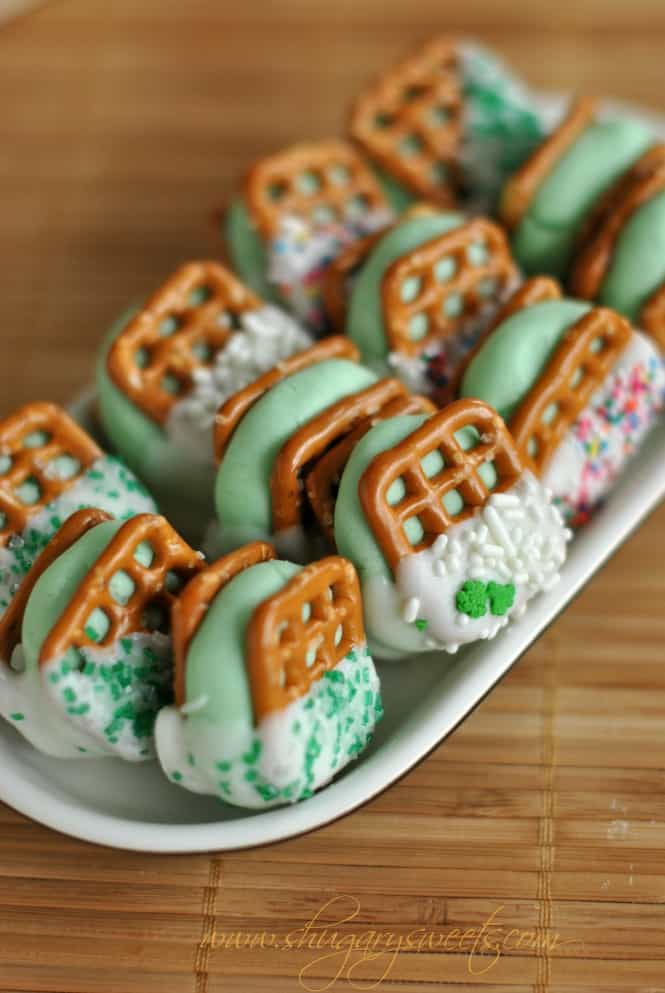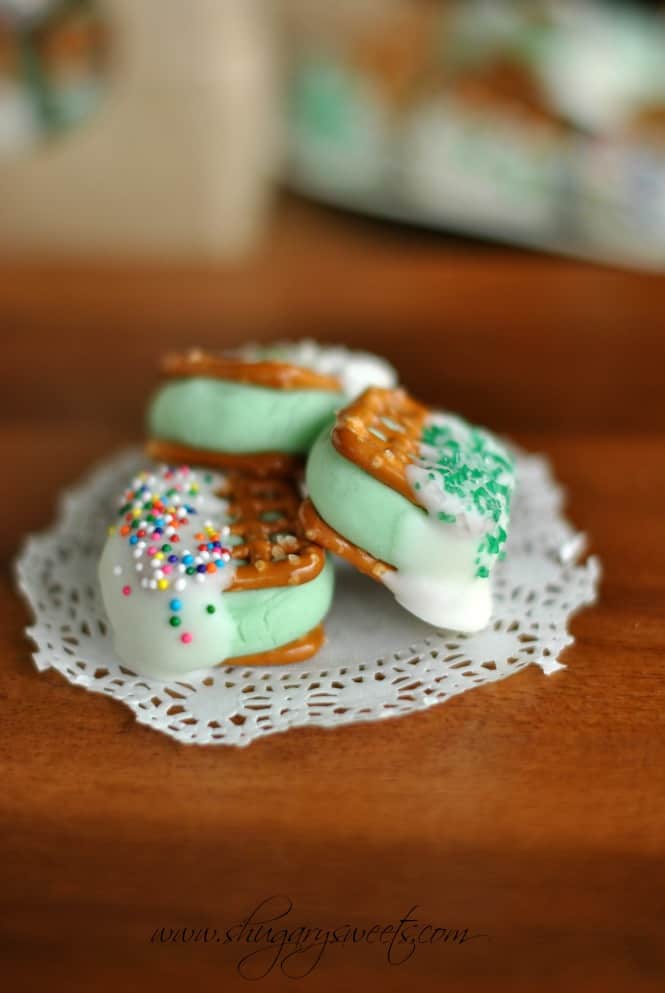 So I headed off to the store, grabbed a bottle of extract, made my way down the baking aisle and stopped cold in my tracks. There, calling my  name "AIMEE, AIMEE" was a packet of Duncan Hines frosting creations. Have you seen these yet? I have seen them before. I have heard they are wonderful. But I had never bought one myself. However, that changed. The flavor was "Chocolate Mint" and it was green! So my mind immediately thought, this could work by substituting the peppermint extract for a packet of this flavor mix.
Guess what? It totally worked. And it's perfect for St.Patty's day, don't ya think???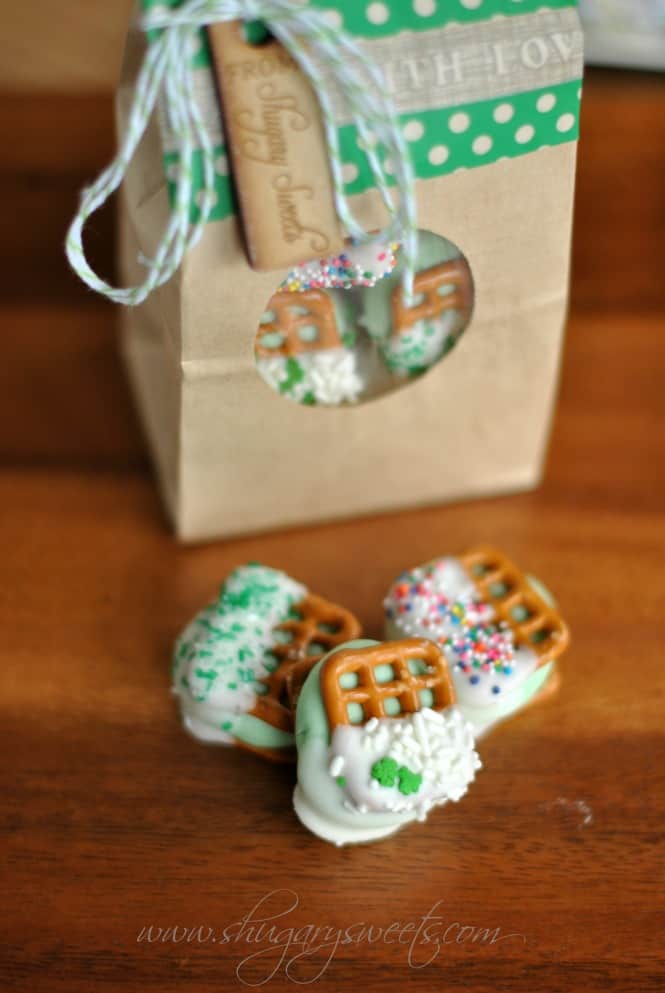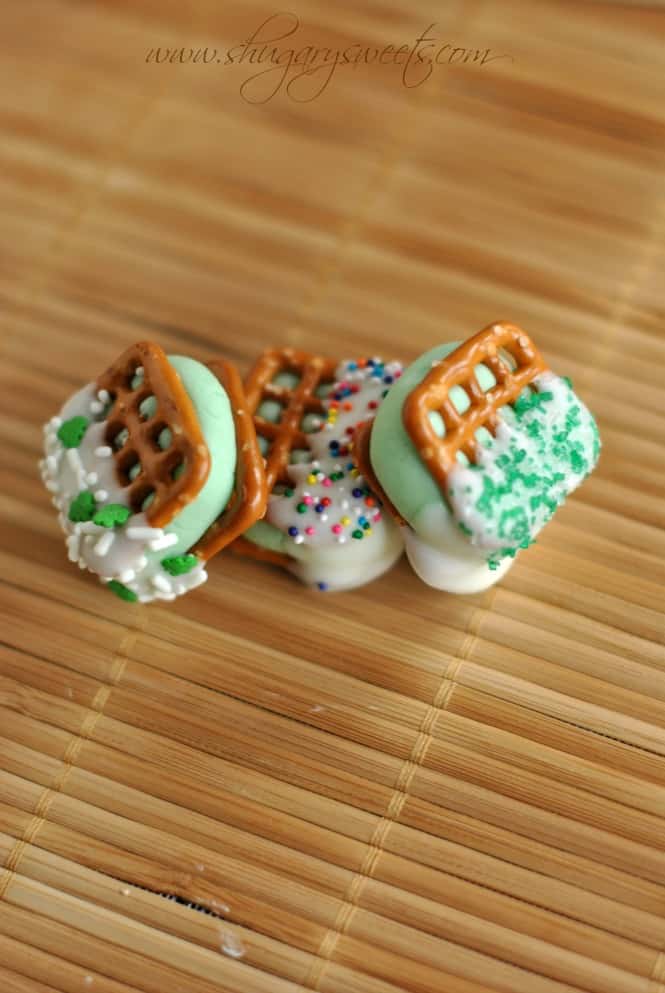 Want more Green ideas? You've come to the right place!
Pistachio Fudge: I seriously love all fudge, but pistachio fudge is just amazing. The end.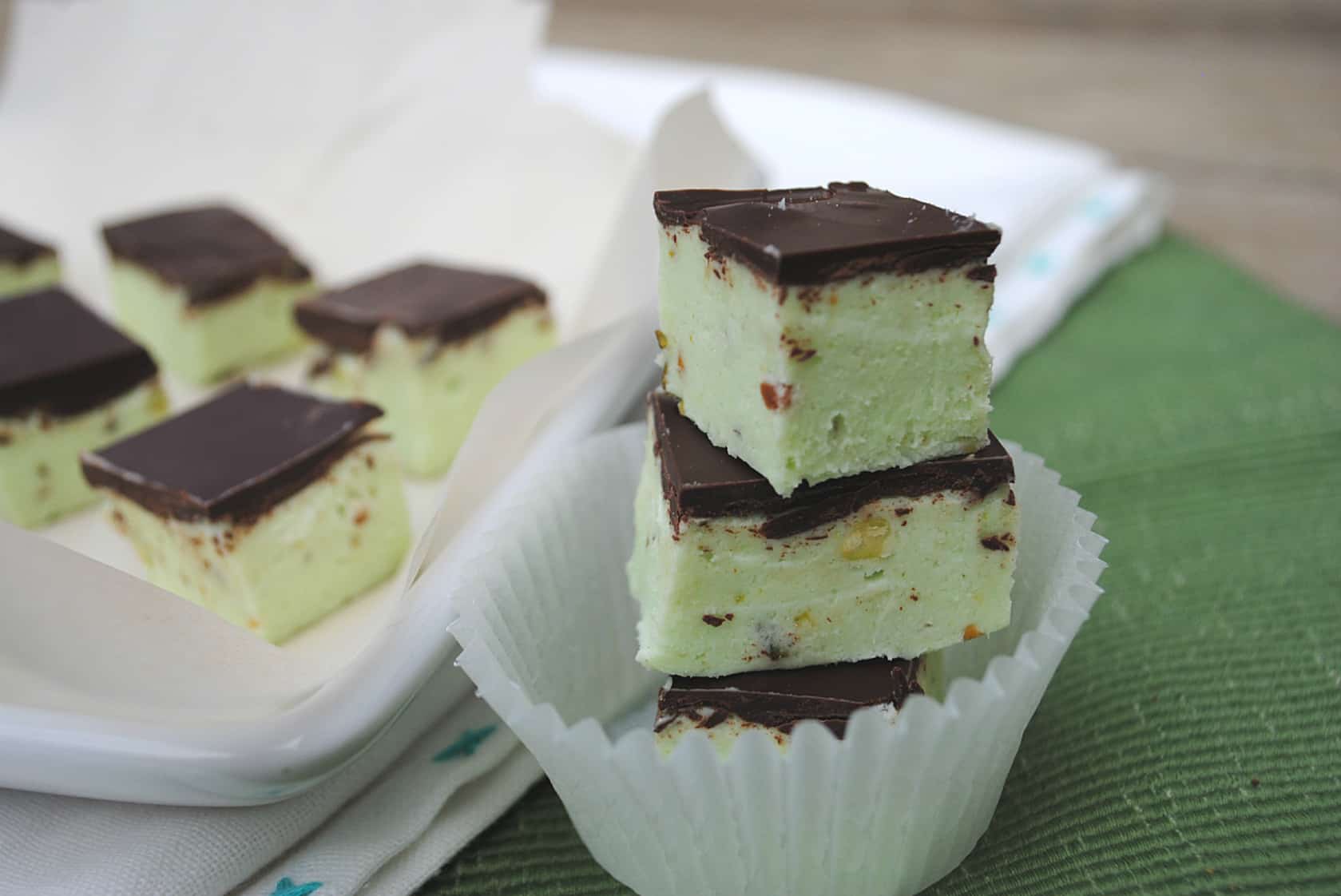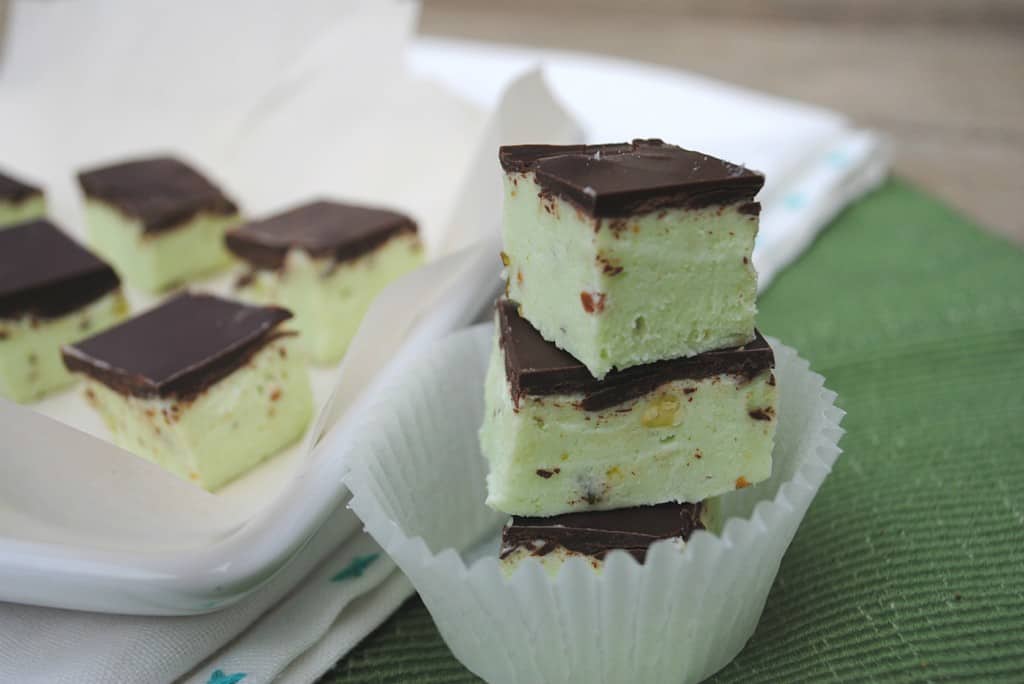 Lime Swirled Icebox Cookies: these are great to have on hand! Just make the dough ahead of time and place in your freezer. Slice and bake!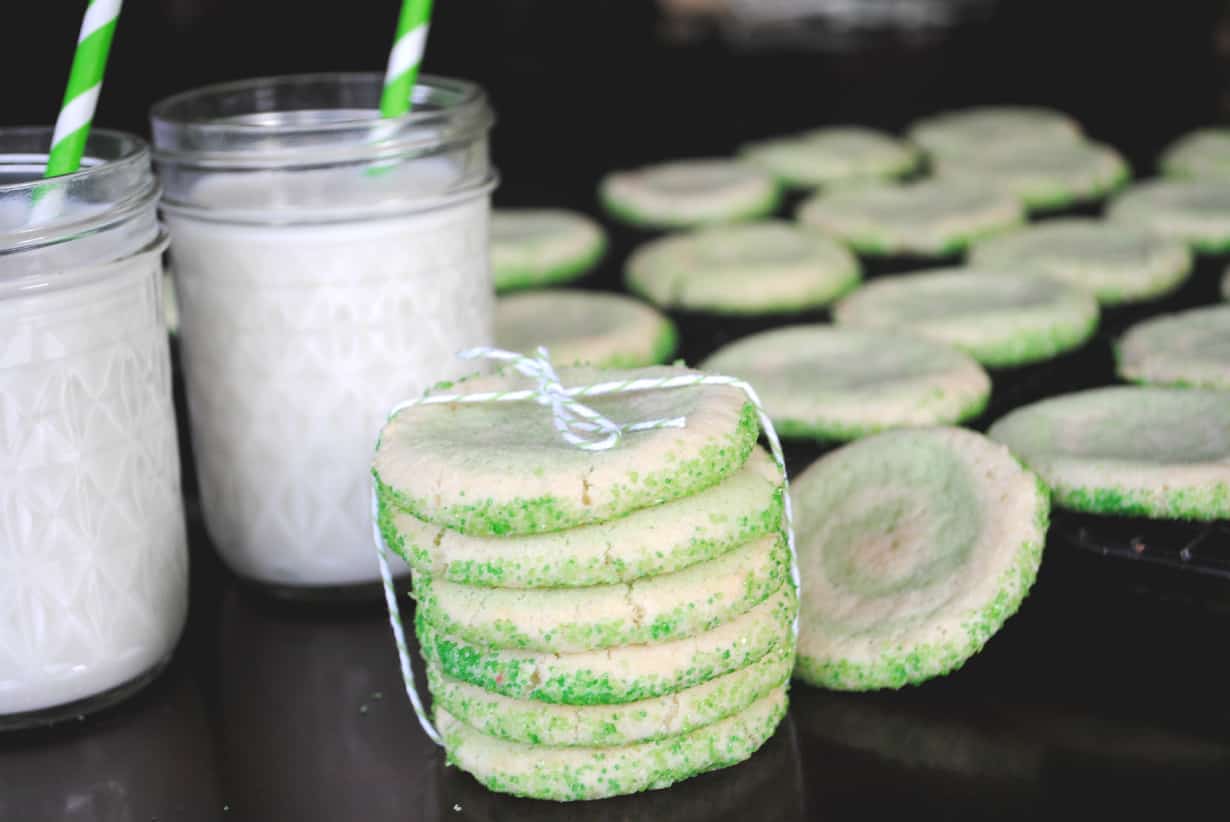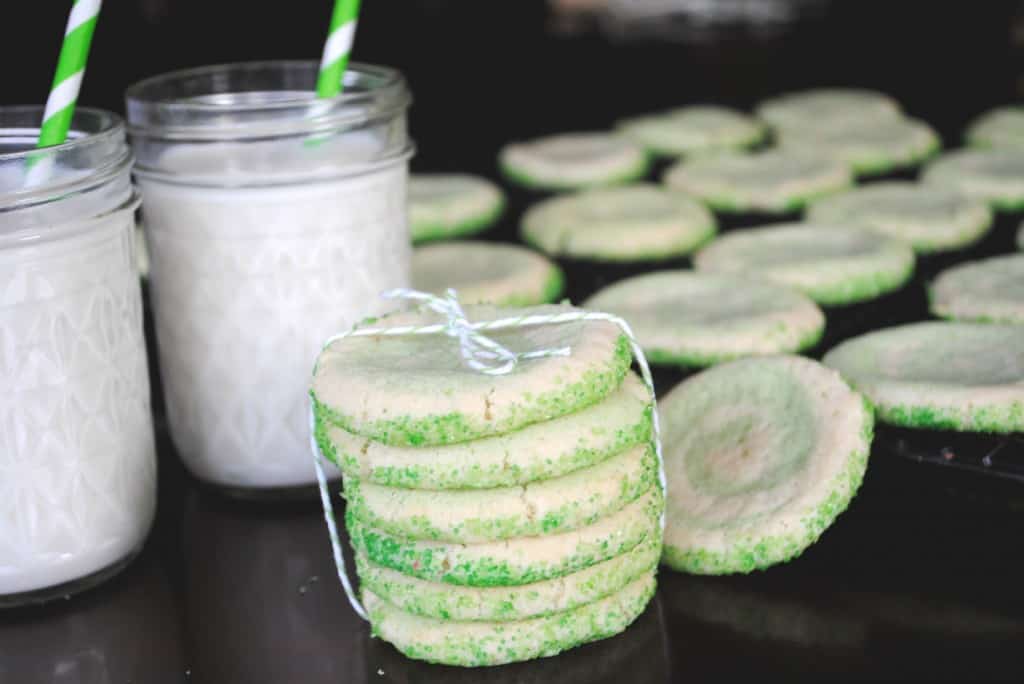 Thin Mint Puppy Chow: mint chocolate bars and Chex make for the best copycat Thin Mints around! Add some green mint m&m's and you have one delicious recipe to serve a crowd!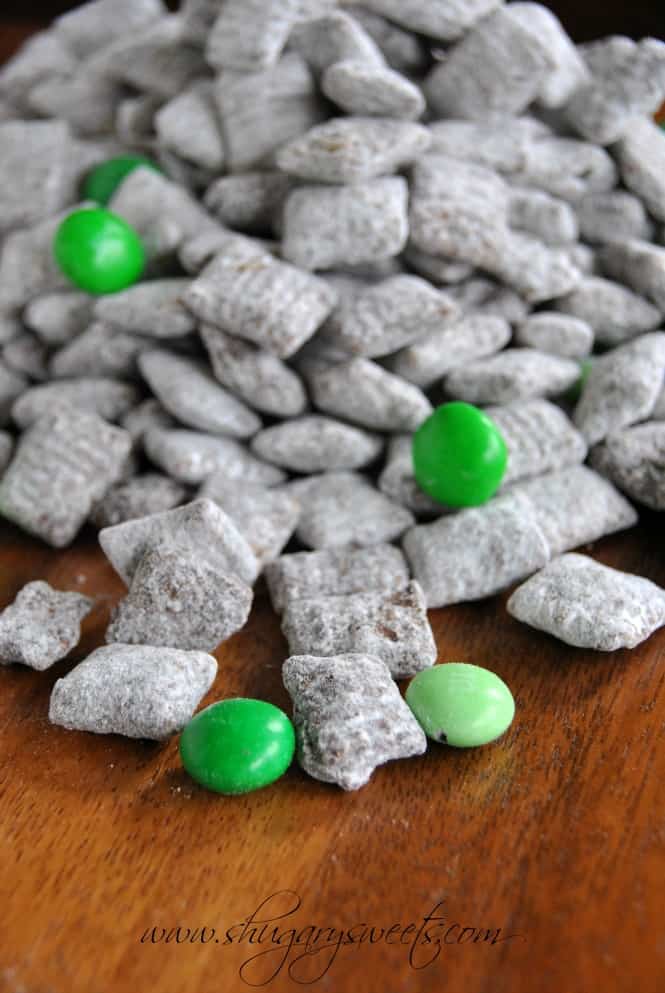 Love this holiday recipe? Find more delicious recipes by following my upcoming Holiday Boards on Pinterest:
St Pattys Day
Spring/Easter
Don't miss another mouthwatering recipe from Shugary Sweets! Be sure to follow me:
 Facebook | Twitter | Google+ | Pinterest | Bloglovin'
Yield: 72
Chocolate Mint Pretzel Bites
Chocolate Mint patties between two crunchy pretzels. Dip in white chocolate and add sprinkles for a festive St.Patrick's Day touch!
Ingredients
1 jar (7oz) marshmallow cream (Fluff)
10 tbsp unsalted butter, softened
1 envelope (0.10oz) Duncan Hines Chocolate Mint frosting creations flavor mix
1-2 tsp milk
5 cup powdered sugar
1 pkg (16oz) vanilla Candiquik (almond bark), melted
1 bag Snyders pretzel Snaps (144 pretzels)
sprinkles
Instructions
In large mixing bowl, beat marshmallow cream with butter and chocolate mint package. Beat until fully combined (you can substitute 1 tsp peppermint extract and green food coloring if desired). Add in powdered sugar and mix on medium speed until well blended. Add milk, one teaspoon at a time, until consistency is correct. Should come together in one ball, about the consistency of play-doh.
Using about 1 tbsp of filling, roll into balls.
Press one ball of mint filling between two pretzel snaps, lightly. Dip end of pretzels into melted vanilla chocolate, tap excess off on side of bowl. Add sprinkles immediately and lay on parchment paper lined countertop. Repeat until all filling is used. Store at room temperature in a covered container. ENJOY!
Check out some of my friends who use Duncan Hines flavor packets:
Strawberry Shortcake Fudge from Jocelyn at Inside BruCrew Life
Icee Cupcakes from Dorothy at Crazy for Crust
Dr Suess Push Up Pops from Hayley at The Domestic Rebel