Chocolate Peppermint Bars
These bars are seriously one of the best desserts that have come out of my kitchen this year! Chocolate Oreo base topped with a white chocolate peppermint topping. And of course, some cute Peppermint Patty Hearts for Valentine's Day! Did I mentions this is a NO BAKE recipe?!
Be sure to follow me on Bloglovin'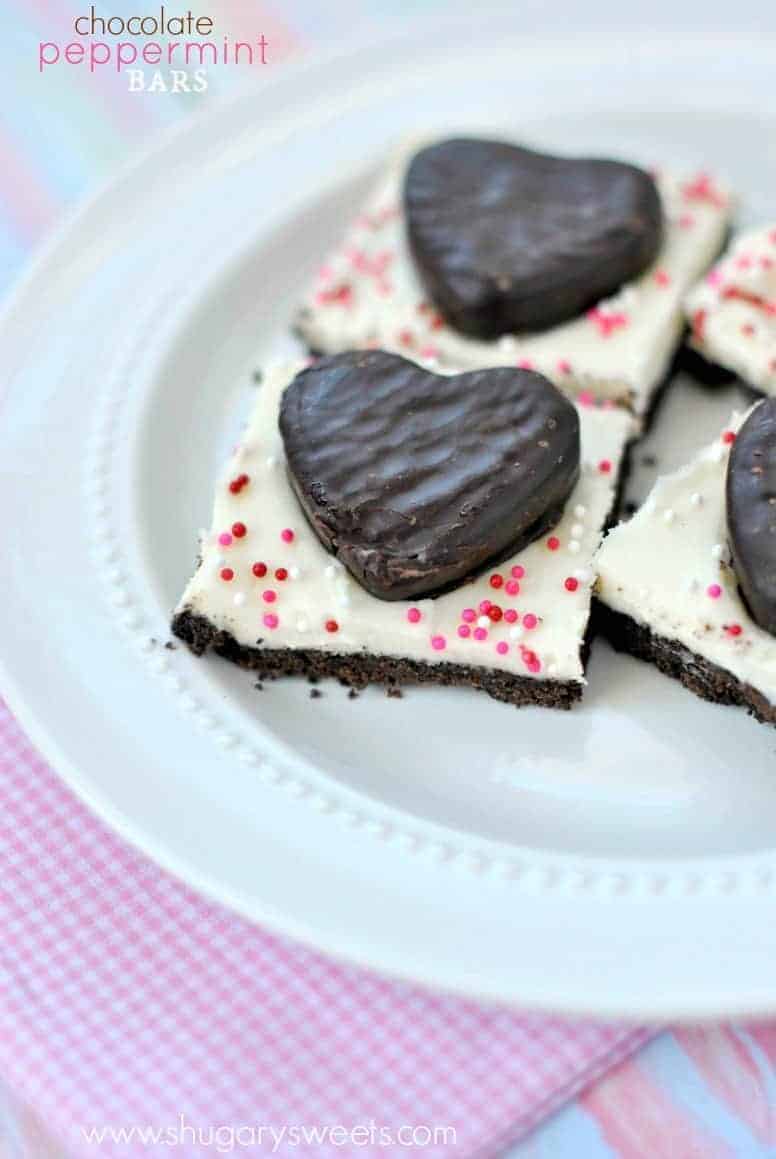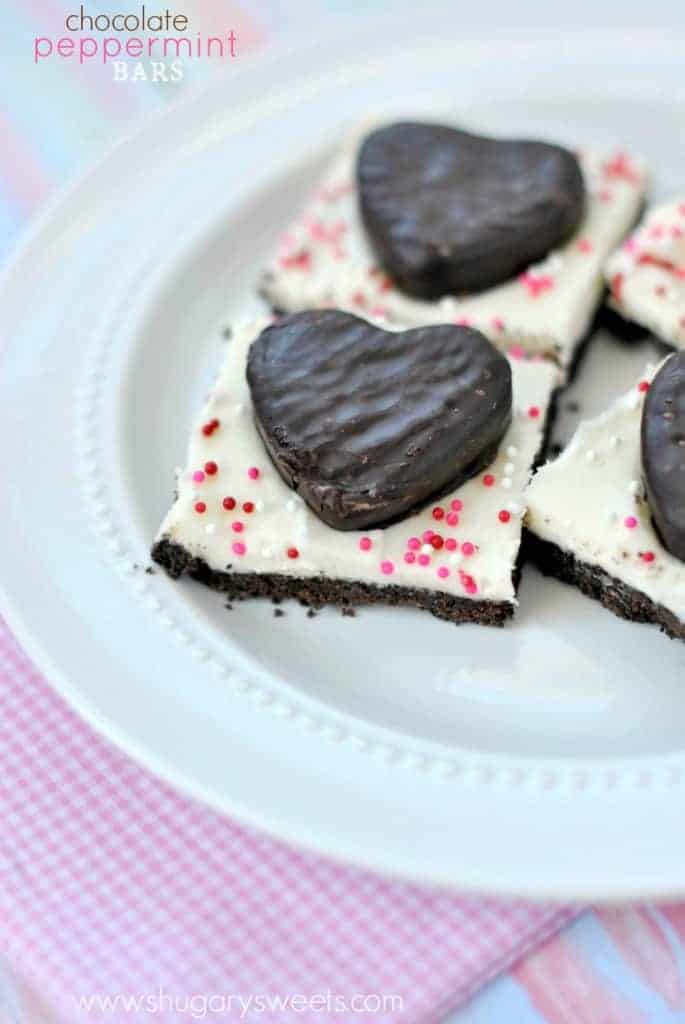 Februrary is always one of our crazy months. Not because of Valentine's day, but because swimming is coming to an end for the season.
The month is always filled with extra swim meets, team dinners, and hungry athletes! It's a crazy fun time to see how far my little swimmers have come in one season!
And of course, I know the month of March is our time off swim before we start again in April. So I can deal with the crazy month knowing there is rest coming soon!
But in the meantime, if I seem a bit absent this month, check out the pool, that's where you will find me!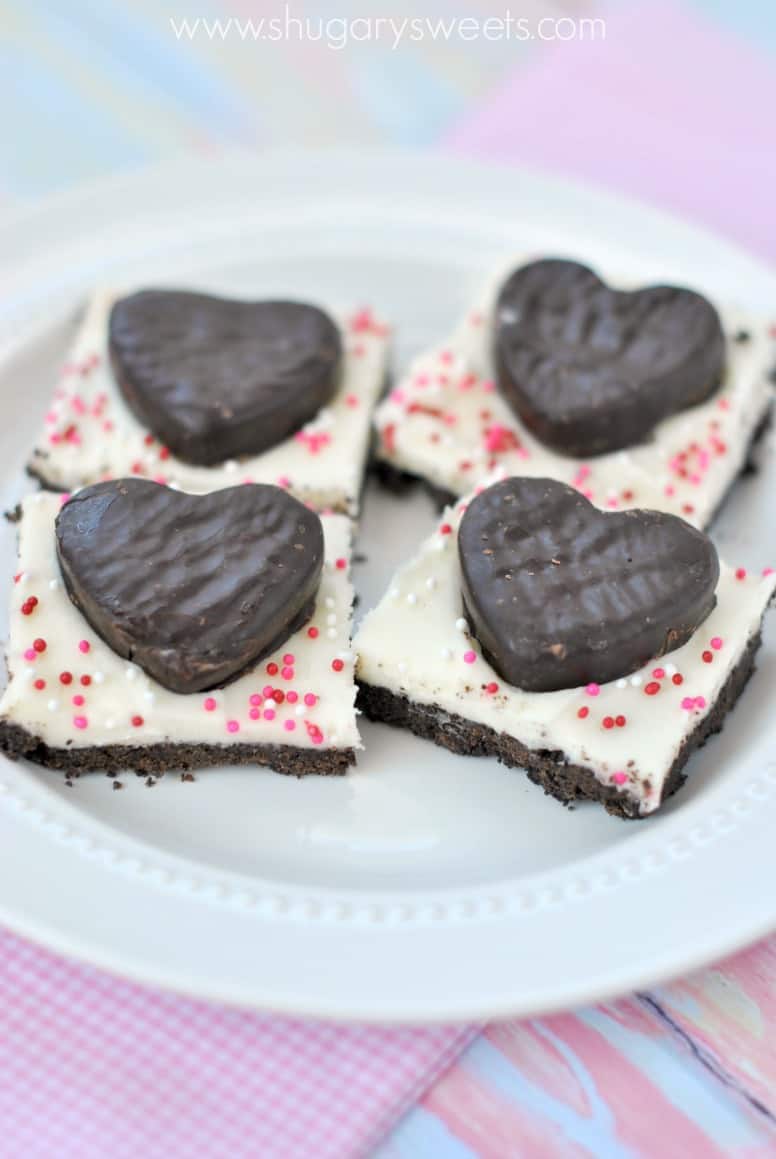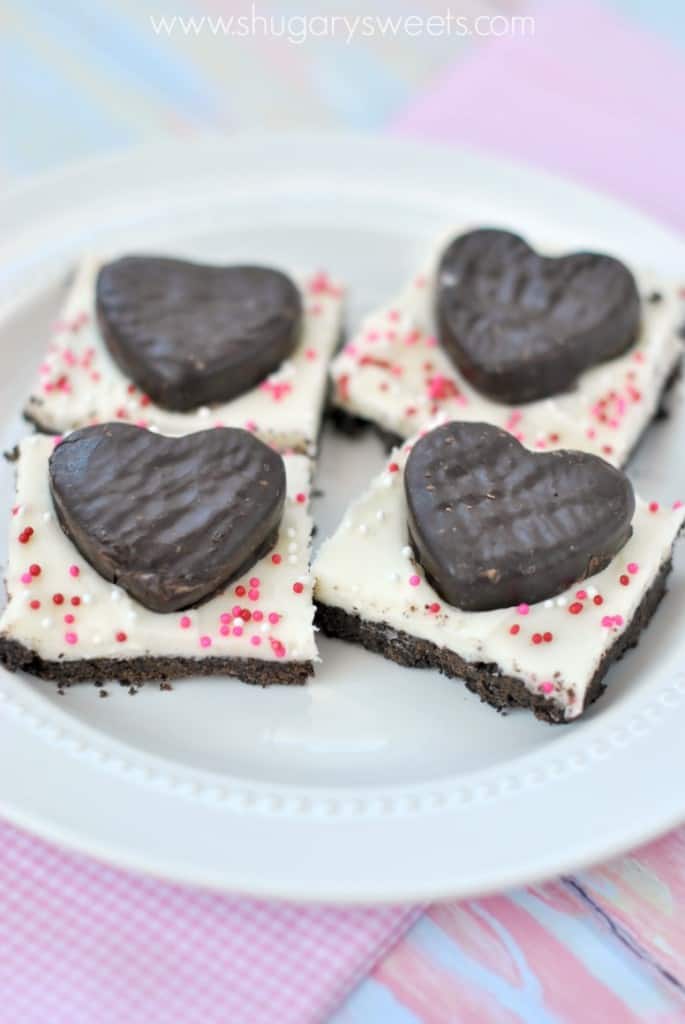 These peppermint bars are so easy to make! I whipped them up one morning before my kids went off to school and I spent the whole day staring at them longingly.
The base is combination of crushed Oreo cookies and melted chocolate. Once you freeze it for ten minutes, the chocolate hardens and you get a lovely crunchy "crust."
After making the crust, I whipped up the topping by combining some melted Vanilla Candiquik with softened cream cheese and peppermint extract. I may have spooned a few bites straight to my mouth at this point!
Once I spread the cream cheese layer over the crust, I knew something was missing. As a last minute decision I added the Heart shaped Peppermint Patties and sprinkles.
Seriously you guys, I wasn't sure if this recipe would work, but it totally exceeded my expectations. The crunchy base is going to be seen again, I LOVE the way it turned out! I can't wait to make another batch of these. Maybe next month I'll make them GREEN mint for St.Patrick's Day!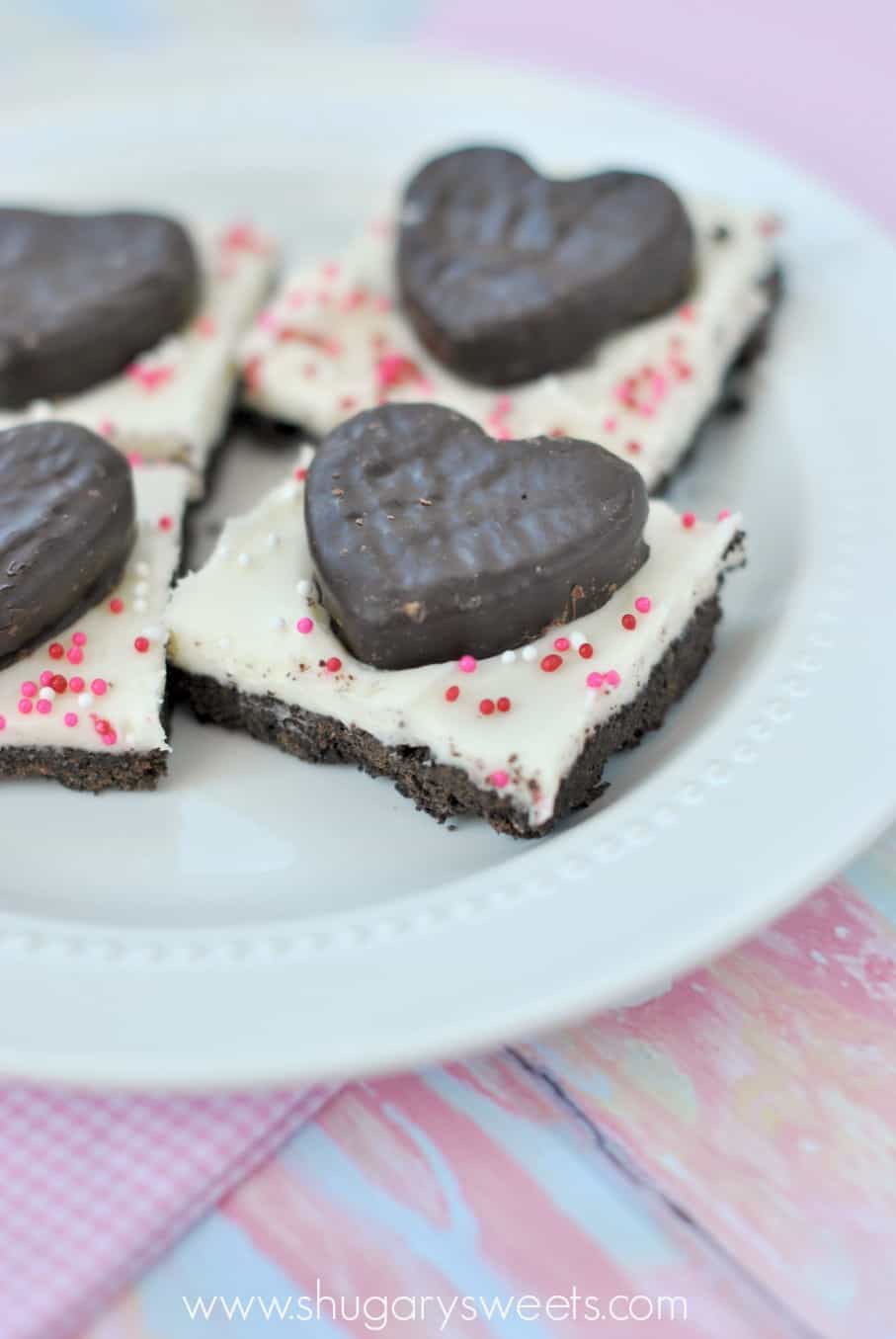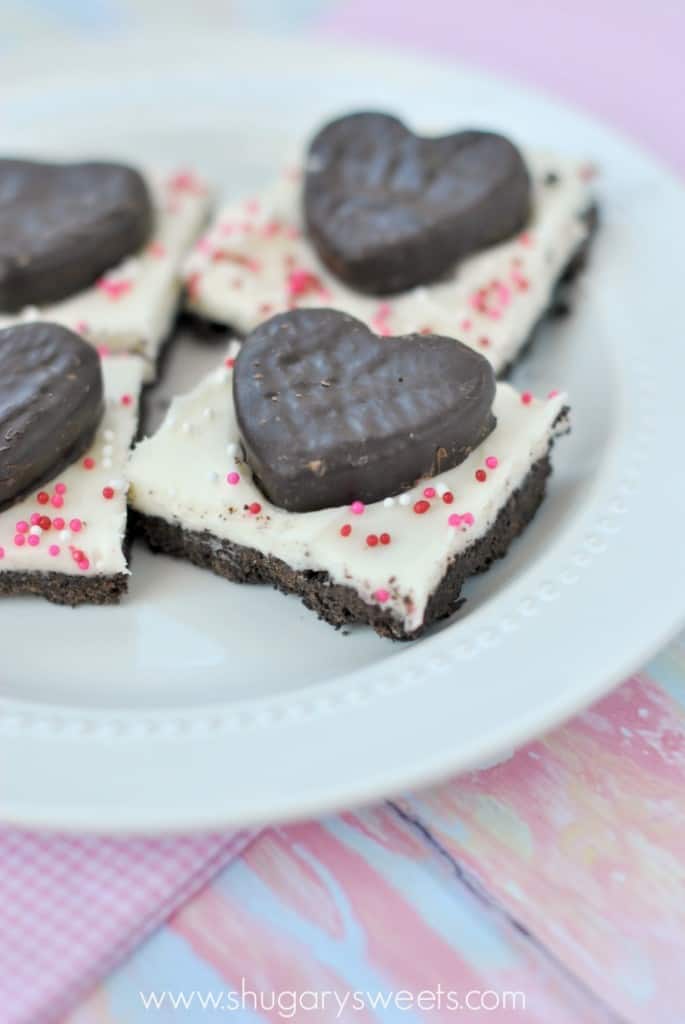 Connect with Shugary Sweets! Be sure to follow me on my social media, so you never miss a post!
Pinterest | instagram | Bloglovin'
 

Yield: 24 bars
Chocolate Peppermint Bars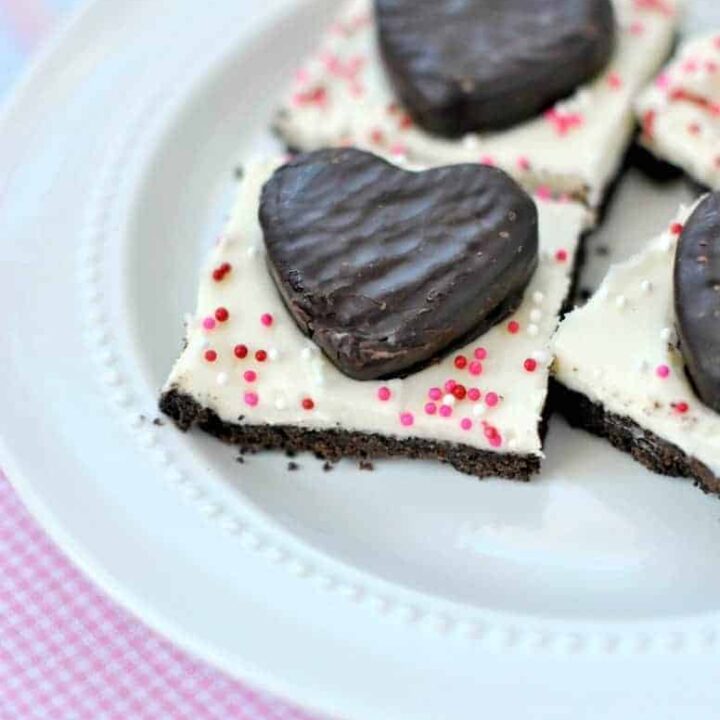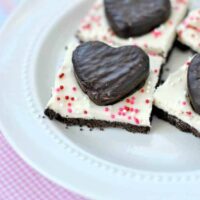 Ingredients
For the crust:
1 pkg (8oz) chocolate sandwich cookies
1/4 cup unsalted butter
3/4 cup semi-sweet chocolate morsels
For the topping:
8oz Vanilla Candiquik, melted according to package
1 pkg (8oz) cream cheese, softened
1 tsp peppermint extract
24 Peppermint Patties
sprinkles
Instructions
For the crust, process cookies in a food processor until a fine crumb. In a microwave safe bowl, melt butter with chocolate morsels for about 90 seconds, stirring after every 30 seconds. When smooth, fold in crushed cookies.
Spread mixture in the bottom of a foil lined 13x9 baking dish. Use fingers to get mixture to pack evenly in pan. Freeze for about ten minutes, while making the topping.
For the topping, beat cream cheese about 2 minutes until fluffy. Add melted candiquik and peppermint extract. Beat for 3 minutes on high until fluffy. Spread over cooled crust. Immediately press peppermint patties on top of cream cheese layer and add sprinkles, if desired.
Cut into squares. Store in refrigerator for 3 days. ENJOY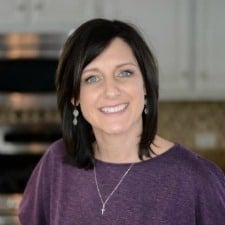 Aimee is a dessert lover (specifically rice krispie treats), workout enthusiast, self-taught foodie, and recipe creator. Her recipes have been featured in over 15 magazines, and her passion is to share her love of cooking with the everyday home cook! Learn more about Aimee.