Rich, decadent Chocolate Peppermint Mousse Pie. This is the holiday dessert you were waiting to indulge in!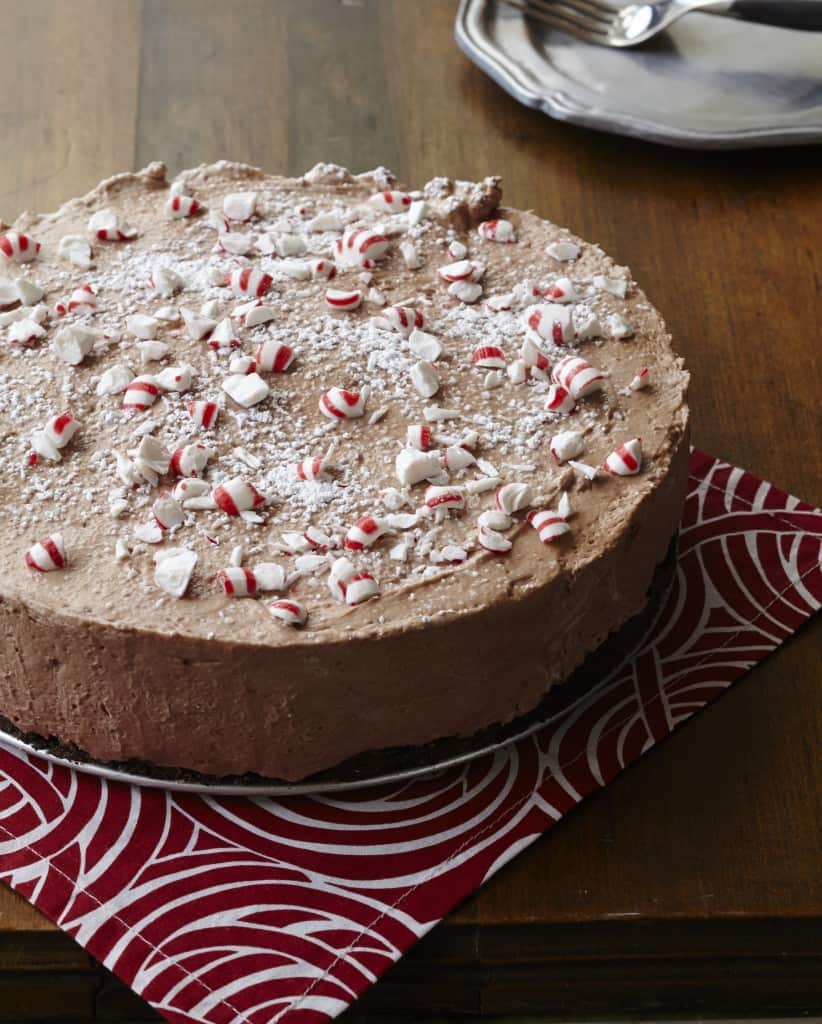 Yield: 10 servings
Chocolate Peppermint Mousse Pie
Total Time
3 hours
45 minutes
Ingredients
For the Crust
1 Tablespoon unsalted butter
½ cup hazelnuts, chopped
¼ cup granulated sugar
¾ cup all-purpose flour
3 Tablespoons unsweetened dark cocoa powder
6 Tablespoons unsalted butter, softened
¼ teaspoon kosher salt
For the Filling
½ cup cold water
1 envelope unflavored gelatin
1 cup chocolate hazelnut spread (Nutella)
8 ounces cream cheese, softened
1 ½ teaspoons peppermint extract
3 cups heavy whipping cream
⅔ cup granulated sugar
For Garnish
3 Tablespoons powdered sugar
¼ cup crushed peppermint candy canes
Instructions
Grease a 9-inch springform pan with 1 tablespoon butter; set aside.
In a food processor, pulse hazelnuts with granulated sugar until finely ground. Add flour, cocoa powder, softened butter, and salt. Continue to pulse until well blended. Press into bottom of pan. (Mixture may be crumbly; use hands to press into pan in an even layer.) Poke with fork.
Bake in a 375 degree oven for 18 to 20 minutes. Cool completely.
In a small saucepan, add cold water to pan. Sprinkle with gelatin and allow to bloom (absorb water) for 2 minutes. Heat saucepan on low and whisk gelatin water for several minutes until completely absorbed and dissolved. Remove from heat.
In mixing bowl, beat chocolate hazelnut spread, cream cheese, and peppermint extract. Add gelatin to cream cheese mixture. Beat on medium high for 2 to 3 minutes, scraping down sides of bowl as necessary. Set aside.
In a cold mixing bowl, beat heavy cream with sugar until soft peaks form. Fold in cream cheese mixture. Pour over cooled crust and refrigerate for 3 hours or overnight.
To remove springform pan, use plastic knife and run along edges. Remove sides of pan.
When ready to serve, sprinkle with powdered sugar and crushed candy canes.
Did you make this recipe?
Please leave a comment on the blog or share a photo on Instagram