Chocolate Rolo Cupcakes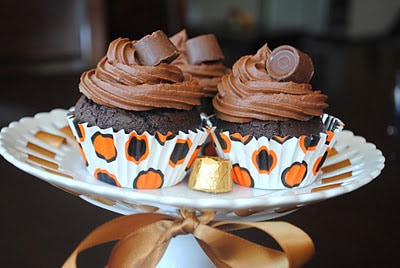 I love candy. There I said it. I love caramel. Happy now? I am, because Rolos satisfy. Truly, they are the perfect candy, and they are so fun to bake with too!
Here's a true story.
One day, I baked Rolo cupcakes. Then my bloggie bestie (Jocelyn), told me she was baking with Rolos.
We decided we were twins, separated at birth. No….not because of the Rolos. And we certainly don't look alike (I have short dark, STRAIGHT hair, and she has beautiful blonde, curly hair). Everything else = twins.
For example, I did p90x, loved it, hated it. Jocelyn did p90x, loved it, hated it. Right?
We both spilled coffee on ourselves one day. The same day!! Catching on???
We both love Take 5 bars. And other candy. I know, scary, isn't it??
Two words. Pumpkin Obsessed. You think I am bad, you should read my twin's blog!
We both have kids who had dentist appointments…the same week! Woah.
There is one big thing though that makes us different. And I'm totally trying to fix, I mean convert her. She doesn't like bacon with her sweets. I mean, c'mon. WHEN we meet in life for real, I'm totally bringing her one of my maple bacon doughnuts. And I'm going to make her eat it in front of me. That's what twins do. So I'm told.
In the meantime, enjoy the rolo cupcakes, and then pop over to Jocelyn's and see what she cooked up for you. I'm sure it's totally cute and over the top, or extremely decadent. She tries to compete with me and all, just like a real twin. I let her win too in that department. She is super talented!!! (just a hint, she made Rolo pretzel peanut butter M&M bars– I told you she is over the top, but they look fabulous)!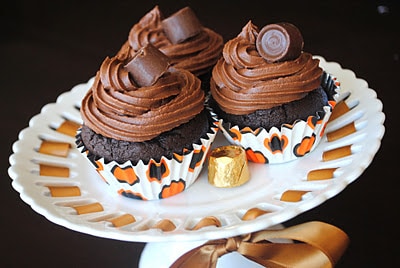 Yield: serves 12
Chocolate Rolo Cupcakes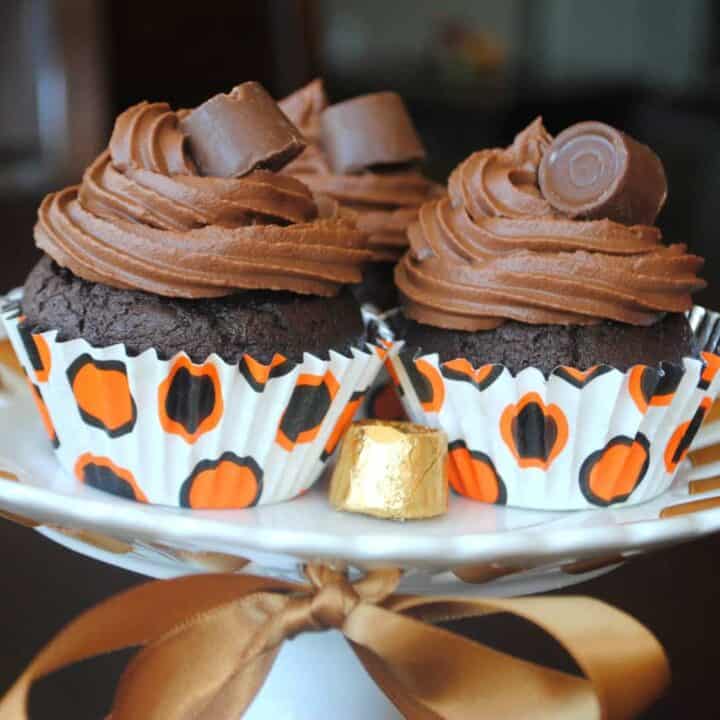 Ingredients
For the cupcakes:
1 cup flour
1/2 cup sugar
1/2 cup brown sugar
1/2 cup unsweetened cocoa powder
1/2 tsp baking powder
1/2 tsp baking soda
1/2 tsp salt
1/2 cup butter, melted
2 eggs
1 tsp vanilla extract
1/2 cup hot coffee
For the frosting:
1/3 cup butter, softened
1/3 cup dark chocolate unsweetened cocoa
2 1/2 cup powdered sugar
1 tsp vanilla extract
1/4 cup milk
12 Rolo candies
Instructions
In mixing bowl, blend butter, eggs and vanilla for one minute. Add the flour, cocoa, sugars, baking powder, baking soda and salt. Mix until combined. Slowly add in the hot coffee and beat until smooth.
Pour into 12 lined muffin tins. Bake in a 350 degree oven for 18-20 minutes. Remove and cool.
For the frosting, beat the butter with the cocoa and powdered sugar. Slowly add in the vanilla and milk until desired consistency. Frost cooled cupcakes.
Top with one Rolo. Enjoy!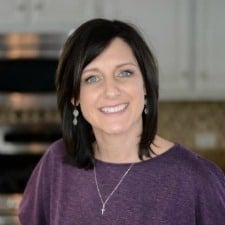 Aimee is a dessert lover (specifically rice krispie treats), workout enthusiast, self-taught foodie, and recipe creator. Her recipes have been featured in over 15 magazines, and her passion is to share her love of cooking with the everyday home cook! Learn more about Aimee.