The most delicious, from scratch, white cake recipe is used to create this perfect Coconut Cake!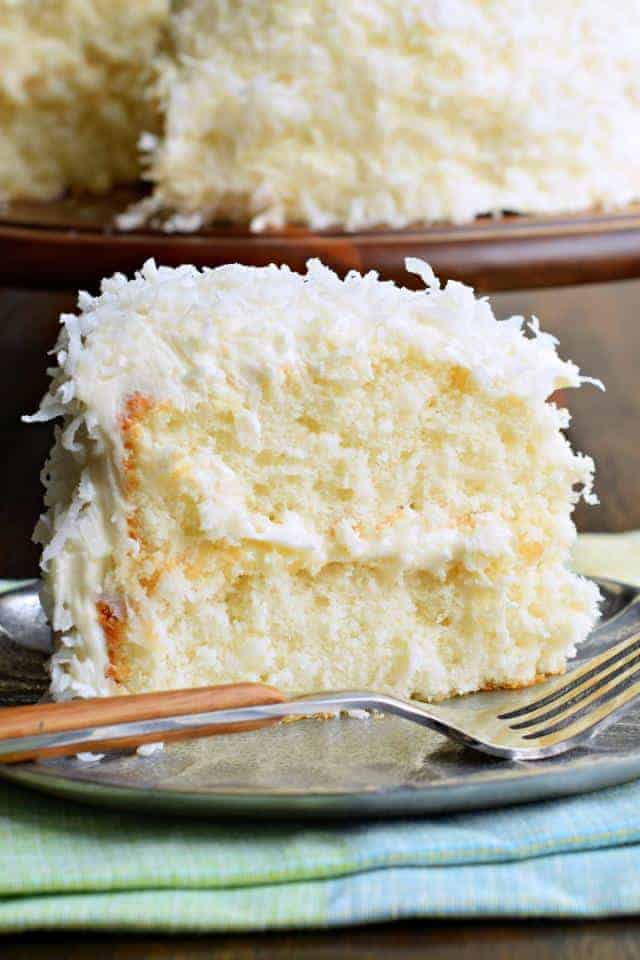 Happy April everyone! I'm amazed how quickly this year is flying by.
Does it seem like as you get older time goes so much faster?
When you are young, the days are long and the years between birthdays seem like forever. The wait for Christmas morning feels like eternity.
And then you have children. And the days with stomach bugs, sleepless nights, and crying babies drag on and on. And people warn you (wise wise women warn you) that you should embrace this time because before you know it, your children will be leaving the nest.
You give those wise women a side glance because on the surface, speeding through the sleepless night phase doesn't sound so bad. Yet deep down, you don't want that baby to grow up.
Suddenly (or at least it feels like suddenly), here you are. One child has left the nest. One child graduates high school next month, one is learning to drive this year (and turns 15 today!), and your baby is a teenager.
***sigh***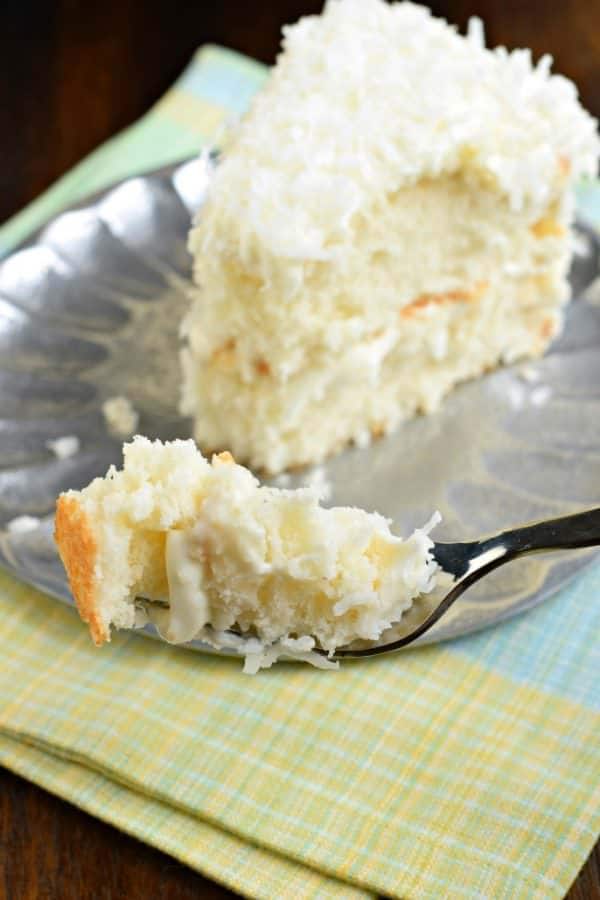 I know ya'll just want this recipe for Coconut Cake, but I do have a point to my story. I feel like I am one of those wise women now telling YOU a secret. Enjoy life. Embrace it. LIVE your life. Make memories.
Eat the dang cake
Did you read that last line? So often we skip dessert. Life is short my friends, and I'm here to say, EAT DESSERT. I get it if you're counting calories and trying to lose weight or be healthier. Here's my advice. Don't waste your time on semi-delicious food.
If you're going to eat dessert (which I highly encourage), eat the most amazing dessert possible. Not the whole cake.
That's where friends and family come in. That's where the laughter and the memories come in! Bake it together. Eat it together. ENJOY LIFE!
Okay. This public service announcement is over, but I'm sure as my babies continue to leave the nest, this isn't going to be the end of my story or my life lessons. Because there's still one important thing to discuss… how do you scale down the amount of dinner you cook as your family shrinks? Cause that struggle is real.
Easy directions
STEP 1. Whisk together room temperature egg whites and 1/4 cup of the milk in a small bowl until slightly combined. Set aside.
In a mixing bowl, beat butter, sugar, vanilla extract and almond extracts for 2 minutes on medium speed, scraping down the sides of the bowl as needed.
For extra coconut flavor, you could add coconut extract if desired.
STEP 2. Add in dry ingredients and mix until combined. Beat in egg white mixture until fully blended. Add in remaining milk and beat for 3-4 minutes, scraping down the sides of the bowl. Fold in coconut.
Spray two 9-inch cake pans with baking spray or use parchment paper. You could also use homemade cake release.
STEP 3. Pour batter into pans and bake in a 350 degree oven for 26-28 minutes. Remove and cool completely on wire rack.
STEP 4. For the frosting, beat butter and cream cheese for 3 minutes using whisk attachment on an electric mixer. Add in powdered sugar and heavy cream. Beat an additional 4-5 minutes, scraping down the sides of the bowl as needed.
To assemble, place one cake layer on a cake stand. Add a large amount of frosting to top and smooth with an offset spatula.
Top with second layer of cake. Apply frosting to entire cake.
To add the coconut flakes or shredded coconut to the top and sides of cake, place cake stand on a baking sheet (to help catch excess coconut). Fill hand with coconut and press gently into sides of cake. Repeat until desired amount of coconut applied. ENJOY!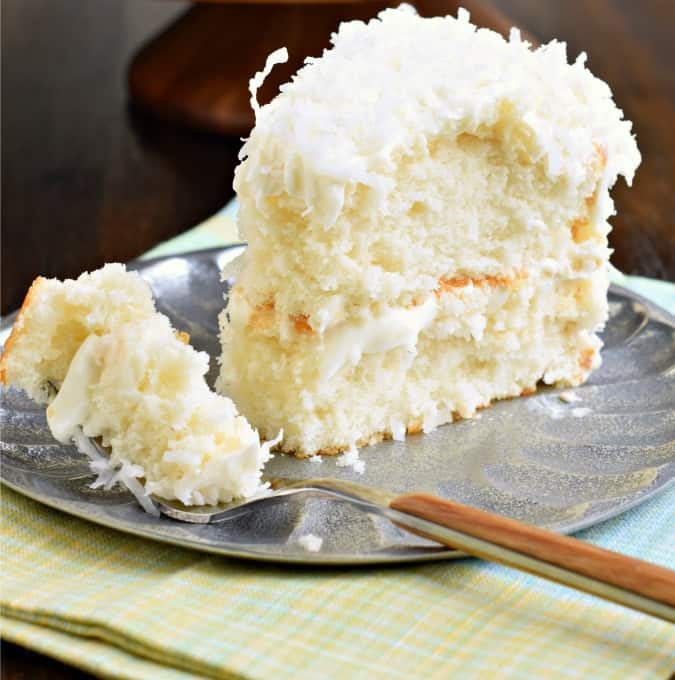 More Coconut recipes
Sweet Coconut Biscotti is perfect with your breakfast this morning! Dunk it in your morning coffee or tea, and I say you have a well rounded breakfast!
Turn your traditional Banana Bread recipe into something even better! I added shredded coconut and macadamia nuts to my favorite recipe to create this Coconut Banana bread! INCREDIBLE.
Enjoy this light, refreshing Coconut Cream Poke Cake after dinner tonight! Perfect to bring to a potluck or BBQ this year!
Creamy, BBC Drink – Banana Baileys Coconut Cocktail Recipe made with cream of coconut and is perfect any time of year! Cheers!
Add a little coconut milk to hot chocolate for this Pina Colada Hot Cocoa recipe. I promise it's amazing.