Cookies 'n Cream Cookies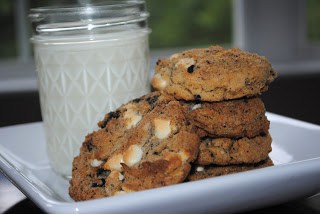 Yes, a totally ridiculous name for these cookies. But, what would you call them? Cream and Cookies? Just Cookies and Cream? It was a tough choice to make so early in the morning.
Regardless of the name, these cookies ROCK! Inspired by these double chocolate Oreo cookies but using the base recipe for these Rainbow cookies; the combination is wonderful. They are chewy and crunchy at the same time! Perfect to dip in milk (or coffee!!).
Can I ask a completely unrelated question now? How is it October already? And why does the temperature drop so suddenly now that it is October. It's so cold this morning, that I had to make a delicious pot of coffee, and then I had to eat one of these cookies with my coffee because I was too cold to make yogurt or cereal. Okay, enough complaining, because really I kinda liked eating cookies for breakfast!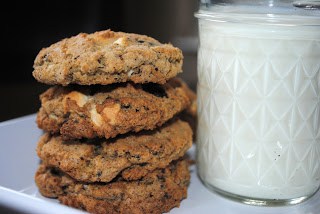 Cookies 'n Cream Cookie Recipe:
Ingredients
1 1/2 cup butter, melted
2 cup brown sugar
1 cup sugar
3 eggs
1 Tbsp vanilla extract
4 cup flour
1 tsp salt
1 tsp baking soda
11 oz white chocolate morsels
14 Oreo cookies, crushed
Instructions
Beat melted butter with sugars until smooth and creamy (about 2 minutes). Beat in eggs one at a time. Add vanilla. Beat in flour, baking soda and salt. Mix until thoroughly combined. Fold in chocolate and Oreos.
Bake in a 375 degree oven for 10-12 minutes. Enjoy!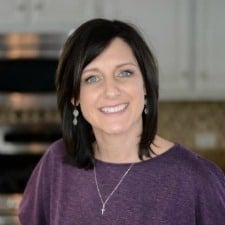 Aimee is a dessert lover (specifically rice krispie treats), workout enthusiast, self-taught foodie, and recipe creator. Her recipes have been featured in over 15 magazines, and her passion is to share her love of cooking with the everyday home cook! Learn more about Aimee.