Cookies 'N Cream Fudge
Hello. My name is Aimee and I love fudge. I thought I would interrupt this zucchini bake-a-thon with a creamy, delicious fudge recipe. As you know (well, if you visit me often here you know this), I like to try new fudge recipes (like Cookies and Cream Pretzel Fudge and Orange Creamsicle Fudge Bites and Peanut Butter Pretzel Fudge).
I know, most people make fudge for Christmas. After all, it's about 200 degrees outside, fudge? really? Here's the thing. You don't need an oven. You store them in the fridge (or freezer!). And you get a perfect sweet treat bite without the hassle of baking. You're with me here, right?
(Check out my guide for how to make fudge for more fudge storage tips!)
Anyways, I had bought some Oreos on a whim the other day, and instead of letting the kids devour them in 3.5 seconds I decided to do something else with them. Enjoy!
Ingredients
3 cup white chocolate morsels
20 Oreo cookies, crushed
7 oz Marshmallow Fluff
14 oz can Sweetened Condensed Milk
1 tsp clear vanilla extract
Instructions
Melt chocolate with milk and marshmallow cream over medium-low heat. Stir continuously until smooth. Quickly stir in vanilla. Fold in crushed cookies.
Pour in a foil lined 13x9 baking pan. Refrigerate 3 hours until firm.
Cut into bite size pieces. Store in refrigerator for best flavor!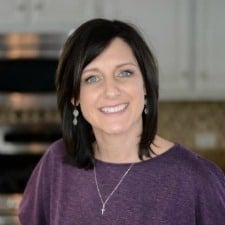 Aimee is a dessert lover (specifically rice krispie treats), workout enthusiast, self-taught foodie, and recipe creator. Her recipes have been featured in over 15 magazines, and her passion is to share her love of cooking with the everyday home cook! Learn more about Aimee.