Chewy Cranberry Pistachio Cookie bars with White Chocolate drizzle. So easy to make, and looks great on your cookie trays this holiday!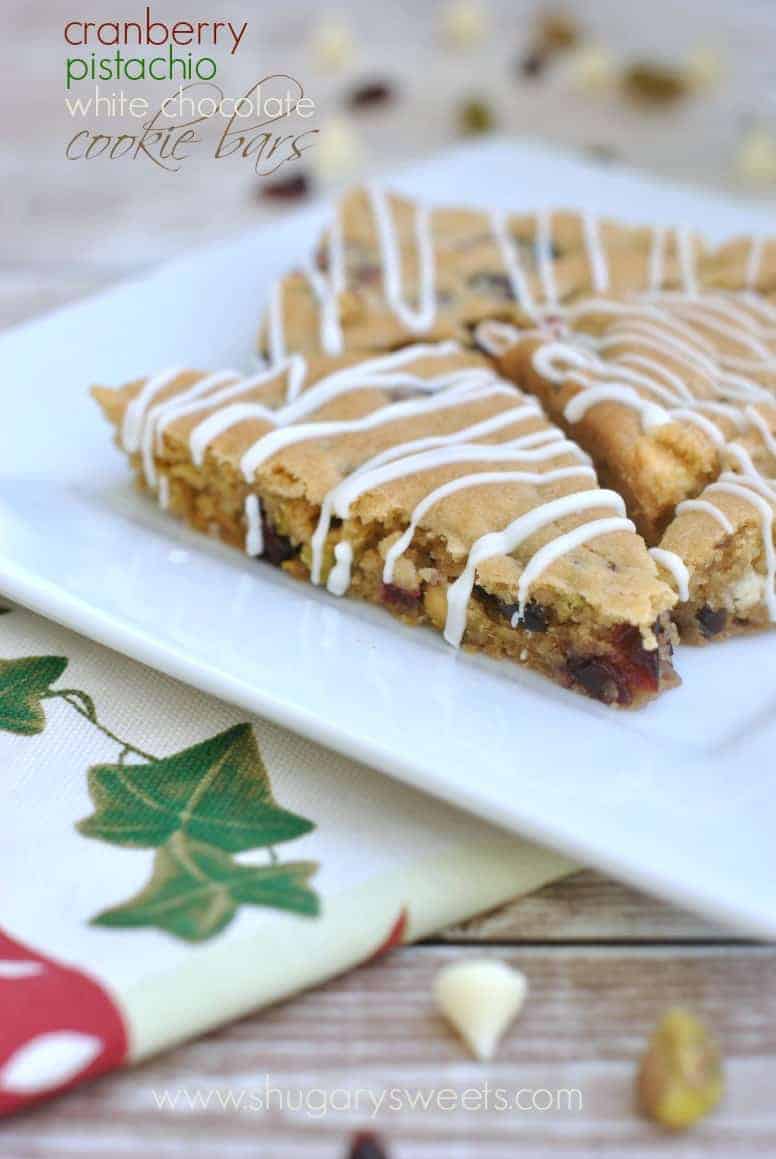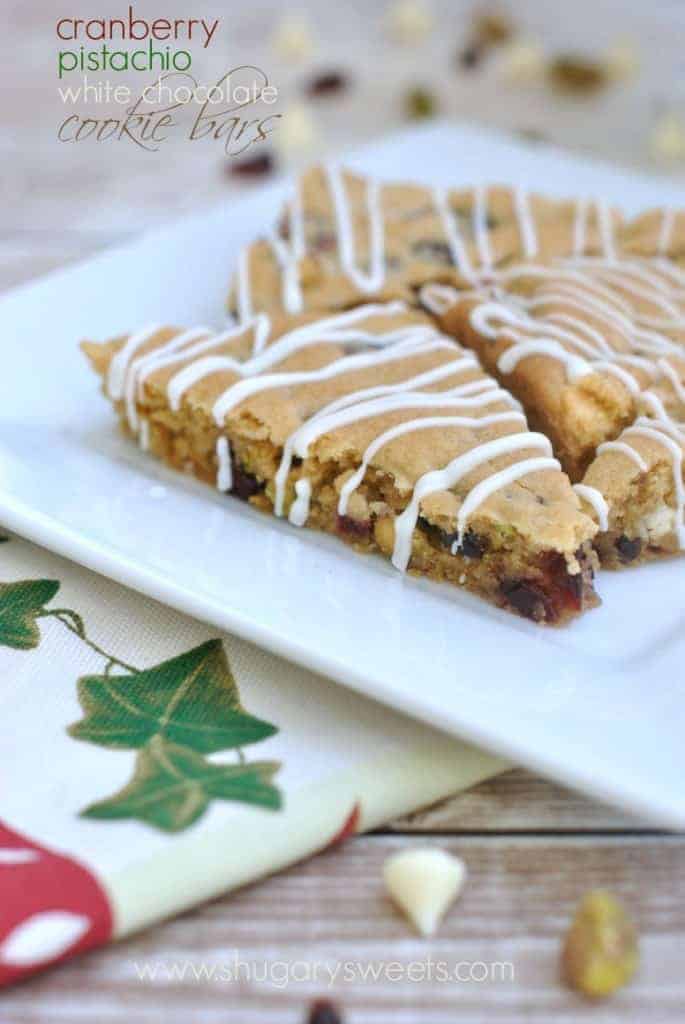 Christmas is next week. Did you hear me, NEXT WEEK!
Okay, yes I'm panicking a little bit. Hear me out.
I haven't started wrapping presents yet. I do this to myself EVERY. SINGLE. YEAR.
I tell myself after purchasing that first present that "this year will be different." This year I will wrap as I go.
Guess how many presents I have wrapped. Yep. Zero. And of course, it's not like when the kids were little and I can wrap in my room, lock the door and have my hubby tell them "mom has a headache." Oh no, if I were to lock my door, the kids would be there KNOWING exactly what I was doing. They are smart like that.
Then they would stand there until I was done and want to know where the gifts were hidden.
Not that I know any of this to be true, since I've never actually gotten my wrapping done before Christmas Eve. Seriously, there is no worse gut wrenching angst than to tuck the kids in bed after having a big glass of rum spiked nog and knowing I still have hours of gift wrapping. It was one thing when my kids went to bed at 7:30pm on Christmas Eve. It's another thing when we don't tuck them in until 11pm (or later)!
So, looks like I may have to try the "fake a headache" trick this weekend and see how it goes. Hopefully karma doesn't give me a real one!
One thing I have planned ahead is my baking! I made these Cranberry Pistachio Cookie Bars last month, and they are amazing. Chewy, crunchy (from the nuts), sweet, tart…they truly have everything going for them! Plus, no worry about slaving in your kitchen for hours baking. That's the joy of cookie bars. One batch. Done. BOOM!
Now, time to sign off so I can go wrap. Any good Netflix tv shows or movies you recommend?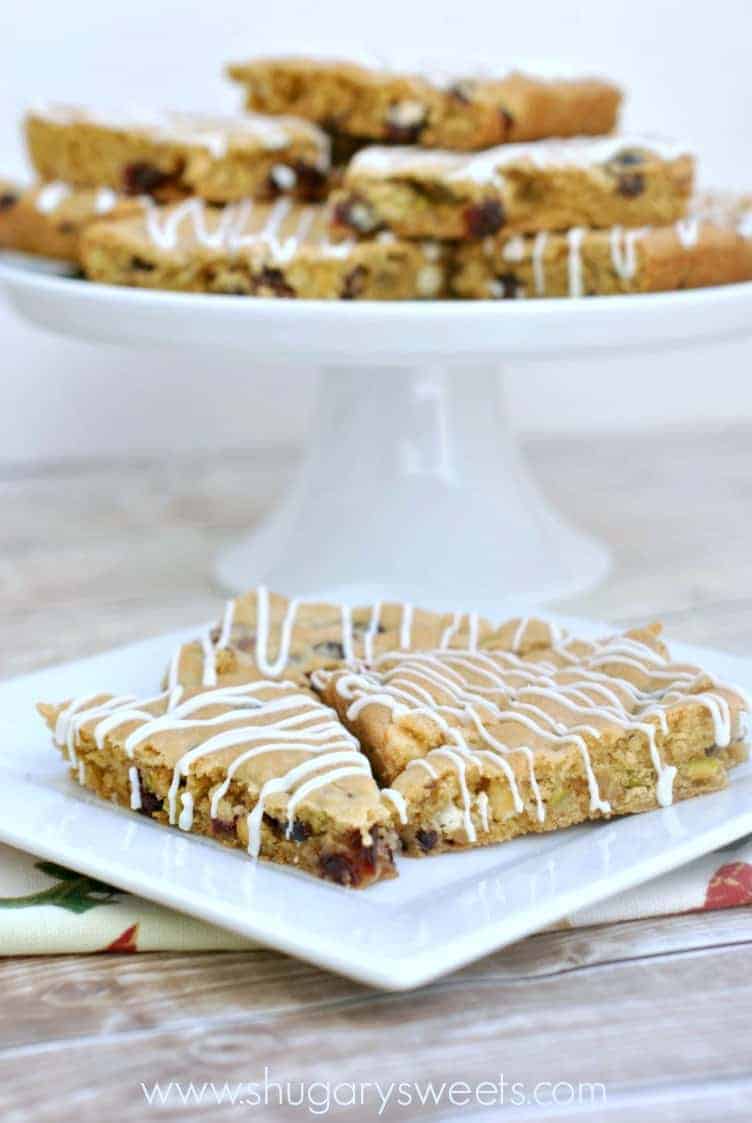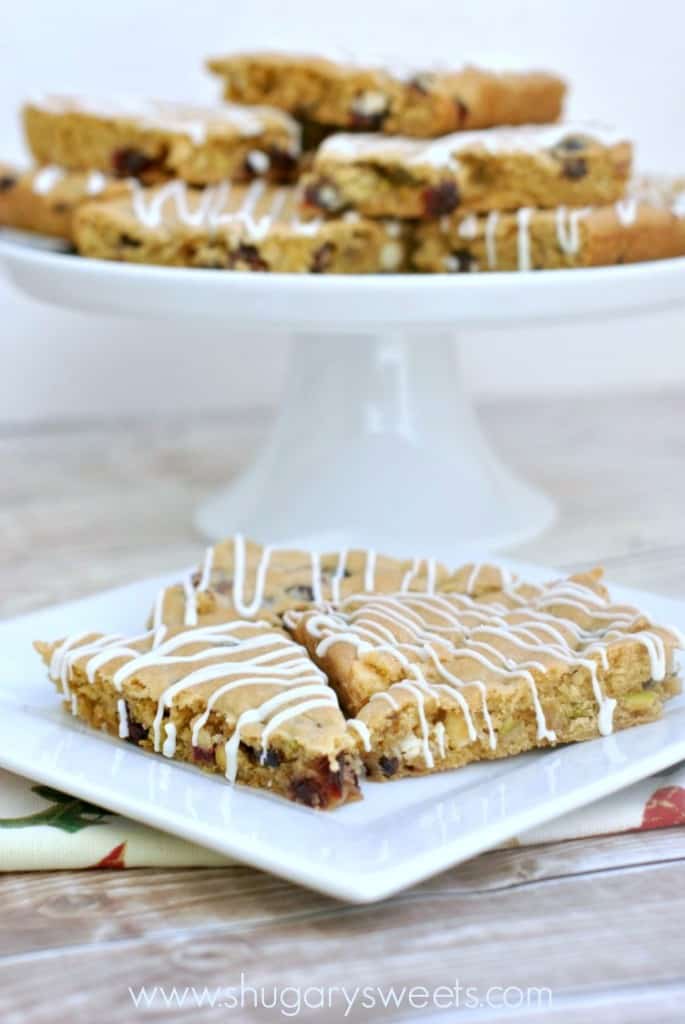 Love cranberries and pistachios and white chocolate?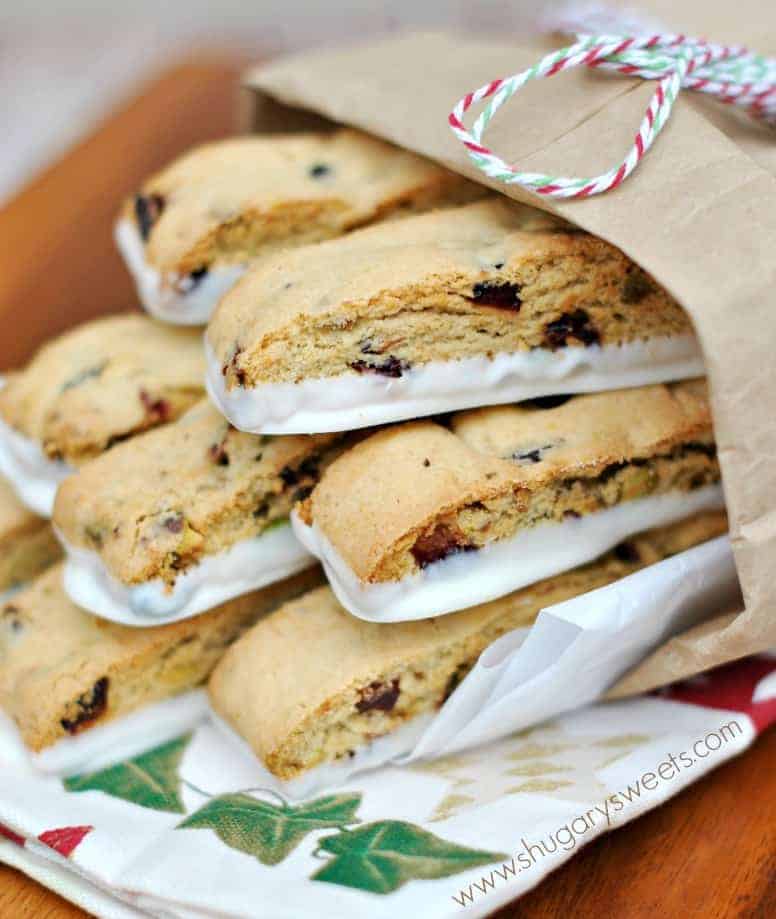 Biscotti: easy to make and delicious too!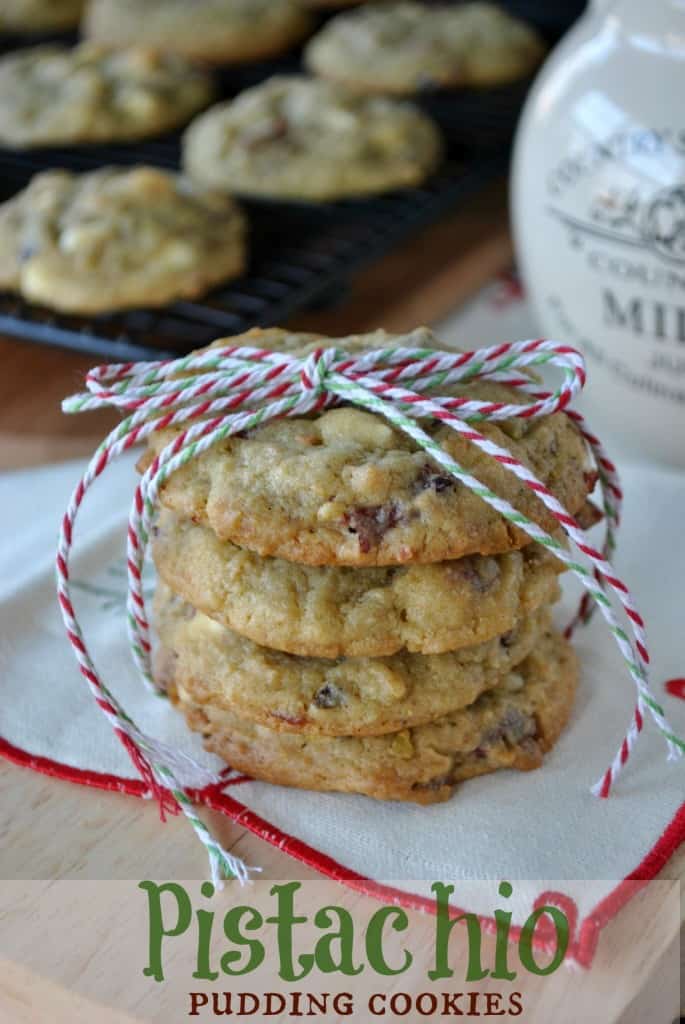 Pistachio Pudding Cookies with cranberries and white chocolate morsels
Love Cranberries and White Chocolate?
Cranberry White Chocolate Cookies
Love Pistachios?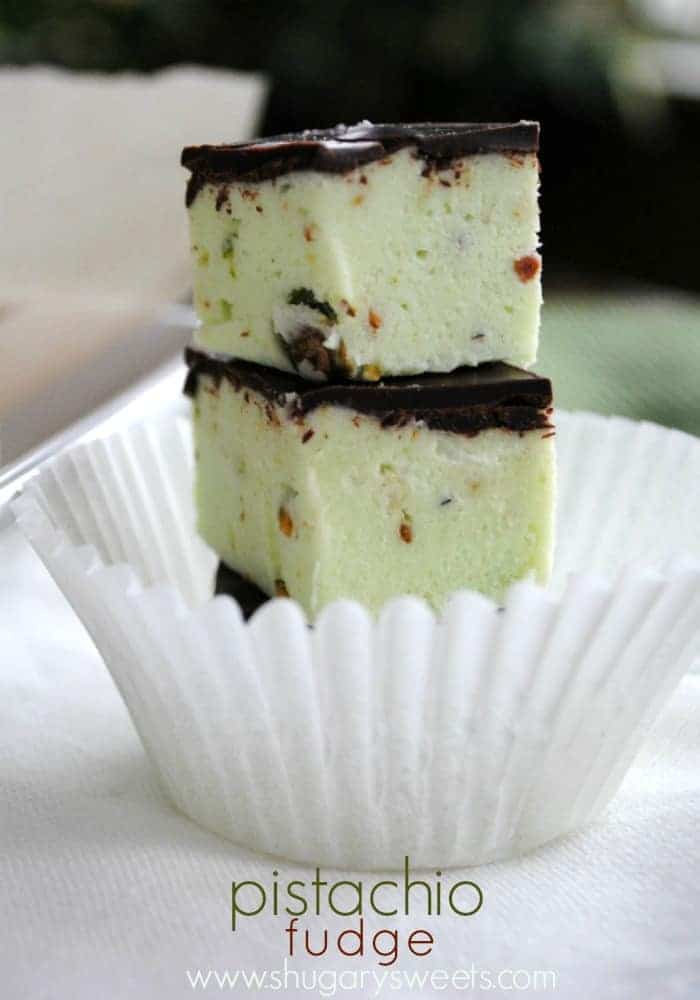 Pistachio Fudge with Dark Chocolate
Yield: 36 bars
Cranberry Pistachio Cookie Bars
Chewy Cranberry Pistachio Cookie bars with White Chocolate drizzle. So easy to make, and looks great on your cookie trays this holiday!
Ingredients
3/4 cup unsalted butter, melted
1 cup light brown sugar, packed
1/2 cup granulated sugar
2 large eggs
1 tsp pure vanilla extract
2 1/4 cup all-purpose flour
1/2 tsp baking soda
1/2 tsp kosher salt
1/2 cup white chocolate morsels
1 cup Craisins (dried cranberries)
1/2 cup pistachios, shelled, smashed
4 oz white chocolate, melted
Instructions
In a large mixing bowl, beat melted butter with sugars until creamy. Add eggs, one at a time. Add in vanilla. Beat in flour, baking soda and salt. Fold in white chocolate morsels, cranberries and pistachios.
Spread dough into a greased 15x10x1 inch baking sheet. Bake in a 350 degree oven for 18-22 minutes. Remove from oven and allow to cool about 15 minutes before slicing.
Once cooled, drizzle melted white chocolate over bars. Store in an airtight container for up to one week. ENJOY.
Nutrition Information:
Yield:
36
Serving Size:
1
Amount Per Serving:
Calories:

150
Total Fat:

7g
Saturated Fat:

4g
Trans Fat:

0g
Unsaturated Fat:

3g
Cholesterol:

22mg
Sodium:

68mg
Carbohydrates:

21g
Fiber:

1g
Sugar:

14g
Protein:

2g
*Nutrition facts are an estimate and not guaranteed to be accurate. Please see a registered dietitian for special diet advice.