Cream Cheese Frosted Banana Nut Scones
These Banana Nut Scones are so easy to make. I frosted them with a smooth Cream Cheese frosting that is to die for!
 Be sure to follow me on Bloglovin'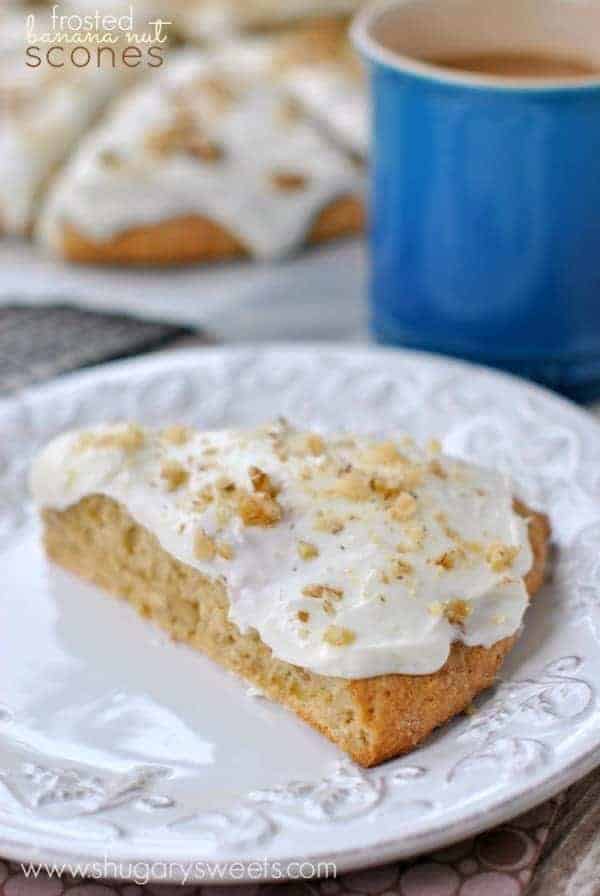 I went on a banana baking spree a few weeks back. These Banana Nut Scones were one of the delicious results of that crazy day!
First, let me say, I love baking banana recipes. I love how my house smells amazing all day!
Second, I apologize for the insane amount of frosting on these scones. Okay, I don't really apologize. I'm not sorry at all.
I love scones. Not as much as I love biscotti, but scones definitely have their place among the breakfast pastry choices. However, they get a bad rap. Some people complain that scones are dry and/or not sweet enough.
I listened.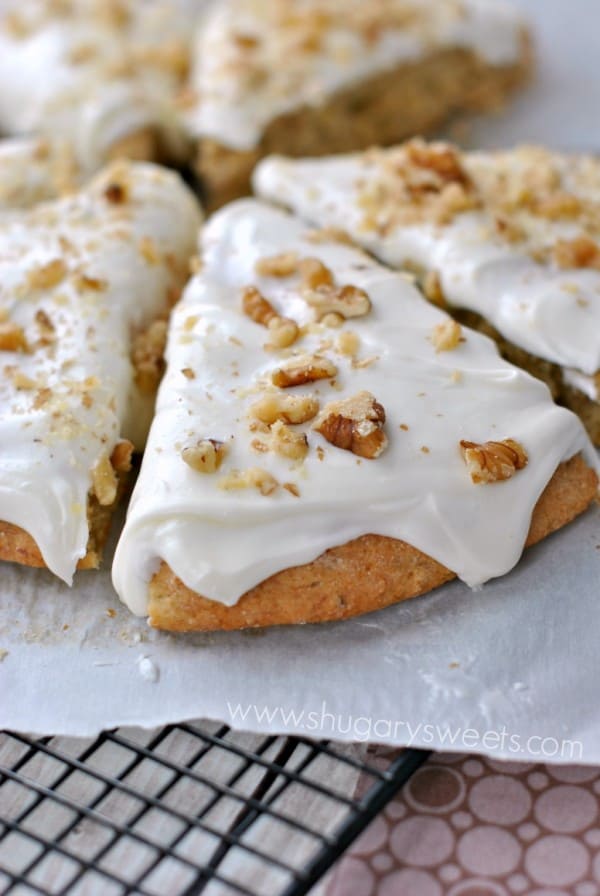 Most of my scones recipes have a glaze.  It adds a touch of sweetness and helps lock in some moisture to the scones. I planned on making a light glaze for today's scones. But then I went crazy. And the frosting lover in me pulled out the KitchenAid mixer and there was no turning back.
Guess what? These weren't dry. They definitely were not "not sweet". And they 100% were delicious.
I asked on instagram if it was okay that I frosted my scones. Since nobody disagreed, I figured it was safe to share them here! (By the way, do you follow me on instagram yet??)
I'm not a trained chef. I don't always know what I'm doing in the kitchen. I have more recipe failures than I care to admit. But when something just tastes amazing, I don't care if it's acceptable, haha! And piles of frosting on scones is going to be the new trend (or is it already a trend, I have no idea)!
Anyways, if you're looking for a breakfast idea to really WOW your family, friends, coworkers…these are it! I made my scones large, but you can divide your dough in half and make two smaller circles. Up to you!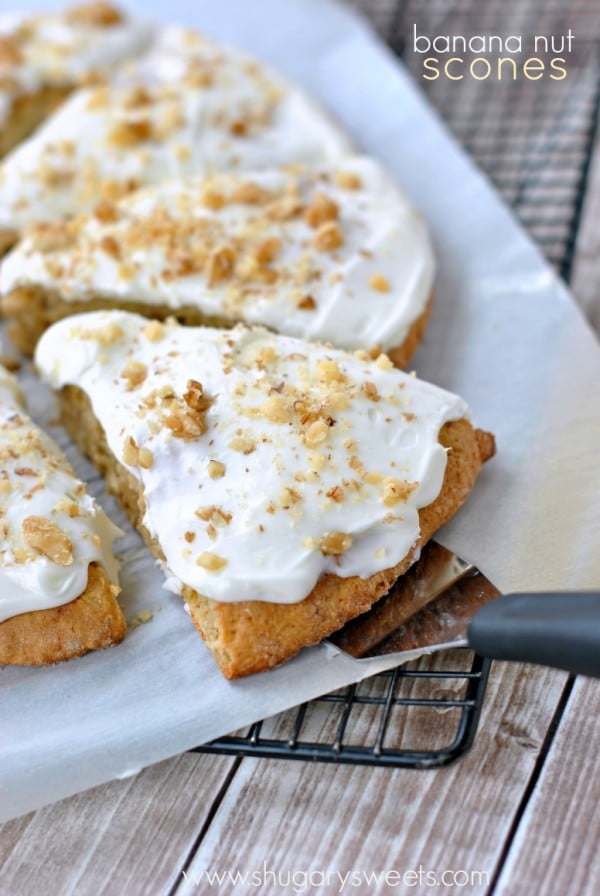 Connect with Shugary Sweets! Be sure to follow me on my social media, so you never miss a post!
Pinterest | instagram | Bloglovin'
Yield: 8-10 scones
Cream Cheese Frosted Banana Nut Scones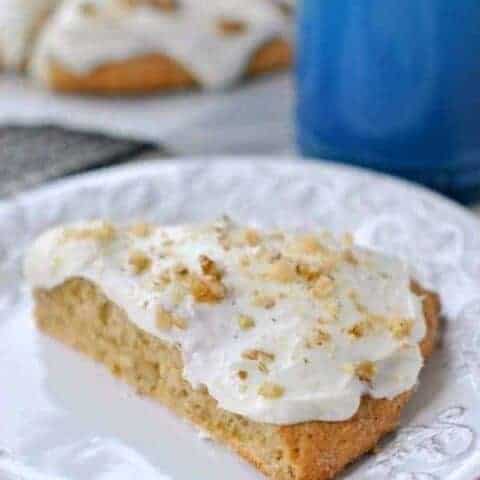 Ingredients
For the scones:
1 1/2 cup all-purpose flour
1/2 cup granulated sugar
1/4 tsp kosher salt
2 tsp baking powder
6 Tbsp unsalted butter, softened
1 large egg
2 large bananas (about 1 cup mashed)
1/4 cup buttermilk
1/2 cup chopped walnuts
For the frosting:
4 oz cream cheese, softened
1 1/2 cup powdered sugar
5 Tbsp heavy cream
1/2 cup chopped walnuts
Instructions
In a large mixing bowl, combine flour, sugar, salt and baking powder. Add in butter using the beater blade of an electric mixer until it resembles coarse crumbs.
Add egg, bananas, and buttermilk. Combine completely. Fold in chopped walnuts.
On a large baking sheet with parchment paper or silpat, drop dough. Using floured hands (or sprinkling a little extra flour on the top of the dough) pat into a large 10inch circle.
Using a large knife or pizza cutter, slice dough into 8-10 large triangles. Separate slightly.
Bake in a 350 degree oven for 25 minutes. Remove from oven and make sure scones are completely separated. Bake an additional 10-15 minutes. Remove and cool completely.
For the frosting, beat cream cheese with powdered sugar and heavy cream. Beat for 3-5 minutes until desired consistency. Spread over scones and immediately sprinkle with chopped walnuts. Serve and enjoy.
Store in airtight container for up to three days in refrigerator.
LOVE Banana recipes?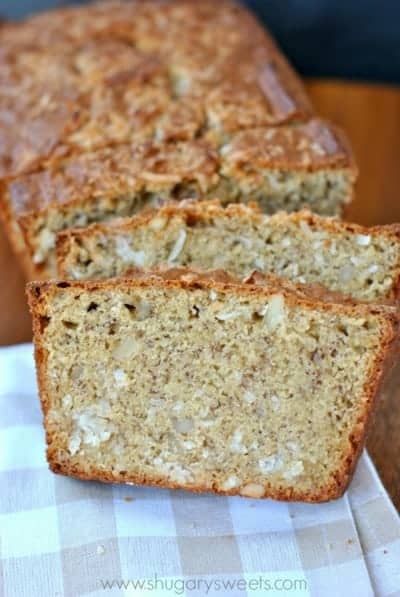 Coconut Banana Bread. Sweet bread with coconut and macadamia nuts!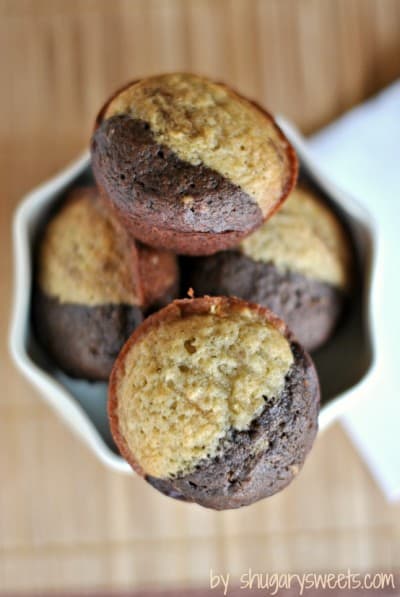 Chocolate Banana muffins. Super moist and delicious, perfect for freezing too!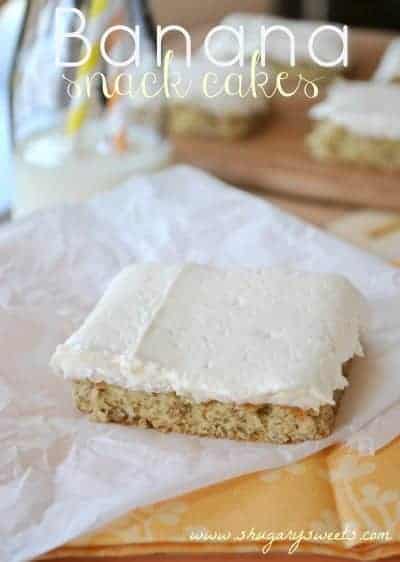 Banana Snack Cakes. A great breakfast or dessert!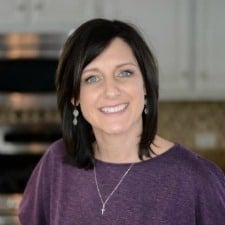 Aimee is a dessert lover (specifically rice krispie treats), workout enthusiast, self-taught foodie, and recipe creator. Her recipes have been featured in over 15 magazines, and her passion is to share her love of cooking with the everyday home cook! Learn more about Aimee.