Another delicious homemade coffee creamer for you all to enjoy. The rich taste of Creme Brulee in this homemade coffee creamer is perfect paired with any dessert.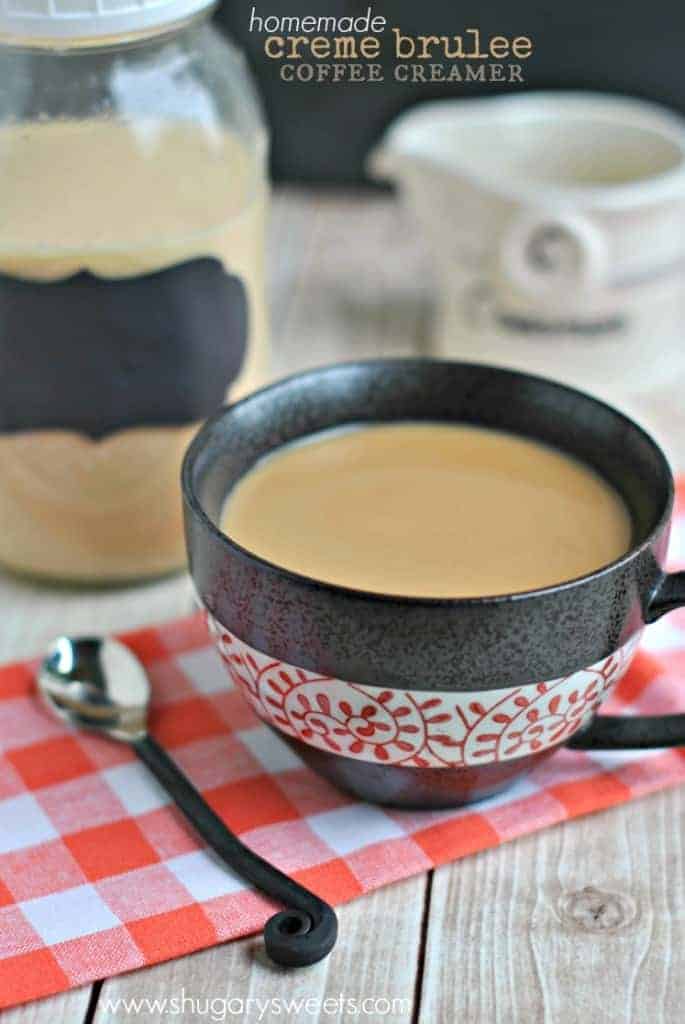 Click HERE to save recipe to Pinterest!
This was a rough week in my kitchen. The weather around here has been absolutely horrible, overcast and rainy most days.
Which, is normally nice, cuddled inside with a good book. But this week I had quite a few recipes I wanted (NEEDED) to work on.
And on the one sunny day (Monday) I baked up two recipes. If you follow me on Instagram, you'll see what happened. My first recipe was pumpkin cinnamon rolls.
I made the yeast dough, it rose and looked awesome. I rolled it out, added my toppings and they were giant beauties. Stuck them in the oven, and that's when it happened.
After thirty minutes in the oven, I took them out. The filling leaked out all over the bottom of the pan and caramelized. Not necessarily a bad thing, until I took a bite of the cinnamon roll. They were the most disgusting things I have ever tasted. UGH.
Instead of going back to the drawing board, because I only have a few hours left to bake and photograph in my prime sunny spot, I decided to just bake up some cookies. From a batch of cookies that I already had in my freezer.
The first batch burned to a crisp. Oops. And the second batch I forgot to put parchment paper on my baking sheet and the caramel stuck like glue.
UGH. I promptly tweeted "Mondays. I quit you."
So, I did what any good food blogger does. I drank a cup of coffee (oh, what, all food bloggers don't relax with coffee?). And while drinking my coffee I realized I can make a quick batch of homemade coffee creamer. Surely I can't mess that up right.
How to make Homemade Coffee Creamer
But, what flavor to make???
Last time I was at the grocery store I saw "Creme Brulee" flavored creamer. Have you had this? Oh my it's delicious.
Instead of using a can of sweetened condensed milk, I used a can of evaporated milk. I heated this up on the stove top for a quick minute with the brown sugar, just long enough to dissolve the sugar. Remove from heat and whisk in the vanilla extract and milk (I used fat free milk, but any kind would work great).
You guys, the flavor of this creamer is incredible. I'm often asked how to make my creamers sugar free, for today's flavor you can use a brown sugar substitute and enjoy!
Now, time to get back in my kitchen and male this Cinnamon Cinnabon Cake. At least this time I've got some delicious coffee to give me peace!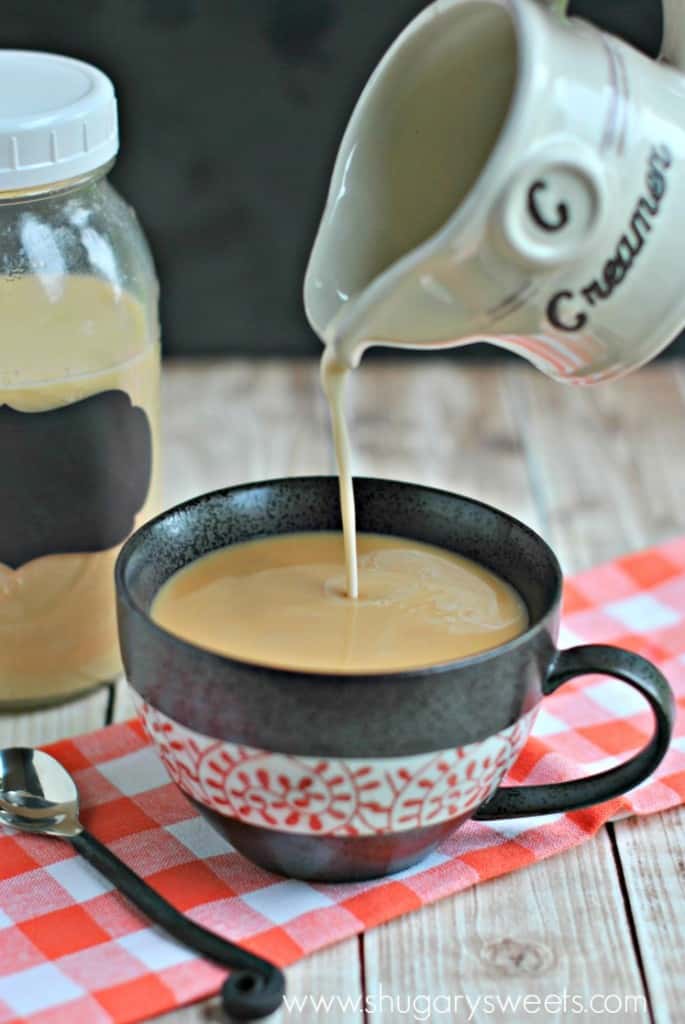 How to make Coffee Creamer without Sweetened
Condensed
Milk:
In a small saucepan, heat up a can of evaporated milk with the brown sugar. Whisk over medium heat until sugar is dissolved.
Add your remaining milk (I usually use skim, but any will work) and vanilla. You can also substitute almond milk or coconut milk for the regular milk in this recipe.
Pour into a mason jar, shake and enjoy. Store in refrigerator.
How do I make sugar free and/or fat free coffee creamer:
Most large grocery stores carry fat free evaporated milk (or fat free sweetened condensed milk).
You can also substitute stevia brown sugar substitutes for the light brown sugar.
Instead of whole milk or higher fat milk, use skim (fat free) milk. You'll love the flavor!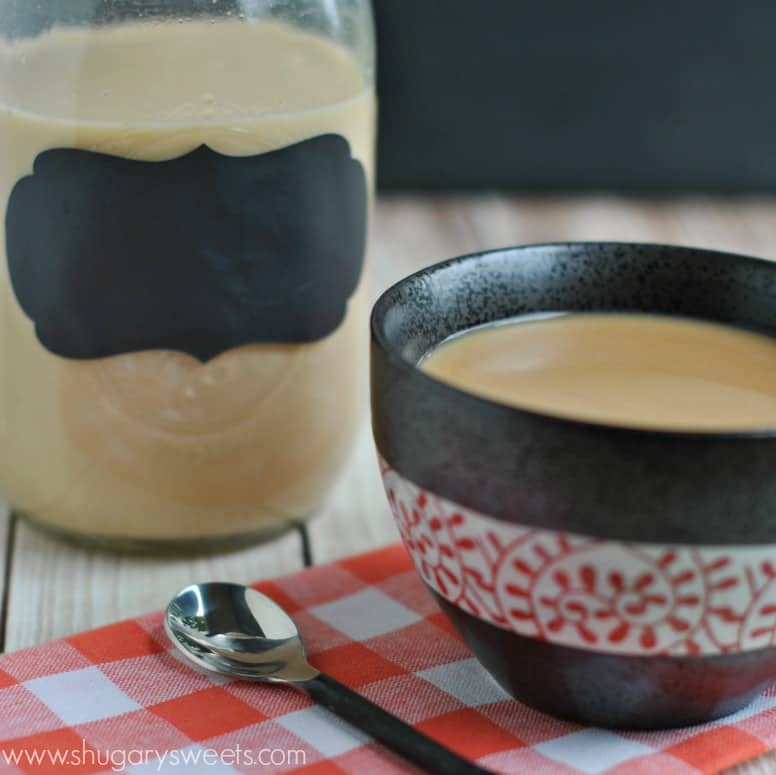 I created a fun little group on facebook and I'd love for you to join in! It's a place where you can share YOUR favorite recipes, ask questions, and see what's new with Shugary Sweets (so that you never miss a new recipe)! If you'd like to check it out, you can request to join HERE.
Connect with Shugary Sweets! Be sure to follow me on my social media, so you never miss a post!
Facebook | Twitter | Pinterest | instagram
Love Coffee Creamer? You've definitely come to the right place!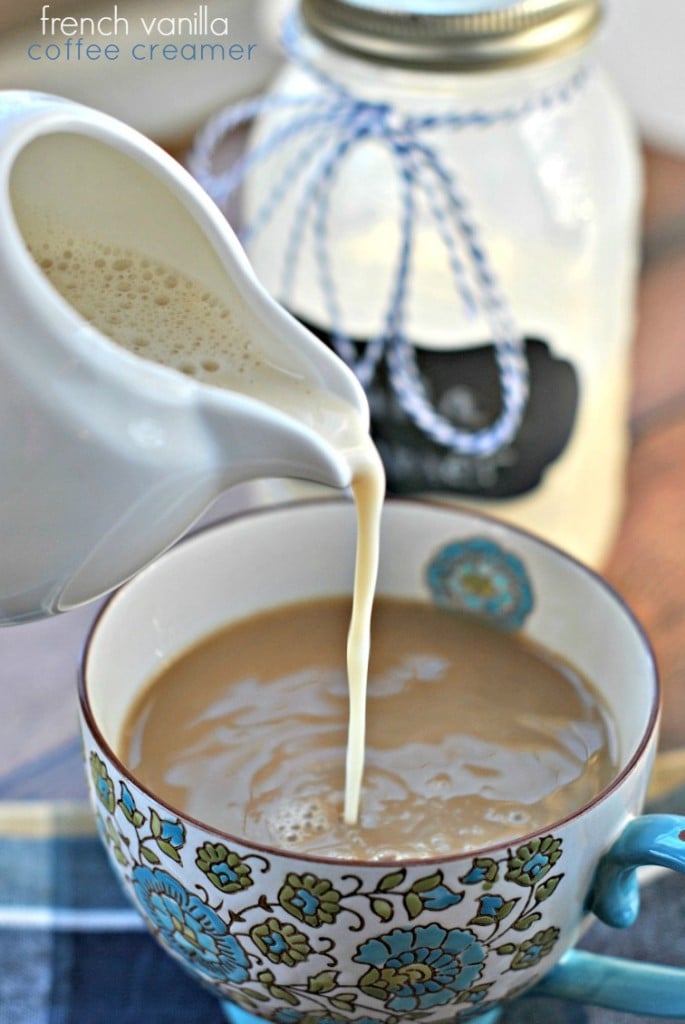 This French Vanilla Coffee Creamer is my most popular. It's the base recipe of most of my creamer recipes!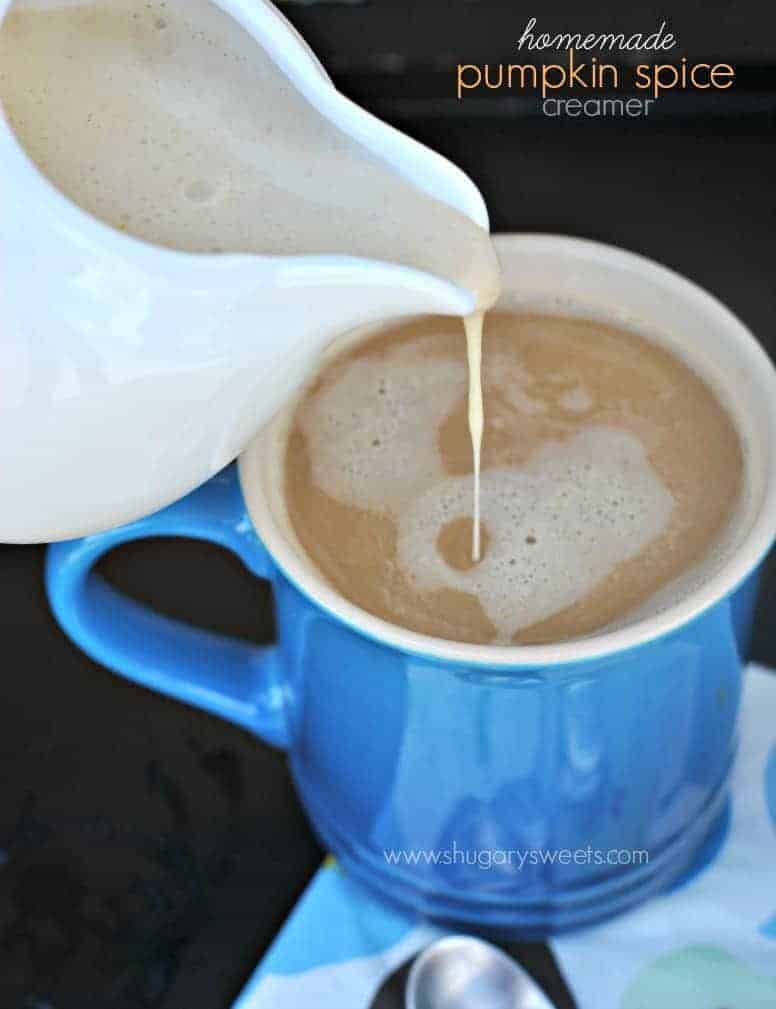 Turn your coffee into a pumpkin spice latte! This Pumpkin Spice Coffee Creamer is perfect for Fall!
Creme Brulee Coffee Creamer recipe:
Yield: 3/4 quart
Creme Brulee Coffee Creamer
Easy, 4 ingredient recipe for homemade Creme Brulee Coffee Creamer.
Ingredients
1 can (12oz) evaporated milk
1/2 cup light brown sugar, packed
1 1/2 cup milk
2 tsp vanilla extract
Instructions
Heat evaporated milk and brown sugar in a small saucepan over medium-low heat and whisk until sugar is dissolved. This takes a couple minutes.
Remove from heat and add the milk and vanilla extract. Pour into a large (quart sized) mason jar and refrigerate until ready to use. ENJOY!!
Notes
To determine expiration date, use the date on your milk carton as your guide. This creamer will last in your refrigerator until the milk date.
Nutrition Information:
Yield:
48
Serving Size:
1 Tbsp
Amount Per Serving:
Calories:

22
Total Fat:

1g
Saturated Fat:

0g
Trans Fat:

0g
Unsaturated Fat:

0g
Cholesterol:

3mg
Sodium:

13mg
Carbohydrates:

3g
Fiber:

0g
Sugar:

3g
Protein:

1g
*Nutrition facts are an estimate and not guaranteed to be accurate. Please see a registered dietitian for special diet advice.
**This delicious Creme Brulee Coffee Creamer recipe was originally published on Shugary Sweets on August 30, 2014 and has been updated and republished in April 2018.