Dark Chocolate Cake with Raspberry Cream Cheese Frosting and Dark Chocolate Ganache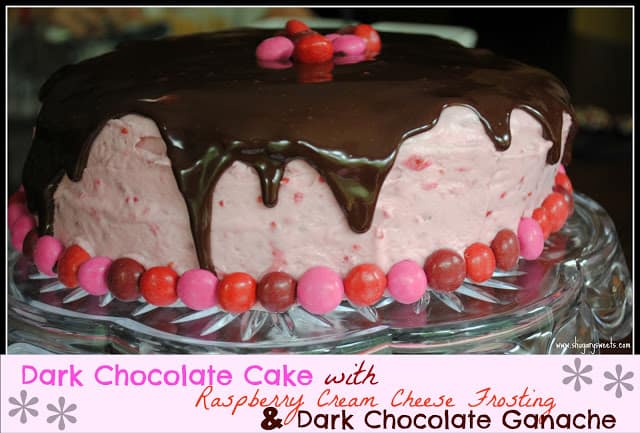 I have some great blog friends. I hope in the future to meet these ladies in real life, and be more than just blog friends. Although, I think we are. Right? You all know who you are! And it seems each day blogging I get to know more and more people.
One day I hope to even make it to a conference. How fun would that be? I had to turn my phone off recently when all the bloggers were at BlogHer in Seattle. Every tweet and instagram photo was about BlogHer. And the food.
But, if I never make it to a conference I know I still have some of the best

friends

visiting me here on Shugary Sweets.
A while back (and I do mean awhile), my friend Jocelyn shared a picture on instagram of Raspberry m&m's. I was drooling immediately because they reminded me of the cherry m&m's and this popcorn. I knew I needed some of these, but I couldn't find them in the stores near me.
Not long after my whining, I received a beautiful package. One that included a bag of raspberry m&m's, and crunchy biscoff (yeah, I whined about that too), and some other fun things. I ripped that bag open immediately and gulped down a big handful of these candies. Oh my they are good.
But, before I inhaled all of them I knew I had to make a delicious dessert.
And so, the idea for the dark chocolate cake with raspberry cream cheese frosting and dark chocolate ganache was created.
Quite a title for a cake, but you can't leave anything out!
Funny thing though, Jocelyn who sent me the candy, also made something very similar. In cupcake form!

And guess what? My Target now carries these candies, it's quite exciting. I still can't find the crunchy Biscoff, but at the rate I consume Biscoff it's probably a good thing.
Want more m&m recipe ideas? Check out these great posts….
Dark Chocolate Cake with Raspberry Buttercream and Dark Chocolate Ganache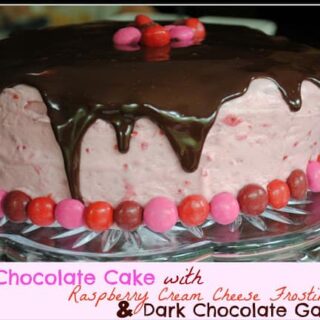 Ingredients
For the Cake:
1/2 cup butter, softened
1 1/2 cup granulated sugar
2 eggs
1 1/2 cup flour
1/2 cup unsweetened cocoa powder
1/2 tsp kosher salt
1 tsp baking soda
1/2 tsp baking powder
1/2 cup brewed coffee, cooled
1/2 cup milk
For the Frosting:
1/2 cup butter, softened
8oz cream cheese, softened
2 tsp vanilla bean paste
2 Tbsp milk
6-7 cup powdered sugar
1 cup fresh raspberries
For the ganache:
1 cup dark chocolate
1/2 cup heavy cream
1 1/2 cup Raspberry m&m's
Instructions
For the Cake:
In a bowl, mix flour, cocoa, salt, baking soda and baking powder. Set aside.
In a measuring cup, mix together cooled coffee and milk. Set aside.
In mixer, beat butter and sugar for 5 minutes, until smooth. Beat in eggs one at a time. Slowly add in dry ingredients alternating with the coffee/milk mixture (about 3 additions of each).
Pour cake batter into two prepared pans (2-9inch round cake pans, lined with parchment paper and greased and floured). Bake in a 350 degree oven for about 25 minutes. Remove and allow to cool about 10 minutes before removing from pans. Cool completely before frosting.**I use Wilton bake strips to bake my cakes evenly with no domed tops. Works every time!
For the Frosting:
In large mixing bowl, beat butter and cream cheese until smooth, about 1 minute. Beat in vanilla paste, milk and powdered sugar. Continue to beat for about 3-5 minutes, until fluffy. Add raspberry and beat for about 1 minute, until combined.
For the Ganache:
In saucepan on low heat, whisk dark chocolate and heavy cream together until smooth and melted. Remove from heat.
To assemble, lay one layer of cake on cake plate (I use parchment paper strips under cake to keep plate clean). Spread frosting on top of cake. Add second layer of cake. Frost sides of cake, then frost top of cake. Pour slightly cooled ganache over top of cake and decorate with raspberry m&m candies.
Store cake in refrigerator and enjoy.