Dark Chocolate Cream Cheese Frosted Cupcakes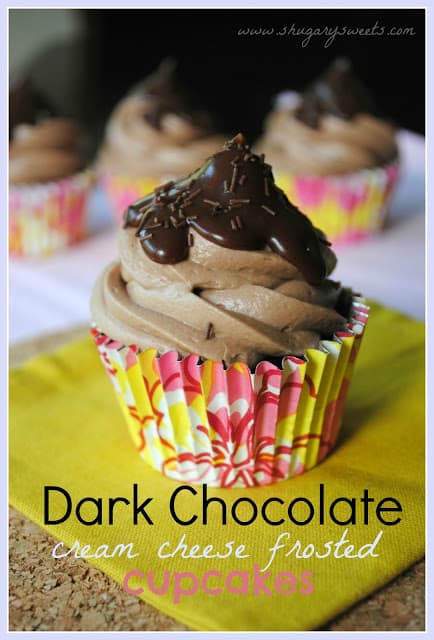 I know I teased you all with the pictures of these cupcakes from the baby shower  I catered!
Dark chocolate cupcakes with a chocolate cream cheese frosting. Topped with chocolate ganache and sprinkles.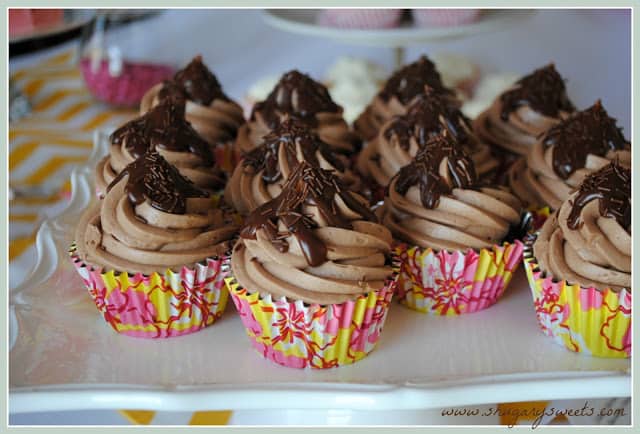 I know you want to sink your teeth into this cupcake.
So how about we get right to the recipe?
But first, if you like this chocolate cupcake, you may also enjoy….
Yield: 14-16 cupcakes
Dark Chocolate Cream Cheese Frosted Cupcakes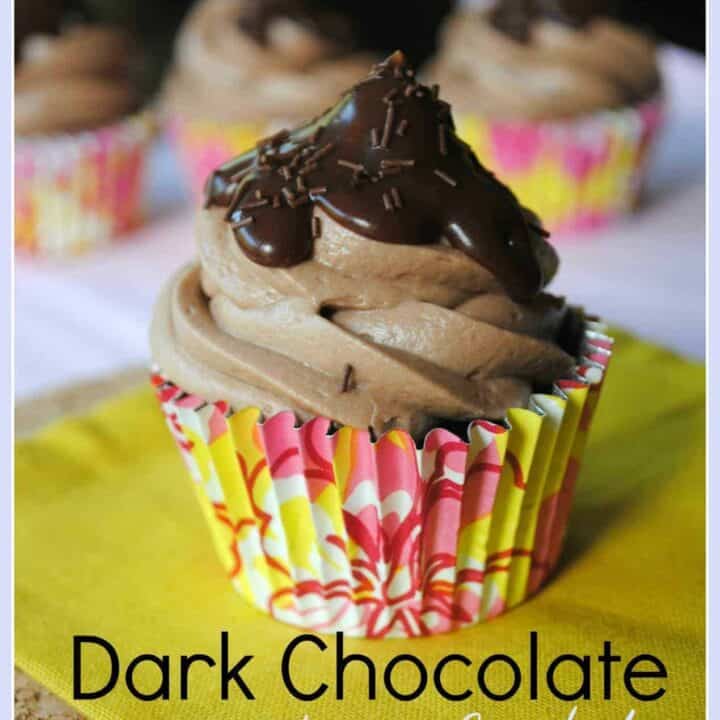 Chocolate Cupcakes with Dark Chocolate Cream Cheese Frosting and Chocolate Ganache
Ingredients
For the Cupcakes:
1/4 cup unsalted butter, softened
3/4 cup granulated sugar
1 egg
3/4 cup all purpose flour
1/4 cup unsweetened dark cocoa powder
1/4 tsp kosher salt
1/2 tsp baking soda
1/2 tsp baking powder
1/4 cup brewed coffee, cooled
1/4 cup milk
For the Frosting:
8oz cream cheese, softened
1/2 cup unsalted butter, softened
4 1/2 cup powdered sugar
1/4 cup unsweetened dark cocoa powder
2 Tbsp heavy cream
1 Tbsp chocolate syrup
For the Ganache:
2 Tbsp heavy cream
2 tsp light corn syrup
1/4 cup unsalted butter
3 Tbsp dark chocolate chunks, chopped
1/2 cup powdered sugar
sprinkles, optional
Instructions
For the cupcakes, mix flour, cocoa, salt, baking soda and baking powder in small bowl. Set aside.
Mix brewed coffee and milk. Set aside.
In large mixing bowl, beat butter and sugar for 5 minutes until fluffy. Add egg. Slowly add in dry ingredients, alternating with milk mixture (in about 3 additions).
Pour into lined cupcake pans and bake in a 350 degree oven for 15-18 minutes. Remove and cool completely before frosting.
For the frosting, beat butter and cream cheese for 3 minutes. Add powdered sugar, cocoa, cream and chocolate syrup. Beat an additional 3-5 minutes, until desired consistency.
Pipe onto cooled cupcakes (I used tip #6S). Refrigerate while making ganache.
For the ganache, heat heavy cream, butter and corn syrup on low heat in a medium sized saucepan. Whisk in chocolate chunks, stirring continuously until melted. Remove from heat.
Whisk in powdered sugar until fully combined. Drizzle chocolate over cool cupcakes. Immediately sprinkle with chocolate jimmies, if desired. ENJOY.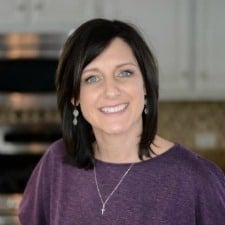 Aimee is a dessert lover (specifically rice krispie treats), workout enthusiast, self-taught foodie, and recipe creator. Her recipes have been featured in over 15 magazines, and her passion is to share her love of cooking with the everyday home cook! Learn more about Aimee.