Double Chocolate Loaf with Caramel
Ahhh, yes. You noticed. This is not a loaf of bread. This is a lesson in what to do when everything goes wrong. Because, let's face it, we have all had mishaps in the kitchen. Burned bread? Charred chicken? Muffins that don't set in the center? Well, this is what happened to me…
For starters, I had planned on making this chocolate bread (adapted from Nigella at Food Network), in my stoneware loaf pan. But, when I had all the ingredients mixed and I was ready to prepare the pan, I realized my two loaf pans were already in use. I had bread dough rising in them, it was my week to bake for communion at church.
No problem, I thought to myself. I bet I can make this is my stoneware bundt pan. I poured the batter into the pan, cooked the cake, it looked delish! It smelled amazing. It failed to come out of the pan.
Ugh. I had greased the pan as I normally do, and on a normal day it would have flipped right out. This was a sign that today was not normal. It came out in several large chunks.
Not good. Well, actually delicious. To make myself feel better about the situation, I ate quite a few bites. Yum. I then had to brainstorm what to do with cake that is now broken! Yes- a trifle. Lesson to everyone…when a cake, or brownies, or cookies fail- turn it into a trifle.
Now things were looking up. Until I made the caramel sauce. See, apparantly I was supposed to boil much much longer. But I was impatient, and after 10 minutes I thought it would be long enough. I continued the caramel recipe as the recipe stated, but it never set. Never got hardened. Now I have this very delicious, but slightly watery caramel sauce.
That's when I folded in the Cool Whip and made the best trifle filling EVER! Caramel Whipped Cream filling.
When life gives you crumbled cake and watery caramel…make Chocolate Trifle with Caramel Whipped Cream! Enjoy 🙂
Oh, and the "icing on the cake" for the day (sorry couldn't resist)- while we were out to dinner, because I wasn't even going to attempt that after the dessert fiasco- our dog ate the communion bread off the counter. Hope she feels blessed.
Chocolate Trifle with Caramel Whipped Cream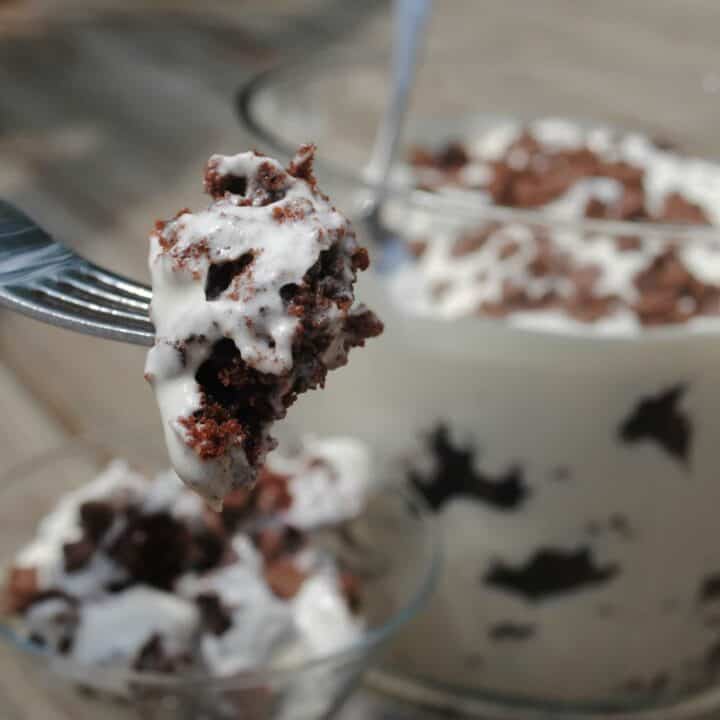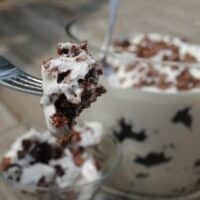 Ingredients
For the loaf:
1 2/3 cup flour
1/2 cup cocoa
1/2 tsp baking soda
1 1/3 cup sugar
3/4 cup butter, softened
2 eggs
1 Tbsp vanilla
1/3 cup sour cream
1/2 cup boiling water
1 cup chocolate chips
For the caramel whipped cream:
1 1/2 cup sugar
1/3 cup water
1 1/4 cup heavy cream
1 tsp vanilla
1 tsp salt
12 oz Cool Whip
Instructions
Preheat oven to 325 degrees. In mixer, add flour, baking soda, cocoa, sugar, butter, eggs, vanilla and sour cream. Blend until smooth. Add boiling water and mix until combined. Fold in chocolate chips and pour into loaf pan (buttered and floured, with parchment paper on bottom of pan).

Bake for 50-55 minutes. Remove from pan and cool. You can eat either as a bread, or turn it into a delicious dessert by making the whipped cream.

Meanwhile, make caramel sauce by heating water and sugar in saucepan over low heat. When combined, heat over medium-high and bring to a boil. Continue to boil for 10 minutes.

Remove from heat and add in cream, vanilla and salt. Simmer over low until smooth and creamy, may take a minute or two. Remove from heat again and allow to cool to room temperature.

When cooled, fold in Cool whip. Store in refrigerator and serve with sliced bread. Or to serve as trifle, cube bread and place half in bowl. Top with half of the whipped cream, repeat layers and sprinkle chocolate chips on top. Refrigerate and enjoy!