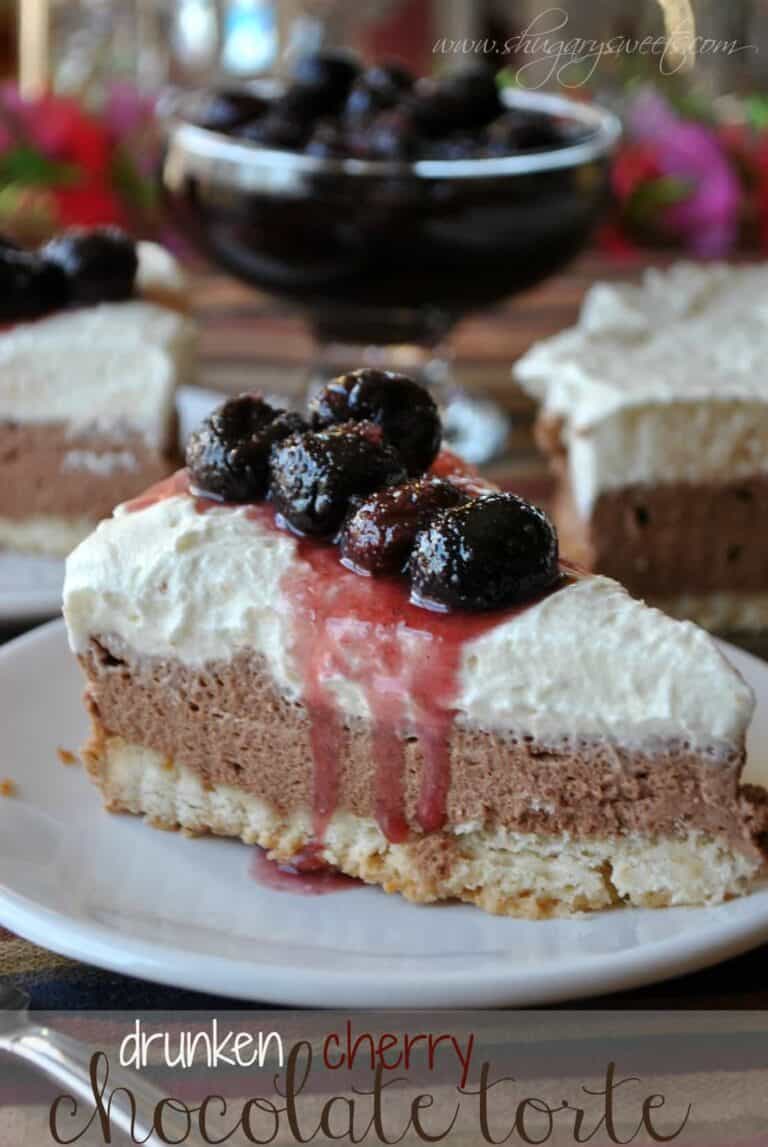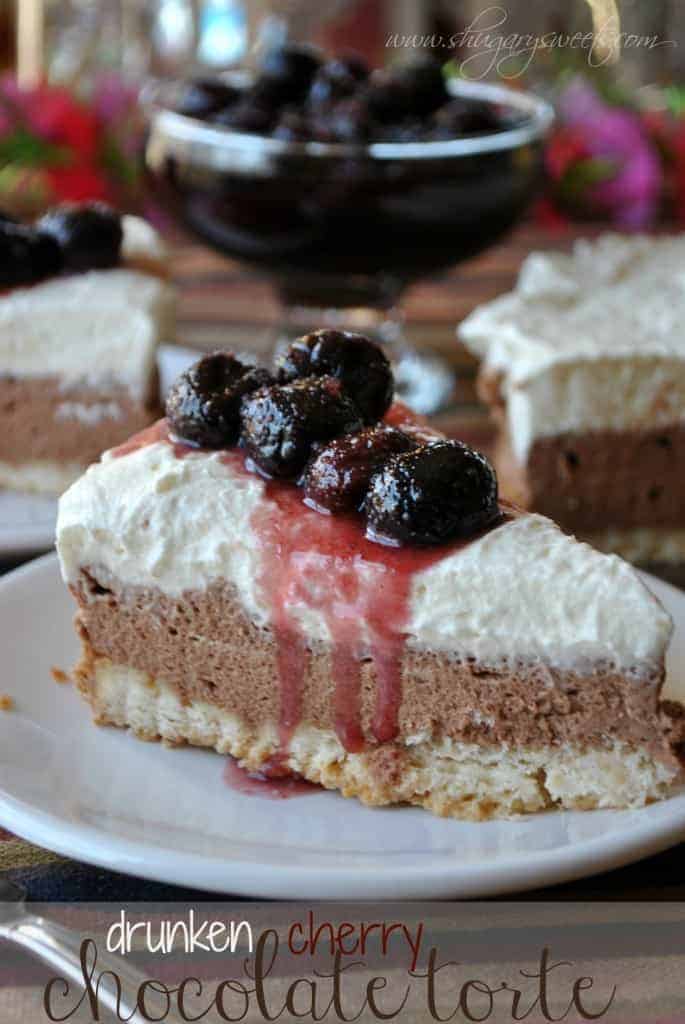 Warning: This post is lengthy and full of drool worthy photos!
Let's start at the beginning though. Just in case you haven't been following along!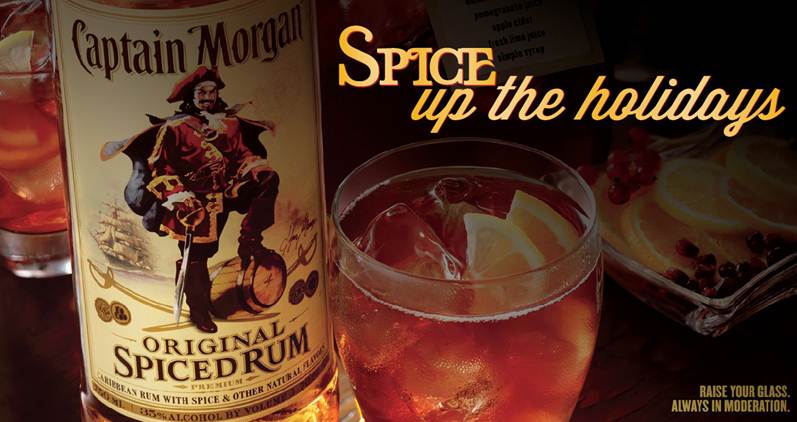 Food Network along with Captain Morgan Rum invited me to be a part of their new "Spice up the Holidays" campaign. For this campaign, I was required to come up with one beverage, one appetizer and one drink recipe. And then throw a themed party to "Spice up the Holidays"!!!
Some great prizes will be awarded to the winner of this series, but best of all, Captain Morgan will donate $1000 to the winner's charity of choice! So no matter which blogger wins, it's a great outcome! It's been fun to connect with some of the other bloggers on this journey as well. I've attached their websites at the bottom of this post, so be sure to check out their holiday party and recipes too! Everyone has shared some great stuff, including recipes, entertaining tips and ways to simplify for the holidays!
But back to me.
And my party.
I chose to throw a Tropical Party, it was really a no-brainer since my three recipes were all tropical related! Plus, I really like to go low-key when it comes to decorating! And by putting up some simple grass banners with tropical flowers (from a past birthday party), the theme came together quickly. I invited 3 of my favorite couples to attend! Several even showed up with their own leis and tropical shirts!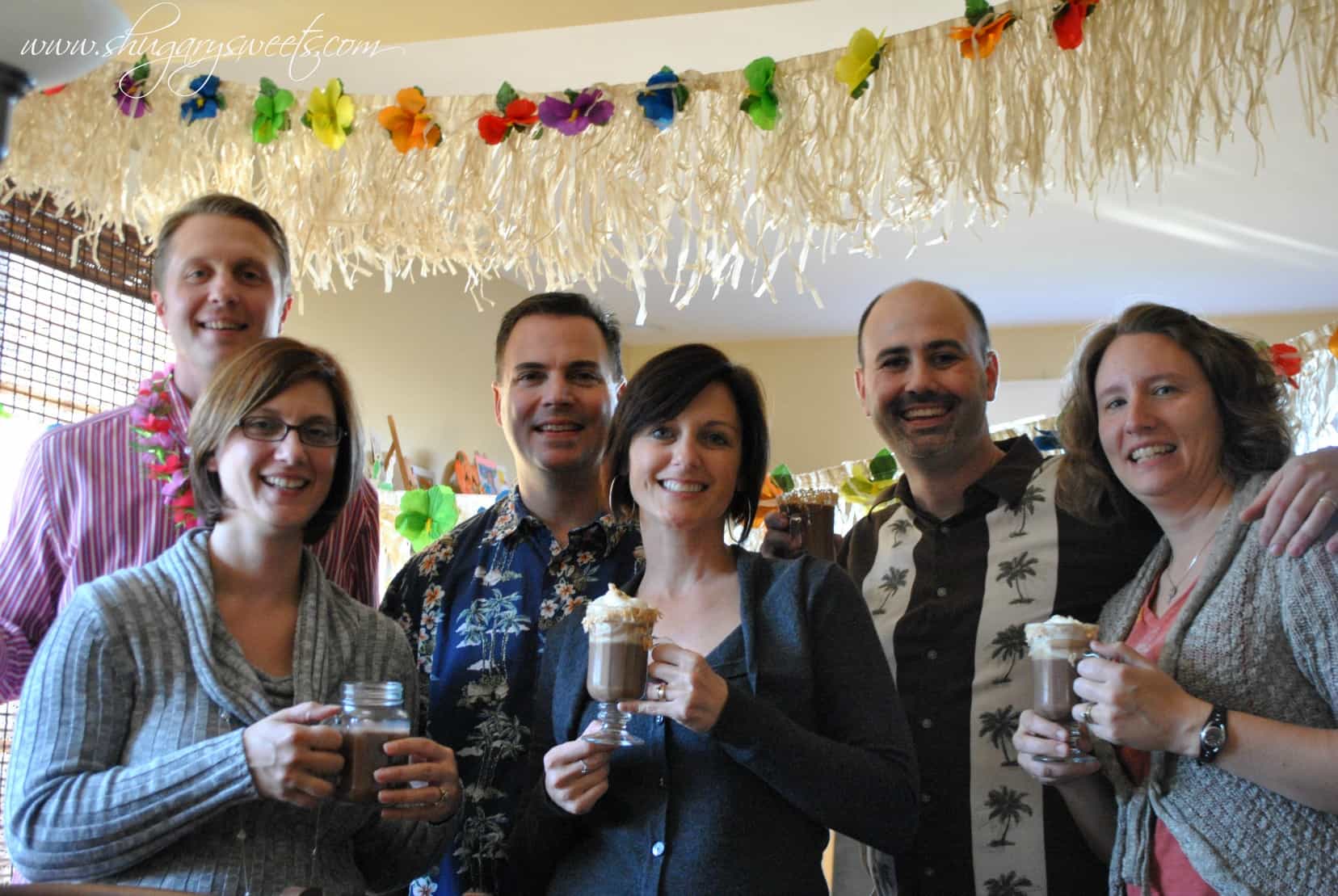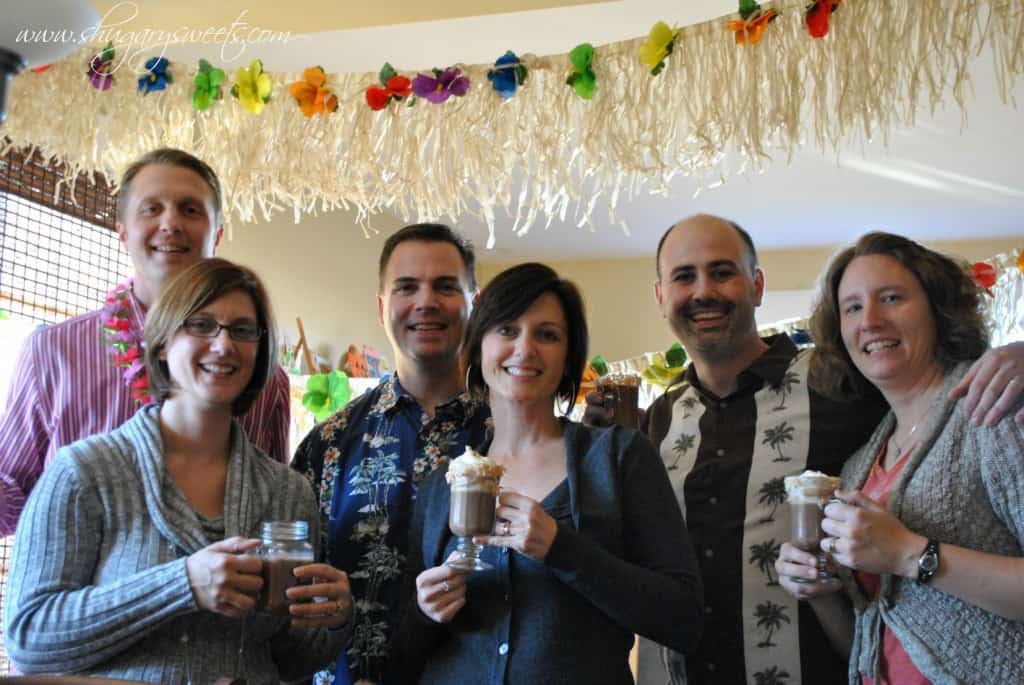 We did have one couple show up a little late…missing out on our great group shot! However, not too late to enjoy some meatballs! (sorry Lois, but this is the price you pay for showing up late)!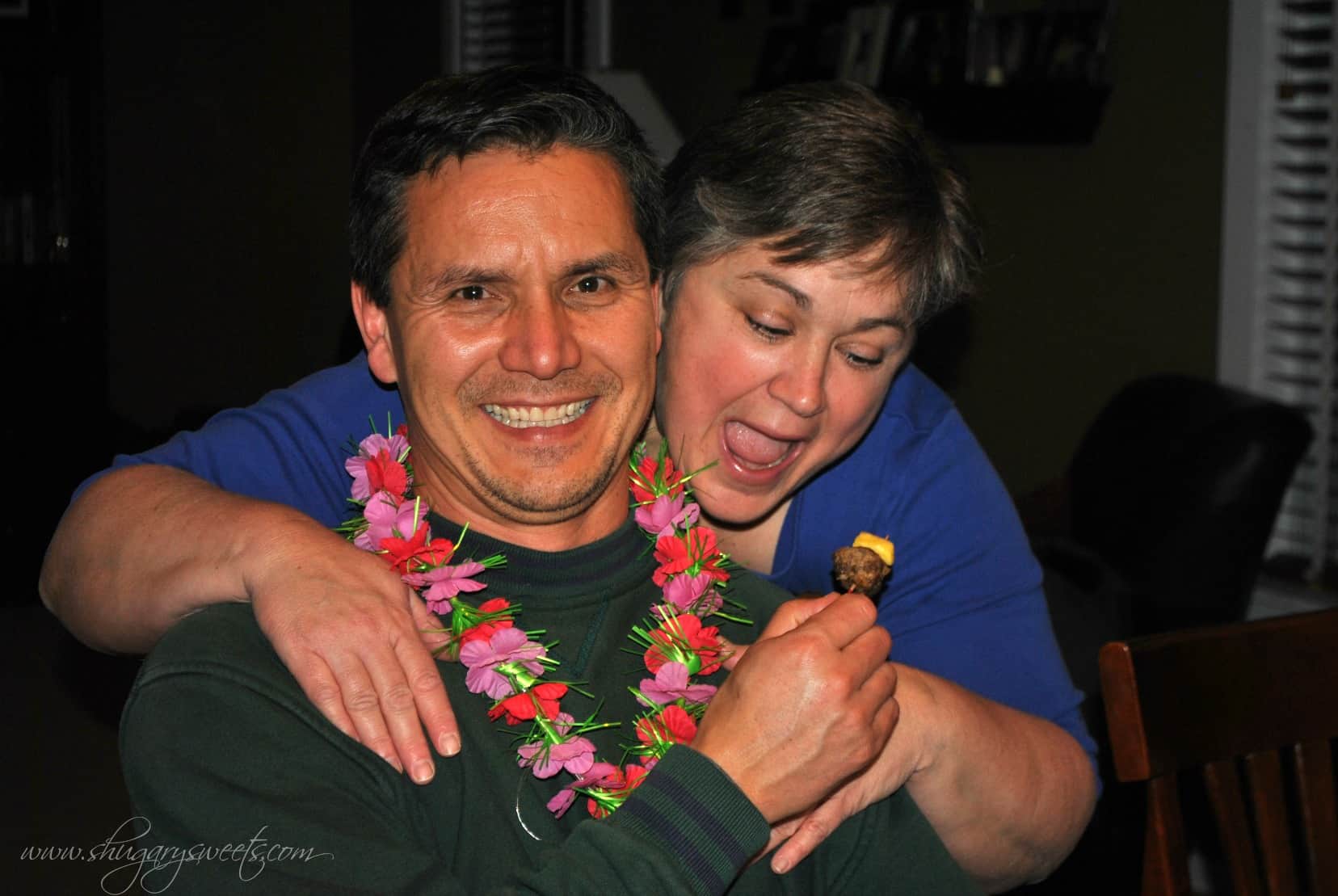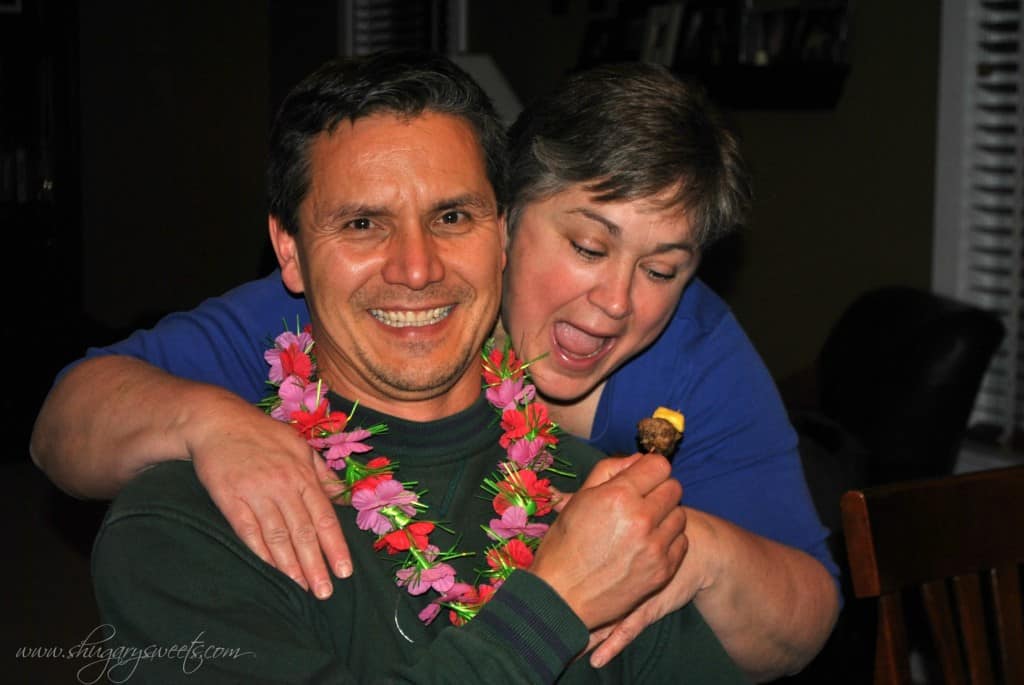 Planning for the party went very smooth. I made the Hot Choc-Colada on the stove top in advance and allowed it to simmer for an hour before the party. About 15 minutes before guests arrived, I put the drink into a big white thermos (thanks to a tip from one of my readers)! It stayed hot until the very last sip was poured!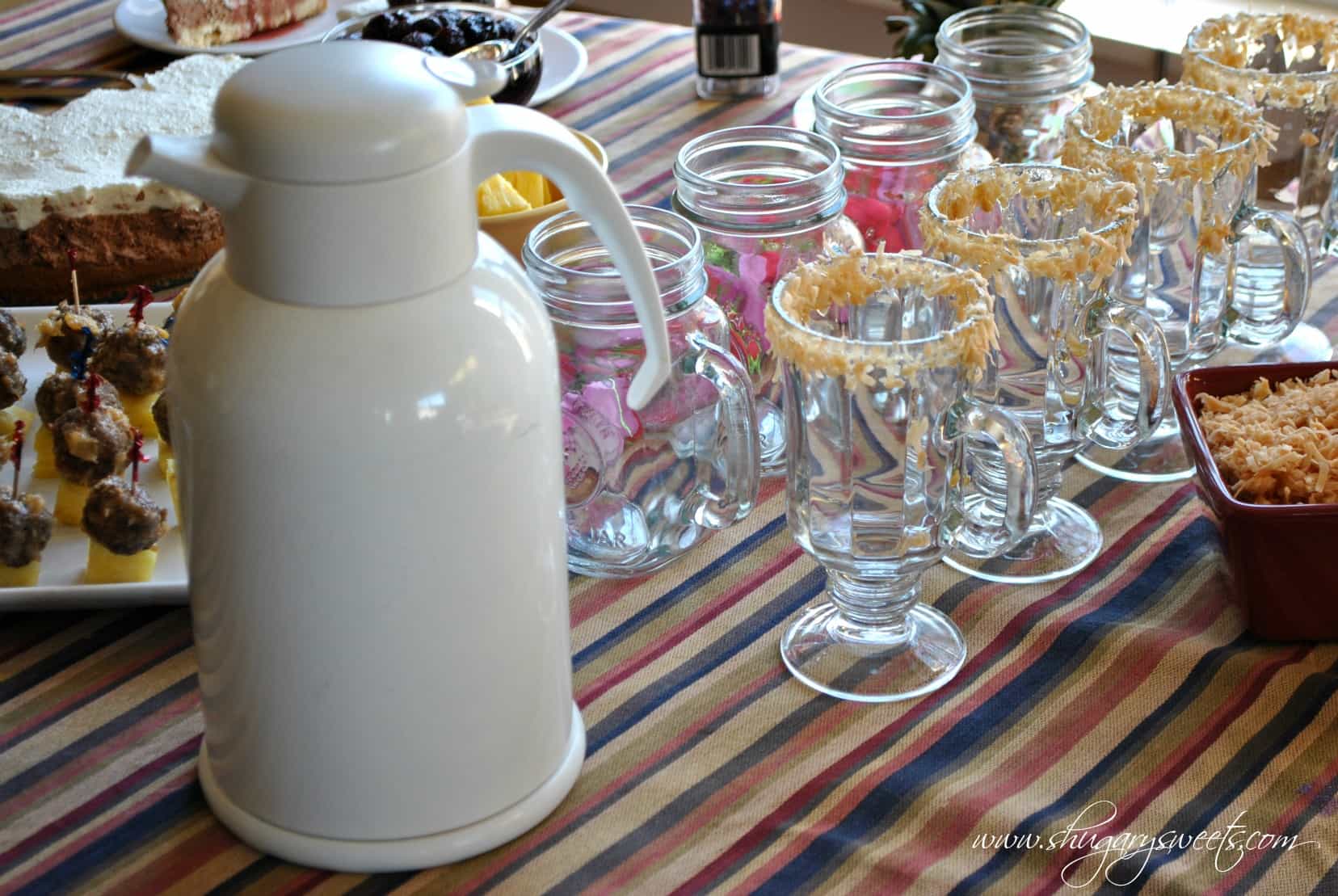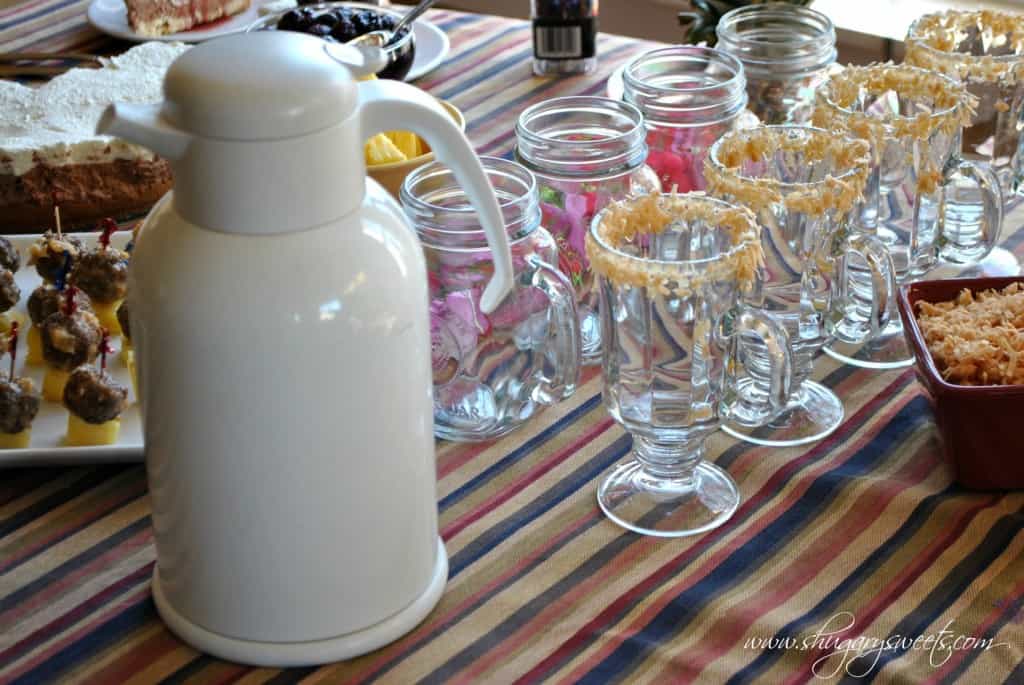 I also dipped half of the rims of our drink mugs in the honey and toasted coconut before the party. I chose to only do half because my husband preferred to have his without the garnish (he also will drink a margarita without salt on his rim, WHAT????).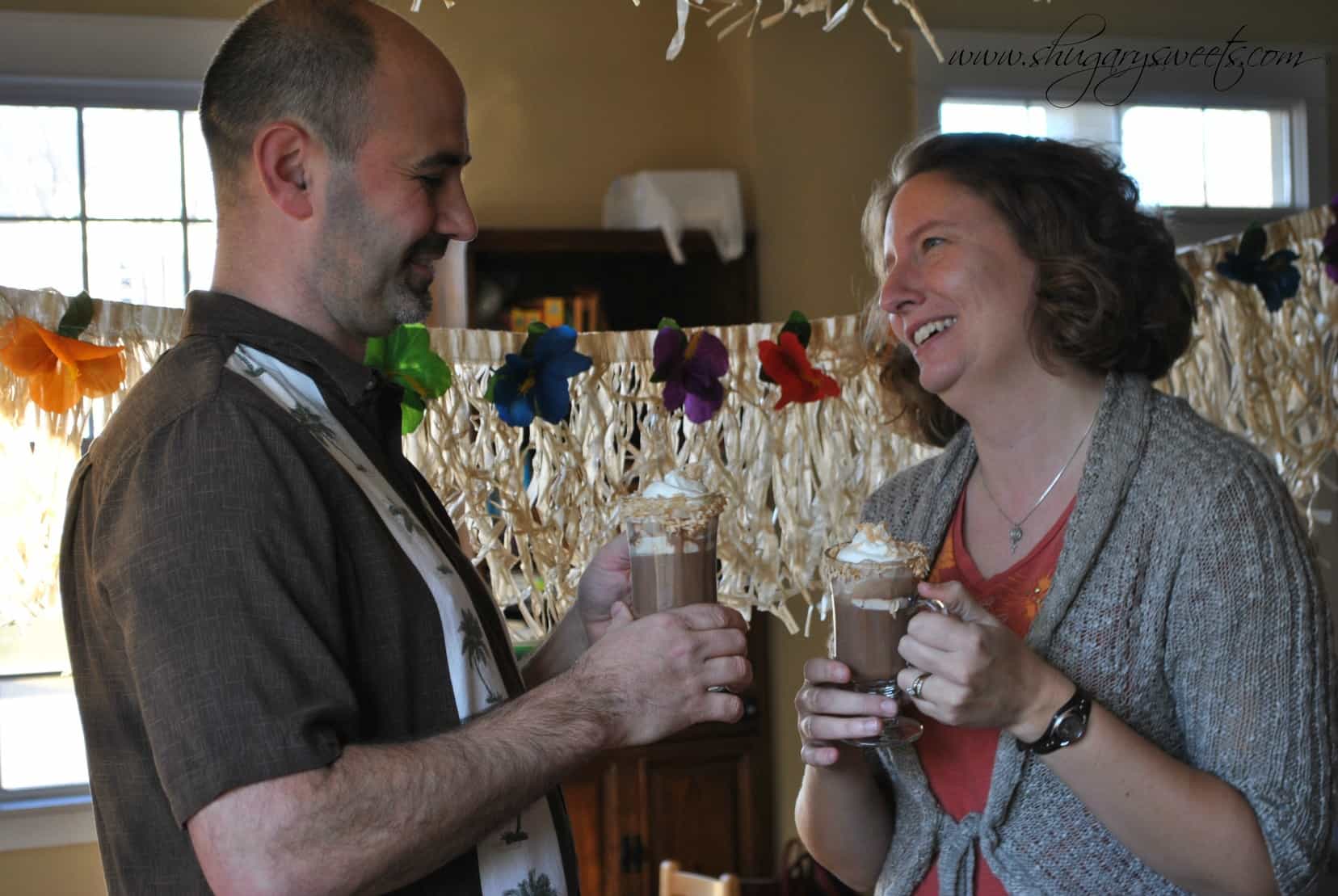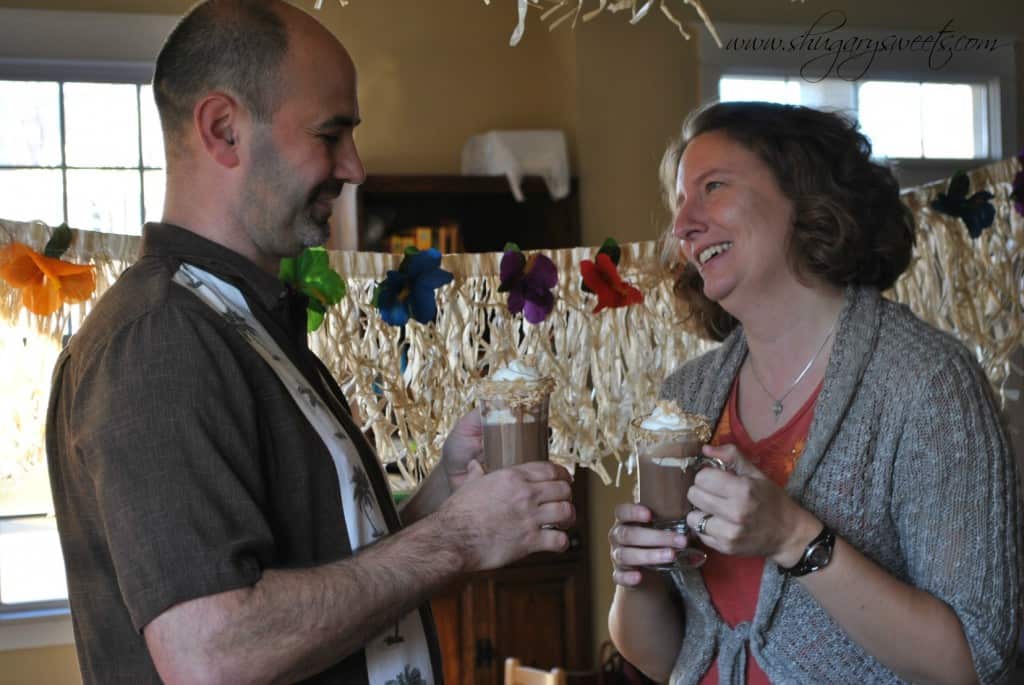 His tip was great though, because a few of the others chose to not have the garnish.
I also put the whipped cream in a piping bag in the refrigerator before the party started. Having it ready to serve worked out perfectly. Extra toasted coconut was placed on our table for those who preferred a little extra crunch (like me!).
It didn't take us long to guzzle down these drinks!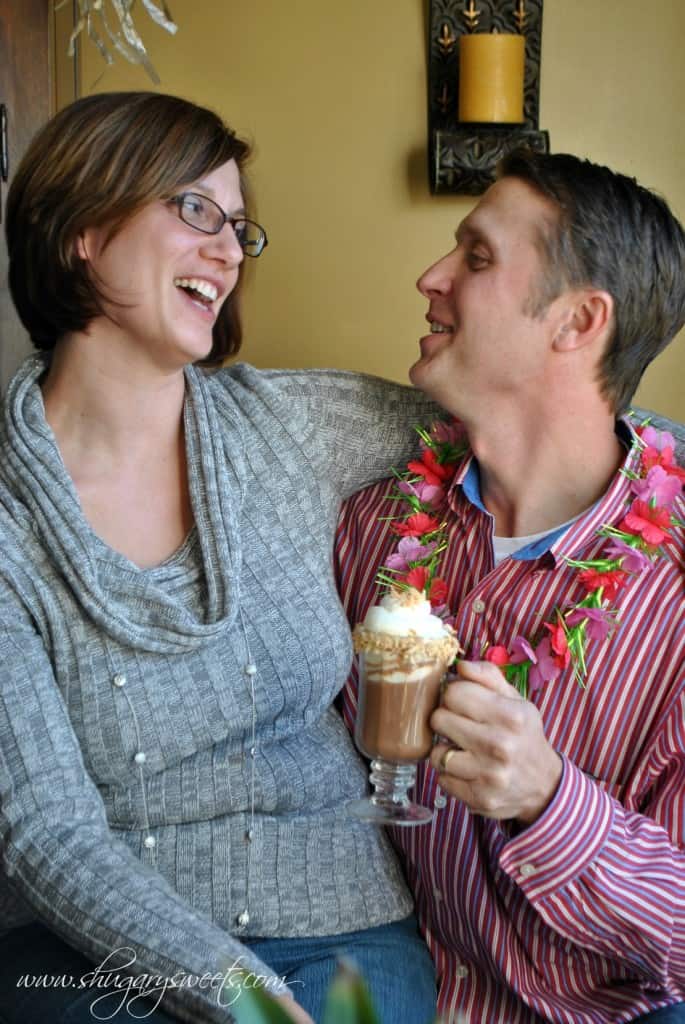 I was even caught taking the last of the refills! mmmmm…..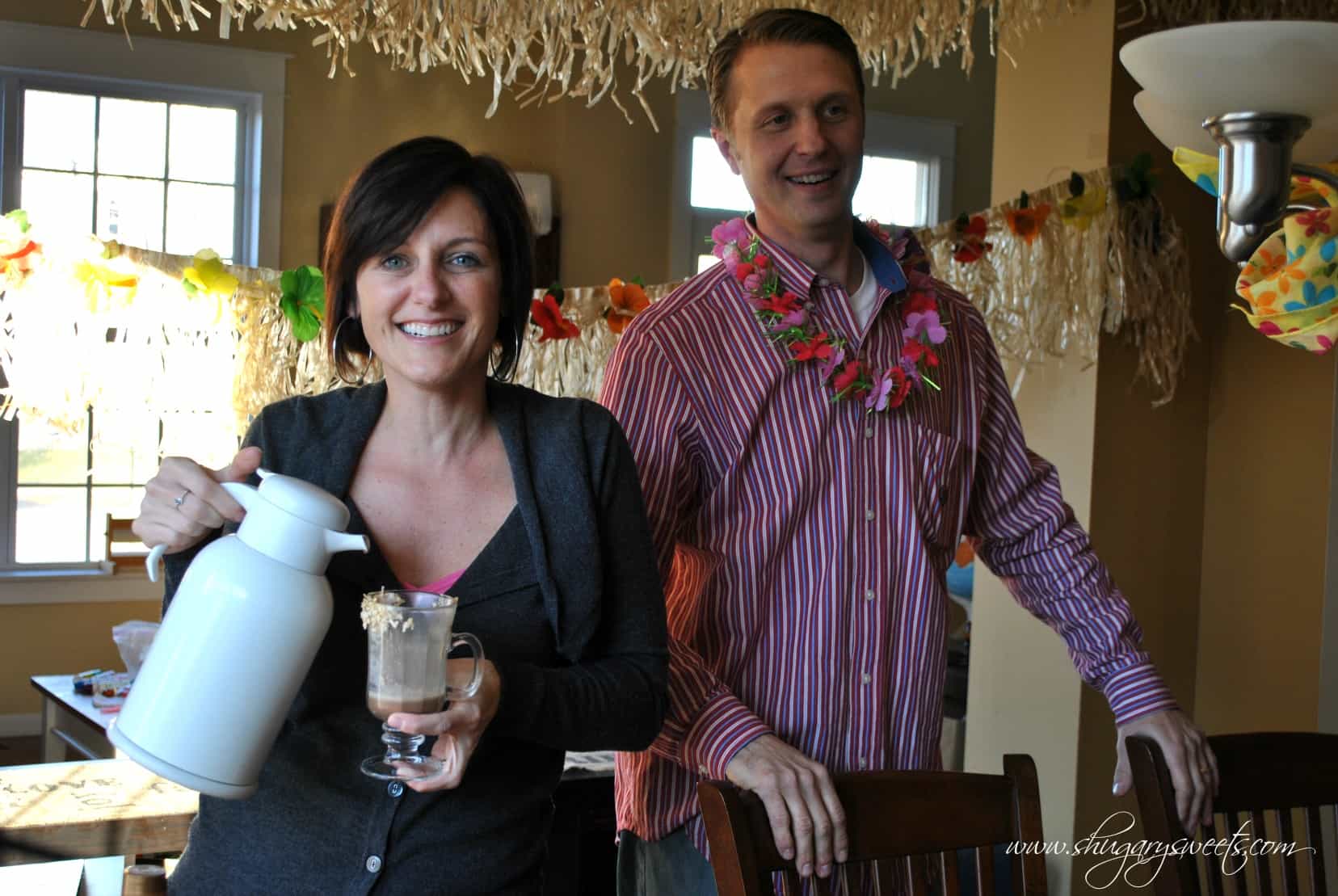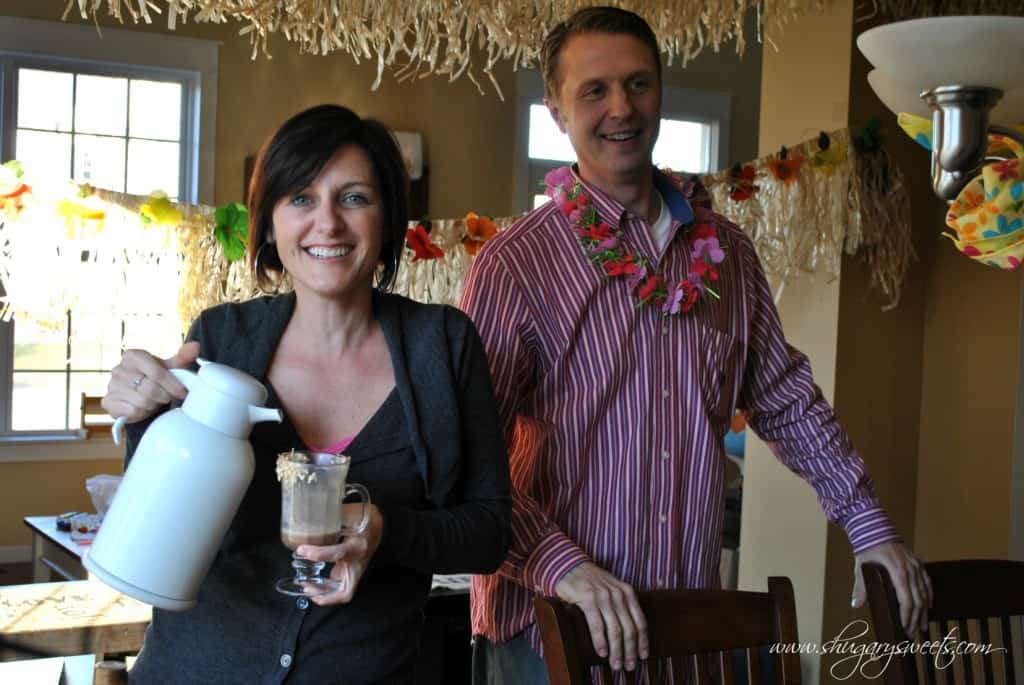 The Rum Glazed Meatball Skewers made their appearance for a short while too! These tasty meatballs are filled with toated coconut and pineapple, then served in a rum glaze for a delicious tropical flair!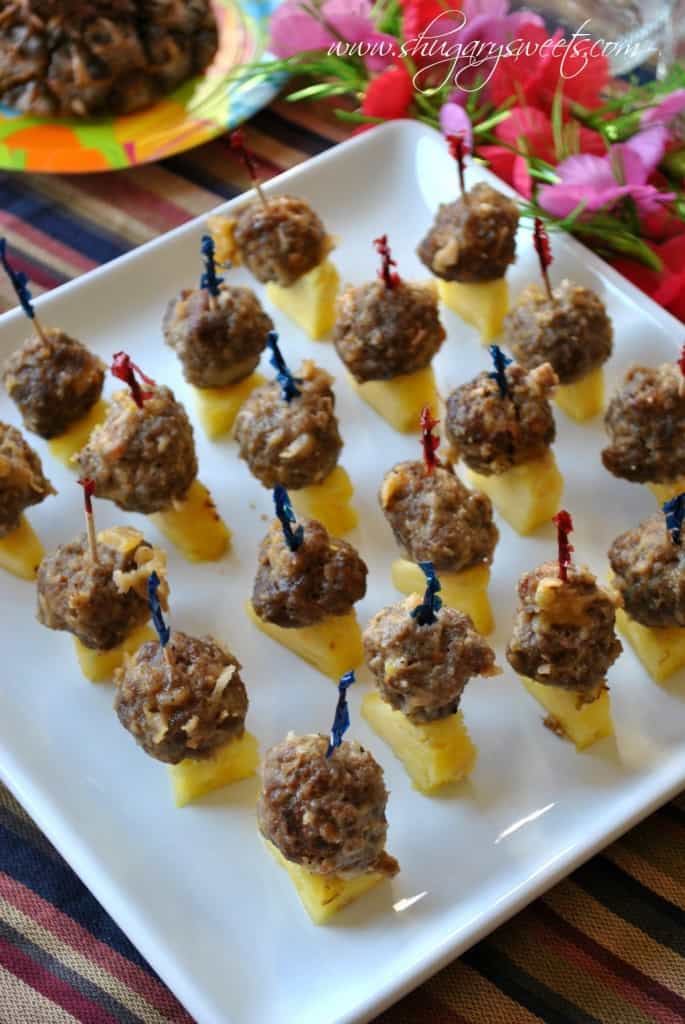 I made the meatballs ahead of time and placed them in a glass 13×9 baking dish in a 200 degree oven before the party started to keep them warm. I sliced up the pineapple into bite sized chunks as well, and used the pineapple top as part of our table decorations! (have I mentioned I like to go "simple" when it comes to decorating?) About ten minutes before guests arrived, I skewered meatballs and pineapples with fancy toothpicks and placed them on an oven safe plate (and returned them to the warm oven).
This party came together so quickly and easily. By focusing on keeping it simple, and not having a million different food and beverage choices, I was able to be less stressed.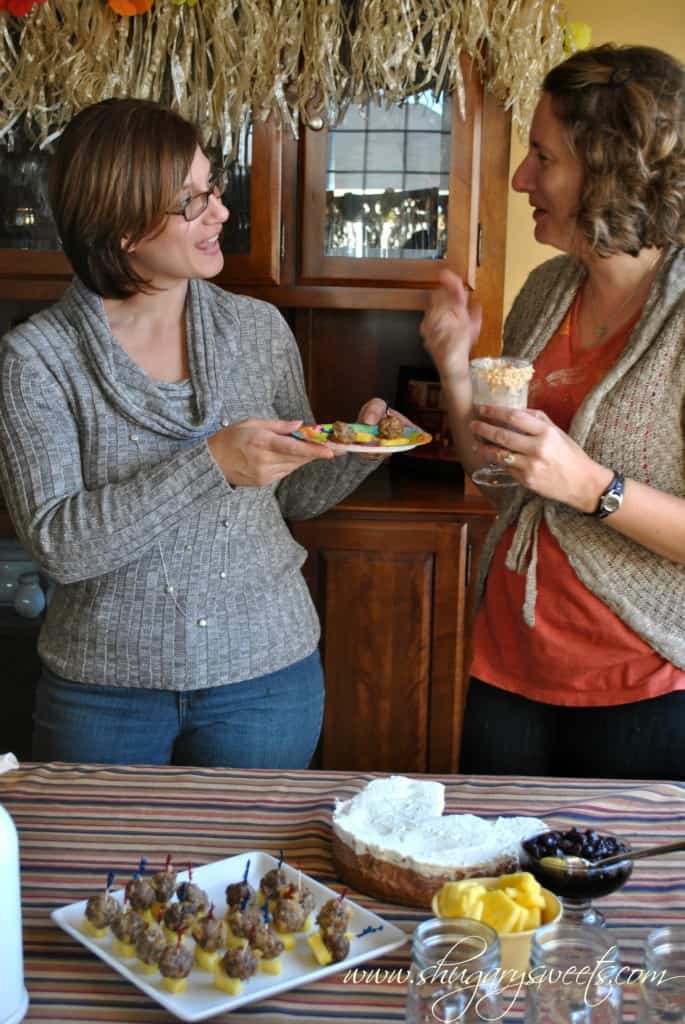 I will be honest, I did worry about not having enough food!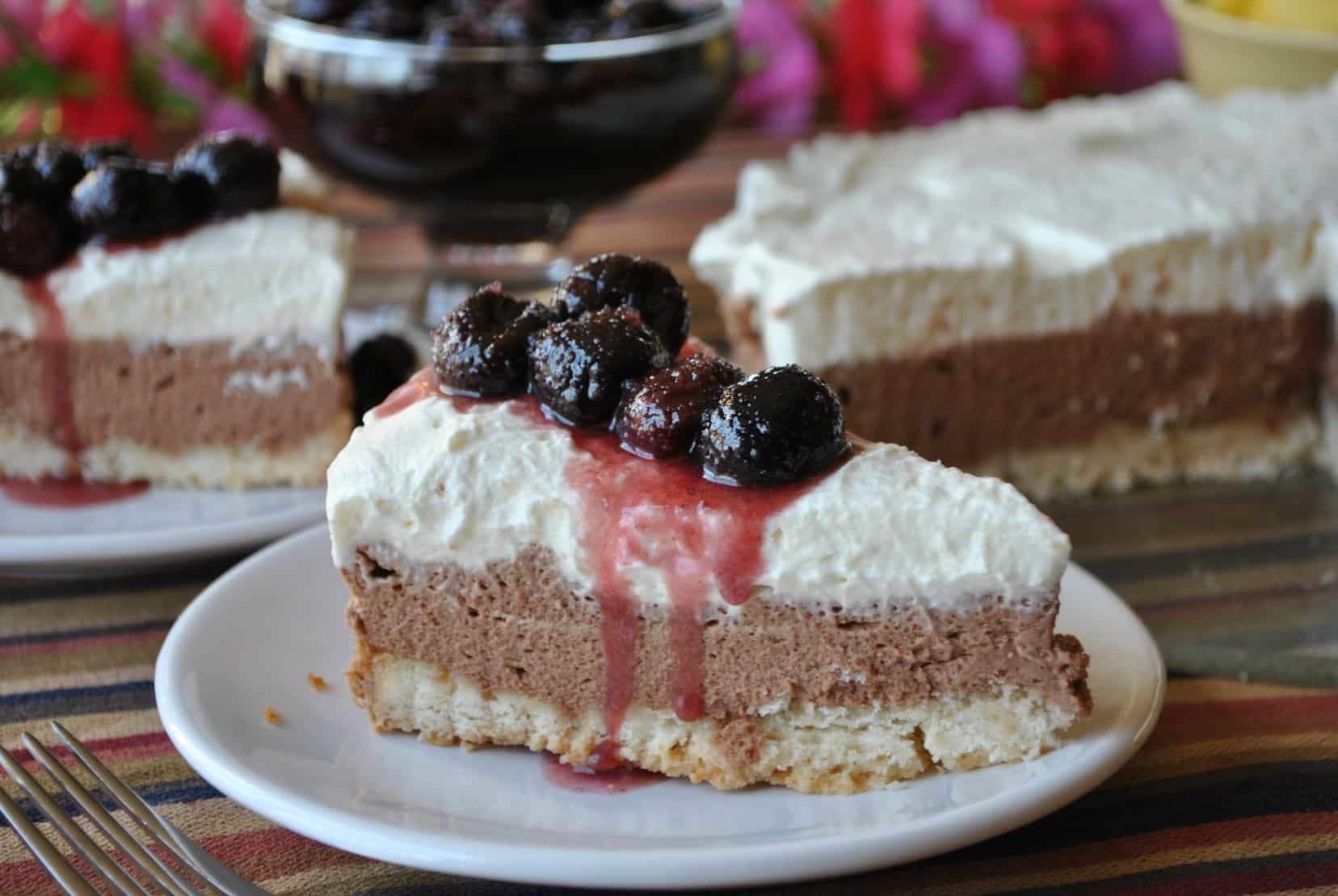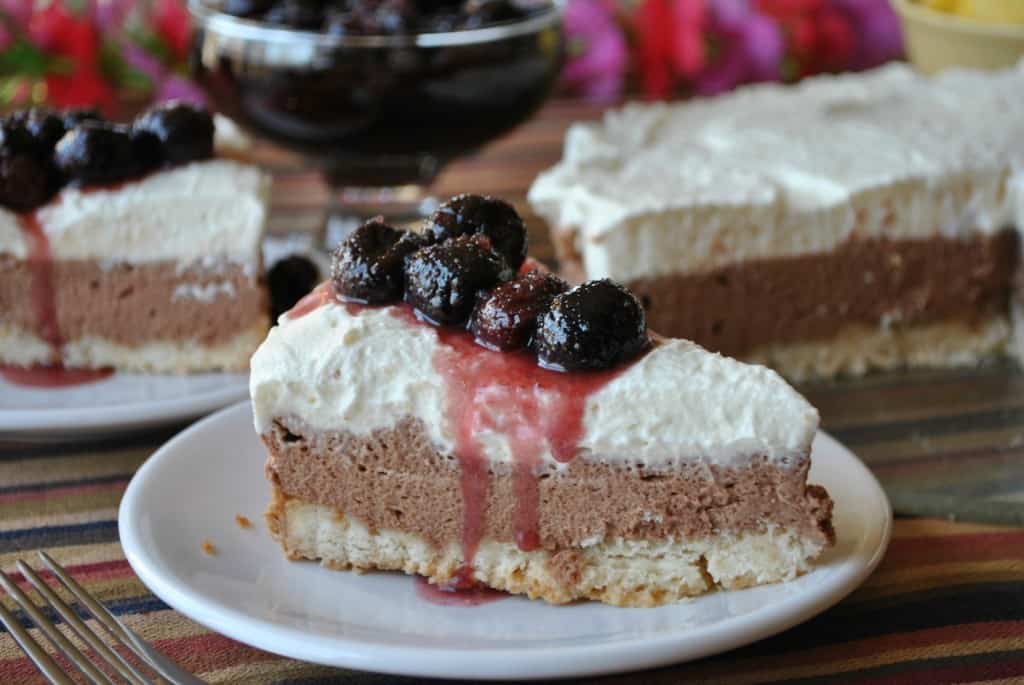 But, with dessert waiting for us, those worries were quickly forgotten! If the drinks and appetizers didn't fill you up, a big slice of this dessert might just do the trick!
(and if you're still hungry, you can steal from your friend's plate…nice job Greg)!!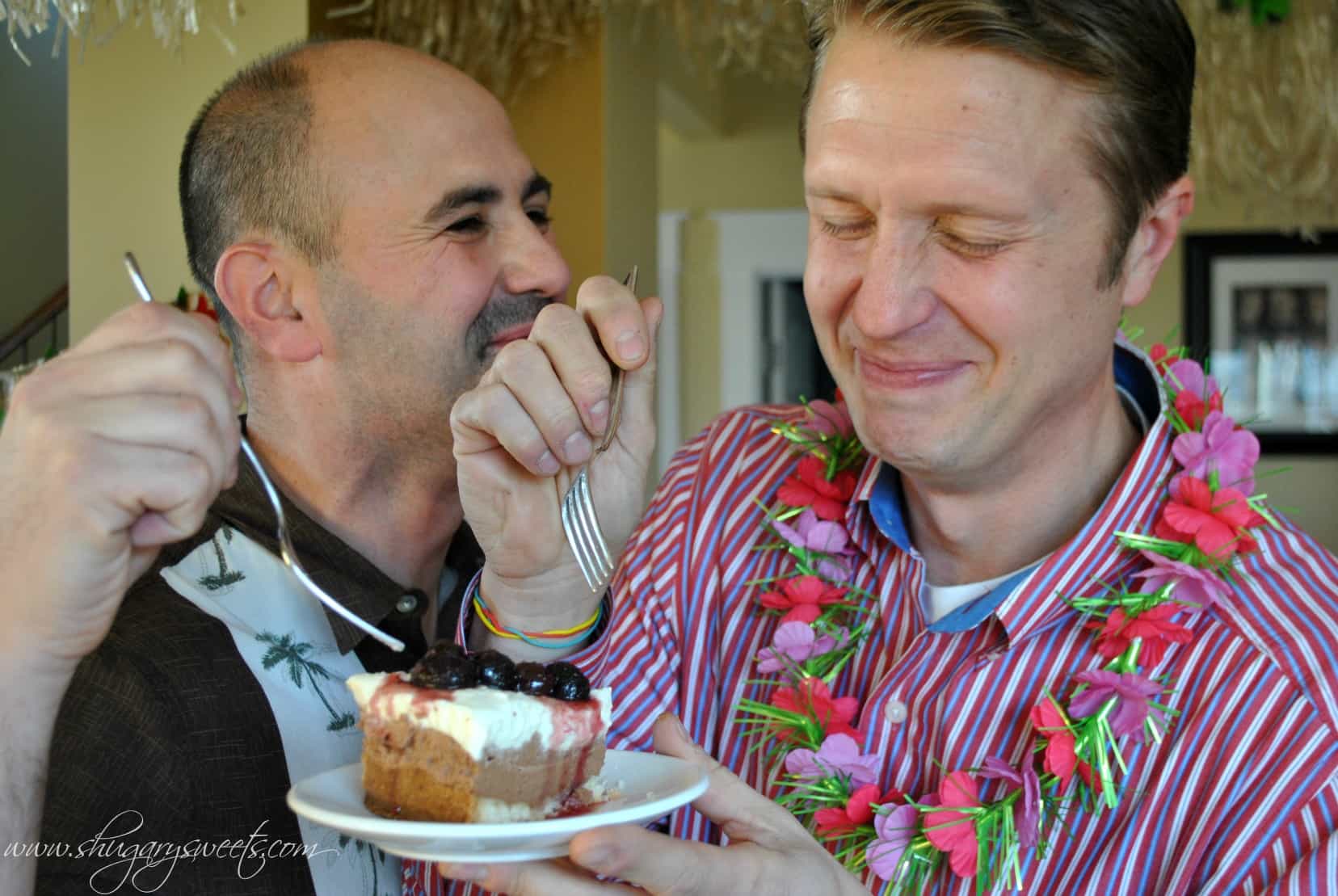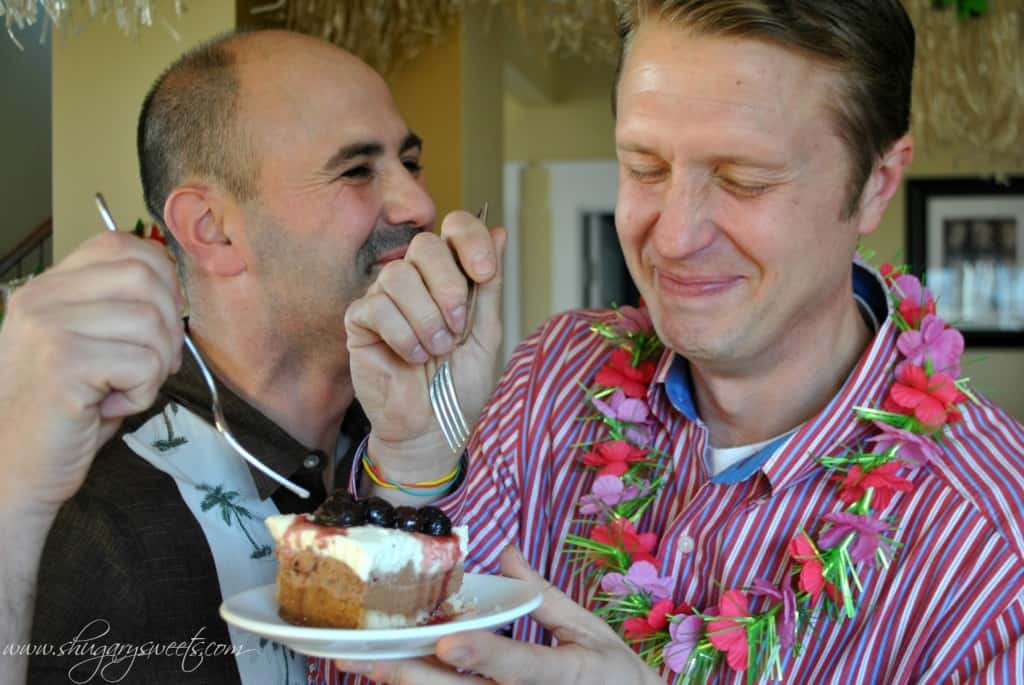 I learned through all of this, I don't need to have a dozen different appetizers to throw a great party.
Inviting over some of my closest friends and serving some delicious food and drinks, we were able to relax and enjoy each other's company for many hours! And thanks to Captain Morgan, we had an extra bottle of rum to enjoy some Rum and Cokes after the last of the hot chocolate was consumed….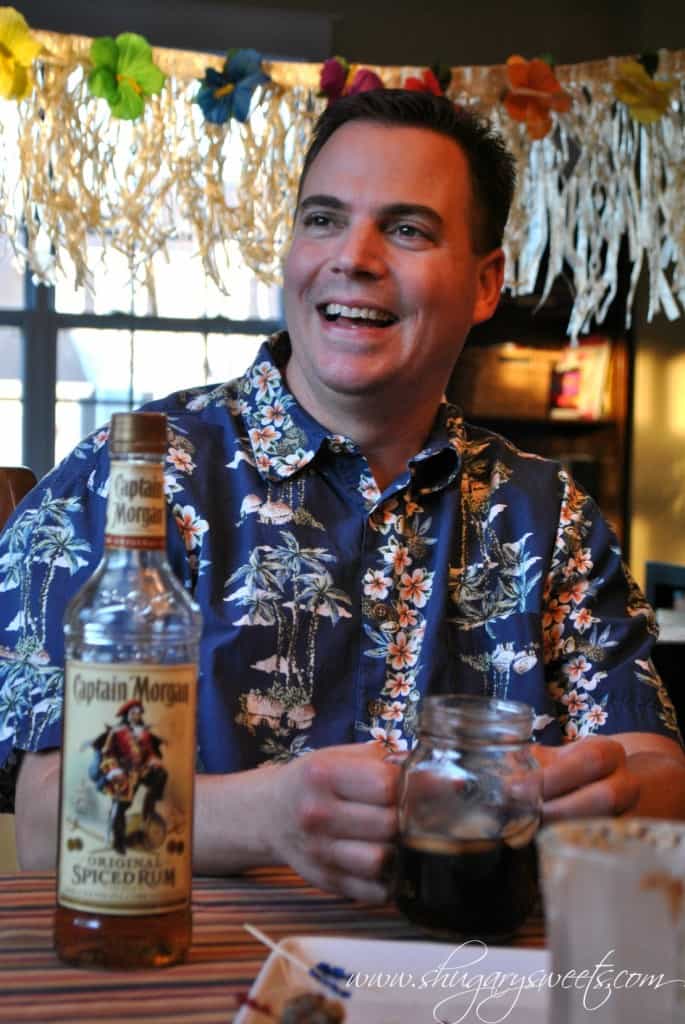 Be sure to stop back next week. Winner will be announced on Wednesday, December 12, by our judges: Captain Morgan and Spike Mendelsohn
***Captain Morgan provided me with several bottles of rum, along with a gift card to purchase the ingredients for the recipes seen here! All opinions are my own! Drink responsibly!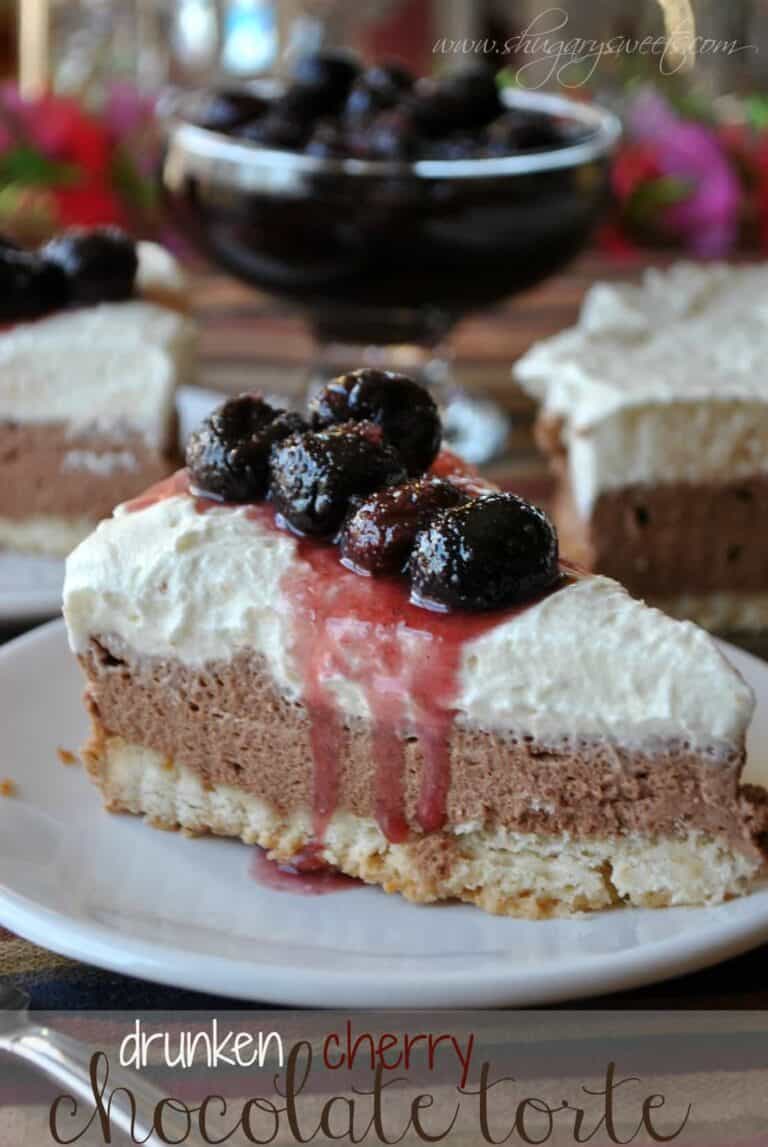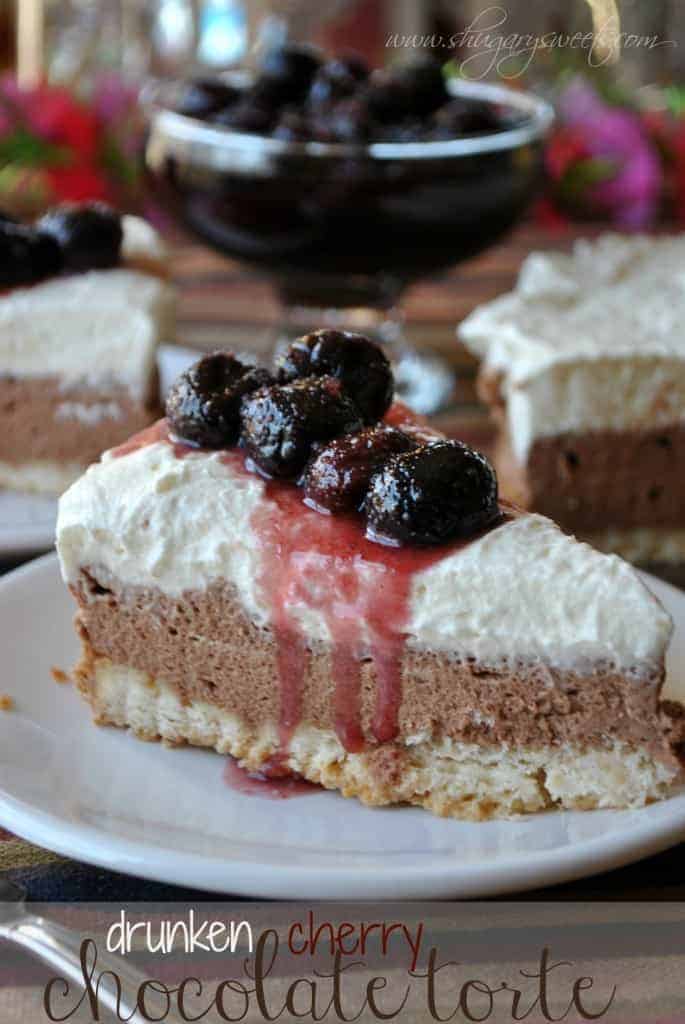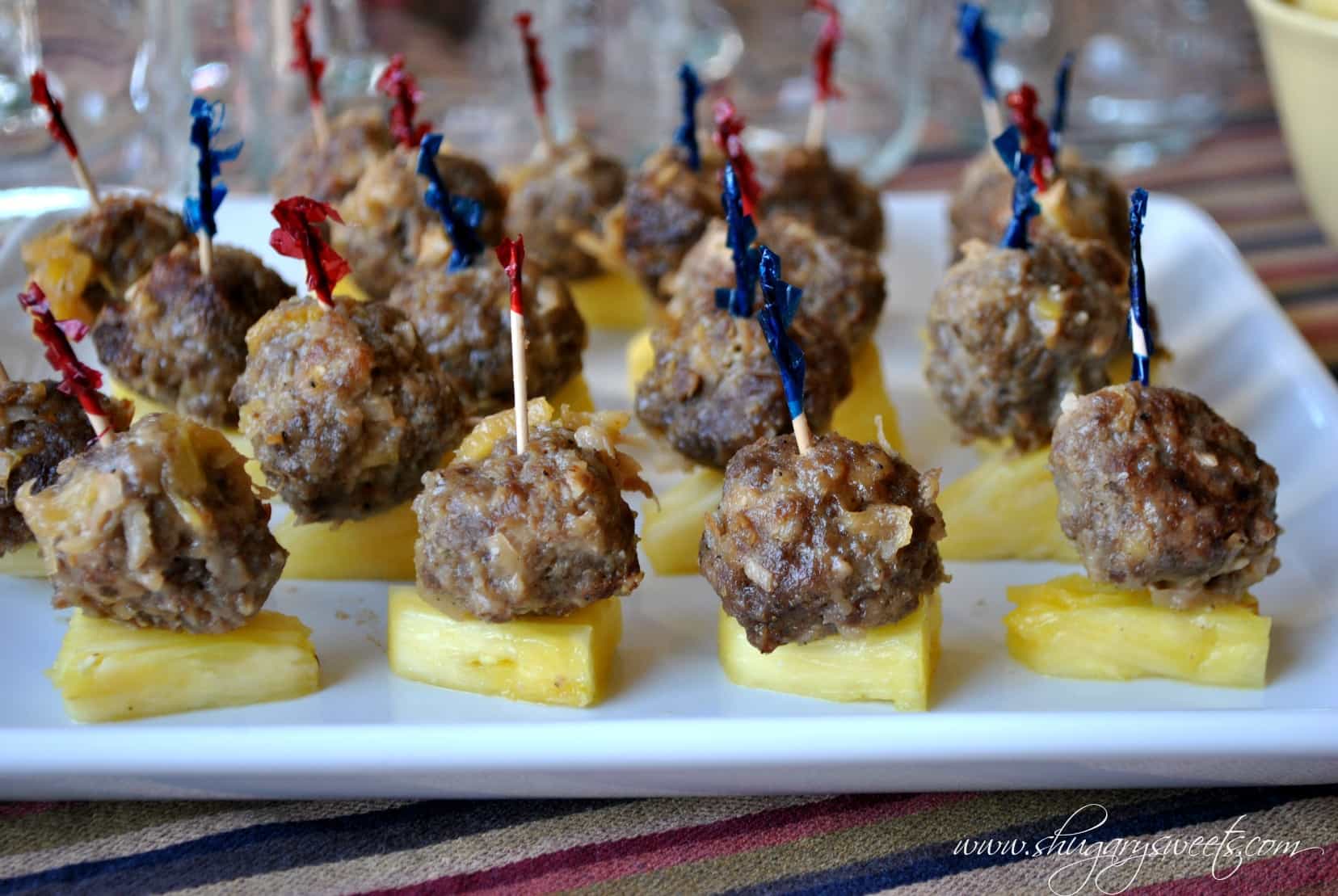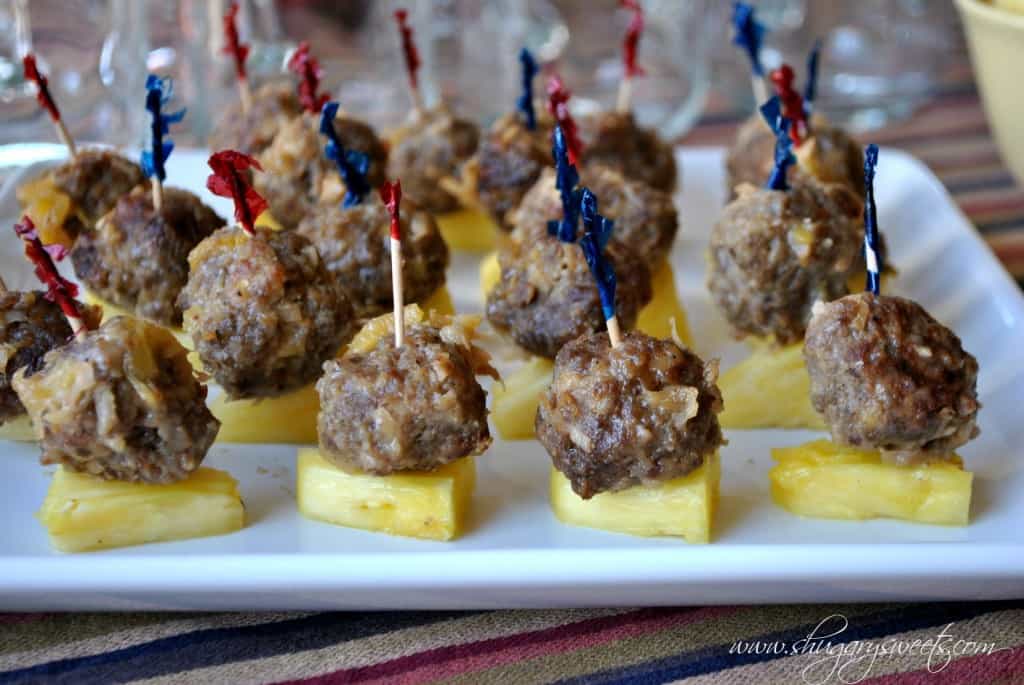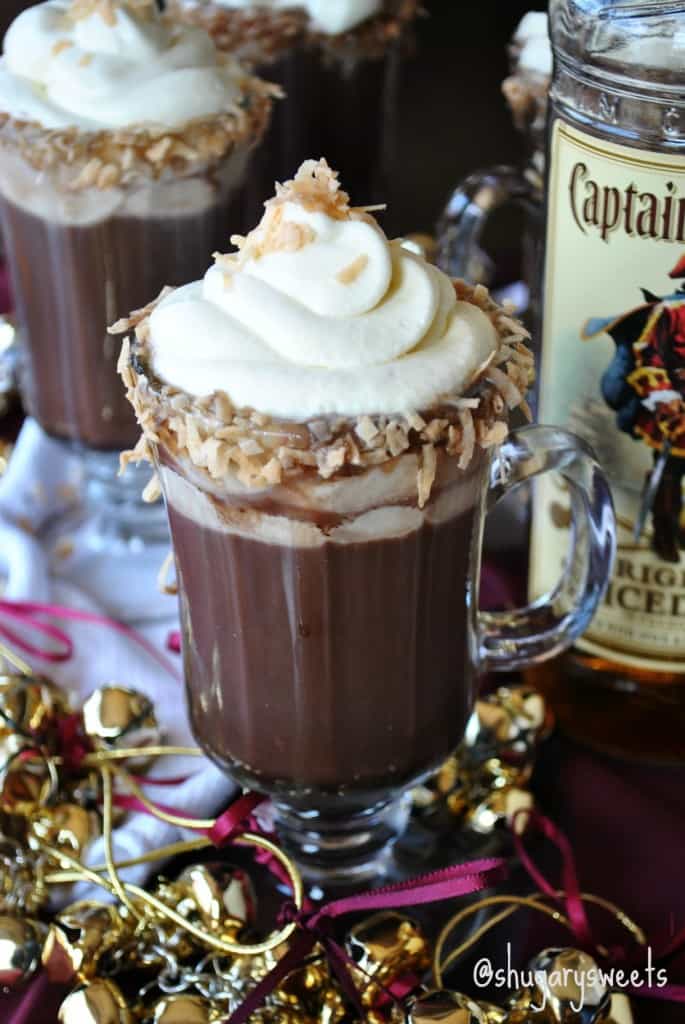 Yield: 12 serving slices
Drunken Cherry Chocolate Torte
Ingredients
For the Crust:
1/2 cup dry roasted macadamia nut pieces
1/4 cup granulated sugar
1 cup all purpose flour
6 Tbsp unsalted butter, softened
1/4 tsp kosher salt
For the Middle Layer:
1/2 cup cold water
1 envelope unflavored gelatin (1/4oz pkg)
1/2 cup Nutella (chocolate hazelnut spread)
1/2 cup mascarpone cheese
1 1/2 cup heavy cream
1 Tbsp dark chocolate unsweetened cocoa powder
1/3 cup granulated sugar
For the Top Layer:
6oz white chocolate (good quality), chopped
1 1/2 cup heavy cream, divided
For the Drunken Cherries:
1 bag (16oz) frozen pitted cherries
1/2 cup Captain Morgan Spiced Rum, divided
1 cup granulated sugar
Instructions
For the Crust:
Prepare a 9inch springform pan by buttering the bottom only. Set aside. Preheat oven to 375 degrees.
In a food processor, pulse the nuts with granulated sugar until finely ground. Add flour and salt. Pulse in the butter, one tablespoon at a time, until a soft dough forms (crumbly). Press dough into bottom of pan. Poke with a fork all over. Bake for 18 minutes. Remove and cool completely.
For the middle layer:
Pour cold water into a cold saucepan. Sprinkle with entire packet of gelatin and allow to bloom (absorb the water) for about 2 minutes. Turn saucepan on low and whisk gelatin water for several minutes until completely dissolved. Remove from heat.
In a mixing bowl, beat 5 Tbsp of gelatin mixture (save the remaining for the next layer) with Nutella and mascarpone cheese. Mix until completely smooth. Set aside.
In a clean, dry, and cold mixing bowl (I spin a couple ice cubes in my bowl, then dry it out quickly with a paper towel), beat whipped cream with cocoa powder and granulated sugar on high. Whip until soft peaks form (several minutes). Fold in nutella mixture, combining gently until completely incorporated. Spread mixture over cooled crust.
For the top layer:
In a small saucepan, heat 1/2 cup of cream over low. Add 2 Tbsp of reserved gelatin mixture and heat on low until fully combined. Add white chocolate and whisk constantly until smooth and melted, about one minute. Cool to room temperature, stirring occasionally (about 5-10 minutes, mixture may thicken).
In a clean, dry mixing bowl, beat remaining 1 cup of cream until it begins to thicken. Add sugar and beat until soft peaks form. Fold a scoop of the beaten cream into the white chocolate mixture, to allow the chocolate to lighten up. Then fold remaining whipped cream into white chocolate. Pour over nutella layer of torte.
Refrigerate torte for 2-3 hours, until layers have set.
For the cherry layer:
This can be made a day ahead of time. Place frozen cherries into a large bowl. Pour 1/4 cup of rum over cherries and allow cherries to thaw at room temperature, completely.
When thawed, drain juice from cherries by placing strainer over a separate bowl. You should have over 1 cup of cherry juice drained. Return cherries to a medium sized bowl in the refrigerator.
Using 3/4 cup of the reserved cherry juice, add 1/4 cup more of rum. (for a total of 1 cup juice/rum mixture).
In a small saucepan, whisk cherry and rum juice with 1 cup of granulated sugar. Heat over medium-high heat and bring to a boil. Boil for 2 minutes. Remove from heat and cool completely. When cooled, return cherries to syrup mixture and refrigerate until ready to serve (or serve immediately).
To serve: Use a spatula to run across the inside of the springform pan to make sure chocolate layers don't stick. Remove from pan. Serve cake with cooled drunken cherry sauce.
ENJOY!