Baked chicken empanadas accompanied by cheesy saffron rice are here to liven up your dinner table! Learn how to make empanadas with this easy recipe.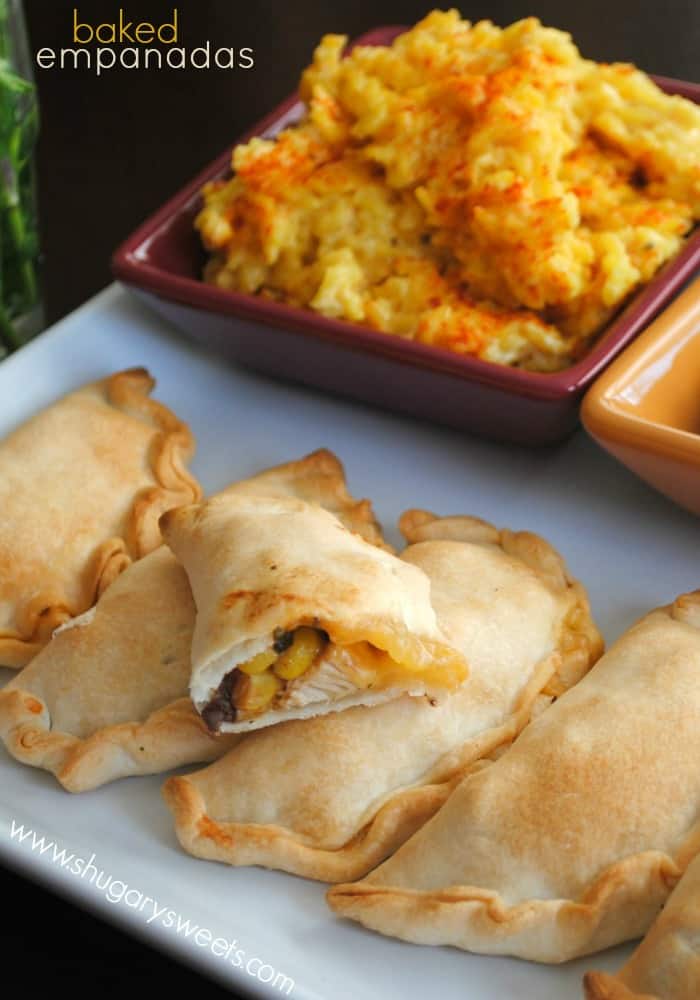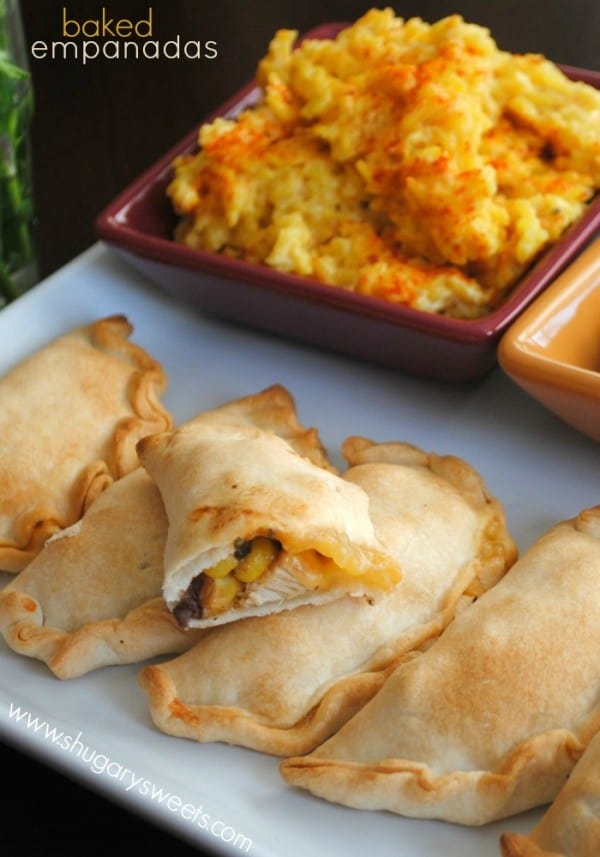 Are these authentic empanadas? Probably not. But are they delicious? Definitely.
Baked Empanadas
As a born and bred midwesterner, authentic Spanish cuisine has not had a central role in my life. But in my adulthood, I've discovered the joy of an empanada.
A tender dough stuffed with meat and cheese or veggies, then fried to perfection is my idea of a good dinner. But if you're anything like me, you're not about to go through the trouble of rolling out dough, heating oil and carefully frying each individual hand pie over the stove on a typical weeknight.
That's where Baked Empanadas come in!
Easy Empanadas Recipe
The chicken empanadas I'm sharing today are baked, not fried. All you need is a refrigerated pie crust, some cooked chicken breast, and a few more cans from your cupboard.
Salsa, jalapeno, corn and black beans make these empanadas some of the most flavorful savory pies I've ever made!
I also made an easy cheesy rice flavored with saffron to go on the side. It's the perfect accompaniment to a plate of empanadas and adds some fun color to the table.
What is saffron?
Saffron is a spice derived from a flowering plant that adds rich color and fragrance to all kinds of foods. It's a frequent addition to Spanish, Indian and Latin American recipes of all kinds.
Depending on how much you use, saffron can turn foods anywhere from a pale yellow to deep red. In this meal, it gives the rice an appealing yellow-orange hue.
You'll usually find Saffron Rice in a bag or box near the other rice options at your grocery store. It has the saffron mixed right in the bag so you don't need to make any extra purchases. All I did to dress it up was add a some shredded cheese and cream cheese to the cooked Saffron then bake it in the oven uncovered. A delicious accompaniment to our homemade empanadas!
How to Make Empanadas
First, dice your cooked chicken and set it aside. In a separate bowl, combine corn with chopped jalapenos, salsa, cilantro, cumin and lime juice.
Fill the empanadas:
Unroll refrigerated pie pastry on floured counter top and cut it into circles.
In the center of each circle, add about 1 Tbsp corn and bean mixture, about a tablespoon of diced chicken and a teaspoon of shredded cheese. Pinch the pie crust edges together and fold them over to seal.
Repeat with all the remaining circles. I ended up with 24 empanadas.
Bake the empanadas:
Lay each empanada on a parchment paper lined baking sheet and bake in a 450 degree oven for about 12 minutes, until browned.
Serve with more salsa and any remaining corn and black bean mix. Don't forget the Saffron Rice, too!
Can you freeze empanadas?
My favorite way to store leftover empanadas is in the freezer. You can freeze baked empanadas in individual serving bags to reheat whenever you need a quick lunch or filling snack, or store them all together in a large freezer bag.
They reheat best in the oven for a crispier crust but I've also just zapped them in the microwave for a minute or so when I'm in a pinch.
Tips & Tricks
This is a great way to use up leftover cooked chicken breast!
No chicken breast ready to go? Pick up a rotisserie chicken from the grocery store to save yourself some time. Just slice the breast off the bird, dice and use it in the recipe as directed.
Mix up the salsa you use to add different twists on your baked empanadas. Red salsa is my go-to but salsa verde (green salsa) is also delicious.
We didn't find these empanadas overwhelmingly spicy at all. Feel free to add more or less jalapeno based on your preferences for heat. You can also serve them with more hot sauce or spicy salsa so everyone can customize the level of "kick" in their meal.
Empanada Filling Ideas
Chicken is our go-to protein for these empanadas but it's far from your only choice. Steak (sliced into strips), pork and turkey would also be delicious in this empanada recipe.
Note: Make sure all meats are cooked before you add them to the pie crust.
For vegetarian empanadas, you can replace the cooked chicken breast with more of the bean mixture and extra cheese! Cooked diced potatoes are another meat free option.
Once you learn how to make empanadas, there's no end to all the different flavorful combinations you can try!
Side Dish Ideas
Along with the cheesy saffron rice (which I can't get enough of), I've also served empanadas with lots of Spanish and Mexican inspired side dishes like this Copycat Chipotle Cilantro Lime Rice and tortilla chips with Instant Pot Queso
Make a batch of homemade Churros for dessert and you have one satisfying meal!