Easy Tilapia with Strawberry Salsa
All the things you read about healthy living say you should eat more fish. 
I could eat it every night.
Except I have never been one to be able to cook it.
Scratch that. I could cook it. Just not well.
This. Dinner. Was. Delicious.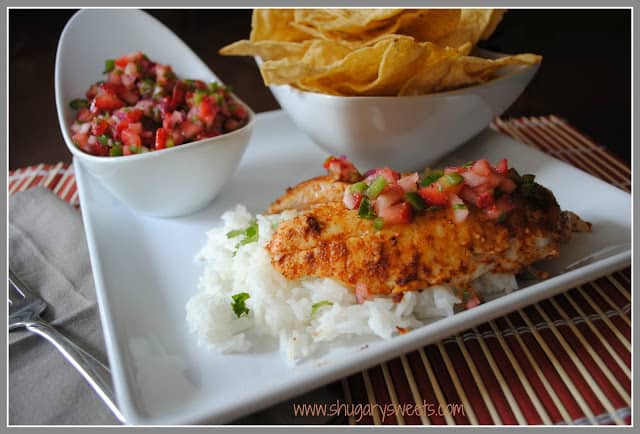 Tender tilapia filets with spicy seasoning. Pair it with the sweet strawberry salsa and some Cilantro Lime Rice and this is a restaurant quality meal.
Plus, you then feel good about enjoying that big bowl of chips with your leftover salsa.
Like this recipe? You might also enjoy….
Yield: 6 servings
Easy Tilapia with Strawberry Salsa
Ingredients
For the Fish:
2 Tbsp olive oil
2 cloves, pressed garlic
1 1/2 Tbsp chili powder
1/2 tsp kosher salt
6 cranks fresh ground black pepper
2 Tbsp cumin
1/4 tsp cayenne pepper
4-6 tilapia fillets
1 lime, juiced
For the Salsa:
16 oz (1 lb) fresh strawberries, hulled, diced very small
1 green pepper, seeded and diced small
2 jalapenos, seeded and diced small
1 small red onion, diced small
1 pinch kosher salt
3 cranks fresh black pepper
1 handful fresh cilantro, snipped
1 lime, juiced
Instructions
Mix all ingredients for the salsa in a large bowl (make sure to dice everything small)! Refrigerate until ready to use.
In small bowl, mix chili powder with salt, black pepper, cumin and cayenne. Set aside.
In large skillet or grill pan over medium-high heat, saute olive oil with pressed garlic for about 2 minutes. Lay fish in pan and sprinkle with half of the seasoning. Cook about 4-5 minutes.
Flip fish over and sprinkle with remaining seasoning and drizzle with lime juice. Cook an additional 4-5 minutes, until fish is fully cooked and flakes with a fork.
Serve immediately with strawberry salsa. I like to pair this with my cilantro-lime rice. Enjoy!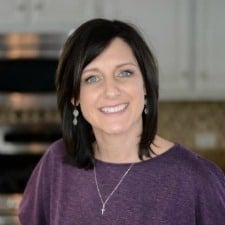 Aimee is a dessert lover (specifically rice krispie treats), workout enthusiast, self-taught foodie, and recipe creator. Her recipes have been featured in over 15 magazines, and her passion is to share her love of cooking with the everyday home cook! Learn more about Aimee.