Eggnog Coffee Cake
Two cakes, one for now and one for later! This Eggnog Coffee Cake will be perfect for Christmas morning!
Love this recipe? Sign up for Shugary Sweets email subscription and never miss out again!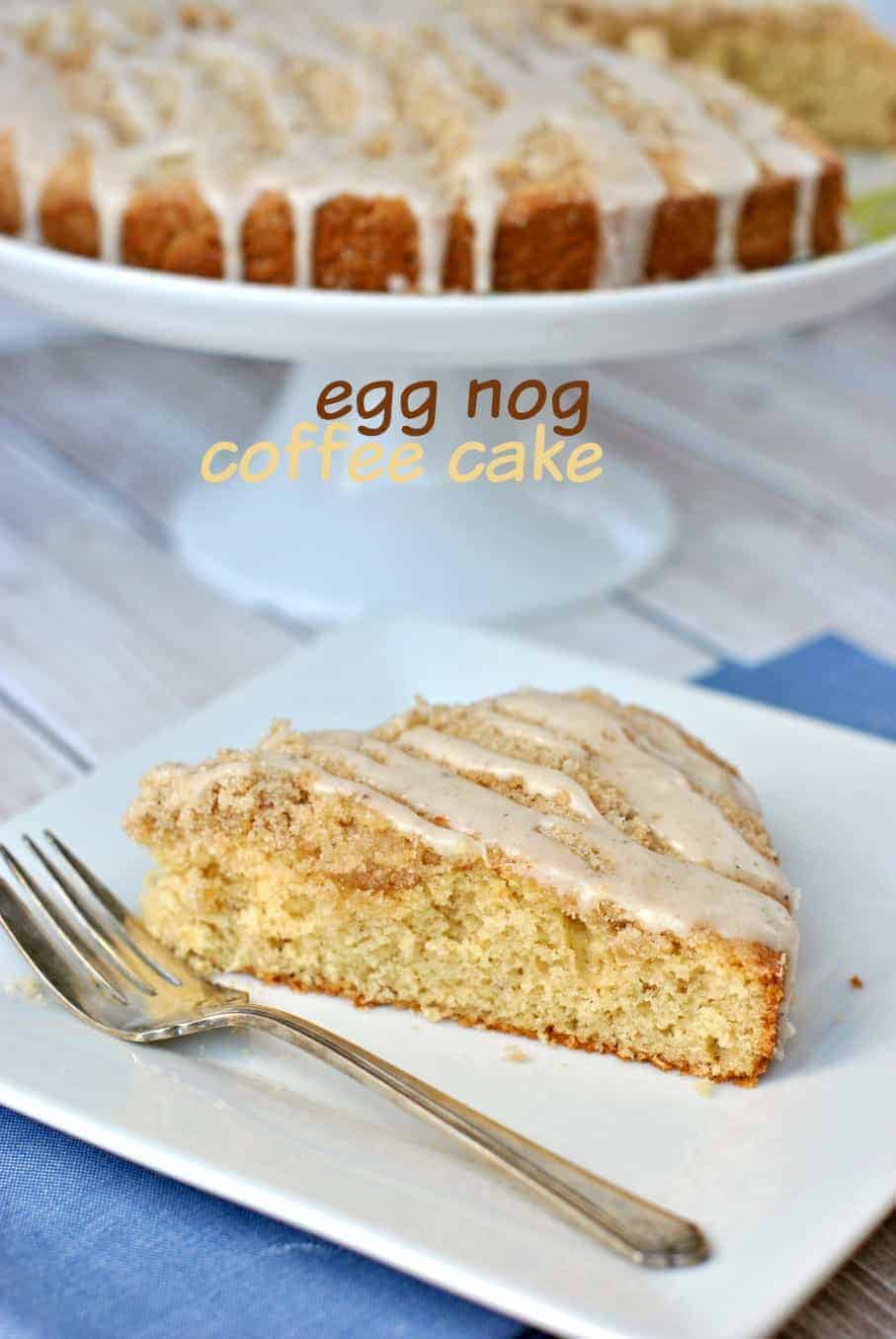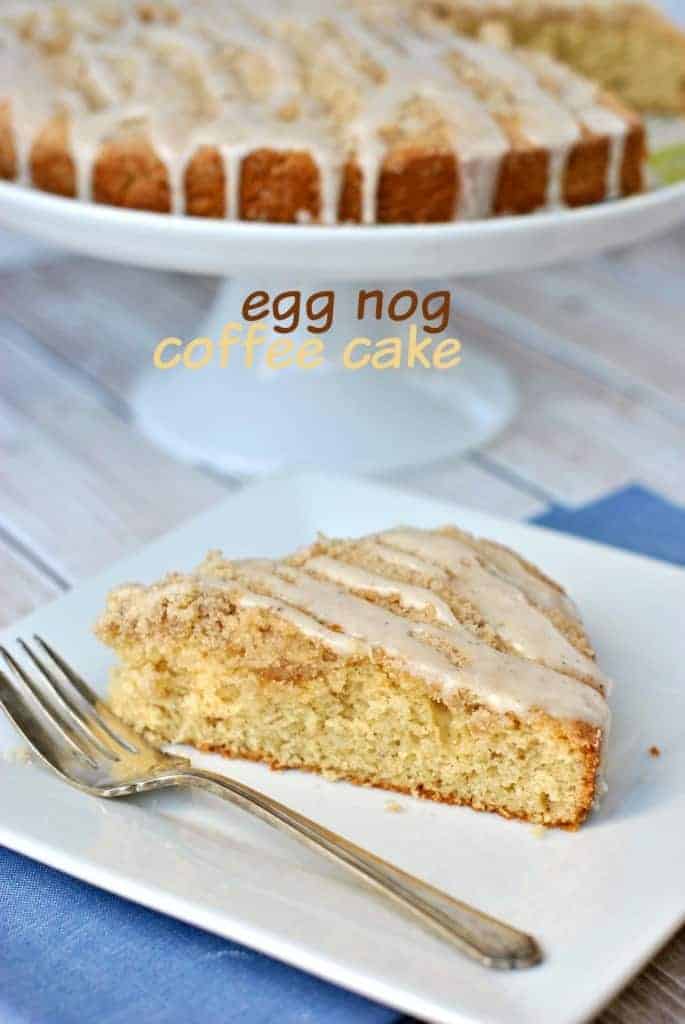 I was going through my list of drafts in my dashboard the other day, scrolling and scrolling (yeah I usually have at least 30 in there), when I came across this Egg Nog Coffee Cake.
From LAST YEAR!
See here's the problem with Christmas and Egg Nog recipes. I try to not start sharing them until after Thanksgiving (the occasional one might sneak up before Thanksgiving, my bad!). But then I have about 3 weeks to cram in all those holiday goodies. And most people are so over egg nog by January 1st that they don't want this recipe then.
So, off to the drafts it went.
I've pulled it out of the vaults, I baked up another batch (which is now in my freezer) and am sharing these old photos with you guys!
The photos may not be my favorite, but this recipe is SOLID, you guys. The burst of egg nog flavor in the cake and the glaze is spectacular! Go buy an extra quart today so you can make this coffee cake.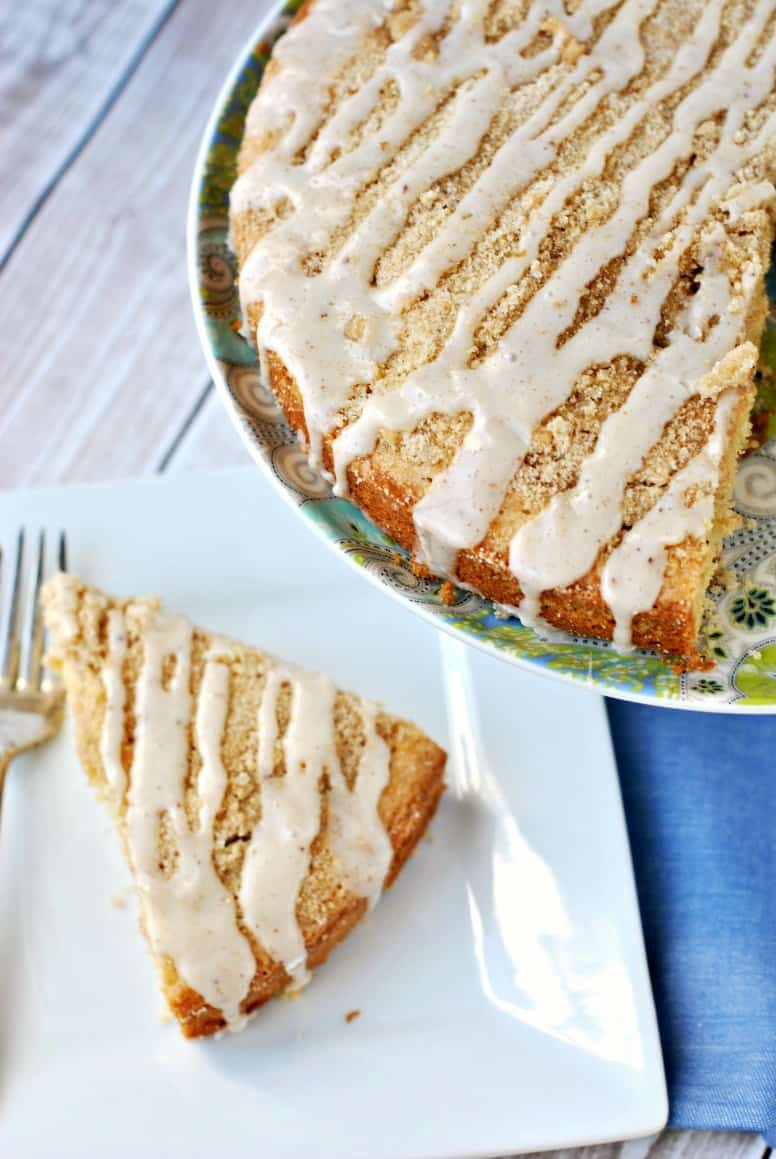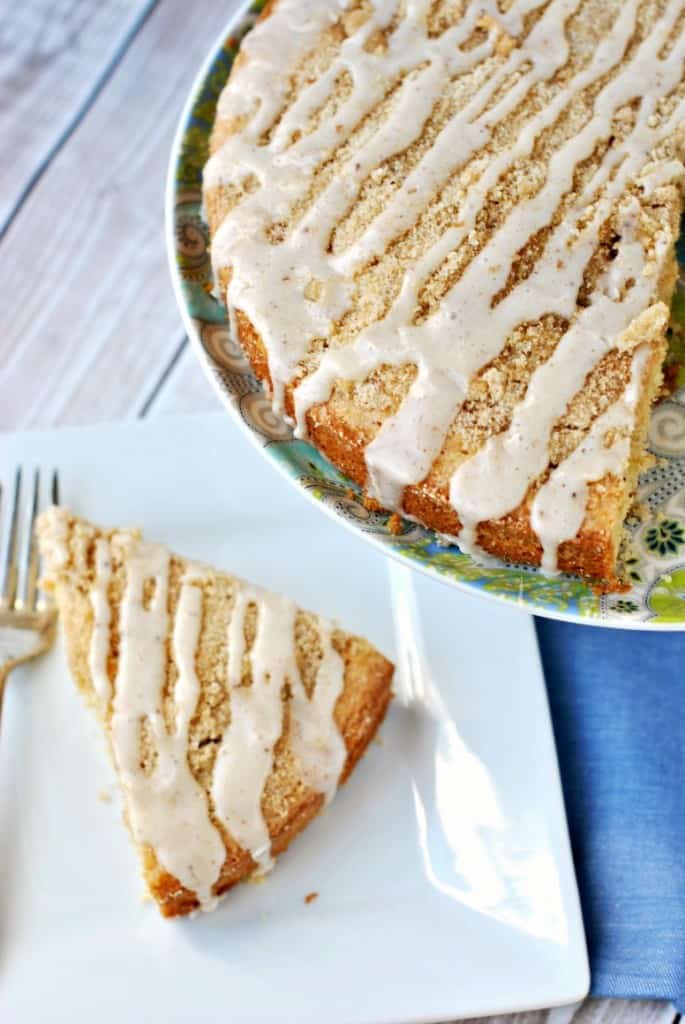 Oh, before you head off to the store….I forgot to mention, the streusel on this cake! Butter, flour, brown sugar, nutmeg, OMG! So much texture and flavor in one cake.
It will go perfect with your holiday cup of joe. Speaking of which, did you know Dunkin Donuts sells Eggnoggin Coffee
in the grocery store (or online). Holy Heck is it good!! I can't wait until Christmas morning when I cut myself a slice of this cake with a cup of flavored coffee. Yes. I'm ready!
Connect with Shugary Sweets! Be sure to follow me on my social media, so you never miss a post!
Facebook | Twitter | Google+ | Pinterest | instagram | Bloglovin'
Sign Up to receive an email in your inbox for each new recipe:
Yield: 16 servings
Eggnog Coffee Cake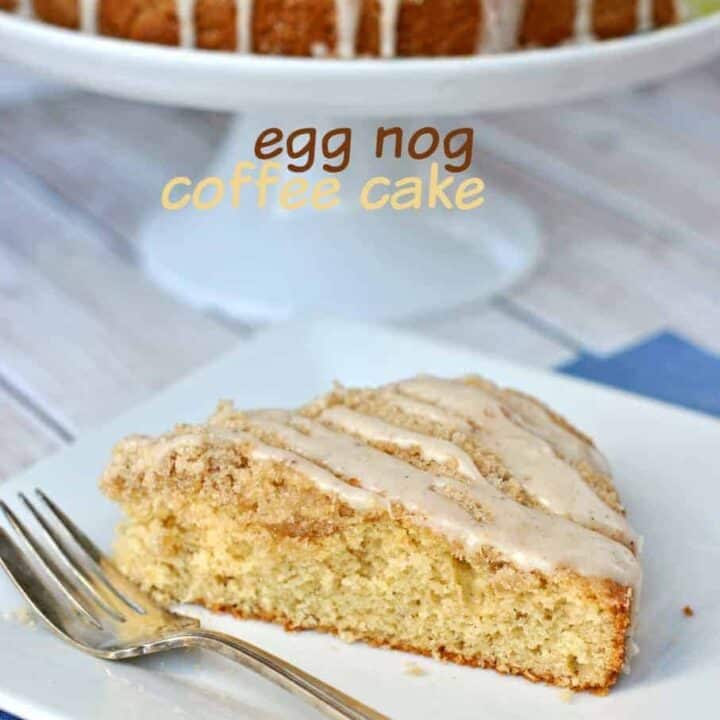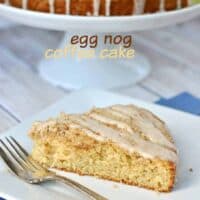 Prep Time 15 minutes

Cook Time 25 minutes

Total Time 40 minutes

Two delicious Egg Nog Coffee Cakes, perfect for freezing too!
Ingredients
For the cakes:
2 1/2 cup all-purpose flour
1 cup granulated sugar
1/2 tsp baking powder
1/2 tsp baking soda
1/4 tsp kosher salt
3/4 cup unsalted butter, softened
1/2 tsp ground nutmeg
1 tsp rum flavoring
2/3 cup egg nog
For the streusel:
1/2 cup all-purpose flour
1/2 cup granulated sugar
1/2 cup light brown sugar, packed
1/2 tsp ground nutmeg
2 Tbsp unsalted butter, softened
For the glaze:
2 cup powdered sugar
1 tsp ground nutmeg
1/4 cup egg nog
Instructions
For the cake:
Preheat oven to 325 degree F. Grease two 8inch round cake pans with baking spray. Set aside. In a large mixing bowl, combine flour, sugar, baking powder, baking soda, and salt. Add butter until mixture becomes crumbly. Beat in nutmeg, rum flavoring and egg nog. Beat on high for about 2 minutes, scraping down sides of bowl as needed.
Divide batter evenly into two prepared pans.
For the streusel:
In a small bowl, combine flour, sugars, nutmeg and butter. Use your hands to combine until crumbly (or use a food processor, pulsing until mixed). Sprinkle evenly over both cakes.
Bake in oven for 25-30 minutes, rotating pans halfway through.
Remove from oven and cool in pans 5 minutes, then remove cakes and cool completely on wire rack.
For the glaze:
Whisk together the powdered sugar, nutmeg and egg nog until smooth. Drizzle over completely cooled cakes. Store in airtight container for up to 4 days.
OR if desired, freeze the cakes before adding the glaze. Store in freezer in airtight containers. When ready to enjoy, thaw on counter (in containers). Once thawed, make glaze and enjoy!
Nutrition Information:
Yield:
16
Serving Size:
1 slice
Amount Per Serving: Calories: 337 Total Fat: 11g Saturated Fat: 7g Trans Fat: 0g Unsaturated Fat: 4g Cholesterol: 35mg Sodium: 103mg Carbohydrates: 57g Fiber: 1g Sugar: 39g Protein: 3g
How about some more Eggnog Goodies?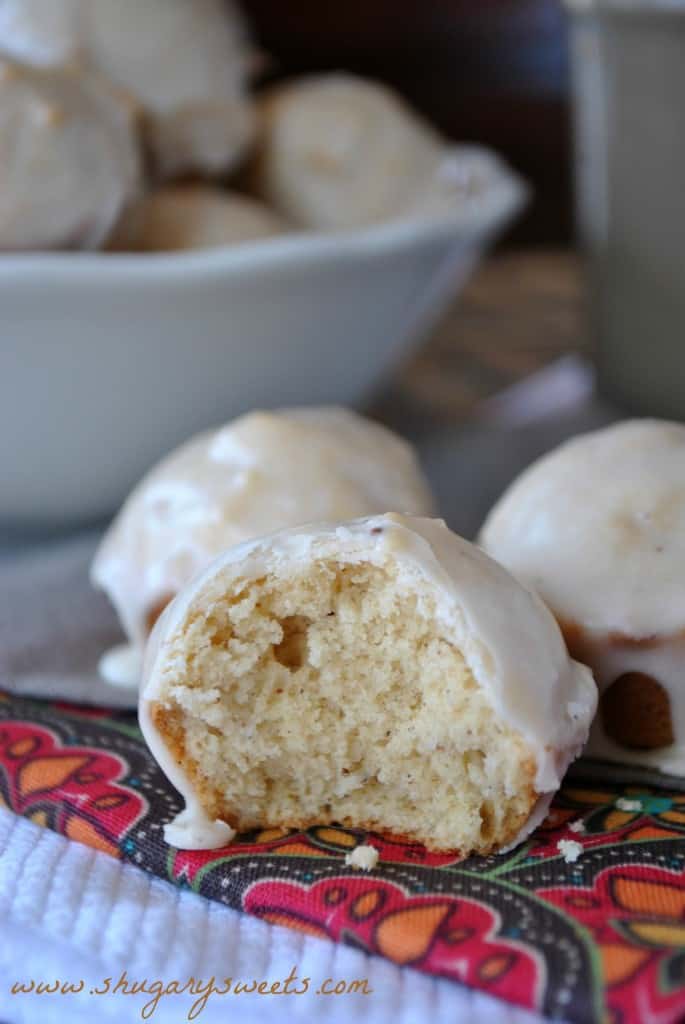 Eggnog Donut Muffins: little bites of flavor packed donut muffins are perfect for the busy holidays!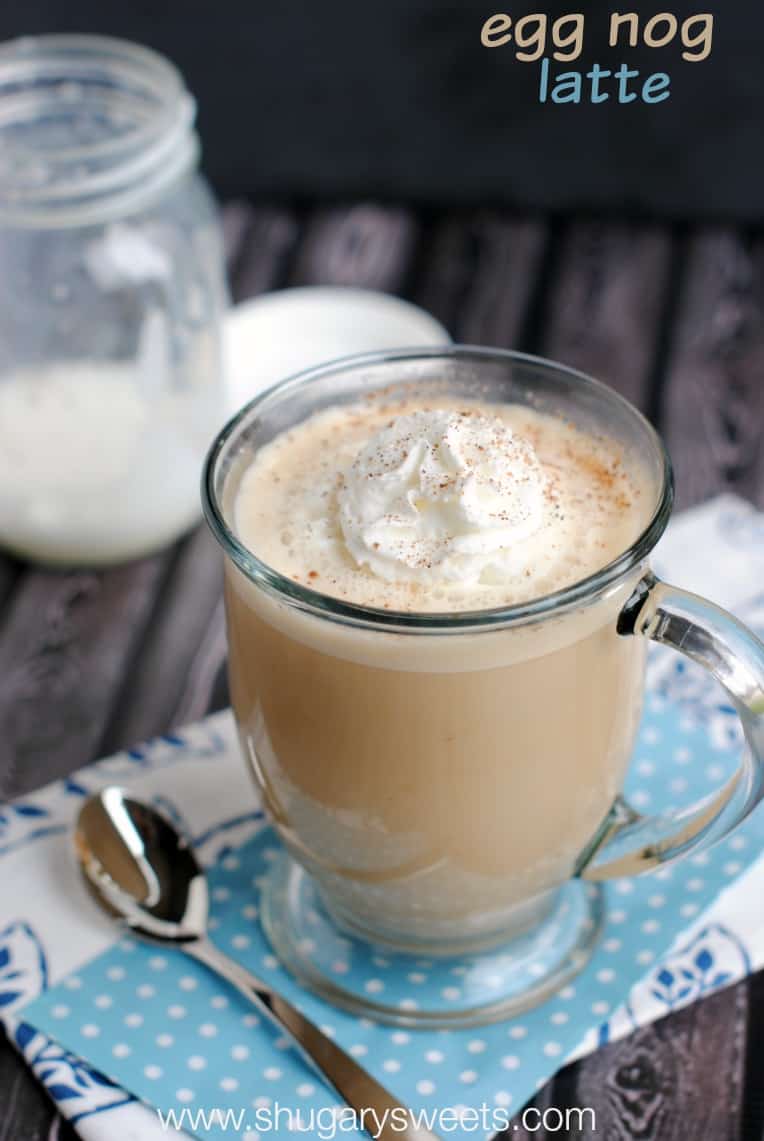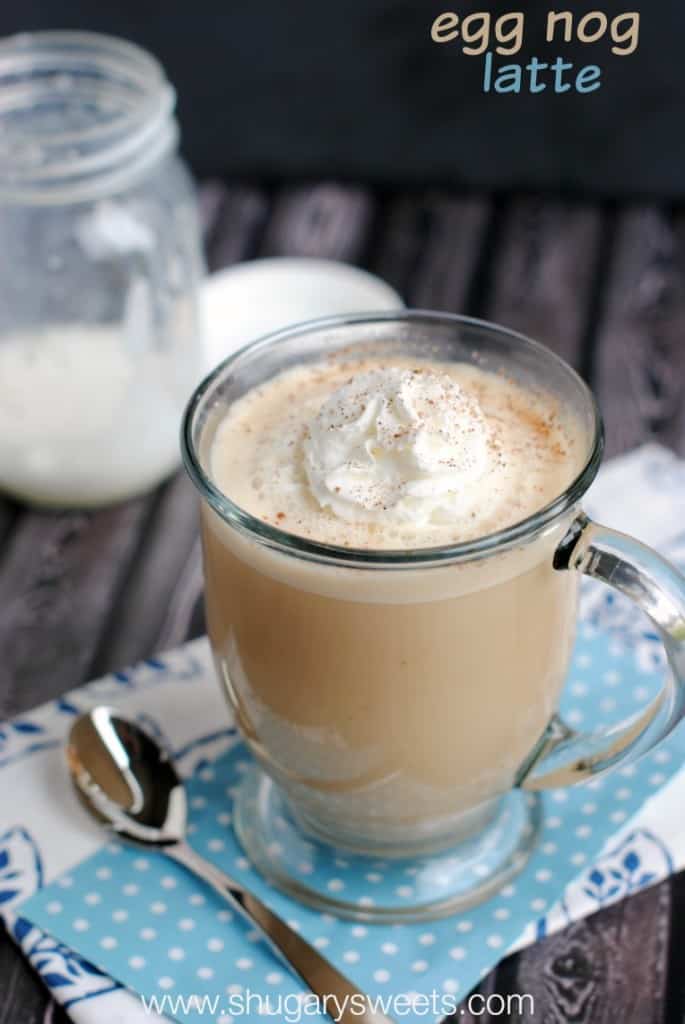 Egg Nog Latte: make this sweet latte at home by using fresh brewed coffee and a mason jar!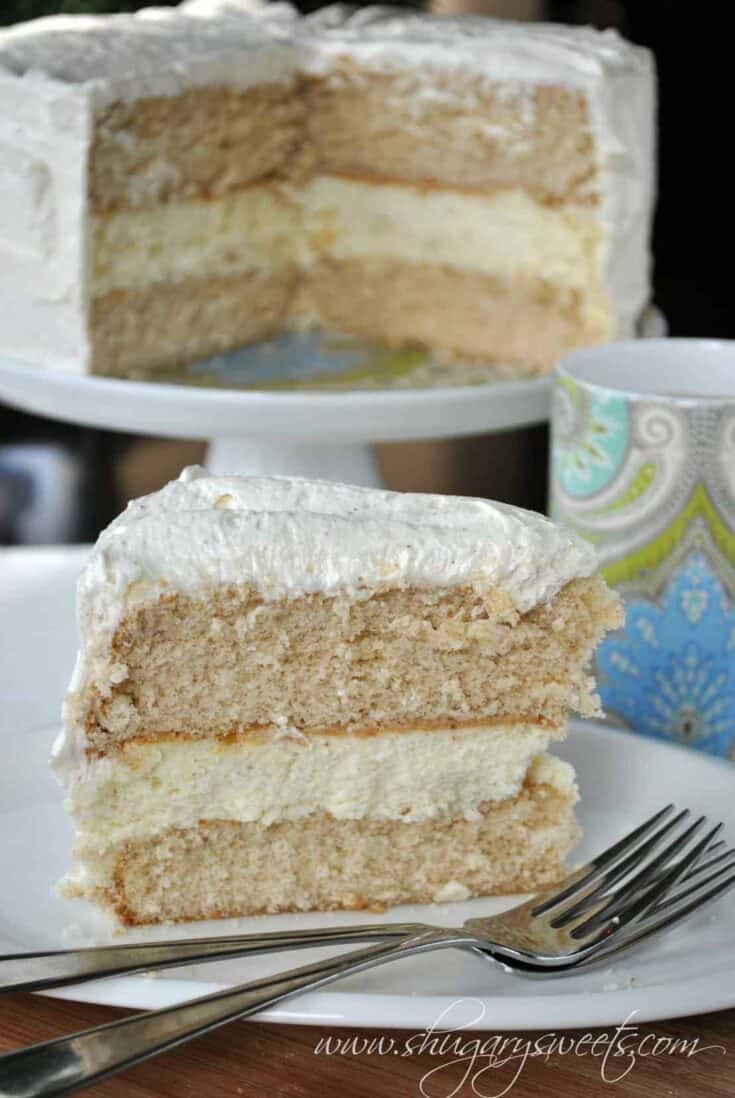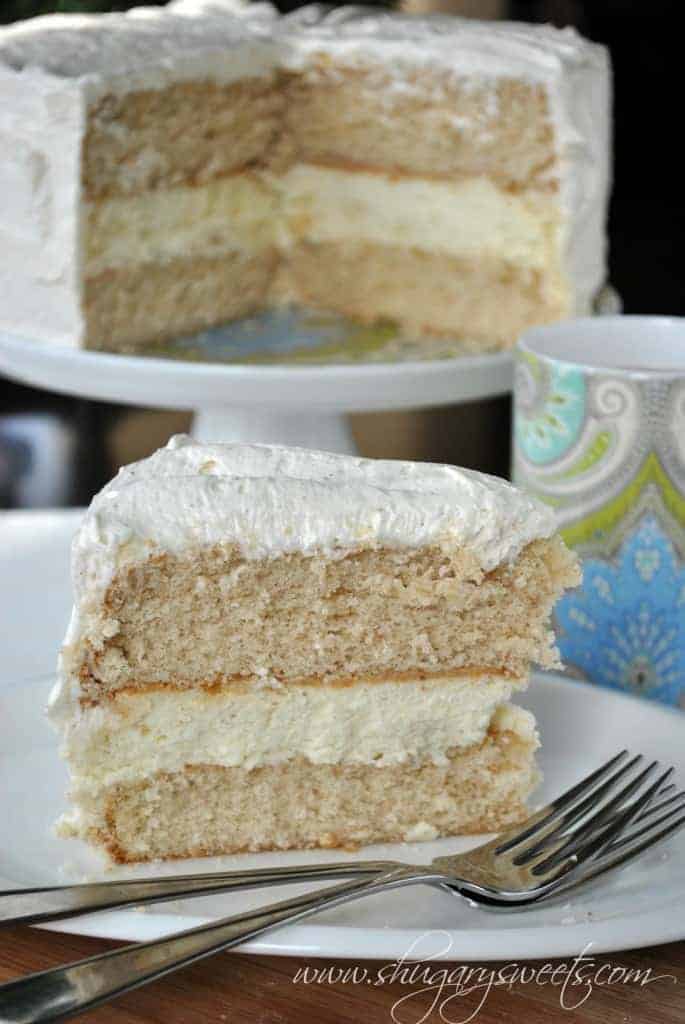 Eggnog Cheesecake Cake: two layers of homemade spice cake with an eggnog cheesecake filling. Don't forget the eggnog buttercream frosting!