Eggnog and donuts all in one easy baked treat! This Baked Donuts Recipe is a must-try for all your holiday festivities.
Everyone loves donuts, right? But you know what everyone does NOT like? Frying donuts at home.
Not only do you have the mess (and potential danger) of very hot splashing oil to deal with, you can also wind up with greasy donuts on your hands if you're not careful. That's why I love a good Baked Donut Recipe.
This eggnog version of a classic baked donut has become my go-to for holiday breakfasts. Make a dozen of these for the family to nosh on while opening presents and sipping coffee!
So tasty, so easy and so festive!
Eggnog Donuts
If you love a sip of cold eggnog this time of year, you're going to love these eggnog inspired donuts. With eggnog baked into the dough and more eggnog in the icing, the donuts are enhanced with some rum flavoring and a sprinkle of nutmeg.
I admit to getting a little eggnog crazy this year. First, it's Eggnog Fudge and Eggnog Cupcakes. Next thing you know, it's eggnog for breakfast –in donut form, of course.
Even if you're not as big of a fan of eggnog as I am, I recommend you give these a shot! They have the perfect amount of seasonal flavor but at the end of the day, the most important thing is that you have a homemade baked donut to enjoy.
Baked Eggnog Donuts are fluffy on the inside with a thin sugary glaze that's out of this world. If I could get eggnog year round, I'd probably even make these in the middle of summer; that's how good they are.
When Eggnog are on the breakfast menu, everyone's day is merrier!
How to Make Baked Donuts
The batter for these donuts is similar to a basic cake batter, with baking powder and baking soda to leaven. Applesauce and eggnog add moisture, texture and flavor.
To bake the donuts in the oven, you need a donut pan. They aren't expensive and the investment is well worth it, even if you only make donuts a few times a year. The donut pan ensures all your donuts come out perfectly round and evenly shaped!
To fill the donut pan:
Pour your prepared donut batter in large ziploc bag. Snip the corner (a big snip) and squeeze batter into the greased and floured donut pan evenly.
Bake in a 325 degree oven for 10-12 minutes, until donut springs back when lightly pressed.
Remove from pan immediately and allow to cool. While the donuts are cooling, make the glaze.
Eggnog Donut Glaze
To make this finishing touch for your baked donuts: Beat powdered sugar with eggnog and rum flavoring for about 2-3 minutes. Dip the tops of each donut into the glaze then immediately sprinkle with nutmeg!
Let the donuts rest for at 15 minutes to allow the glaze to set. Serve with coffee or your favorite morning beverage!
Tips & Tricks
Be modest with the nutmeg. It's easy to overwhelm the flavor of the donuts by adding too much. I used just a pinch of nutmeg total to cover the entire batch of donuts.
Don't forget to grease your pan! I use a thin layer or oil or cooking spray and a light dusting of flour to keep the batter from sticking.
Storing baked donuts: These donuts taste their best served within 1 day of baking. You can also store them in the freezer if you don't eat them all right away. They'll keep well this way for a couple of months.
Eggnog donut muffins: If you don't have a donut pan, you can make these as mini muffins in a muffin pan. Just reduce the baking time by a couple of minute. Perfect to bring to an early meeting on a chilly winter morning!
These donuts taste just as good as the fried version and they're world's easier. No waiting for dough to rise or oil to heat up and clean up couldn't be easier. My whole family loves Eggnog Donuts!
Like eggnog? LOVE donuts? Then hold everything and go make this easy baked donut recipe! Your Christmas breakfast just got even more delicious.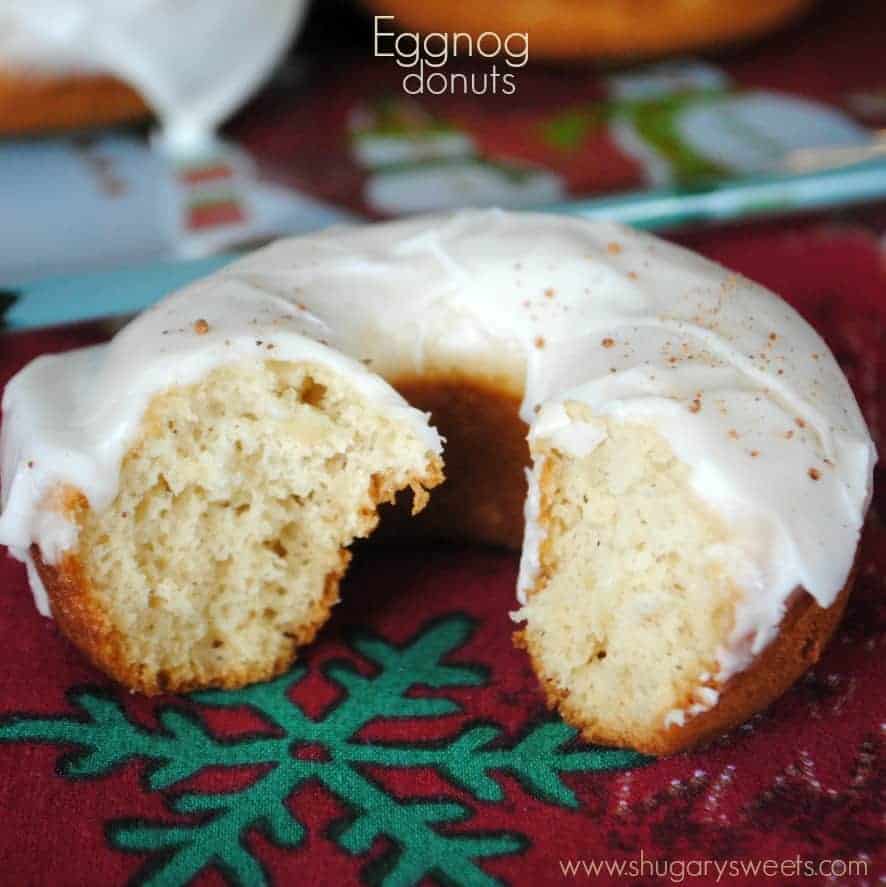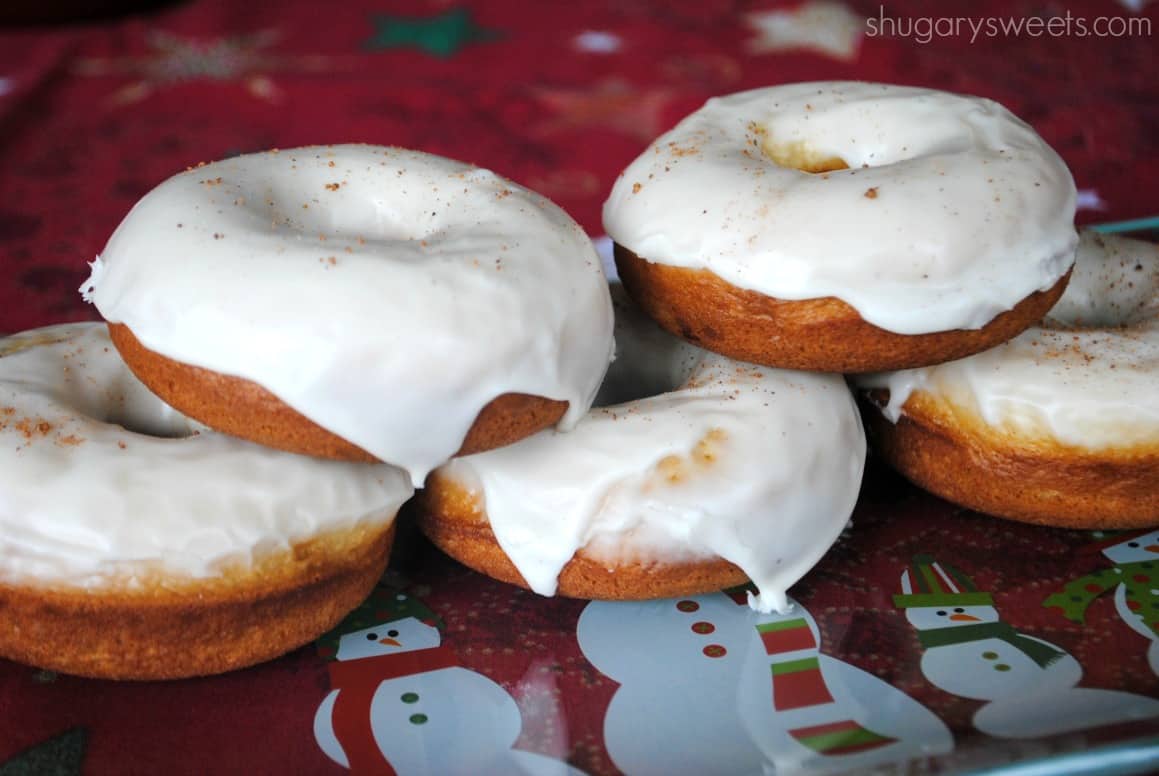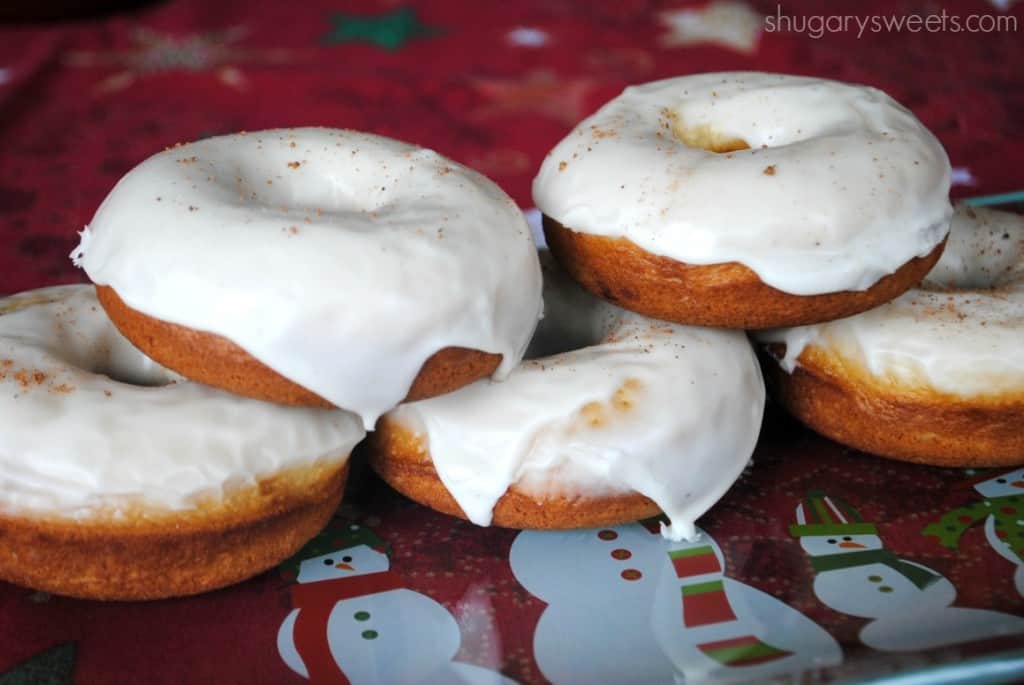 Eggnog Donuts
Ingredients
FOR THE DOUGHNUTS:
2 cups all-purpose flour
3/4 cup granulated sugar
1 tsp baking powder
1 tsp baking soda
1 tsp salt
1/2 tsp nutmeg
1 large egg
3/4 cup eggnog
1/4 cup applesauce
FOR THE ICING:
1 1/2 cup powdered sugar
3 Tbsp eggnog
1 tsp rum flavoring
pinch of nutmeg
Instructions
In a large mixing bowl, blend flour, sugar, baking soda, baking powder, salt and nutmeg. Beat in egg, applesauce and eggnog.
Grease and flour donut pan. Pour batter in large ziploc. Snip the corner (big snip) and squeeze batter into the donut pan evenly. Bake in a 325 degree oven for 10-12 minutes, until donut springs back when lightly pressed.
Remove from pan immediately and allow to cool.
To make glaze, beat powdered sugar with eggnog and rum flavoring for about 2-3 minutes. Dip tops of each donut into glaze. Immediately sprinkle with a TINY pinch of nutmeg. Enjoy!
Nutrition Information:
Yield:
6
Serving Size:
1 donut
Amount Per Serving:
Calories:

412
Total Fat:

3g
Saturated Fat:

1g
Trans Fat:

0g
Unsaturated Fat:

1g
Cholesterol:

54mg
Sodium:

714mg
Carbohydrates:

90g
Fiber:

1g
Sugar:

57g
Protein:

7g
*Nutrition facts are an estimate and not guaranteed to be accurate. Please see a registered dietitian for special diet advice.