Eggnog Scones: perfect for this time of year with a cup of coffee, tea or hot cocoa! The texture is spot on, and the glaze melts in your mouth!
So, be honest, EGGNOG. Love it or hate it?
I love the stuff. I can't drink gobs of it, but it is such a part of our holiday tradition, I can't help but love it.
Growing up, we always opened our sibling gifts to each other on Christmas Eve. It was something I always looked forward to. Maybe not so much because of the gifts, but because of the eggnog.
My mom would pour us each a cup (or I should say a mug) of eggnog and she sprinkled nutmeg on top. She would set out a plate of Christmas cookies and we would sit around the tree, sip our eggnog, eat cookies and open gifts.
Doesn't get much better than that!
Of course Christmas morning we would repeat this scenario, but it was more frenzied. The time seemed to go slower on Christmas Eve…the anticipation, the routines, it just was very enjoyable.
I've continued this same tradition with my own family. Like my  mom, I have four kids of my own too! Hubby and I enjoy coming home from Christmas Eve church service to eggnog, cookies and gifts. Of course, my picky hubs doesn't drink the nog, but he participates none the less!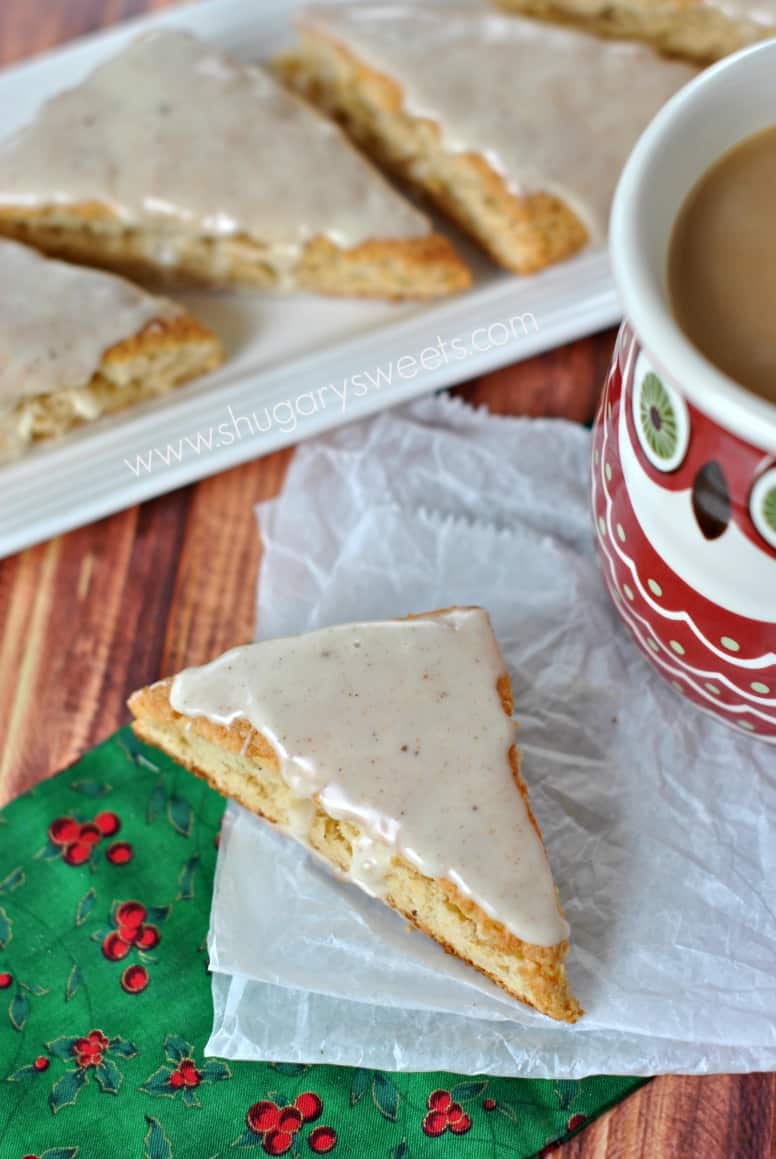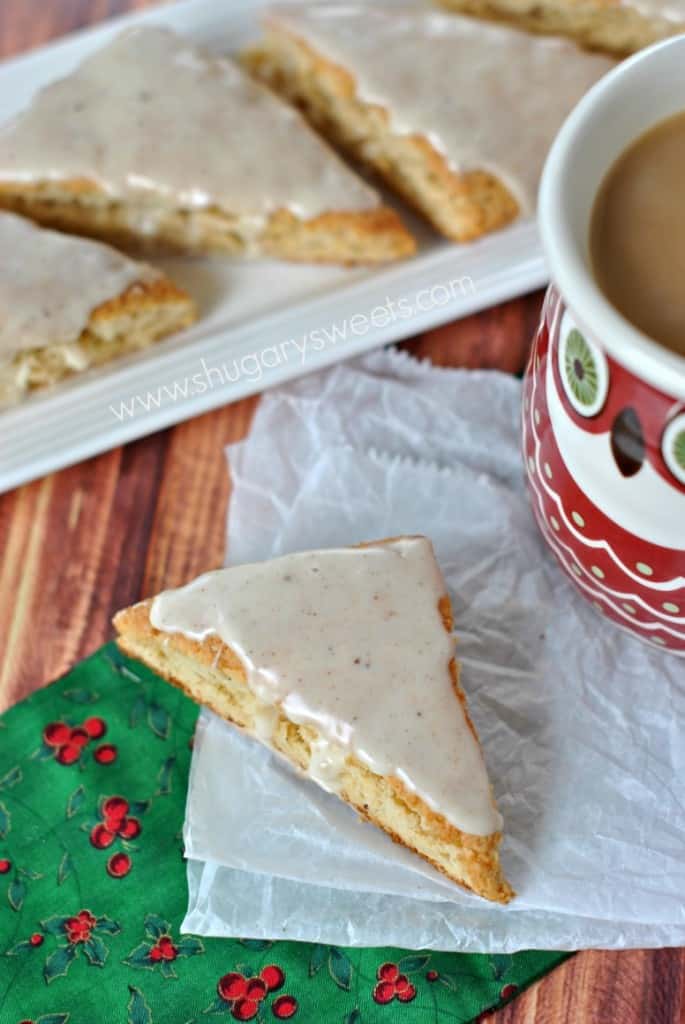 Making these Eggnog Scones was such a wise decision. If I had a choice, I almost always go for biscotti over a scone. I like crunchy vs chewy. However, I already have an eggnog biscotti recipe, so it only makes sense I give the scone equal time in the spot light!
I brought these scones to my parents over Thanksgiving and they were devoured (mainly by my dad!!). I've been asked to bring them for Christmas too! That's a sign they must have been tasty!
What traditions do you keep this holiday season? I'd love to hear it!!
Connect with Shugary Sweets! Be sure to follow me on my social media, so you never miss a post!
Pinterest | instagram | Bloglovin'
Save your favorite recipes to your personal recipe box with the   

  button on all my recipes! Create a Meal Plan with your "favorited" recipes and the ingredients will automatically be added to your own Grocery List!
Yield: 12 scones
Eggnog Scones
Ingredients
For the scones:
1 1/2 cup all-purpose flour
1/2 cup granulated sugar
1/4 tsp kosher salt
2 tsp baking powder
6 Tbsp unsalted butter, cubed, softened
1 large egg
1/4 cup plain Greek yogurt
1/4 cup eggnog
1 tsp rum extract
1/2 tsp nutmeg
For the glaze:
1 cup powdered sugar
2-3 Tbsp eggnog
1/4 tsp nutmeg
Instructions
For the scones, combine flour, sugar, salt, and baking powder in a large mixing bowl. Add in butter (I used the beater blade of my electric mixer, but you can use a pastry cutter).
Mix until it resembles coarse crumbs.
Add in egg, greek yogurt, eggnog, rum extract and nutmeg. Combine completely.
On a large baking sheet with parchment paper (or silpat), shape dough into a large rectangle using your hands. I dusted my hands and the dough with flour to keep it from sticking.
Press your rectangle to 8 1/2 inch x 6 1/2 inch- 1/2inch thick. Using a pizza cutter, slice in half horizontally. Then cut it into thirds vertically (you will have 6 rectangles). Cut each rectangle in half to make 2 triangles. You will be left with a total of 12 triangles. Don't separate them on the baking sheet yet.
Bake in a 350 degree oven for 25 minutes. Remove from oven and re-cut your triangles.
Separate carefully and return to oven for an additional 10 minutes. Remove and cool completely before applying glaze.
For the glaze, whisk together the sugar, eggnog and nutmeg. Add more/less eggnog for desired consistency. Spoon glaze over each scone and allow to set, about 20 minutes.
Store in an airtight container for up to 5 days. ENJOY.
Are you Eggnog obsessed? I've got you covered!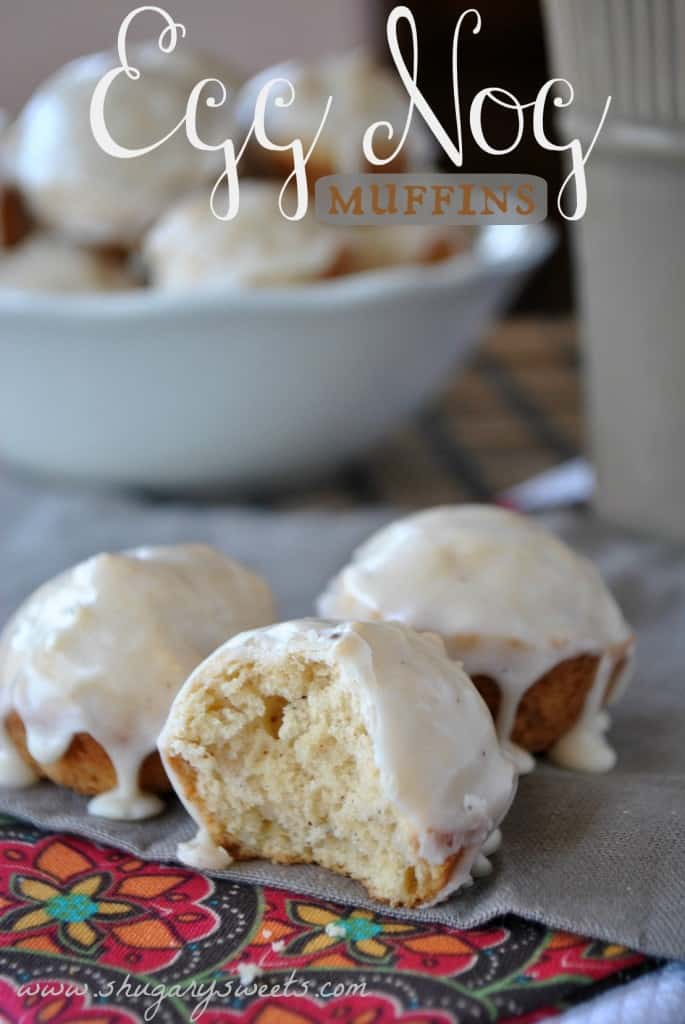 Eggnog Donut Muffins: bite size muffins that freeze well too!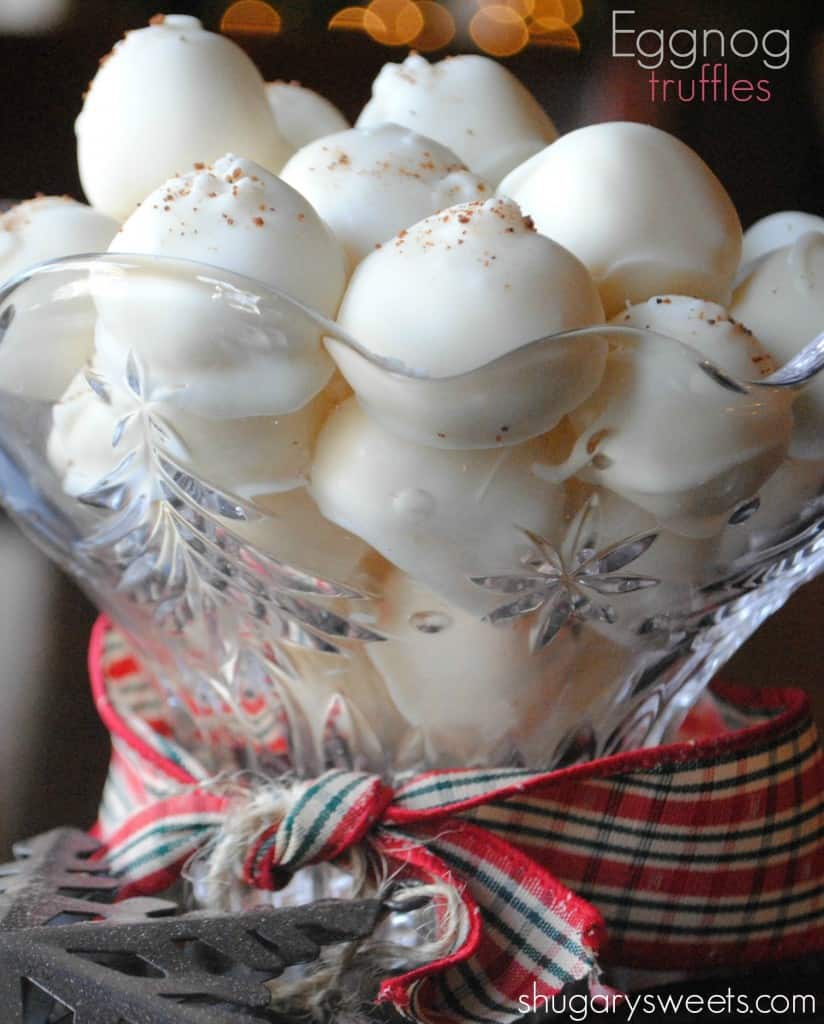 Creamy Eggnog Truffles with a delicious crunchy coating!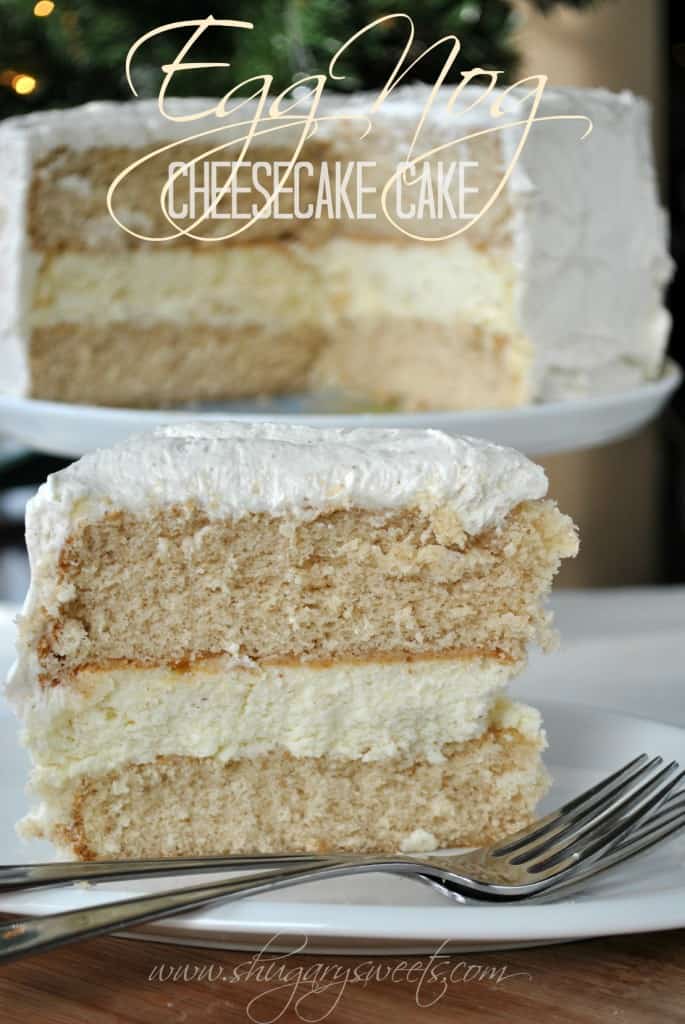 An impressive, delicious dessert: Eggnog Cheesecake cake
Not a fan of eggnog? Still looking for a Christmas morning breakfast idea?