Espresso Coffee Cake
This Espresso Coffee Cake is the perfect start to your day! A kick of espresso paired with a creamy glaze made with BAILEYS® Coffee Creamer French Vanilla.
**This post is sponsored by BAILEYS® Coffee Creamers. I am excited to be a partner in creating delicious recipes, all opinions are 100% my own***
Be sure to sign up for my email…new recipes in your inbox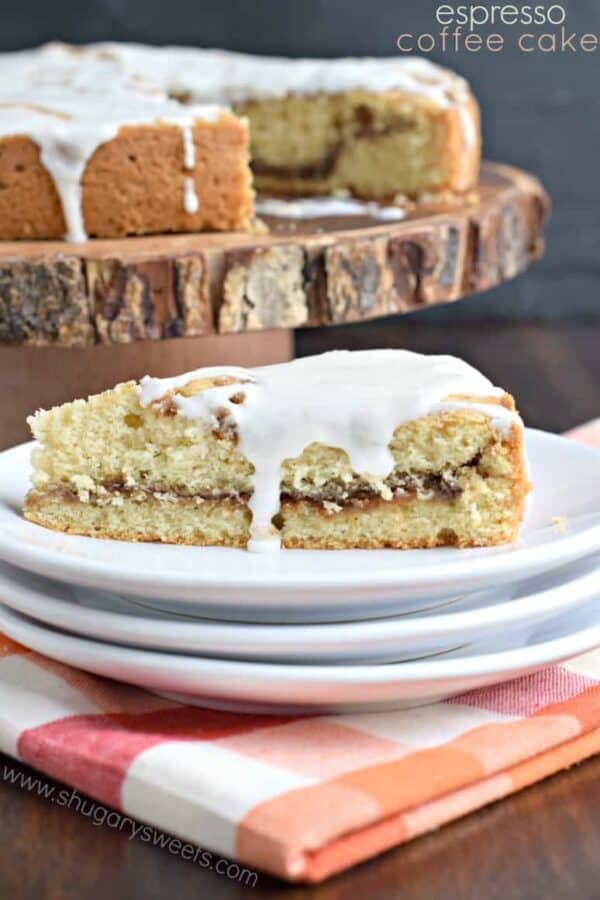 Often times when I share a new coffee cake recipe I get comments such as "where's the coffee?" I guess I just assumed every one knew that the term "coffee cake" refers to a cake eaten WITH coffee. Otherwise known as a breakfast cake.
I don't know about you, but I love my coffee with extra cream. Flavored creamers give my coffee that extra sweetness I love (after all I am Shugary Sweets, in name and character!). So it should be  no surprise that I love my new partnership with BAILEYS® Coffee Creamers.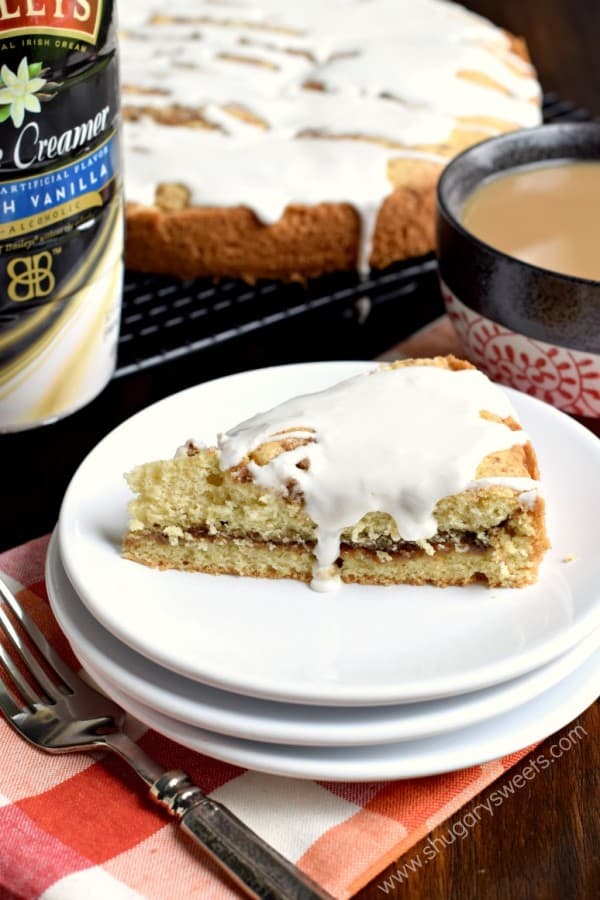 And it should also come as no surprise that I am make a coffee cake cake infused with two of my favorite things: espresso and coffee creamer! It's the perfect marriage!
I think I've said it before, but I'm not a breakfast person. Kudos to all of you who eat your overnight, quinoa soaked, black bean, chia seed oatmeal. Personally, if I'm going to start my day with something, I want it to be a strong cup of joe and a sweet piece of coffee cake. I promise not to judge you if you don't judge me! I get my oatmeal in cookies. My chia seeds in coffee cake. And my black beans in enchiladas!
And now my coffee and cream comes in this Espresso Coffee Cake! Best part? It makes two coffee cakes. I shared one with my BFF and her family, but these also freeze well too! ENJOY!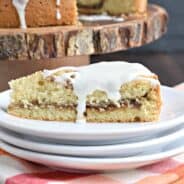 Espresso Coffee Cake
Yield: 2 cakes
Prep Time: 15 minutes
Cook Time: 30-35 minutes
Ingredients:
For the cake:
2 1/2 cup all-purpose flour
1 cup granulated sugar
1/2 tsp baking powder
1/2 tsp baking soda
1/4 tsp kosher salt
3/4 cup unsalted butter, softened
3 large eggs
2 tsp vanilla extract
1 cup BAILEYS® Coffee Creamer French Vanilla
For the streusel:
1/2 cup all-purpose flour
1/2 cup granulated sugar
1/2 cup light brown sugar, packed
2 tsp espresso powder
1/4 cup unsalted butter, softened
For the glaze:
2 cup powdered sugar
5 Tbsp BAILEYS® Coffee Creamer French Vanilla
Directions:
For the cake, grease and flour two 8-inch round cake pans. Set aside. Preheat oven to 325 degree F.
For the streusel, combine flour, sugars, espresso powder and butter in a small bowl. Mix with hands until crumbly. Set aside.
In a large mixing bowl, beat flour, sugar, baking powder, baking soda, and salt on low until combined. Beat in softened butter. Add in eggs, vanilla and BAILEYS® Coffee Creamer French Vanilla until fully blended and fluffy (about 3-4 minutes).
Pour a small amount into the bottom of each pan (use an offset spatula to spread it out to the sides of the pan. Sprinkle generously with the streusel filling, using all about 1/4 cup or so to fill both cakes (save the 1/4 cup for the top). Top with the remaining batter. Then sprinkle with the remaining filling.
Bake cakes for about 30-35 minutes. Remove and cool 10 minutes in pan. Remove cake from pan and place on wire rack to cool completely.
For the glaze, whisk together the BAILEYS® Coffee Creamer French Vanilla with powdered sugar. Drizzle over cooled cakes. Allow glaze to set, about 10-15 minutes. Store cakes in cake saver for up to 5 days on counter. Or freeze in airtight container until ready to eat.
MAKING THIS RECIPE? Share it with me on Instagram using the hashtag #ShugarySweets so I can see what you're cooking up in the kitchen!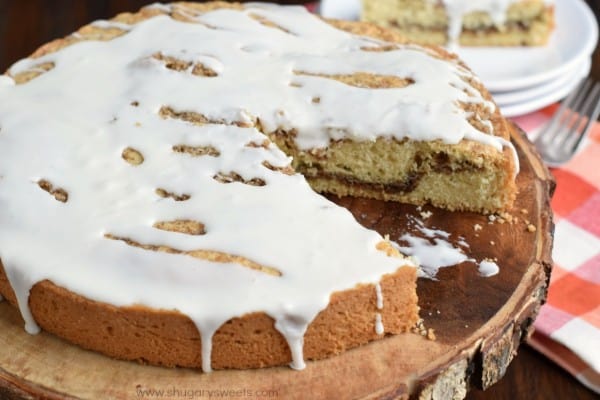 I love adding coffee creamer to recipes! Here are a few of my favorites: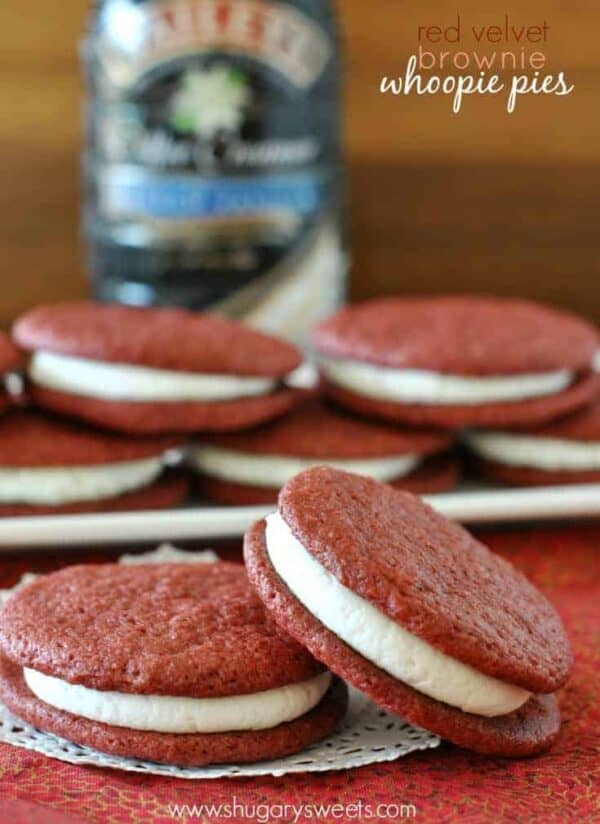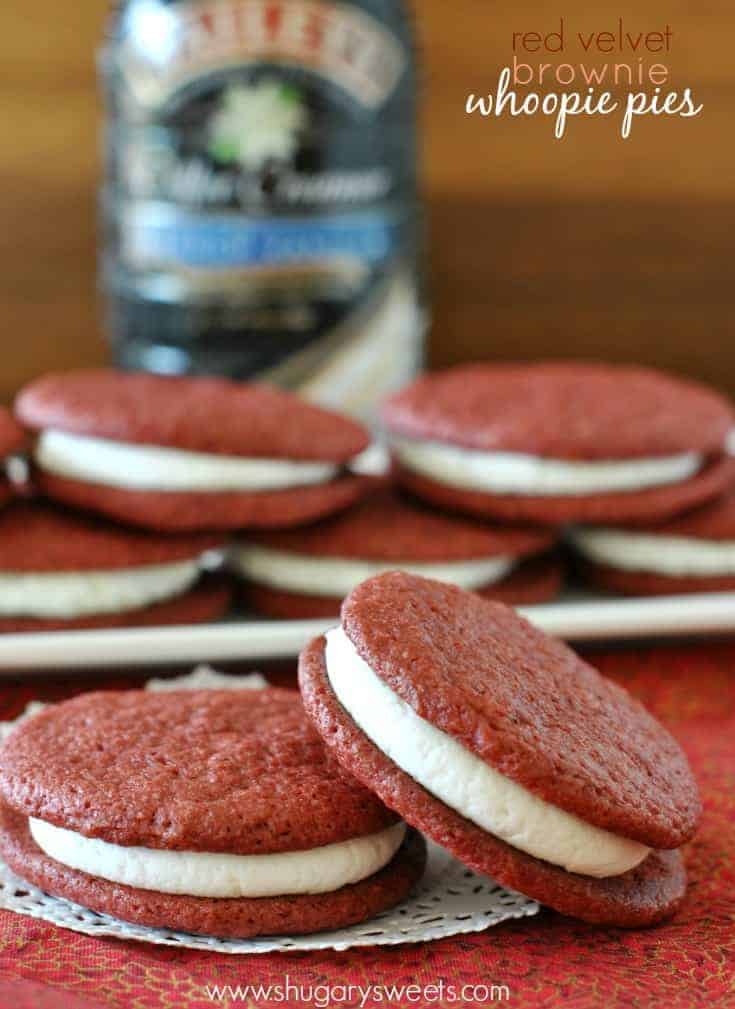 Red Velvet BROWNIE Whoopie Pies made with BAILEYS® Coffee Creamers! They have just the right amount of "chew" to filling ratio!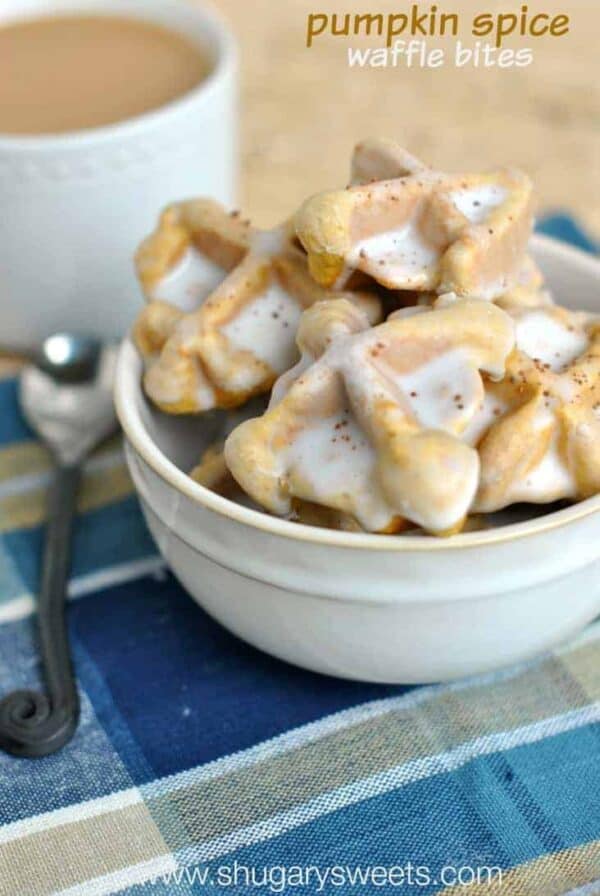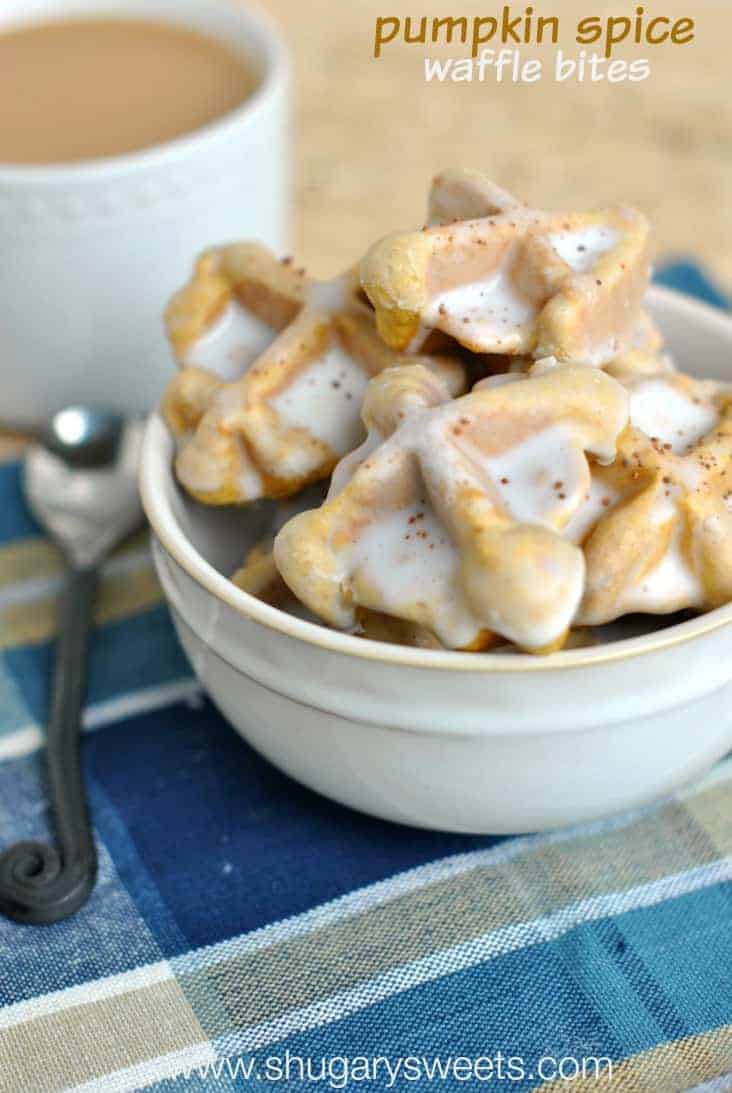 Pumpkin Spice Waffle Bites with BAILEYS® Pumpkin Spice Coffee Creamer! Such a fun, easy breakfast to make with the kids!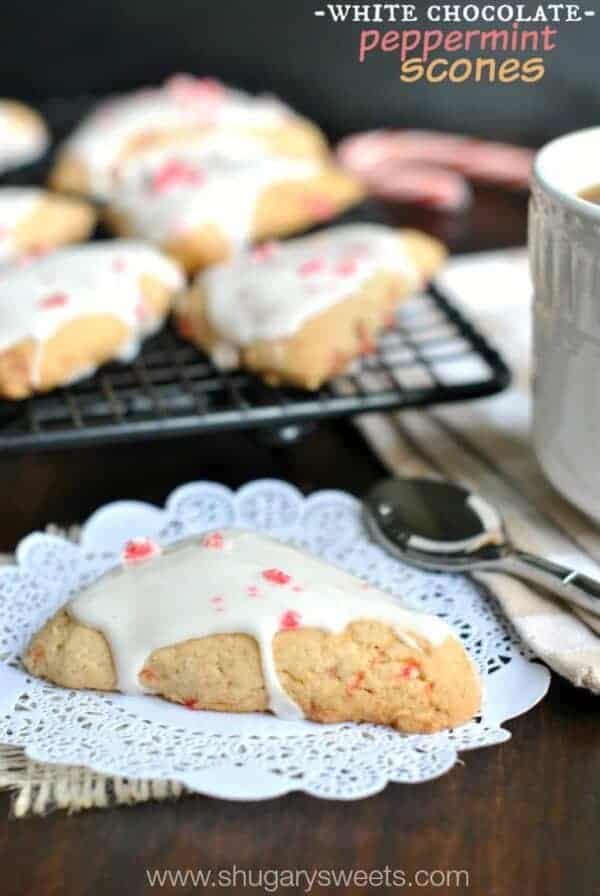 White Chocolate Peppermint Scones. Grab a cup of coffee and indulge!

 **This post is part of an ongoing brand ambassadorship with BAILEYS® Coffee Creamers. I was compensated to create my own recipes, however all opinions about the product are 100% my own.**