These Frosted Cookie Cups with sprinkles are a fun and delicious treat loved by kids and adults! Topped with a creamy vanilla frosting and more sprinkles!
**Today's post is part of an ongoing partnership in the Bake a Little Extra Blog Ambassador sponsored by Karo® Syrup**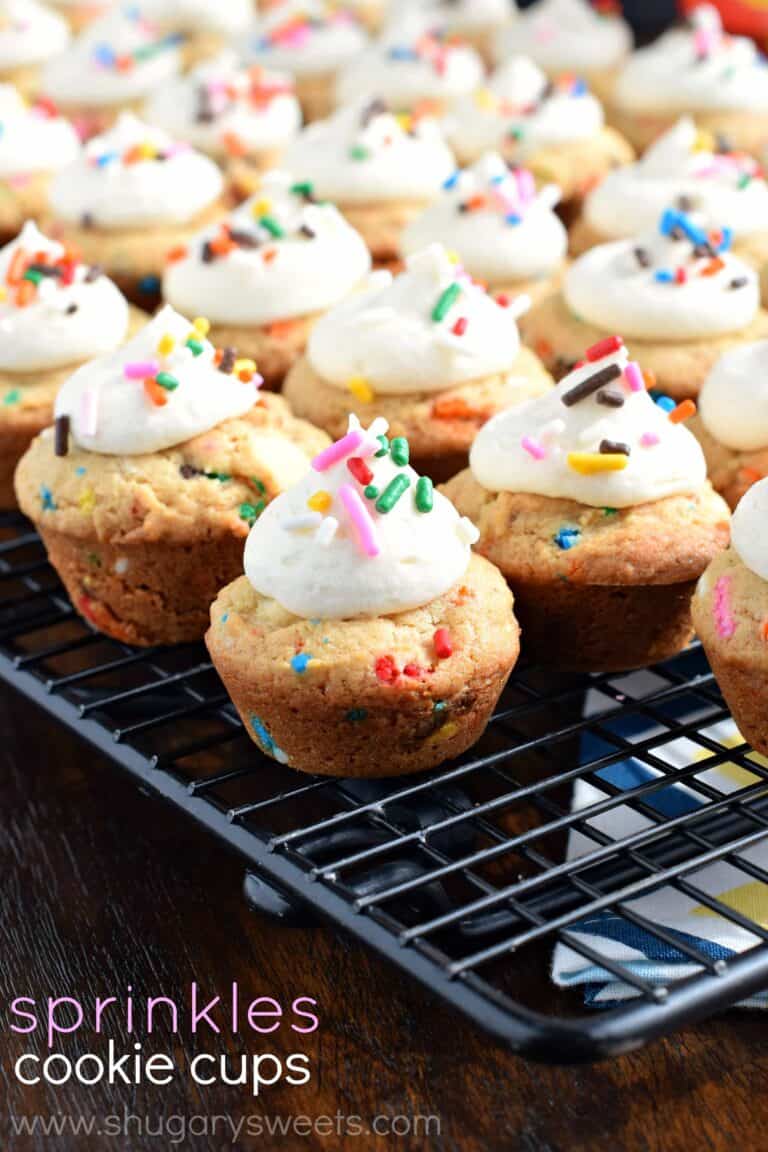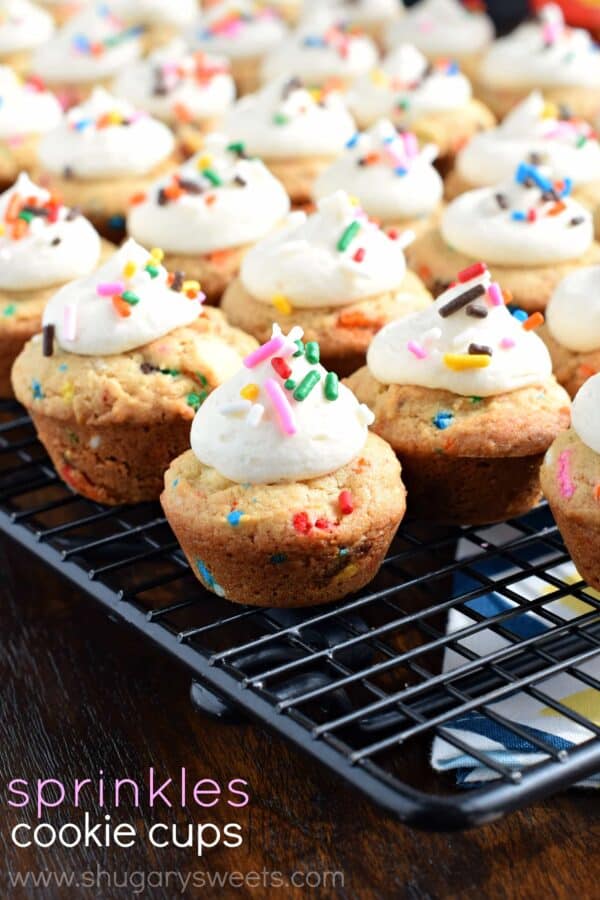 CLICK HERE TO PIN IT FOR LATER
Are you a planner? A list maker? I love making a good list, and then checking things off when they are done. As I type this, I seriously have about a dozen post-it notes on my desk of various "lists."
One of the lists I have is "Easter." From what to purchase, things to do, and menu ideas…it's all there! While a big Carrot Cake is usually on the menu, I like to have some cookies as an option too.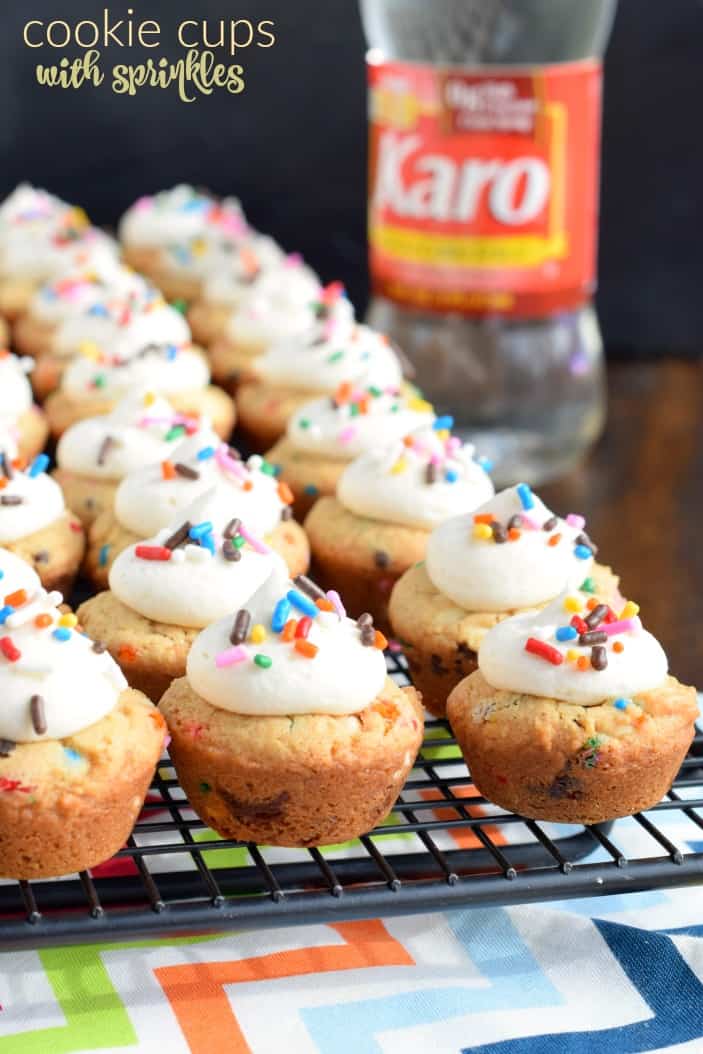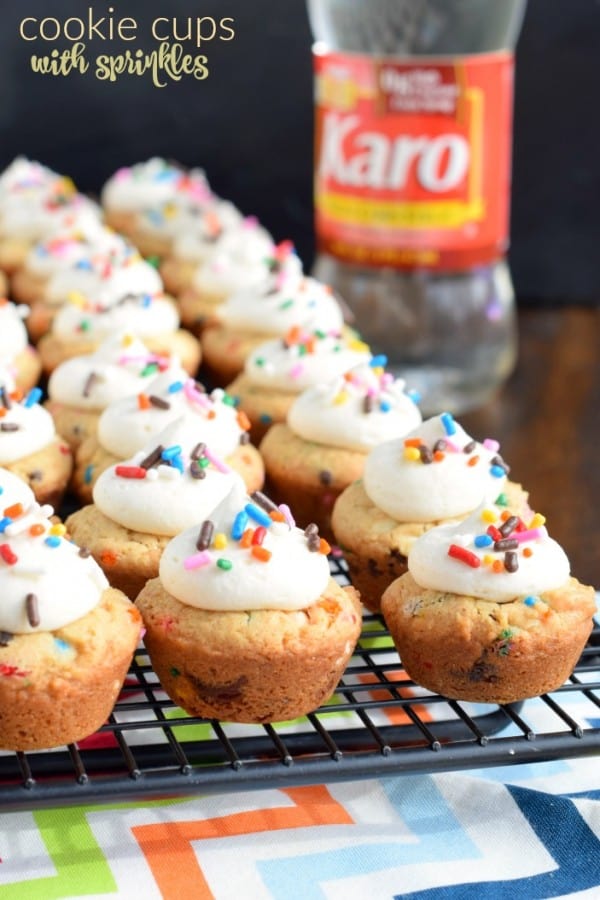 When Karo® Syrup sent me this cookie recipe to try, I was in love instantly! I knew I wanted to try these as cookie cups and make the recipe a little more festive for the Easter holiday. I love adding a big dollop of frosting on top of cookies. And, because the recipe calls for Karo, it adds an extra chewiness to an already incredible, buttery cookie. Imagine sinking your teeth into a sweet frosting then deeper into a chewy cookie cup!
I would say this one is perfect for Easter celebrations!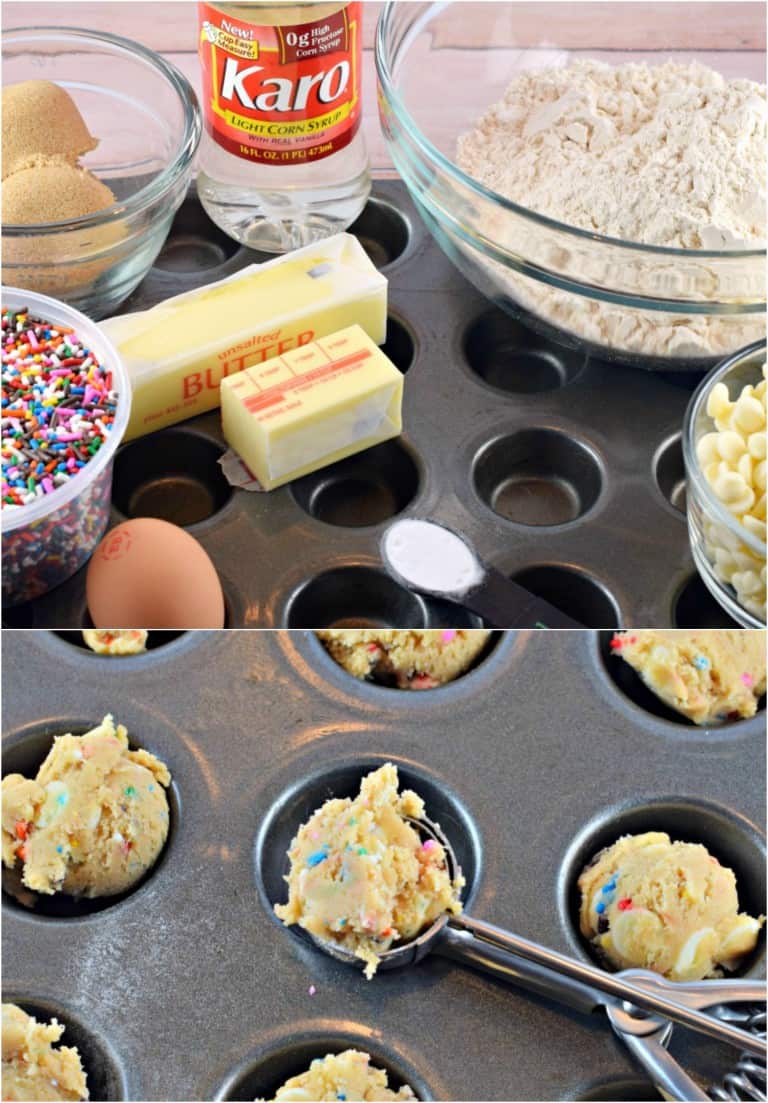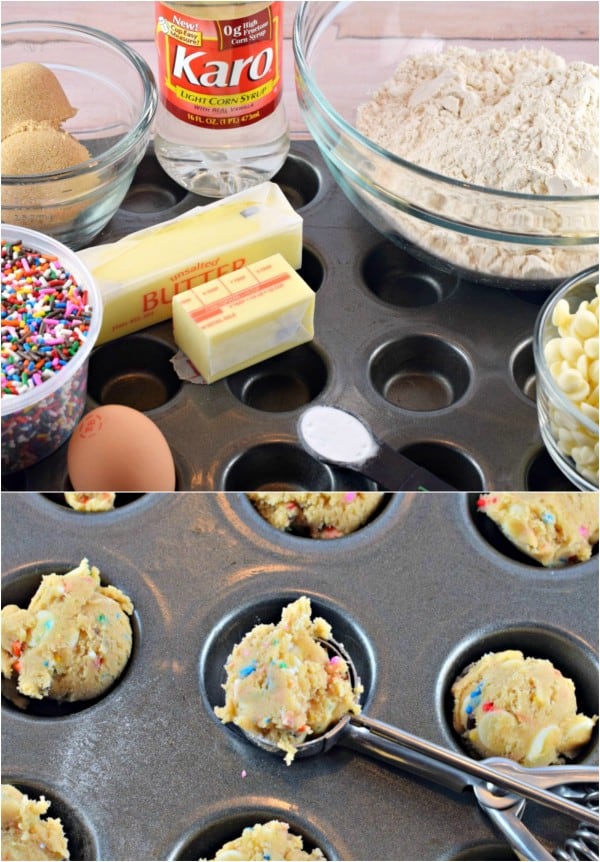 You're going to need a mini muffin pan to make these frosted cookie cups. This recipe yields about 5-6 dozen small cookie cups, which means you'll have plenty to share!
A few quick tips about this recipe:
Use a small, 1 Tbsp scoop to perfectly portion your cookie dough into the mini muffin tin. This will ensure even baking!
Try using a non-stick mini muffin pan. The cookies are buttery enough that they should just pop right out of pan easily (I let mine cool about 5-10 minutes in the pan first).
To make the creamiest vanilla frosting, beat your butter for about 3 minutes using a whisk attachment to an electric mixer (or handheld mixer). Once the butter is pale in color, add the remaining ingredients. Beat an additional 3 minutes until light and fluffy!
Use your favorite sprinkles to add color for the holiday! I love using jimmies (the traditional log shaped sprinkles) as I think they have the best texture!
I suggest you store your frosted cookie cups in an air-tight container at room temperature for no more than 5 days, for ideal freshness!
Be sure to share with family and friends! Baking a little extra is a great way to show people you care and these Easter treats will go quick!
Be sure to follow me on Instagram and tag #shugarysweets so I can see all the wonderful recipes YOU make!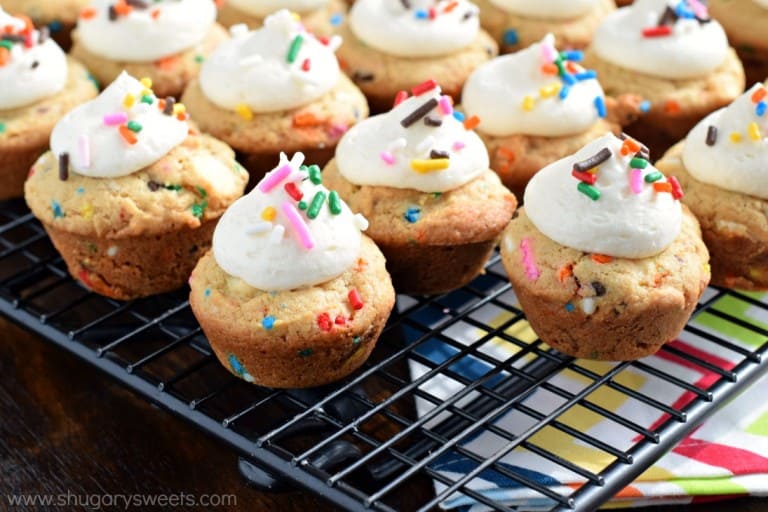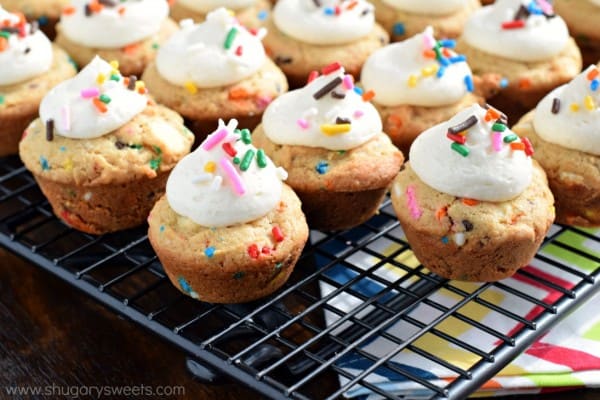 Connect with Karo® Syrup for more recipe ideas:
website | facebook | pinterest
Yield: 5-6 dozen
Frosted Cookie Cups with Sprinkles
Ingredients
For the Cookie Cups:
3/4 cup unsalted butter, softened
3/4 cup light brown sugar, packed
1/2 cup Karo® Syrup
1 large egg
2 tsp vanilla extract
2 1/2 cups all-purpose flour
1 tsp baking soda
1/4 tsp kosher salt
1 package (11 oz) white chocolate chips
1/3 cup rainbow sprinkles
For the frosting:
1/2 cup unsalted butter, softened
3 cups powdered sugar
1 tsp vanilla extract
2 Tbsp milk
1/4 cup rainbow sprinkles
Instructions
Preheat oven to 350°F.
In a large mixing bowl, beat butter and sugar with electric mixer. Add in corn syrup, egg, and vanilla. Beat until well blended. Beat in flour, baking soda and salt until combined.
Fold in white chocolate chips and sprinkles, using a wooden spoon.
Drop by 1 Tbsp scoop into a non-stick mini muffin pan. Bake for 10-12 minutes, until lightly browned. Remove from oven and cool in pan for about 5 minutes. Remove from pan and cool completely on wire rack.
For the frosting, beat butter for about 3 minutes using electric mixer. Once pale in color, add in powdered sugar, vanilla and milk. Beat an additional 3 minutes until light and fluffy. Pipe small dollops of frosting onto each cooled cookie cup. Add sprinkles immediately.
Best when stored in air tight container at room temperature.


**I am working with with Karo® Syrup as a Bake a Little Extra Blog Ambassador. While I have been compensated for this recipe post, all opinions about the product are 100% my own!**