Gingerbread Biscotti
Crunchy Gingerbread Biscotti with White Chocolate! So easy to make and it ships well too!
This post is sponsored by Dorot and Pop & Cook. All opinions expressed are 100% my own!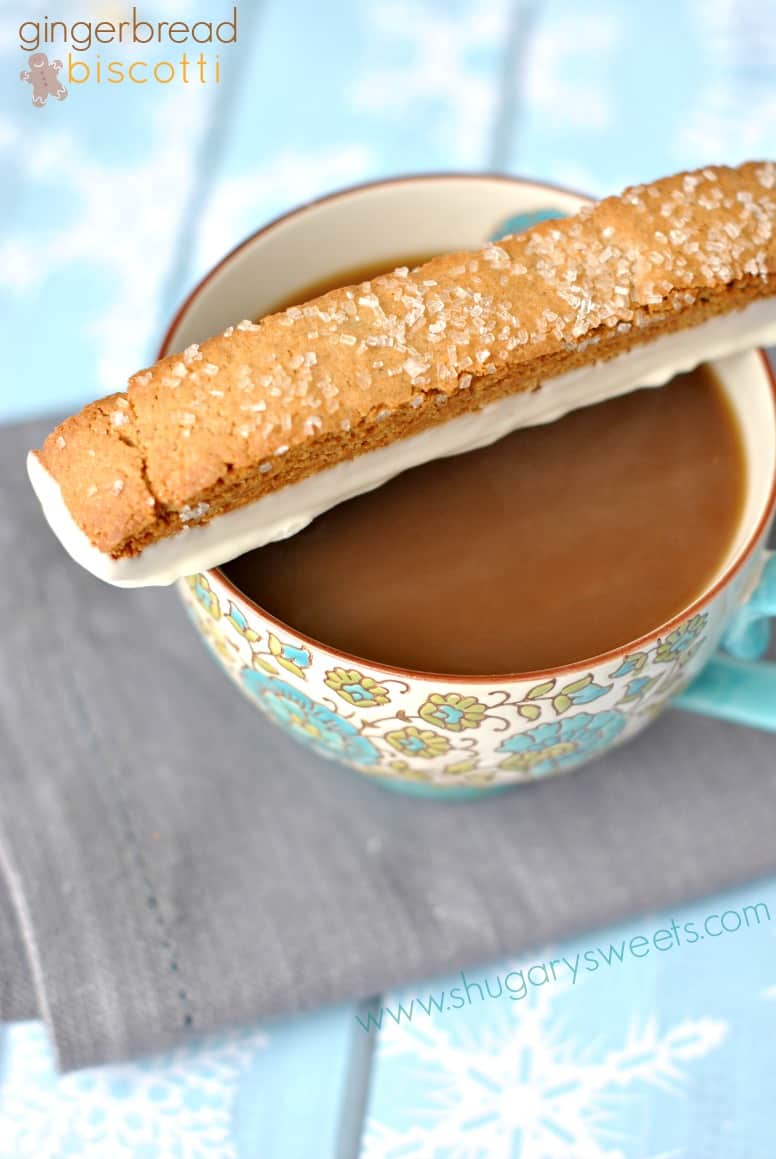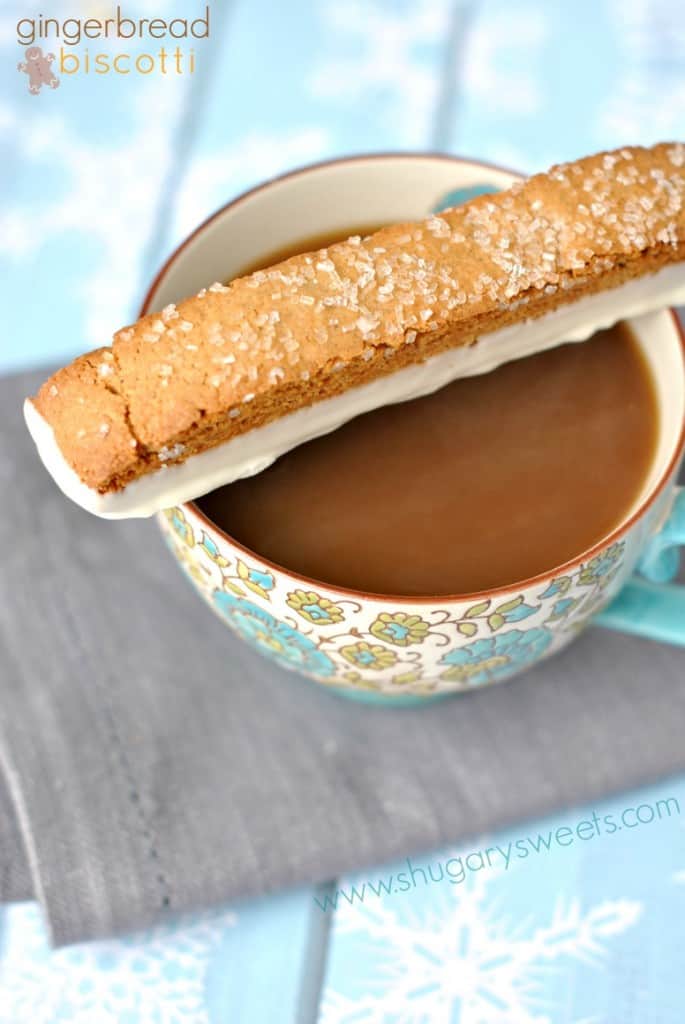 Last week I had jury duty. In my Ohio county, you get selected and you have to call the night before to see if you need to show up. You do this for two weeks. Most people keep their fingers crossed for two weeks that they don't get selected.
I was not so lucky last week. Although, having served (my first time in my 40 yr life) it was quite interesting. From the jury selection process to the trial all the way to the verdict. It was like it is in movies…but not!
Here is what I learned.
I learned I really love working from home.
Coming home four days last week after being gone 8+ hours at the courthouse…it's hard work. There was no dinner ready. The laundry kept piling up. I still had kids to take to sports, high school swim meets and help with homework! By the time I would get home from running around, it was nearly 9pm each night. My husband was great, but we are so out numbered!
Needless to say, my house was a wreck. We ate fast food more times than I can count. And my blog work was barely touched.
But today, we are back on track. Kids are at school, my dryer has been running for about 12 hours straight, and the coffee pot is full. Life is good.
Enjoying a cup of coffee with a crunchy piece of biscotti is by far one of my favorite indulgences. Some of you may love a cookie or a brownie. But for me…it's biscotti.
I used Dorot Crushed Ginger in today's recipe. Have you seen these frozen herbs yet?
I first shared them with you last month in my Turkey Noodle Soup. I used the crushed garlic and chopped basil.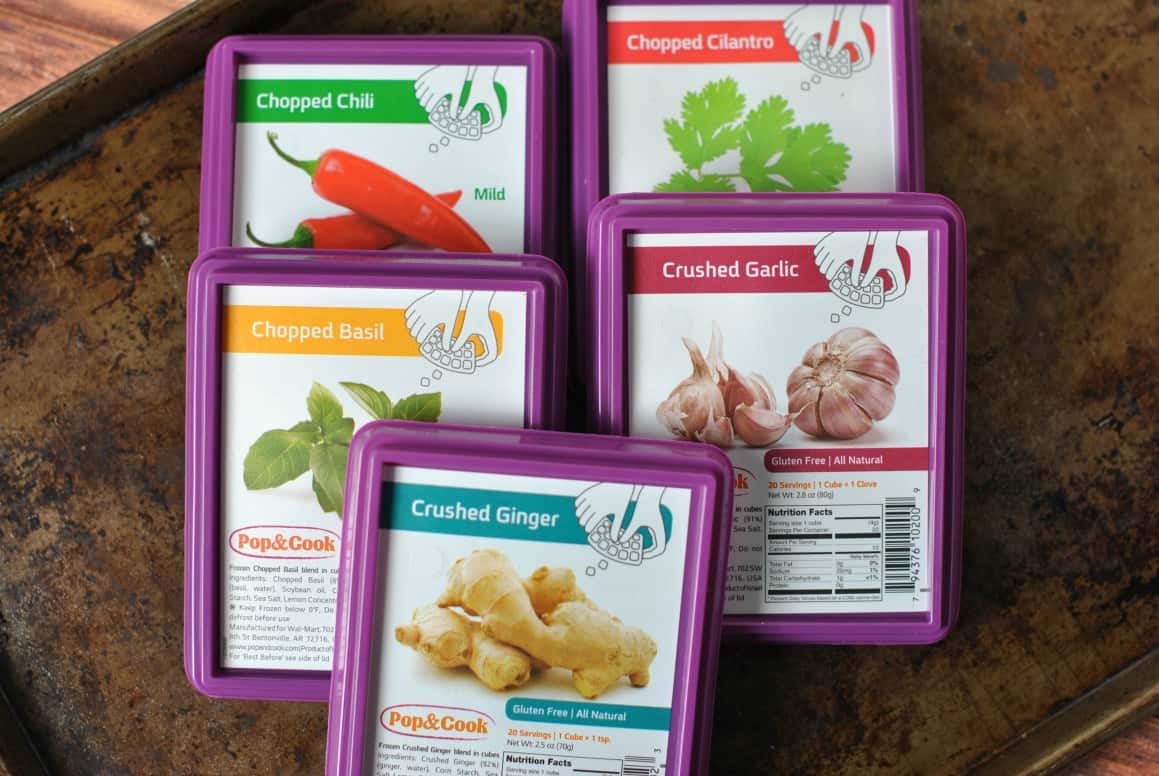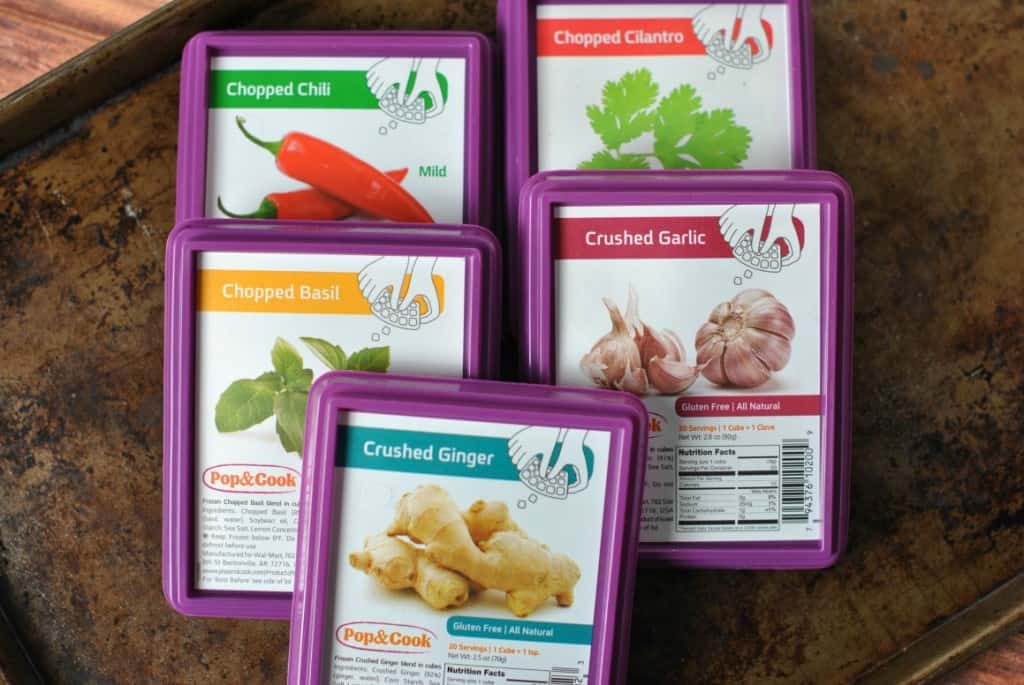 You can find these at Walmart in the purple packages under the name Pop & Cook.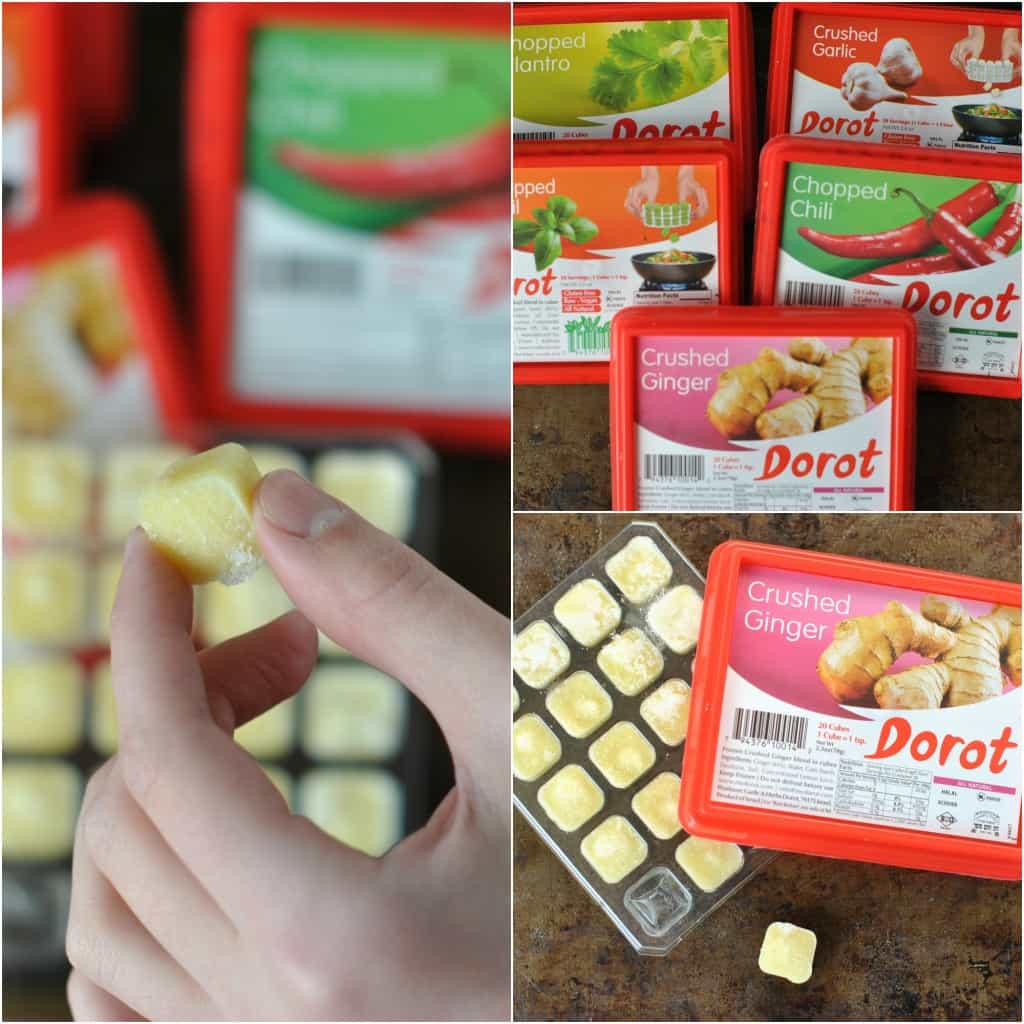 Elsewhere they are in the red packages under the name Dorot. I love keeping these handy in my freezer. And the crushed ginger was put to good use in today's recipe. I popped out the frozen ginger cube and let it thaw for a few minutes while getting my ingredients and baking sheet ready. The depth of flavor in using this fresh (frozen) ginger is incredible compared to using a spice in a jar. Trust me on this!
And gingerbread is so perfect for this holiday season. Biscotti is one of those great treats that can be packaged and shipped. Make sure you put it into an airtight container (or ziploc bag) before packaging.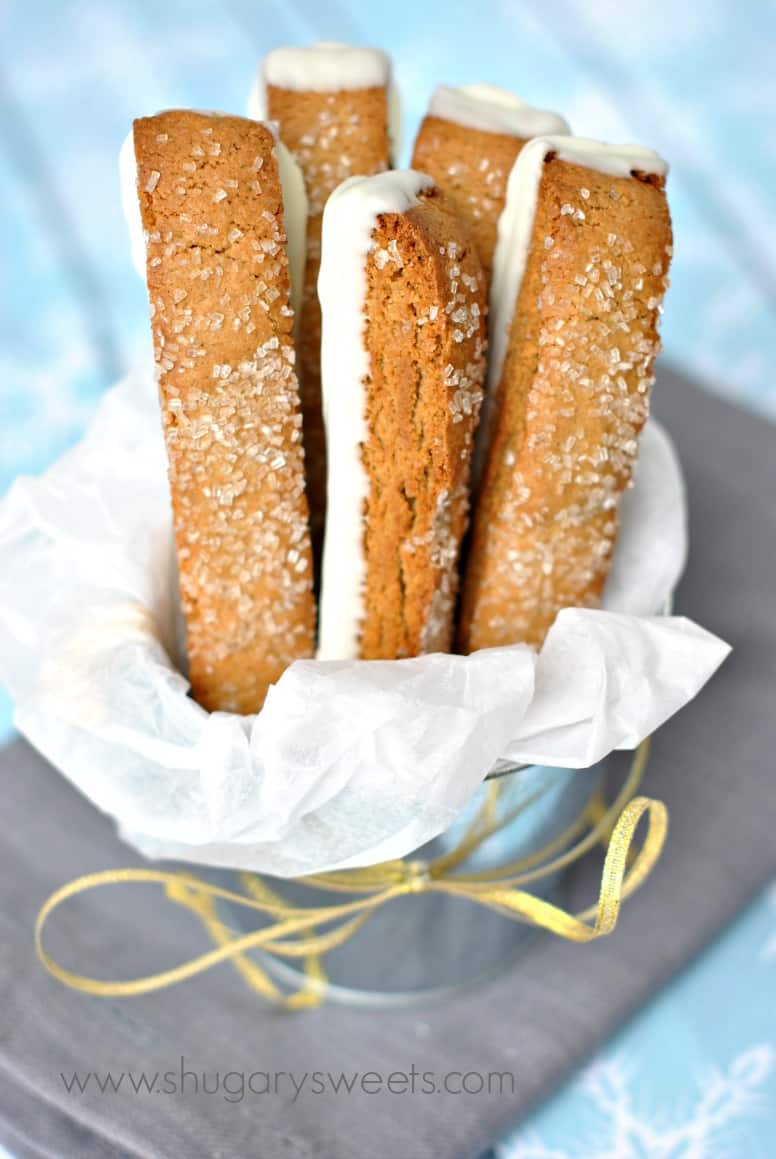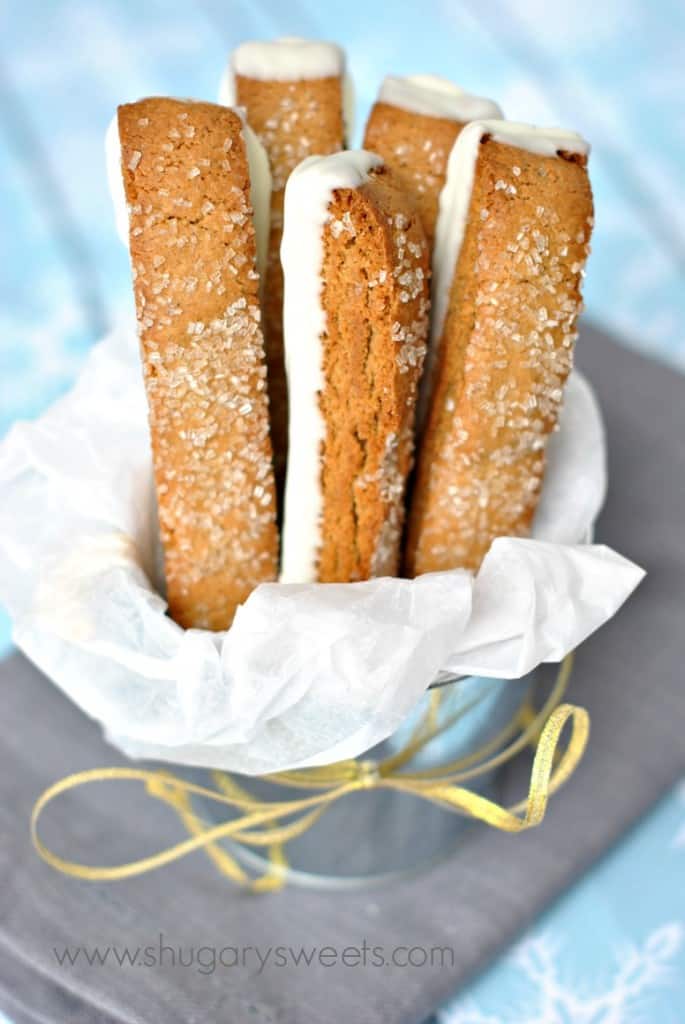 Connect with Dorot and Pop & Cook on Facebook.
Save your favorite recipes to your personal recipe box with the   

  button on all my recipes! Create a Meal Plan with your "favorited" recipes and the ingredients will automatically be added to your own Grocery List!
Yield: 12 large biscotti
Gingerbread Biscotti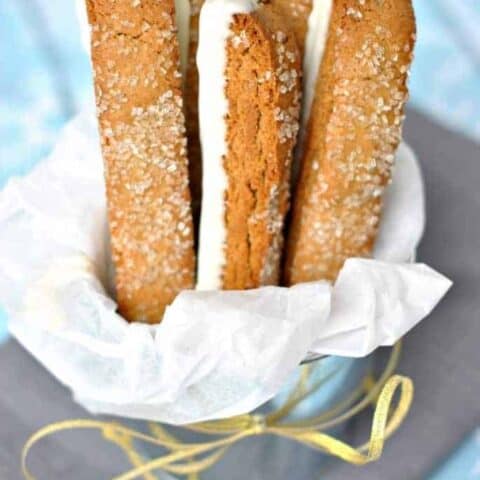 Ingredients
6 Tbsp unsalted butter, softened
3/4 cup granulated sugar
2 large eggs
2 Tbsp molasses
1 tsp cinnamon
1 tsp allspice
1 cube Dorot crushed ginger (or 1 tsp), thawed
2 cup all-purpose flour
1 tsp baking powder
1/4 cup sparkling white sugar
4 oz vanilla candy coating, melted
Instructions
Preheat oven to 350 degrees F.
In a large mixing bowl, beat butter with sugar until combined. Add in eggs and molasses.
Beat in spices, flour, and baking powder.
On a parchment paper lined baking sheet, shape dough into a 12x4 inch rectangle, patting evenly. Sprinkle with sparkling white sugar. Bake for 22-25 minutes.
Remove from oven and cool 5 minutes. Slice biscotti into 12, one inch wide slices. Arrange biscotti onto sides, separating them on the baking sheet. Return to oven and bake an additional 6 minutes. Remove and turn them to opposite side, bake another 6 minutes.
Remove biscotti and cool completely.
Once cooled, dip bottom of biscotti in melted vanilla candy coating. Set back on parchment paper until set, about 15 minutes. Store in airtight container. ENJOY.
Connect with Shugary Sweets! Be sure to follow me on my social media, so you never miss a post!
Facebook | Twitter | Google+ | Pinterest | instagram | Bloglovin'
**I have been selected to be a brand ambassador for Dorot and Pop & Cook. I have been compensated for my time. All opinions expressed are 100% my own!**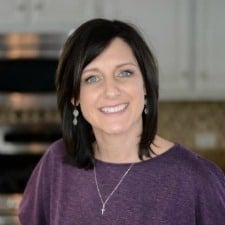 Aimee is a dessert lover (specifically rice krispie treats), workout enthusiast, self-taught foodie, and recipe creator. Her recipes have been featured in over 15 magazines, and her passion is to share her love of cooking with the everyday home cook! Learn more about Aimee.