June is National Dairy Month and I'm teaming up with the American Dairy Association (MidEast) to bring you this delicious dairy inspired dinner!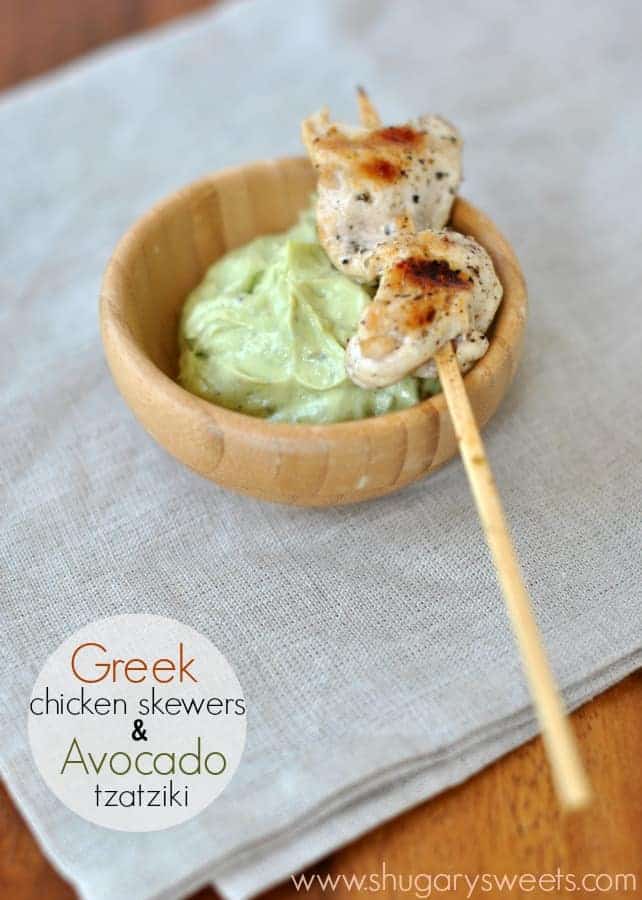 Remember last month when I shared my Guacamole recipe with you? And I told you about my love for avocados? Well, when I was asked to create a recipe using Greek Yogurt I knew exactly what I wanted to try!
I love Greek food. However, I should say in advance, this is NOT authentic. This is my all American version of Greek chicken with tzatziki sauce. And obviously, it's not traditional tzatziki because I replaced the cucumbers with avocado.
Wise decision, I must say! The sauce is so thick and creamy! I love using Greek yogurt in my baking, but I also love adding it to our dinner recipes! It's so good for you!
I know. Me, Shugary Sweets, sharing a "good for you" recipe!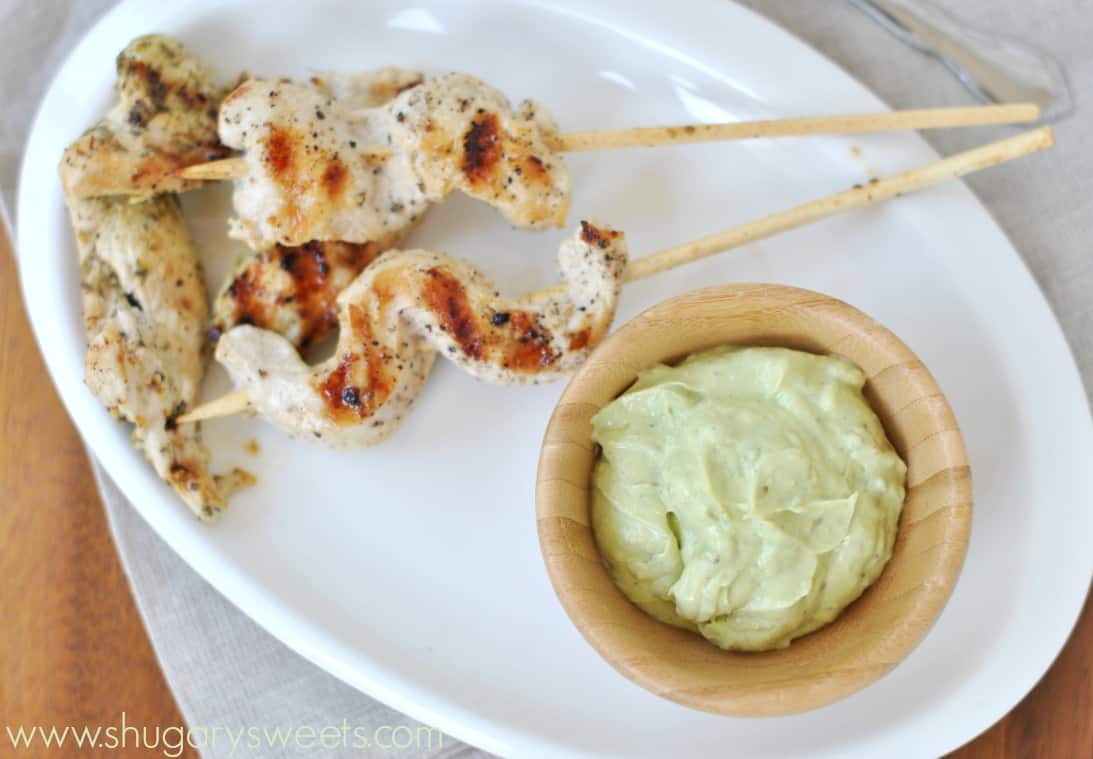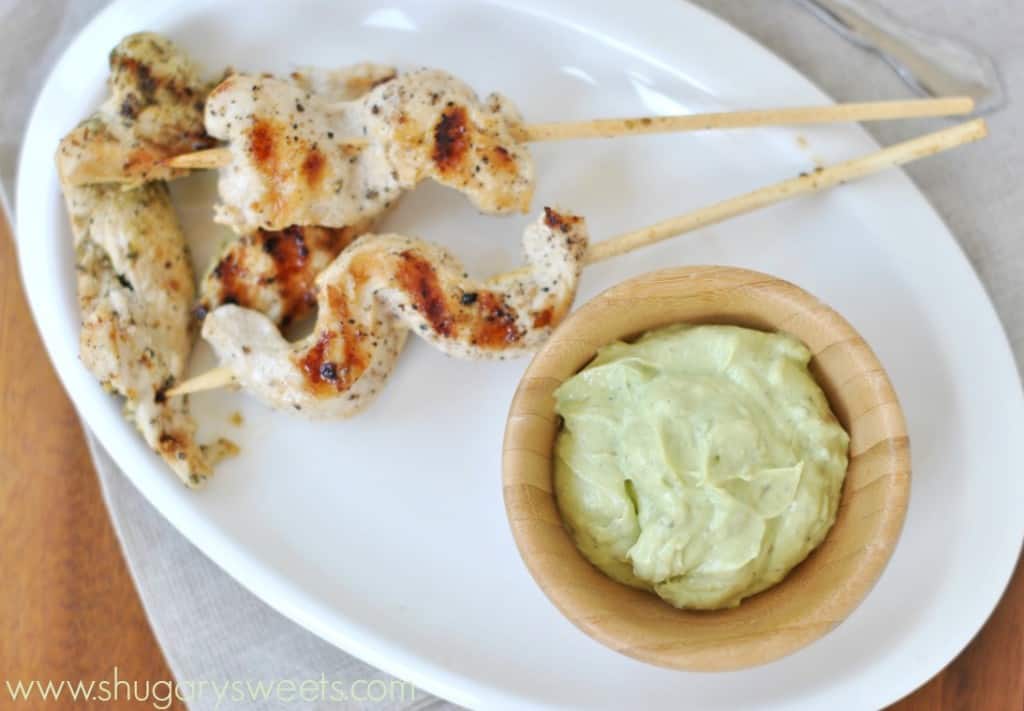 This dinner is also very easy to make. I added the avocado, greek yogurt and lemon juice in my blender (you can also use a food processor, or even a mixer). Blend until creamy and no chunks remain. Add in your seasoning and pour the sauce into a bowl and let it set up in your refrigerator while you make the chicken. This gives the flavors time to mingle. You can certainly make it in the morning too!
For the chicken, I used a pound of boneless, skinless chicken breasts. BIG FAT ONES. You can also use tenders if you prefer. I sliced my chicken breasts lengthwise, in thin strips. I tossed them in a ziploc bag with the seasonings, shook it up real good until the coating was pretty evenly distributed. Take each slice of chicken and place it on a skewer, by threading it every inch. I then put all my skewers in a grill pan that was preheated with some olive oil and cooked them. You could also place them on your grill. Or leave the skewers behind and just cook up the sliced chicken. Or keep your chicken breasts whole and grill them that way (although you get less seasoning per bite)! So many options!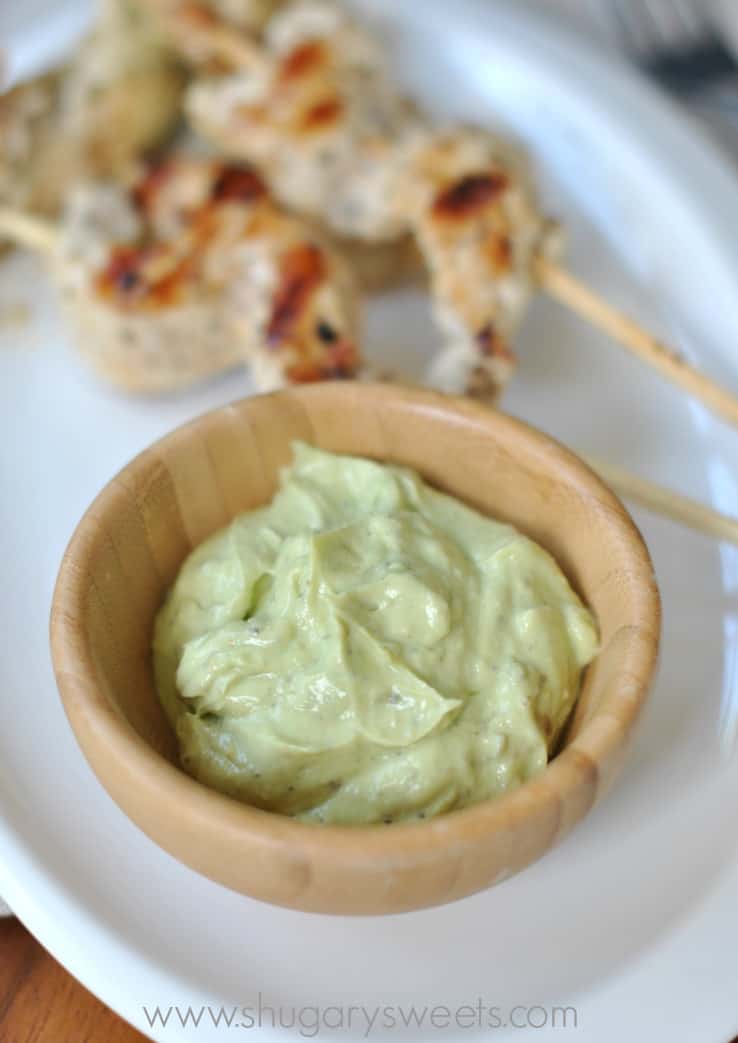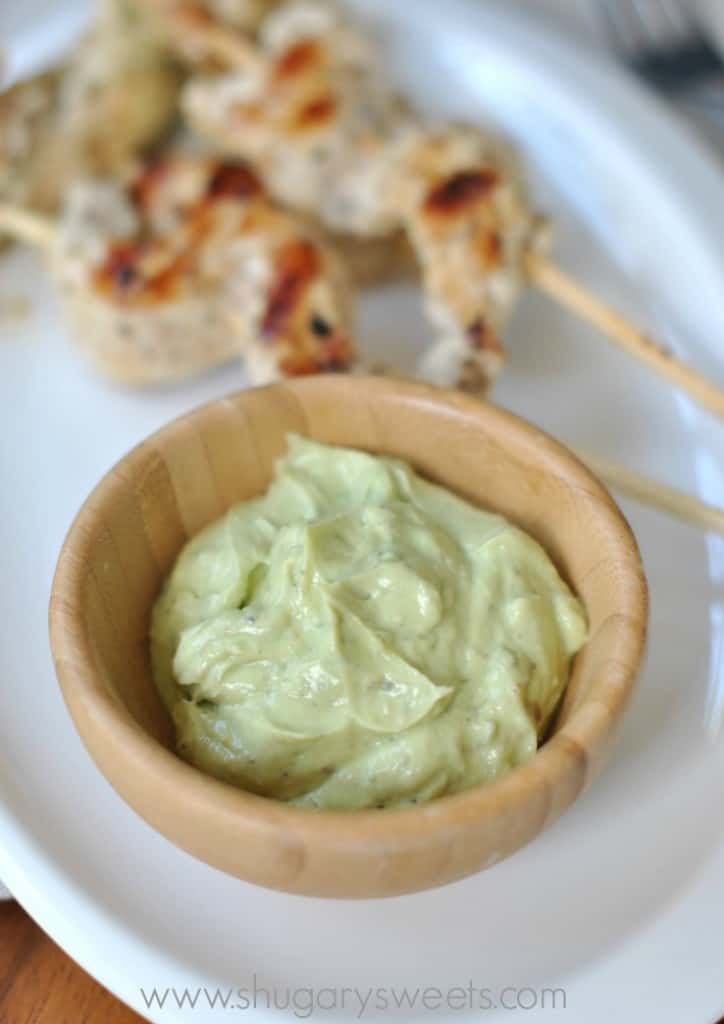 No matter how you prepare the chicken, just make sure you include the dip! It's the star of the show!
Did you know the American Dairy Association (MidEast) is having a Pinterest contest right now? Click HERE to see how you can win a $200 grocery gift card!
As you get ready for summer, keep in mind that Dairy- cheese, yogurt, and milk- are all core components of a healthy lifestyle! You don't have to tell me twice to eat my ice cream every day!
Okay, seriously though, what are you going to eat to celebrate National Dairy Month?
Be sure to connect with the ADA on twitter (link below). They will be hosting a Moo-velous Barn Party on twitter on Wednesday, June 19 from 8-9pm EST. Mark it on your calendars, there are PRIZES!!!
Connect with the American Dairy Association:
Yield: serves 4-6
Greek Chicken Skewers with Avocado Tzatziki
Prep Time 20 minutes

Cook Time 10 minutes

June is National Dairy Month and I'm teaming up with the American Dairy Association (MidEast) to bring you this delicious dairy inspired dinner!
Ingredients
For the Chicken:
1 pound boneless, skinless chicken breast (or tenders) sliced thin, lengthwise
1 Tbsp greek seasoning mix
1/2 tsp garlic powder
1/2 tsp dried rosemary
2 Tbsp olive oil
For the Tzatziki:
1 avocado, pitted
1/2 cup plain greek yogurt
1/2 tsp kosher salt
6 cranks fresh ground black pepper
8 drops tabasco sauce
1 Tbsp lemon juice
1/2 tsp garlic powder
1 Tbsp greek seasoning mix
Instructions
In a blender (or food processor), add avocado, greek yogurt and lemon juice for tzatziki sauce. Process until smooth. Add remaining sauce ingredients and combine. Pour into a bowl and refrigerate (covered) until ready to eat.
For the chicken, slice chicken breasts lengthwise into thin strips. Place in a large ziploc bag. Add seasonings and shake until evenly coated.
Using a bamboo skewer, thread strips of chicken onto skewer. Cook on grill or use a grill pan on the stove top over medium high heat. Add olive oil and add chicken. Cook about 4 minutes per side, remove when completely cooked.
Serve hot chicken skewers with avocado tzatziki sauce. ENJOY.
Here are a few of my favorite Dairy recipes! Be sure to click over to each recipe and pin from there!
Gouda Bacon Macaroni and Cheese: this recipe just screams EAT ME!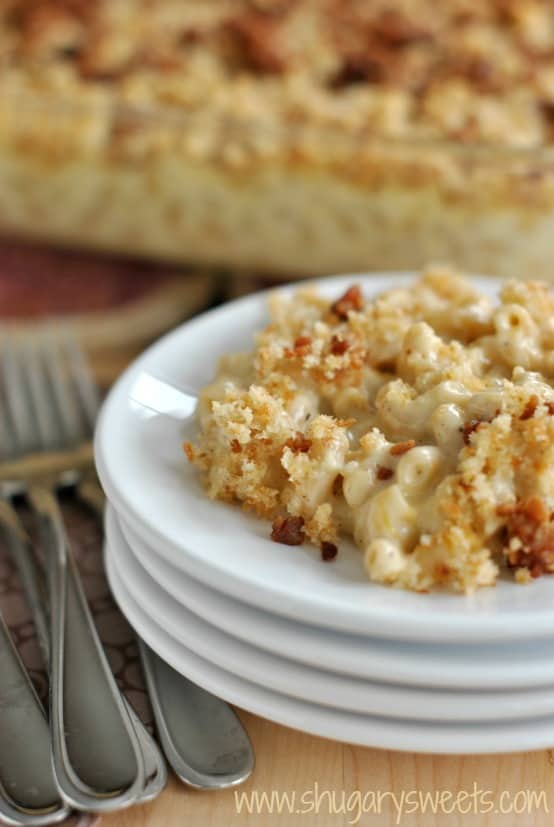 Lemon Chia Coffee cake: Not only is this coffee cake filled with HEALTHY chia seeds, but the vanilla yogurt gives it a moist texture!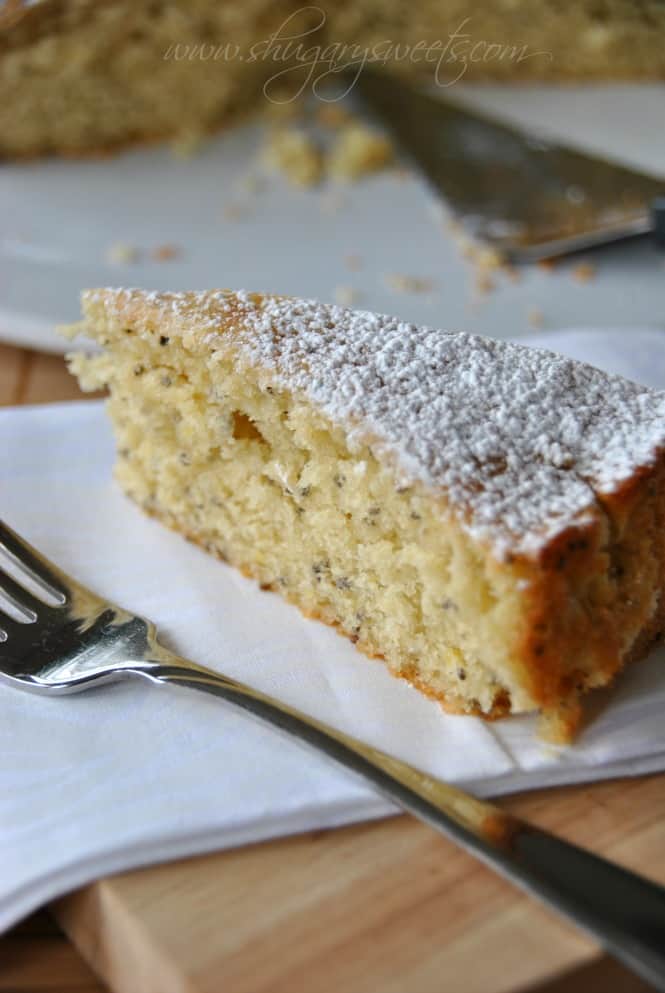 Another delicious recipe using yogurt to add a moist crumb: Orange Bread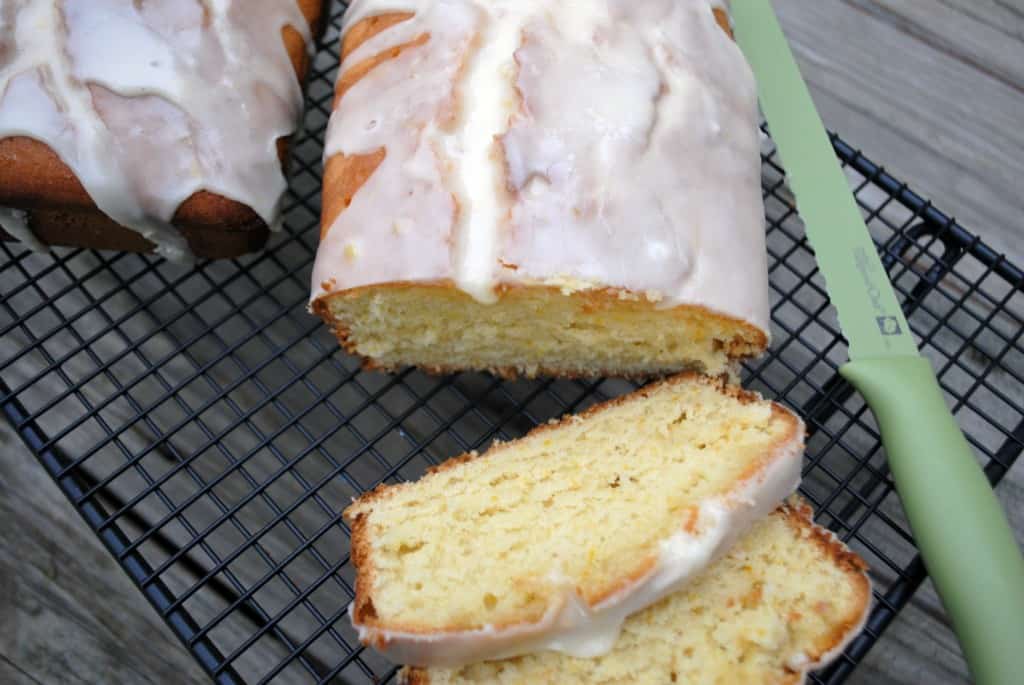 Beef Pitas with Tzatziki sauce: one of my favorite dinner recipes. Ever.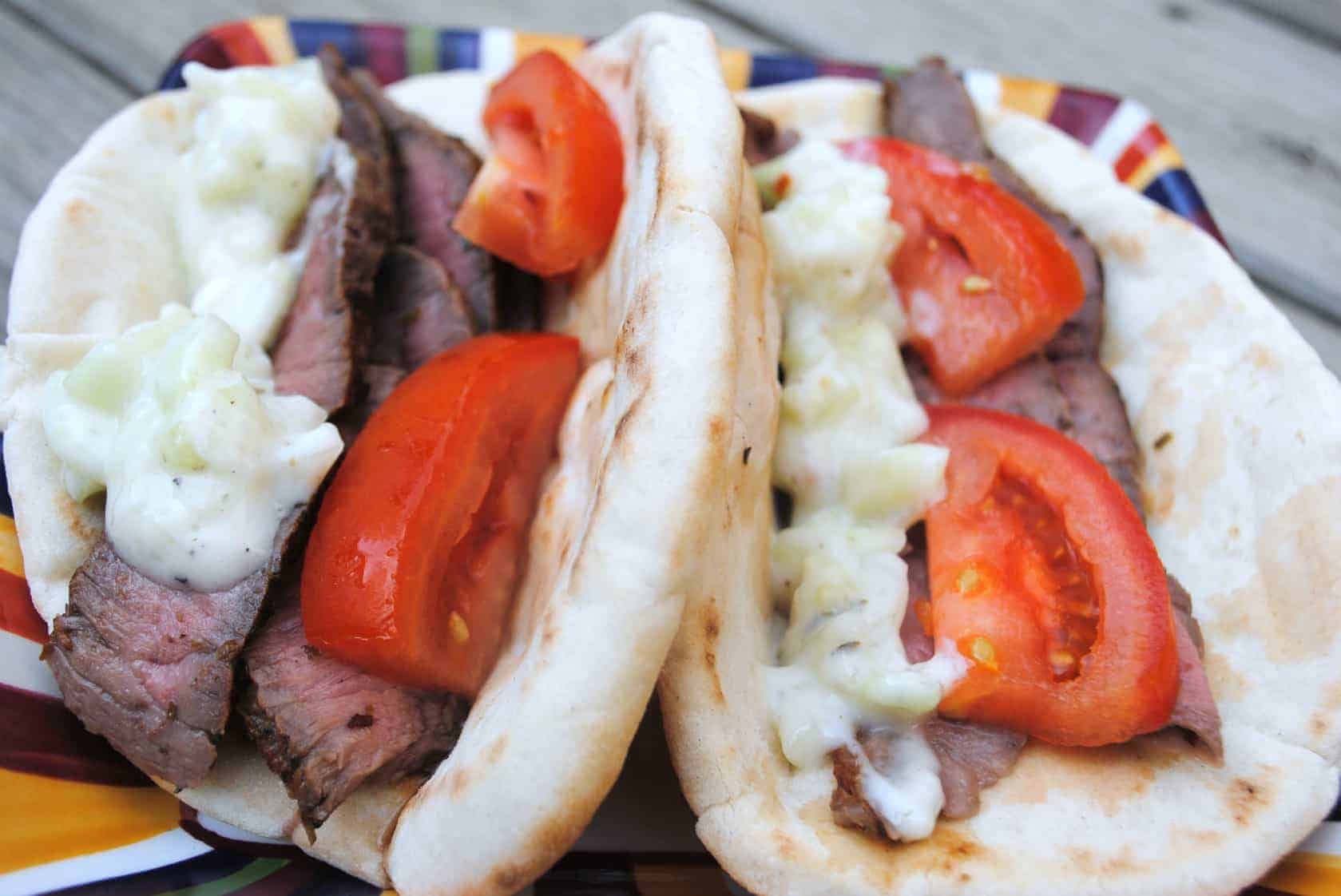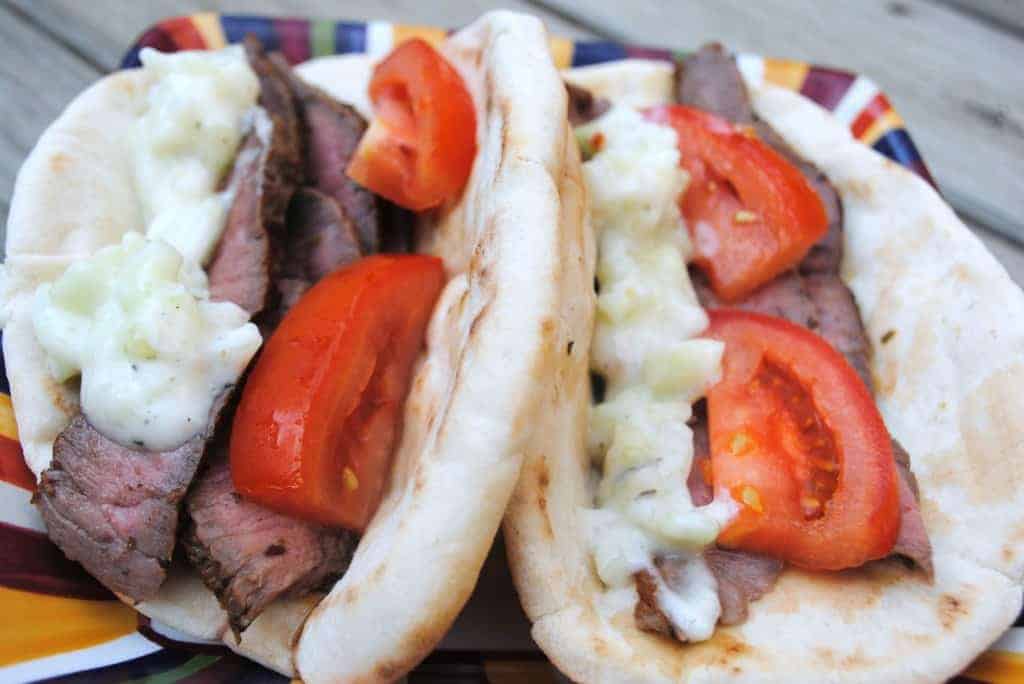 Connect with Shugary Sweets!
Facebook | Twitter | Google+ | Pinterest | instagram

**This is a sponsored post on behalf of the American Dairy Association, Mideast. I was compensated for my time, however all opinions expressed are 100% my own!