Learn how to make delicious french style omelettes with a Greek twist! These Greek Omelettes are perfect for weekday breakfasts, or weekend brunches!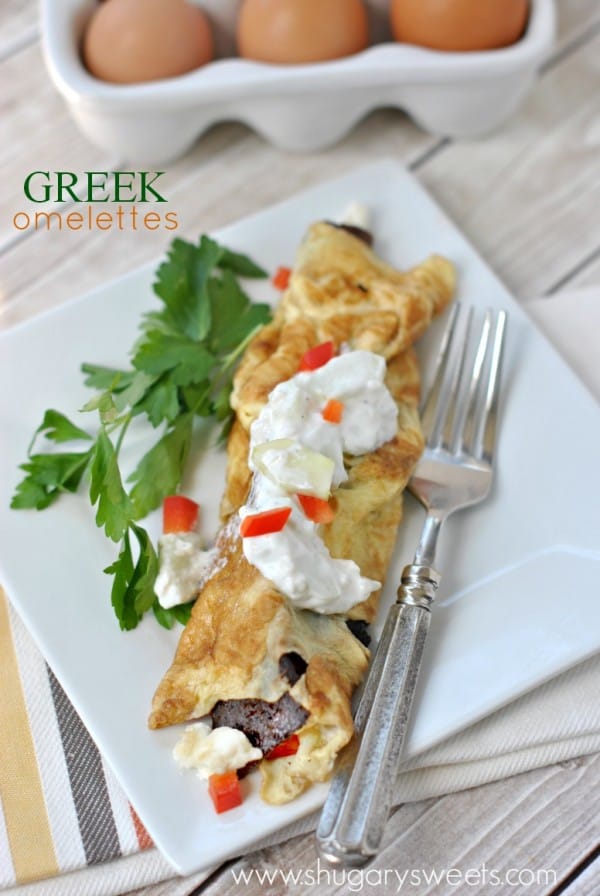 I have the best job. My kids sometimes (okay, all the time) make fun of me. I mean really, I make food for my family, for a living. I get a paycheck to basically feed my family. What's not to love about that?
Let's talk about eggs quick. I have to be honest for minute here. I've never been one to want or crave eggs.
Sure, I love the occasional deviled egg, egg salad sandwich or fried egg on toast. But a goopy runny egg? An omelette? Not my cup of tea.
Until now. Seriously. I'm totally obsessed with Greek Omelettes.
Using store bought sliced gyro meat (this was bought at GFS, but I've seen it at Meijer too), you can create the perfect Greek Omelette.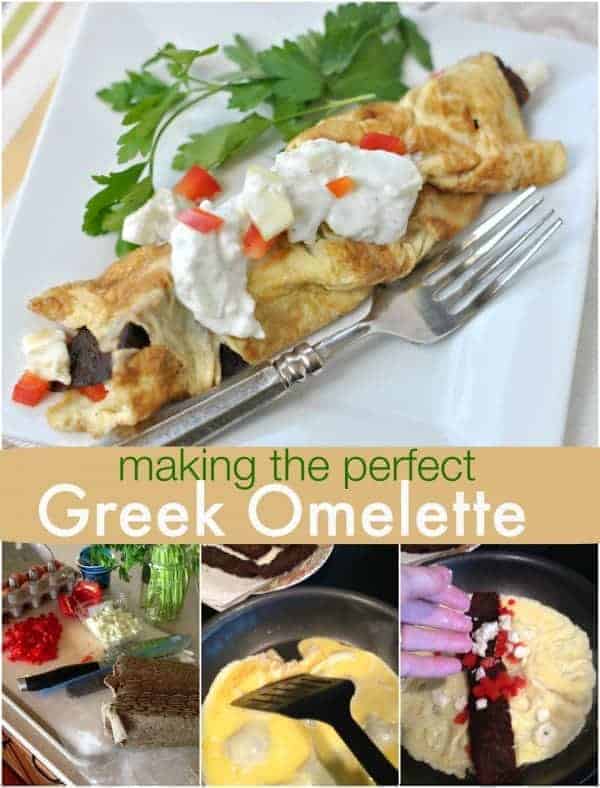 How to make the perfect omelette:
Butter your non stick skillet after heating it to medium high. Yes, it's not NEEDED in a non stick pan, but oh my word it makes it taste so much butter. I mean better!!
Don't OVER BEAT your eggs. For every two eggs, add 2 Tbsp water. Beat with a whisk until you see only a few "streaks" in the eggs. Along these lines…don't add too much egg to your skillet!! I know my husband likes THICK omelettes, but I've realized, thinner the better. Otherwise, it's just scrambled eggs in omelette shape (yuck)
Once your eggs are in your skillet, work fast (you've got it heated already so it won't take long). Using your spatula, pull in from one corner, tilting the pan to let some of the egg juice (yes, that is a gross term, sorry) touch the pan. Repeat on other side. This should take 30 seconds. Add your toppings while the eggs are still moist. Flip one side onto the top, cook a few seconds, and slide on your plate.
For Greek Omelettes, don't forget the homemade Tzatziki! Seriously, it completes the meal.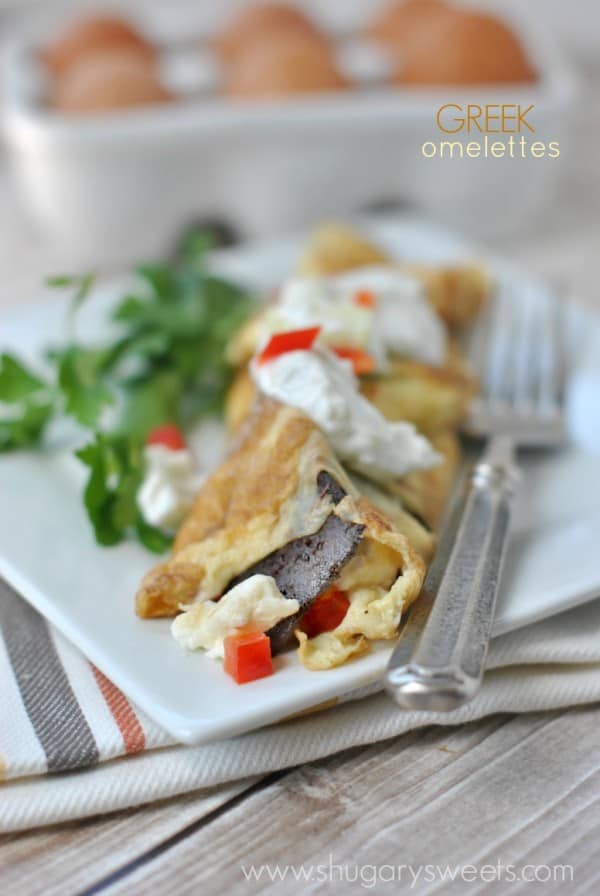 I created a fun little group on facebook and I'd love for you to join in! It's a place where you can share YOUR favorite recipes, ask questions, and see what's new with Shugary Sweets (so that you never miss a new recipe)! If you'd like to check it out, you can request to join HERE.
More Easy Recipes