Greek Omelettes
Learn how to make delicious french style omelettes with a Greek twist! These are perfect for weekday breakfasts, or weekend brunches!
**Thanks to the Ohio Poultry Association for inspiring this recipe!
Be sure to follow me on Bloglovin'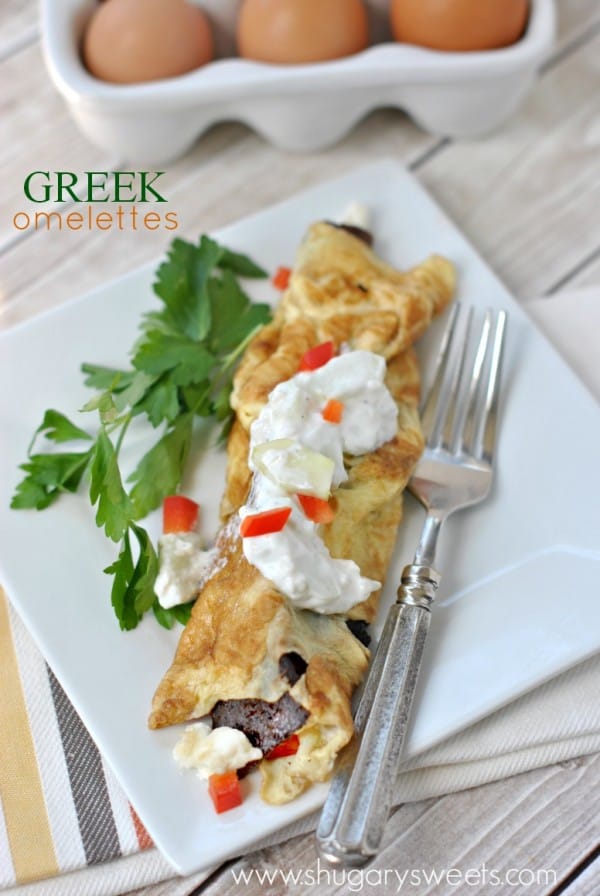 I have the best job. My kids sometimes (okay, all the time) make fun of me. I mean really, I make food for my family, for a living. I get a paycheck to basically feed my family. What's not to love about that?
And every once in a while, I get to go to the farm. Remember when I went with the American Dairy Association and milked cows and ate cheese?!
Well, a couple weeks ago I partnered up with the Ohio Poultry Association and went to the chicken farms. I learned pretty much more than I ever wanted about eggs, from the chicken to the table, I know it all now.
Okay, maybe not ALL of it. But enough to know this: Poultry Farmers LOVE their animals. I was pleasantly surprised how clean and well treated the chickens are at an egg farm. And I'm  not talking an egg farm that has a dozen chickens. The farmer we visited had over a MILLION chickens. It was mind blowing the number of chickens in one space. It was also comforting to see the love and care the farmers have for their chickens.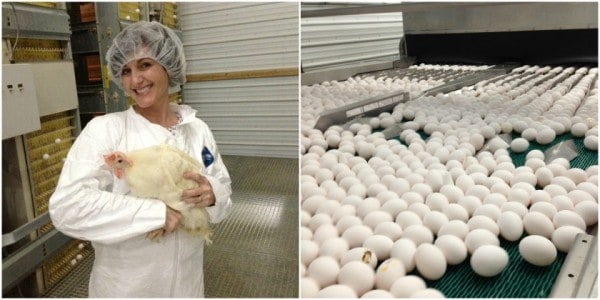 I even got to hold one. Look at those white feathers…and those eggs….
One bad farmer gives a bad rap for the whole industry. It's sad, right?
Anyways, the Ohio Poultry Association treated us like royalty.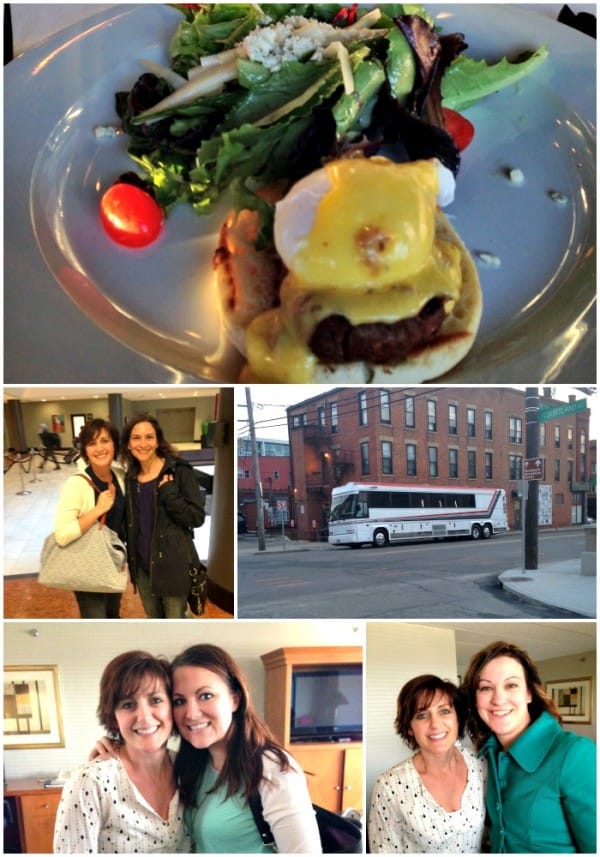 From the amazing dinners, to the rock star bus, and the friends I made, there was never a dull moment! Nor was there a moment of hunger. I've probably never eaten that much food in 48 hours, EVER. Not that I'm complaining…..
So let's talk about eggs quick. I have to be honest for minute here. I've never been one to want or crave eggs. Sure, I love the occasional deviled egg, egg salad sandwich or fried egg on toast. But a goopy runny egg? An omelette? Not my cup of tea.
Until now. Seriously. I'm totally obsessed. In on of our meals we had eggs benedict (this version was steak with the runny egg and sauce) and I ate EVERY SINGLE BITE.
We also got to tour Bob Evans Farm and they made a delicious feast for us. And once again I ate a runny egg all over my hashbrowns. WHO AM I???
Finally, Jim from the Ohio Poultry Association taught us how to make crazy deviled eggs. Including chocolate. It was delicious, not gonna lie.
And he taught us how to make the perfect omelette. Including this Greek Omelette. Using store bought sliced gyro meat (this was bought at GFS, but I've seen it at Meijer too), create the perfect Greek Omelette.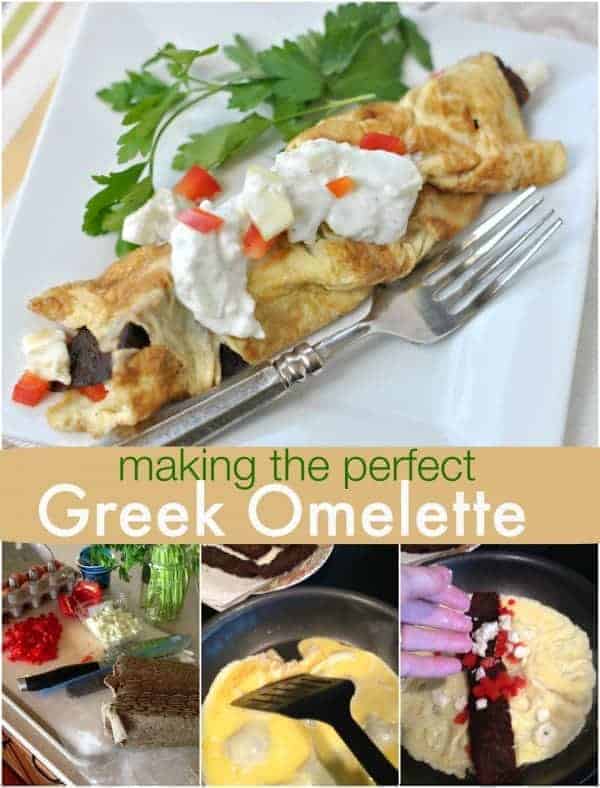 A few tips to Omelette Making:
Butter your non stick skillet after heating it to medium high. Yes, it's not NEEDED in a non stick pan, but oh my word it makes it taste so much butter. I mean better!!
Don't OVER BEAT your eggs. For every two eggs, add 2 Tbsp water. Beat with a whisk until you see only a few "streaks" in the eggs. Along these lines…don't add too much egg to your skillet!! I know my husband likes THICK omelettes, but I've realized, thinner the better. Otherwise, it's just scrambled eggs in omelette shape (yuck)
Once your eggs are in your skillet, work fast (you've got it heated already so it won't take long). Using your spatula, pull in from one corner, tilting the pan to let some of the egg juice (yes, that is a gross term, sorry) touch the pan. Repeat on other side. This should take 30 seconds. Add your toppings while the eggs are still moist. Flip one side onto the top, cook a few seconds, and slide on your plate.
For Greek Omelettes, don't forget the homemade Tzatziki! Seriously, it completes the meal.
Thank you again to my friends at the Ohio Poultry Association for teaching me to LOVE eggs. You've opened up a whole new world of food to me!
Connect with the Ohio Poultry Association:
facebook | twitter | pinterest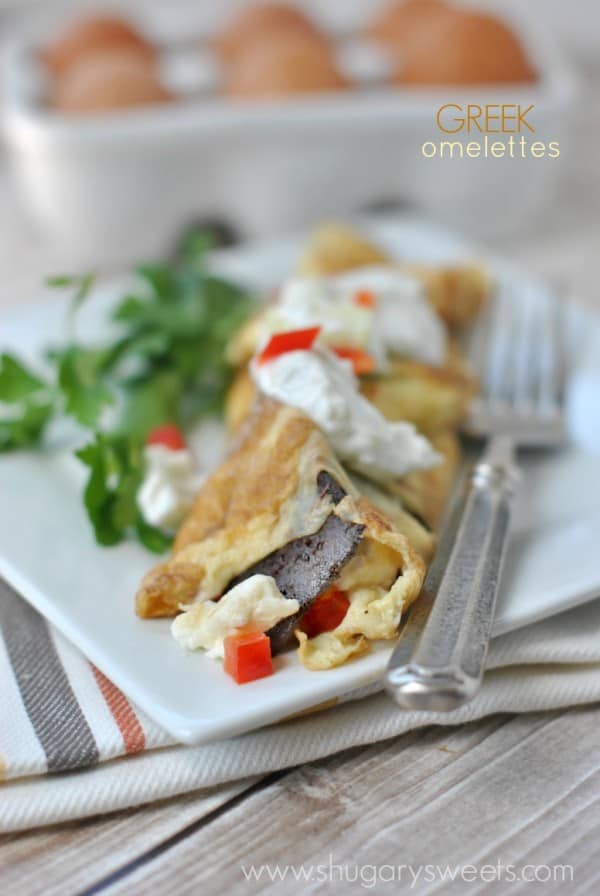 Connect with Shugary Sweets! Be sure to follow me on my social media, so you never miss a post!
Pinterest | instagram | Bloglovin'
Save your favorite recipes to your personal recipe box with the   

  button on all my recipes! Create a Meal Plan with your "favorited" recipes and the ingredients will automatically be added to your own Grocery List!
Yield: 4 servings
Greek Omelettes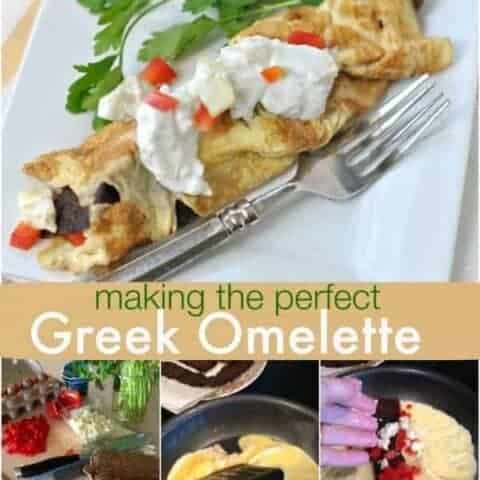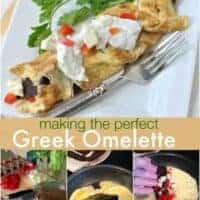 Prep Time 10 minutes

Cook Time 2 minutes
Ingredients
4 Tbsp butter
8 large eggs
1/2 cup water
1/2 sweet red pepper, diced and seeded
1/2 cup crumbled feta cheese
8 slices gyro meat
1 cup plain greek yogurt
1 1/2 cup diced cucumber
1 tsp kosher salt
1/4 tsp black pepper
3/4 tsp greek seasoning
parsley for garnish
Instructions
First, prepare the tzatziki sauce. Combine the plain greek yogurt with the cucumbers, kosher salt, black pepper and greek seasoning. Refrigerate until ready to use.
Cook the gyro meat in a non stick skillet for several minutes over medium high heat, flipping occasionally, until desired crispness. For my omelette, I like my gyro meat crispier (I also like my bacon crispier). Set aside.
Preheat non stick skillet to medium high heat. In a medium bowl, whisk eggs and water together. Add 1 Tbsp butter to skillet for each batch of eggs. Scoop about 1/4 cup of eggs to skillet. Cook about 30 seconds, scraping corner of pan and letting eggs run onto skillet.
While omelette is still moist, sprinkle on 2 Tbsp feta cheese, 2 slices gyro meat and some red pepper. Flip one side over filling, allow to cook an additional 20-30 seconds. Slice onto plate and top with some tzatziki and parsley to garnish. ENJOY.