Greek Puff Pastry Appetizer
Need a big kid snack that is easy yet impressive? You HAVE to make these. I know I say that a lot. But I'm the writer and recipe creator, so trust me on this one (and all the others).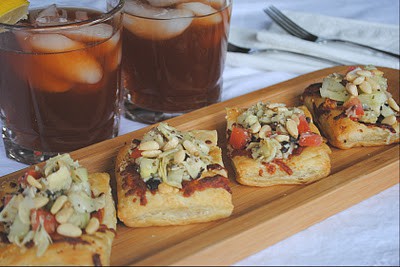 Pepperidge Farm Puff Pastry is awesome. I always have several boxes in my freezer. You can whip up some quick breadsticks, dinner or breakfast.
These took very little time to make. While they were baking I cut up all the veggies. I served them to some friends for lunch and got thumbs up all around!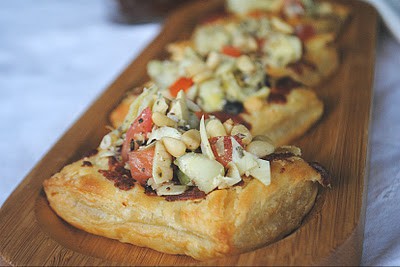 What a great appetizer to serve at your Super Bowl party this weekend! Enjoy!
Puff Pastry Greek Appetizer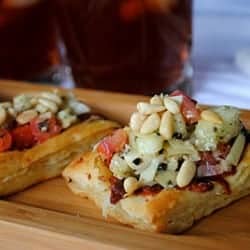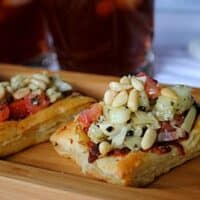 Ingredients
1 sheet puff pastry, cut into 12 squares
3 Tbsp olive oil, divided
3 cloves garlic, pressed
1/2 cup mozzarella cheese, shredded
3 Tbsp grated parmesan cheese, divided
8 oz artichoke hearts, diced
1 Tbsp chopped black olives
1/2 cucumber, peeled and diced
1 large Roma tomato, seeded and diced
1 1/2 tsp Italian seasoning
pinch kosher salt
1/4 cup toasted pine nuts
Instructions
Thaw pastry on counter for about 40 minutes, per package directions.
Unfold pastry and cut along fold lines. Then cut in opposite direction to make 12 even squares. Lay squares on parchment paper lined baking sheet.
In small bowl mix 2 Tbsp olive oil with garlic. Brush onto pastry. Sprinkle pastry with mozzarella cheese and 2 Tbsp of parmesan cheese.
Bake pastry in 400 degree oven for 15-17 minutes.
Meanwhile, mix artichoke, olives, cucumber, tomato, Italian seasoning, 1 Tbsp olive oil, 1 Tbsp parmesan cheese and kosher salt together in a medium sized bowl. Set aside.
To toast pine nuts quickly, lay on microwave dish in single layer. Microwave for 4 minutes, stirring after each minute. Set aside.
To assemble, top each piece of pastry with a large spoonful of veggies. Sprinkle with toasted pine nuts. Serve immediately and enjoy!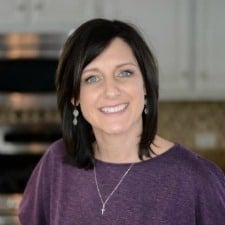 Aimee is a dessert lover (specifically rice krispie treats), workout enthusiast, self-taught foodie, and recipe creator. Her recipes have been featured in over 15 magazines, and her passion is to share her love of cooking with the everyday home cook! Learn more about Aimee.