Gumdrop Fudge – Creamy Vanilla Fudge filled with colorful gumdrop candy pieces! So pretty for gift giving or for sharing with the kids over the holidays.
Love making homemade Christmas candy? You've got to try our classic Divinity recipe! Or for something easier, you can't go wrong with rocky road fudge!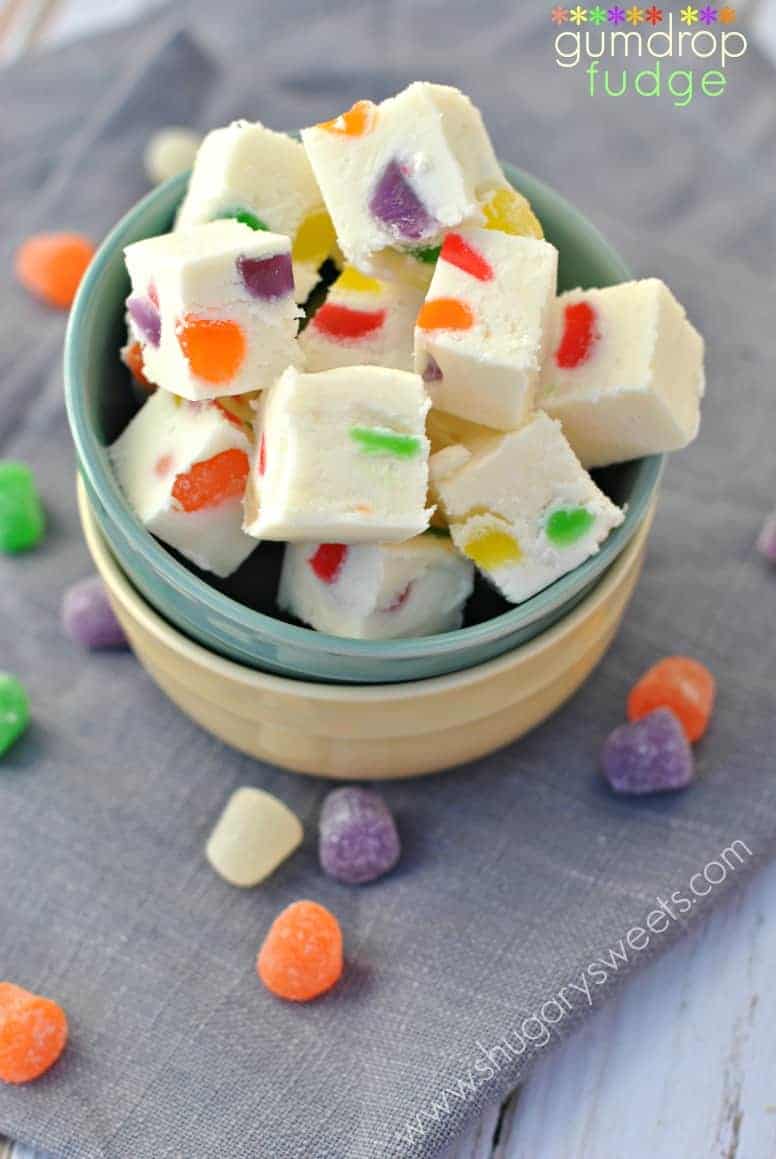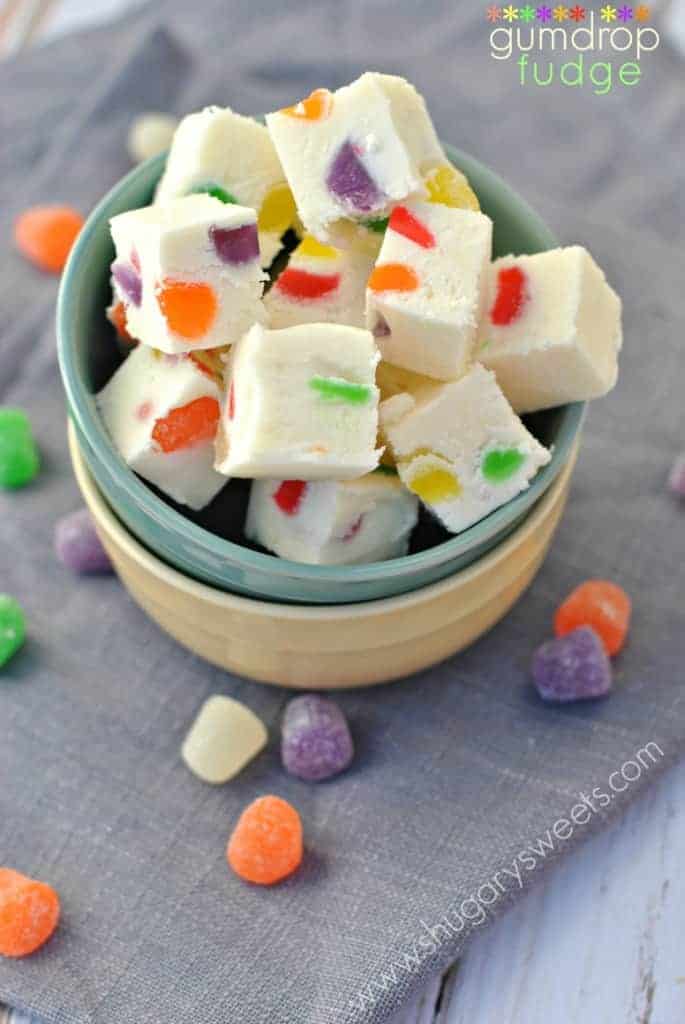 Easy Fudge Recipe
I saw a recipe for Gumdrop Fudge on Taste of Home several years ago and tucked it into my brain for future use.
Using that recipe as inspiration, I added gumdrops to my favorite vanilla fudge recipe. I tell ya, knowing how to make fudge is useful when you have crazy ideas like this.
At first I was a little concerned that chewy, fruity candy doesn't belong in fudge. Fudge should be filled with chocolate, nuts, or dried fruit, like in my Chocolate Peanut Butter Fudge, Pistachio Fudge and Cherry Fudge with Dark Chocolate.
But guess what? I was wrong. White chocolate fudge is the PERFECT base for your favorite fruity candy. Skittles, Mike and Ikes, throw them in!
Or make some colorful fudge using gumdrops like I did. he chewy candies tasted delicious nestled in squares of velvety fudge!
No candy thermometer or special ingredients needed.
Ingredient Notes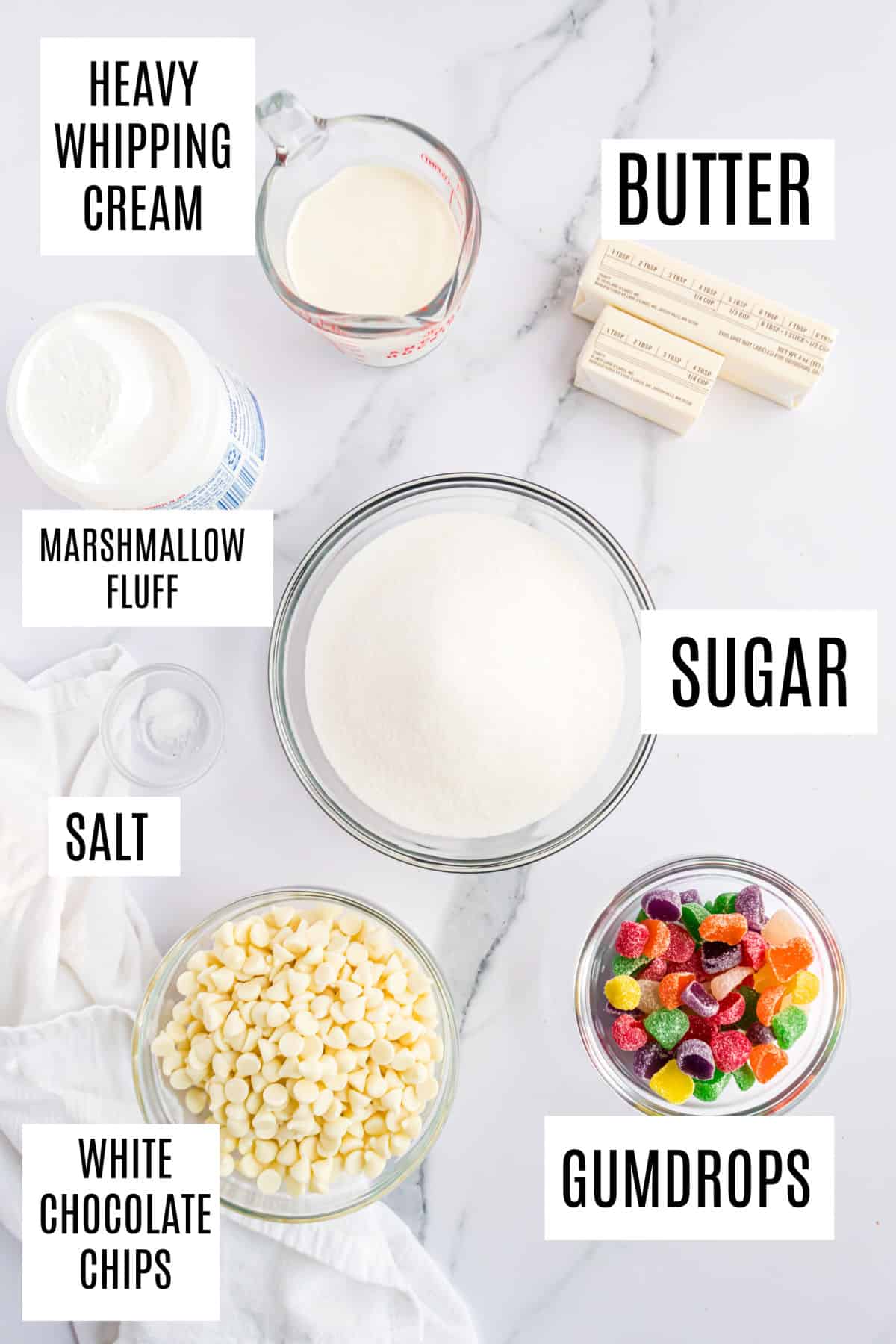 Marshmallow Cream – Also called "marshmallow fluff", this is my secret ingredient for easy homemade fudge without needing a candy thermometer.
Heavy Whipping cream – Be sure to use real cream, not milk or half-and-half.
White chocolate – The morsels or chips melt the easiest. You could also use bars of white chocolate broken up into small pieces.
Gumdrop candies – I chose to make my Gumdrop Fudge with a whole rainbow of colors, but you could easily pick your colors based on what occasion you want to make Gumdrop Fudge for! Try red and green for Christmas, or your favorite colors for a birthday party.
Step by Step Instructions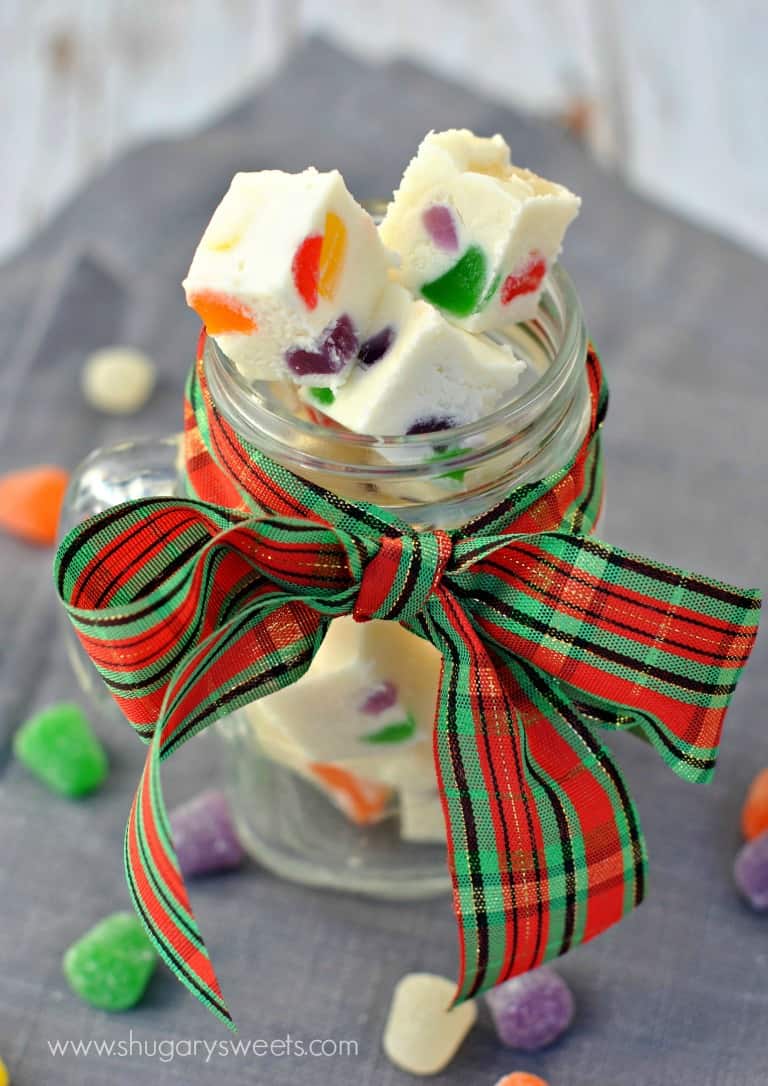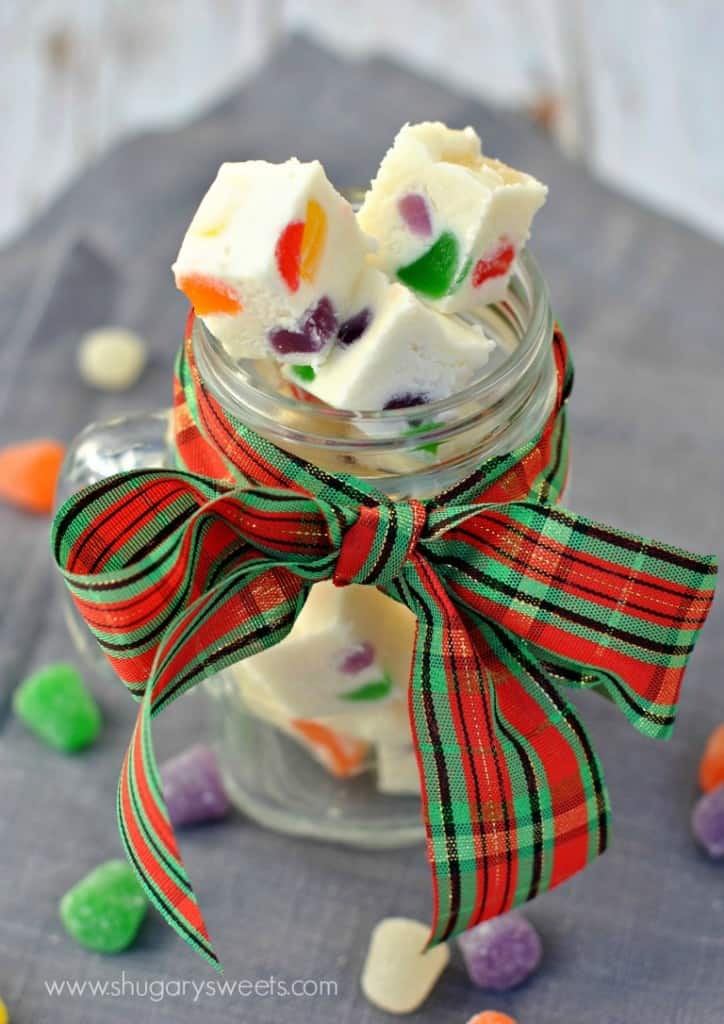 Step 1. Get the ingredients ready
Add the white chocolate chips and marshmallow cream in the bowl of your stand mixer. You definitely want this ready to go before you start on the other steps.
Make sure your gumdrops are also chopped and ready to go, too.
Step 2. Heat butter and cream
In a saucepan, bring the butter, cream, sugar and salt to a boil and cook for 5 minutes. Remove this mixture from the heat and immediately pour it over the waiting white chocolate and marshmallow cream.
Use the mixer to beat everything together until the white chocolate and the marshmallow cream are thoroughly melted and everything is combined. Then gently fold in the gumdrop pieces.
Step 3. Set and Cut
Pour the fudge into a prepared baking pan and let it set in the refrigerator for about 2 hours. Once set, you can cut it into pieces and package it up!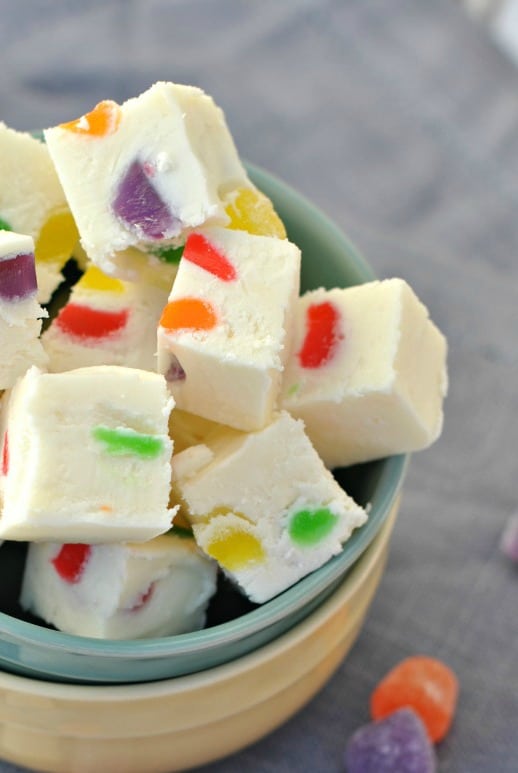 Tips and Tricks
Gumdrop Fudge would be a great gift to give to neighbors and friends. Fill a mason jar, add a lid, wrap some ribbon around it and give it away! Depending on the size of jar you use, you can make several jars of gifts from this recipe. Add some whole gumdrops as filler and more color too!
Not a fan of gumdrops? No problem! So many colorful fruit candies would be delicious folded into white chocolate fudge. Try Skittles, orange Jelly candies, Mike & Ike's. . .you name it!
If you won't be giving this away or enjoying the fudge right away, I like the slice the fudge just before eating for best freshness.
Use a sharp knife with a straight edge (not serrated) to cut Gumdrop Fudge.
Recipe FAQs
Does this need to be kept in the refrigerator?
Yes, I find that Gumdrop Fudge tastes best if stored in the fridge. It'll keep well for about 2 weeks.
Do I need a candy thermometer to make this fudge recipe?
Nope! That's one of the reasons I love this easy method for homemade fudge so much.
Why are the gumdrops sticking to my knife?
Make sure to use a very SHARP knife to cut this fudge. The gumdrops make this a little tougher to slice than your average fudge, but a sharp enough knife and a little pressure will do the trick.
More holiday fudge recipes
As pretty as a Christmas tree and as delectable as can be, Gumdrop Fudge adds color and whimsy to any holiday candy tray. Make enough to give away. . . but don't forget to save a few squares for yourself!