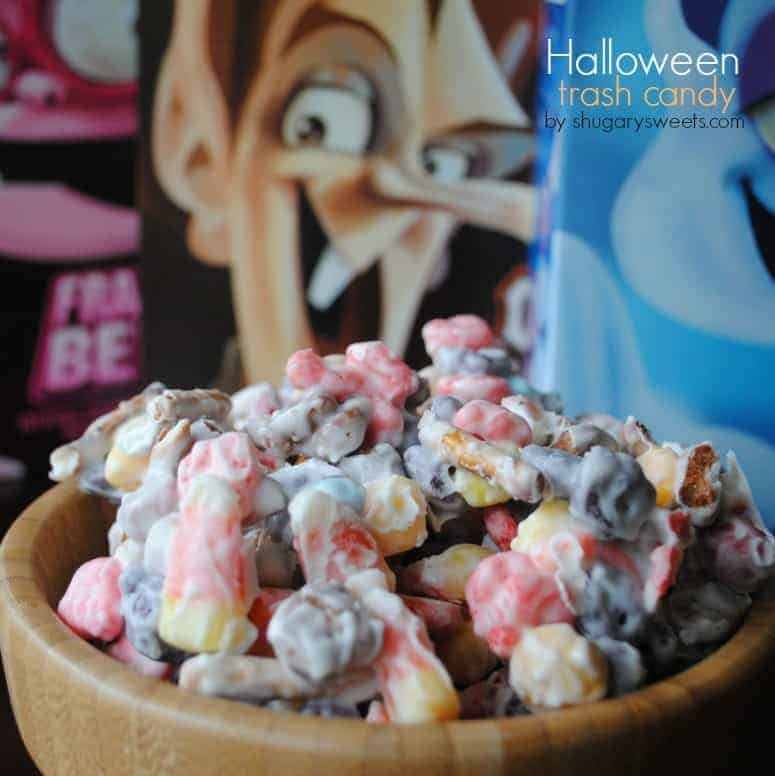 I buy this fun cereal every year. Booberry, Frankenberry and Count Chocula. However, every year the same thing happens.
DAY 1- all four kids eat a bowl of cereal.
DAY 2- two kids eat a bowl of cereal.
DAY 3- one kid eats a bowl of cereal.
DAY 4- I nibble on the cereal.
DAY 5- Nobody eats any cereal and it starts to get stale because all boxes are opened.
This candy is based off my white trash candy recipe. Not that it's really a recipe. Open pantry, find leftovers, pour white chocolate over everything, eat.
It's that simple. Plus it looks so fun in a bowl.
Halloween Trash Candy
Ingredients
1 cup Booberry cereal
1 cup Frankenberry cereal
1 cup Count Chocula cereal
1 cup candy corn
1 cup pretzel sticks, broken
1 cup M&Ms, any flavor (I used peanut butter)
16 oz vanilla bark (white candy coating), melted
Instructions
In large bowl, mix cereals and candy. Pour melted vanilla bark over everything, stir, and lay out on wax paper to dry.
After about 1 hour, break candy into pieces and store in ziploc bag. Enjoy.