Happy Birthday Alyssa!
This weekend Alyssa had her best friends over for a sleepover birthday party. It's a little delayed due to scheduling it on a weekend when she has no swimming! But, it turned out to be awesome! She spent last night playing Just Dance and Sing It with her friends. Well, actually Alex played a little too, but I promised not to put the video online! We made some special cupcakes for the occasion (notice the wrapper? This is the theme to her room now, black and white FRENCH, as she says).
This morning we had some homemade cinnamon rolls that rocked! I'll post those later, of course! I doubled the recipe and we had 56 cinnamon rolls, they managed to eat over half of them, not bad! And they weren't little either!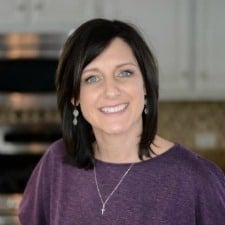 Aimee is a dessert lover (specifically rice krispie treats), workout enthusiast, self-taught foodie, and recipe creator. Her recipes have been featured in over 15 magazines, and her passion is to share her love of cooking with the everyday home cook! Learn more about Aimee.