Hazelnut Rolo Cookies
Decadent. That describes these cookies. I've had this recipe (from Pillsbury) for many, many years. This is the first time I added the hazelnuts and nutella though. I'm so glad I did too.
I had my helper, Cassidy, working hard in the kitchen with me. She not only added all the ingredients to the mixer, she also unwrapped all the Rolos. A task I hate. But she worked on her counting too, we needed 48 Rolos for this recipe!
Enjoy with a glass of milk. Yum.
Ingredients
1 cup sugar
1 cup brown sugar
1 cup margarine
2 tsp vanilla
2 eggs
2½ cup flour
¾ cup cocoa
1 tsp baking soda
1 cup chopped hazelnuts, divided
48 Rolos
1 Tbsp sugar
1/2 cup Nutella, melted
Instructions
Combine sugars and margarine. Beat until fluffy. Add eggs and vanilla. Blend. Add flour, cocoa, baking soda and ½ cup hazelnuts. Cover with plastic wrap and freeze one hour.
Wrap 1 heaping tablespoon of dough around one Rolo. Cover Rolo completely. Combine ½ cup hazelnuts with sugar in small bowl. Press top of cookie into nut/sugar mixture. Place dipped side up and bake in a 375 degree oven for 7-10 minutes. When cool, melt Nutella in microwave and pour into a small ziploc bag. Cut the corner off the bag and drizzle over cookies. Refrigerate until set. Store in covered container. Enjoy!!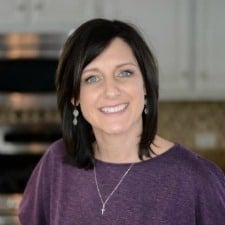 Aimee is a dessert lover (specifically rice krispie treats), workout enthusiast, self-taught foodie, and recipe creator. Her recipes have been featured in over 15 magazines, and her passion is to share her love of cooking with the everyday home cook! Learn more about Aimee.