Some call it Rocky Road, some say Heavenly Hash. Either way these little brownie bites are perfection!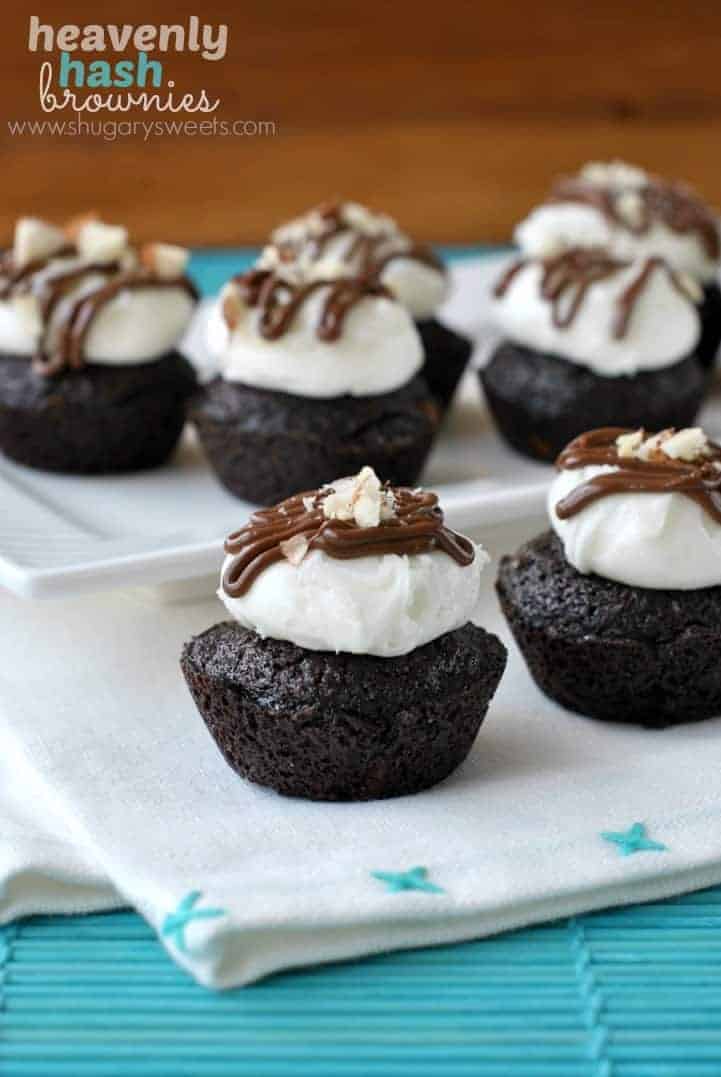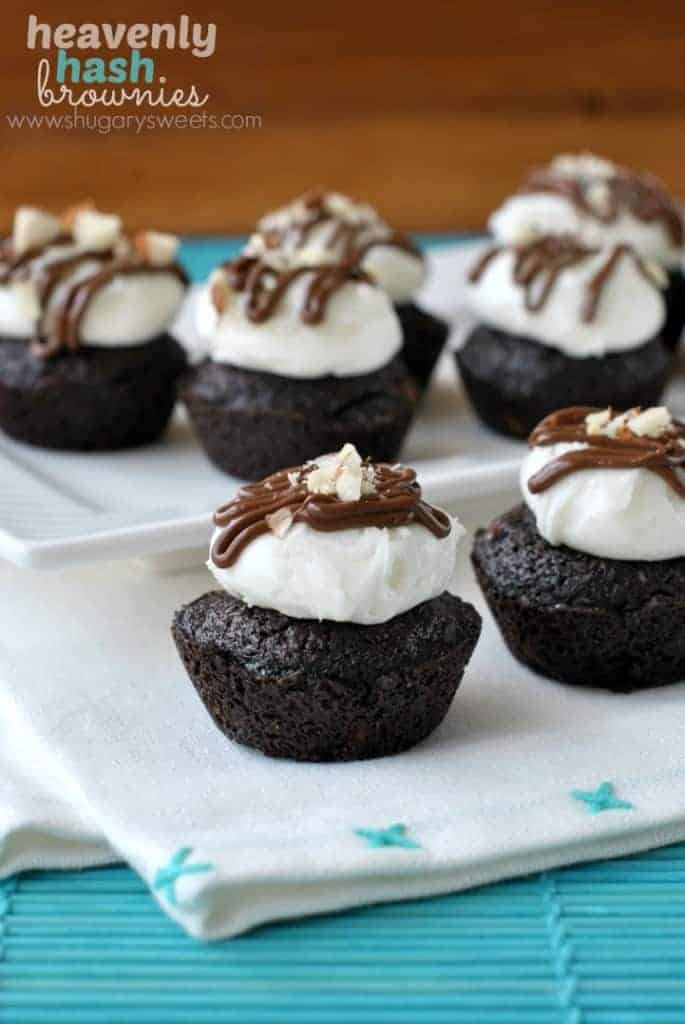 I remember growing up and at every birthday party there were at least two choices of ice cream to have with your cake. In my family, your choices were usually Neapolitan or Heavenly Hash.
Does anyone remember Heavenly Hash? Do they still make it? Or call it that? Seems now it's always called Rocky Road.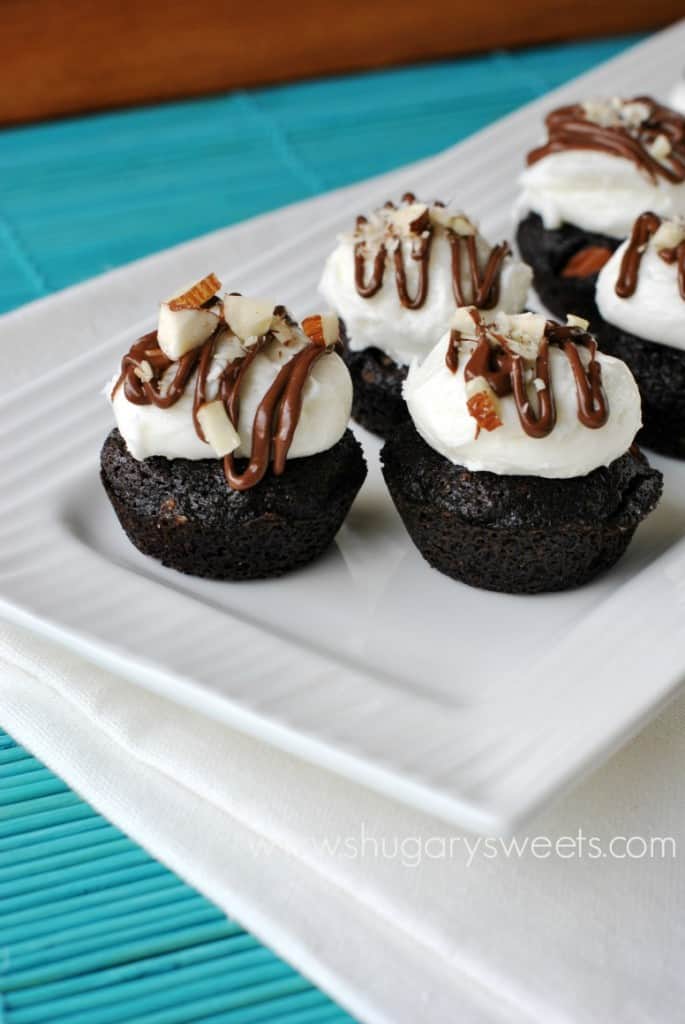 Heavenly Hash was always my first choice. The swirls of marshmallow and the crunch of almonds in a chocolate ice cream. I can taste it now (and I think I need to go out for ice cream today)!
Today's recipe is my version of Heavenly Hash, in brownie form. The little brownie bites are pure dark chocolate bliss. I added chopped almonds to the brownies. Then I topped each brownie with a marshmallow frosting, a drizzle of chocolate and more chopped nuts.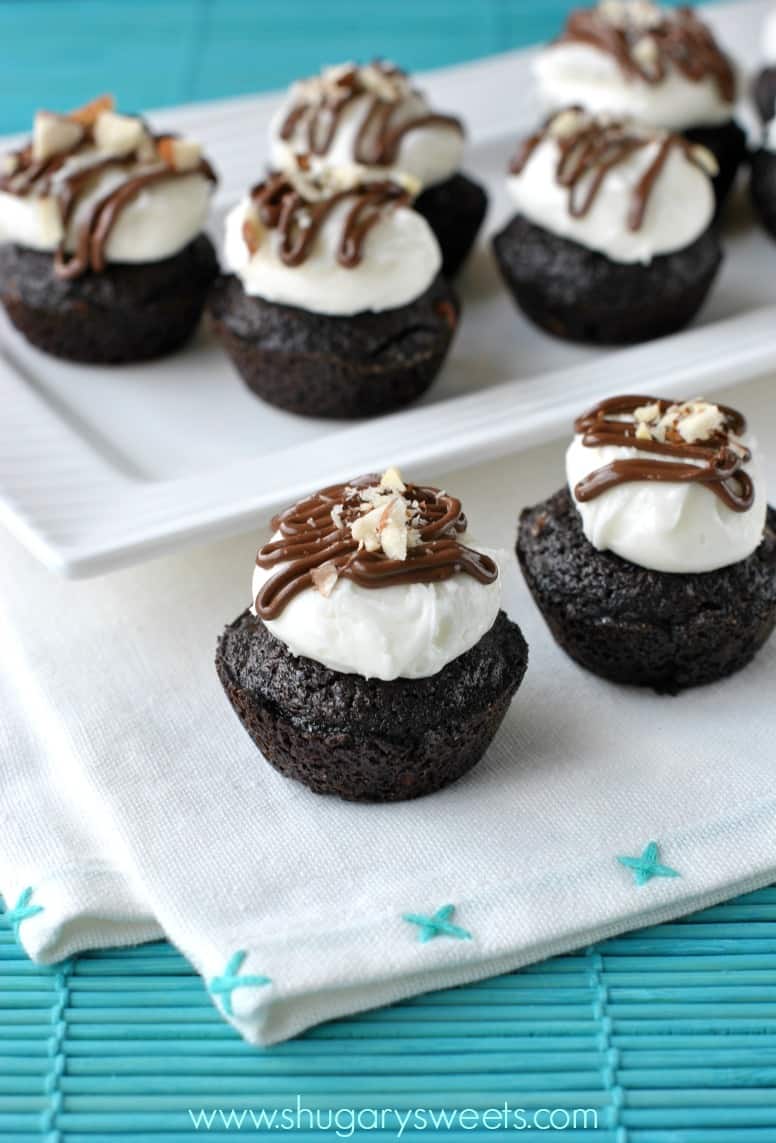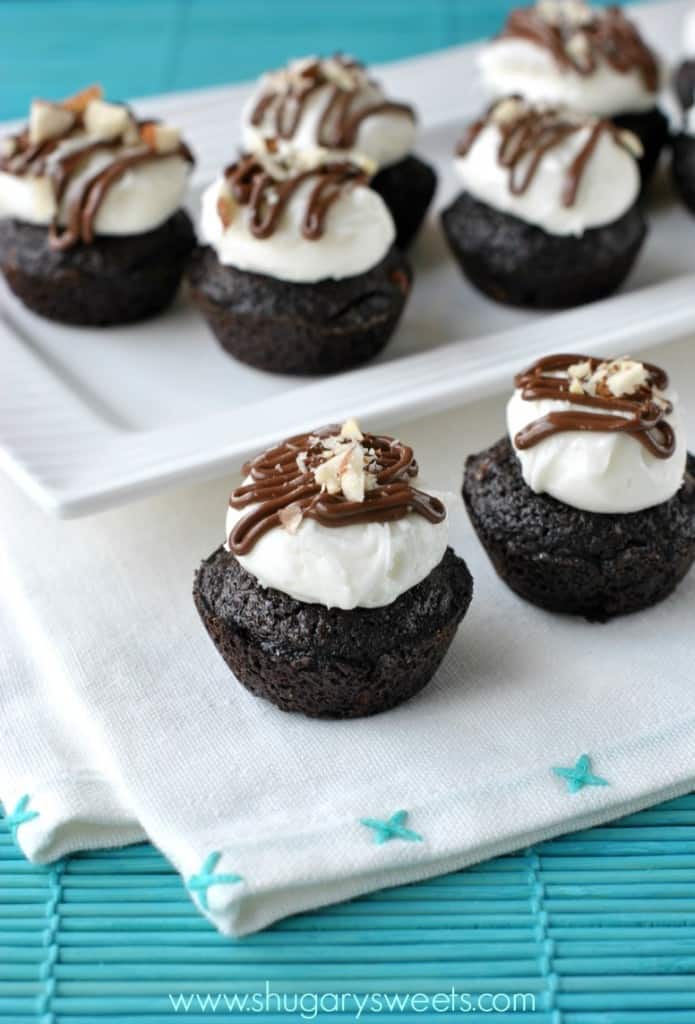 I can proudly say, these are Heavenly.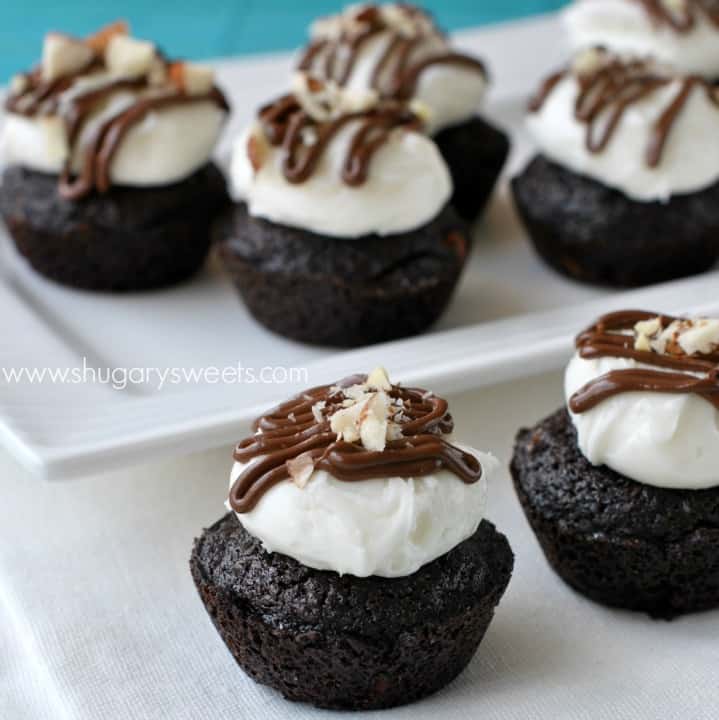 Connect with Shugary Sweets! I know you want to see behind the scenes…check out my instagram!
Facebook | Twitter | Google+ | Pinterest | Bloglovin'
Yield: 48 brownie bites
Heavenly Hash Brownie Bites
Prep Time 15 minutes

Cook Time 10 minutes

Some call it Rocky Road, some say Heavenly Hash. Either way these little brownie bites are perfection!
Ingredients
For the brownies:
3/4 cup unsalted butter, melted
1 1/2 cup granulated sugar
1 cup all-purpose flour
3/4 cup dark chocolate unsweetened cocoa powder
3 large eggs
1/2 cup almonds, chopped
For the frosting:
1 cup marshmallow cream (Fluff)
3 Tbsp unsalted butter, softened
3 cup powdered sugar
1/4 cup heavy cream
For the garnish:
1 cup milk chocolate, melted
1/4 cup almonds, crushed
Instructions
In a large bowl, mix melted butter, sugar, flour, cocoa powder, eggs and almonds together until fully blended. Using baking spray, coat mini muffin tins generously with spray. Drop batter by large tablespoon into mini muffin tins. Bake in a 375 degree oven for 10-12 minutes. Allow brownies to cool 15 minutes in tin, then remove and cool completely on wire rack.
For the frosting, beat fluff, butter, powdered sugar and heavy cream with an electric mixer for 3-4 minutes, until fluffy. Scoop one large tablespoon onto cooled brownie bites.
Drizzle with melted chocolate and sprinkle with crushed almonds. Store in an airtight container at room temperature for up to one week. ENJOY!
Notes
**Pour melted chocolate into a ziploc sandwich bag. Snip off the tip and drizzle over frosting.
Brownie Bites with Root Beer frosting are a fun, delicious way to enjoy a two-bite chocolate treat!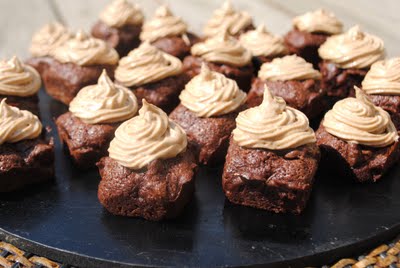 This is my absolute favorite, go-to, from scratch, Dark Chocolate Brownie recipe!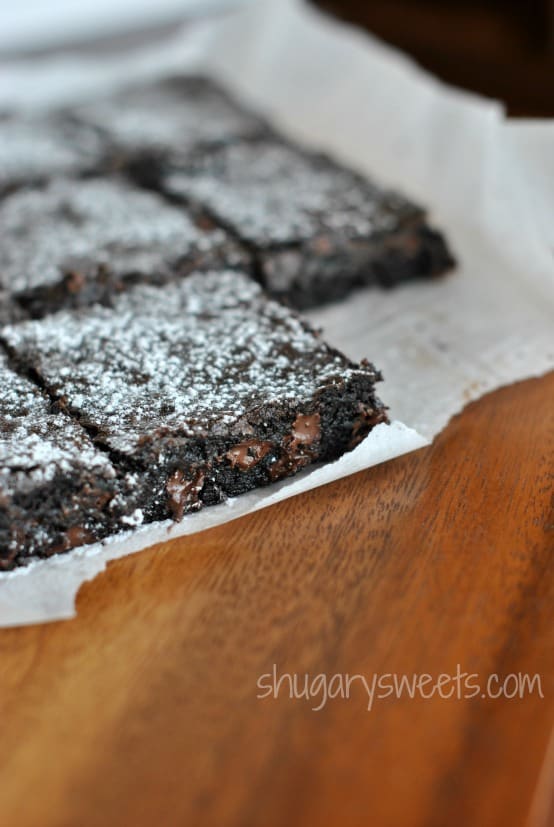 Want a fun brownie twist? These Milky Way Double Fudge brownies are a sweet tooth favorite!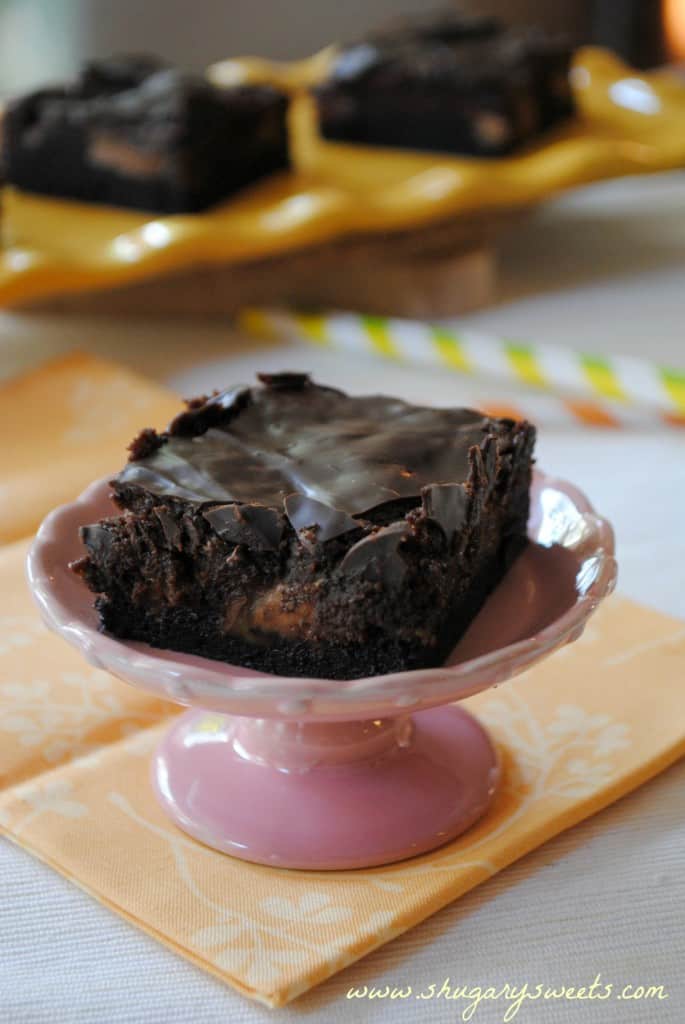 These is no shortage of brownie recipes on the web. Here are few of my favorite versions:
Chocolate Chunk Brownies from Something Swanky
Buckeye Brownies from Buns in my Oven
Reese's Rocky Road Brownies from Inside BruCrew Life