Looking for an easy, no bake dessert this holiday that feeds a crowd? This Holiday Cheesecake Trifle with strawberries, kiwi, pretzels and pecans is a mouthwatering masterpiece!
Love this recipe? Sign up for Shugary Sweets email subscription and never miss out again!
**I am a brand ambassador for PHILADELPHIA Cream Cheese. All opinions are 100% my own!**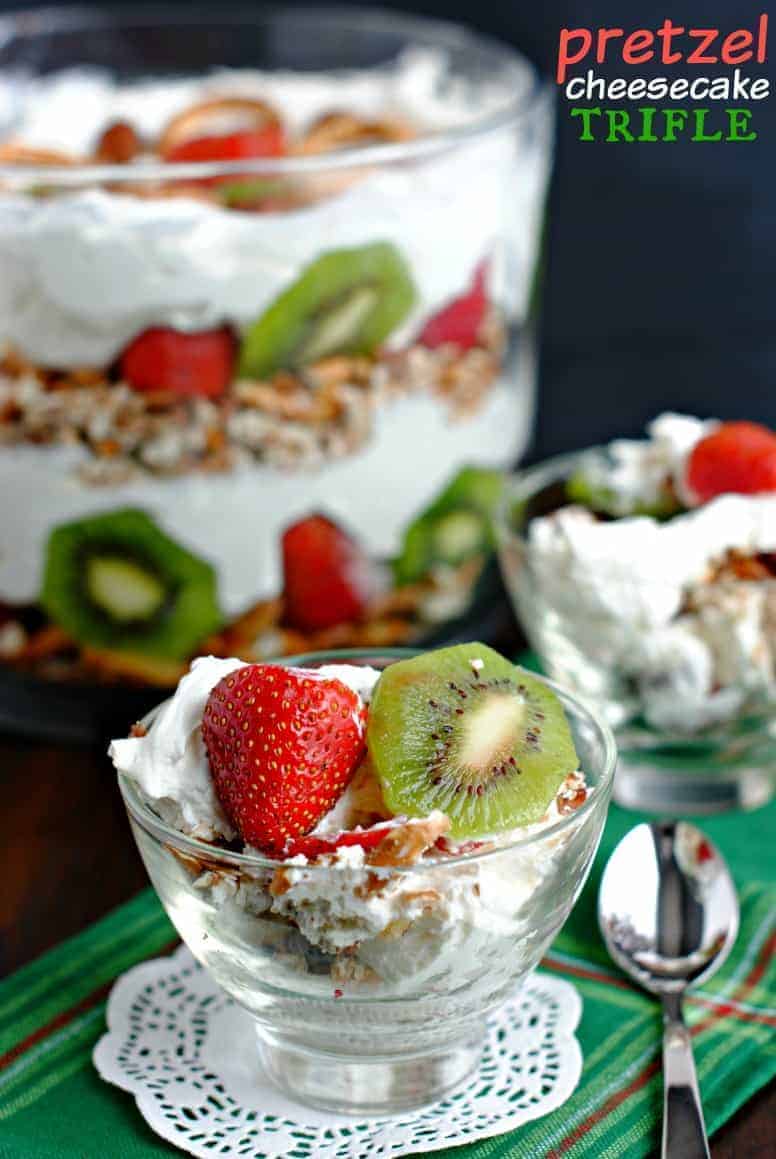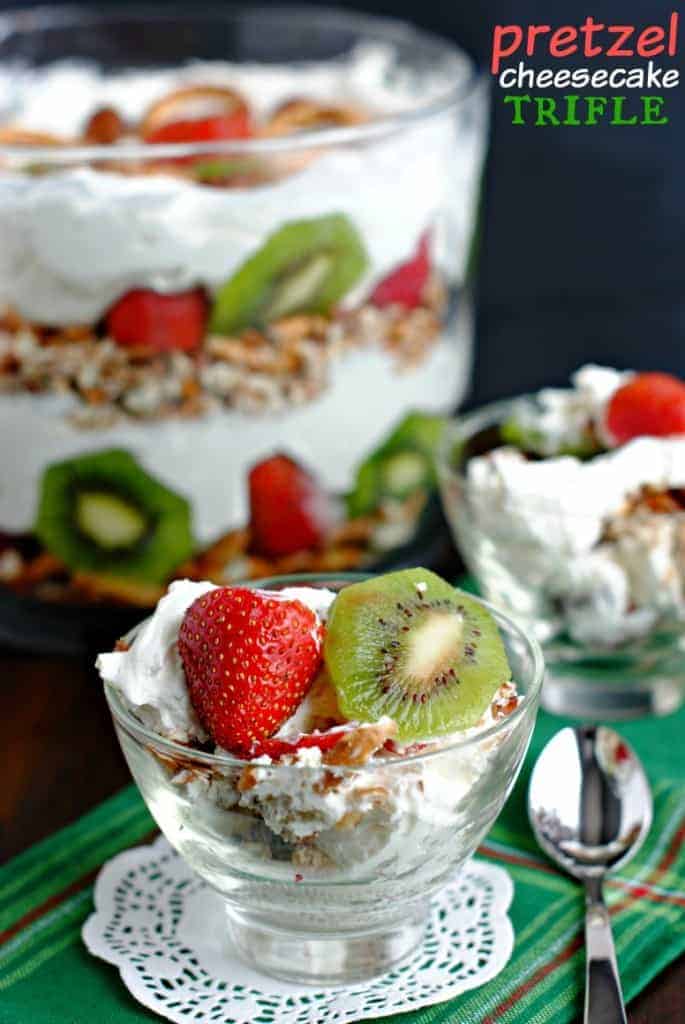 My aunt makes a delicious Strawberry Pretzel JELL-O every holiday. As our families have all expanded, we rarely get together for a meal over the holiday season, so I haven't enjoyed that dish in years!
The other day I was looking to use up some pantry items: an open bag of pretzels and an open package of pecans.
I also have a fridge full of PHILADELPHIA Cream Cheese. That is no surprise! It's the holidays and I stock up on the silver boxes!
While racking my brain on what to make for a quick and easy dessert, I mashed together a bunch of family favorites: my mother in law's no bake cheesecake recipe, my aunt's pretzel JELL-O and a trifle.
The outcome was so wonderful, I knew I wanted to share with you guys!
If you're looking for a way to celebrate the holidays in a little bit more of a stress-free way, try whipping up this trifle. I included some fresh strawberries and kiwi to give this trifle a pop of holiday color! And the sweet cheesecake filling with the fresh fruit is the perfect way to end a meal!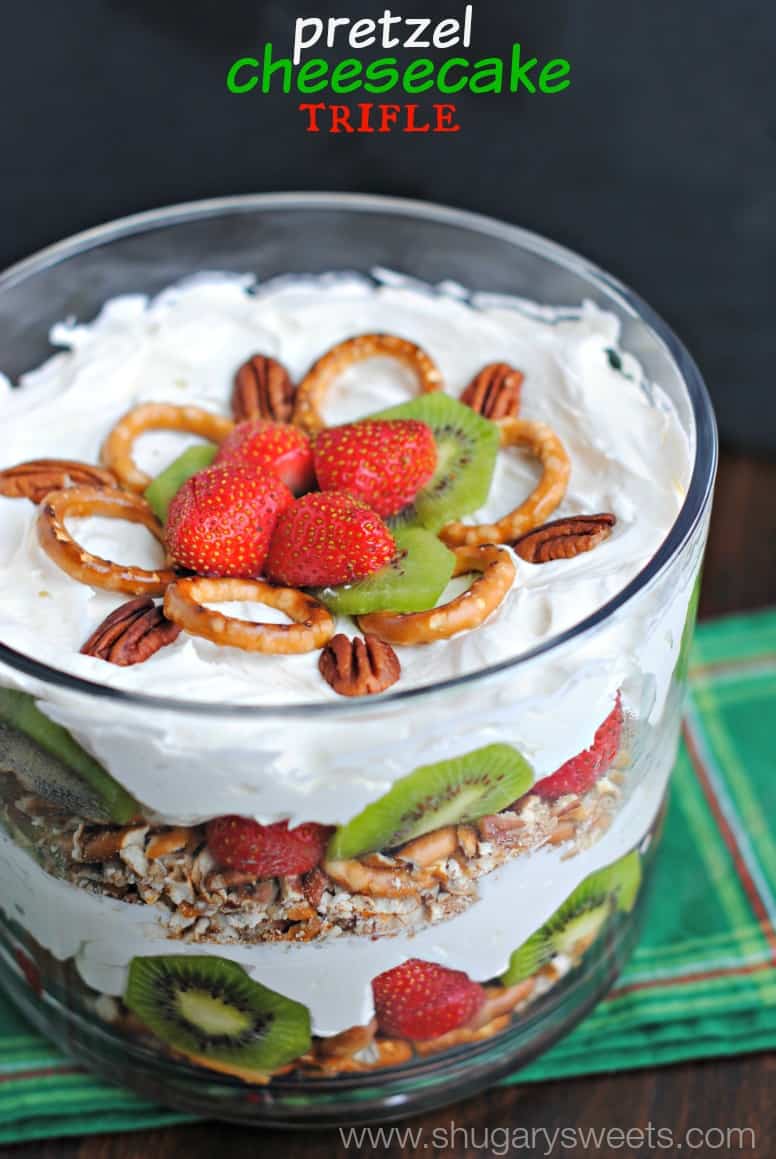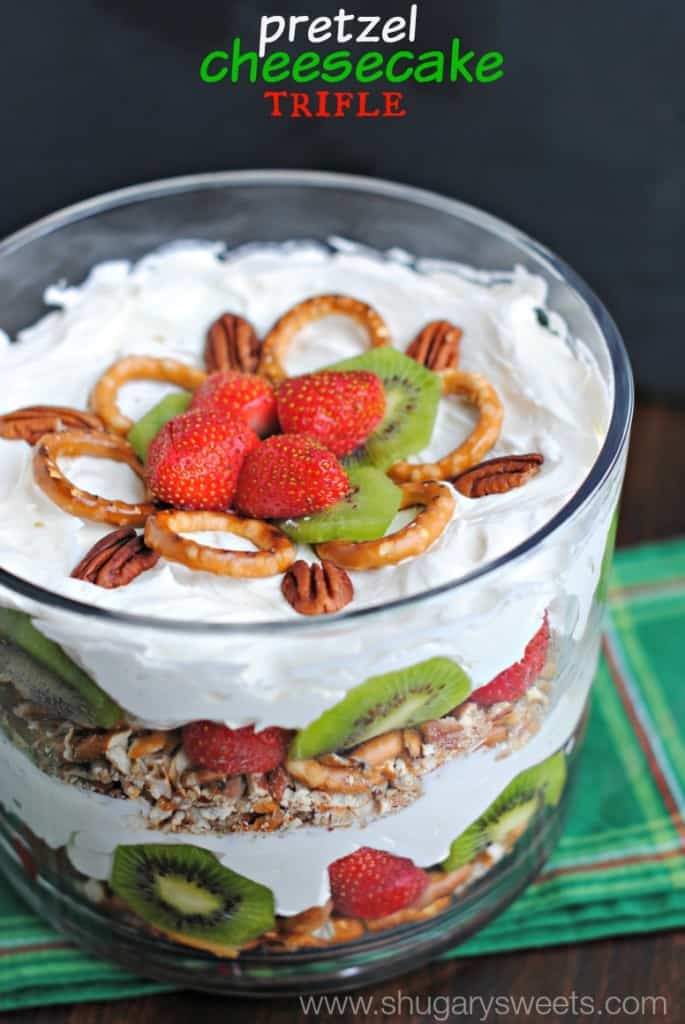 A few tips for assembling the trifle:
Start by adding the pretzels and pecans to a large ziploc bag. Close it tightly and press as much air out of it as possible. Place the bag on a large cutting board and smack it with a rolling pin or meat mallet. You don't want it to become powder, so just a couple smacks will do the trick!
To get your cheesecake creamy, be sure to start with PHILADELPHIA Cream Cheese. It's made with fresh local milk and real wholesome cream (sounds pure to me)!
Beat the cream cheese with the filling ingredients for a full 3-5 minutes using either an electric stand mixer (with whisk attachment) or handheld mixer. This will create a light and fluffy texture to your filling!
When assembling the layers, use a clear glass bowl for a beautiful display! I use a bowl made for trifles, like this one. Store in refrigerator for at least two hours. Best served the same day. The pretzels will become softer in texture as more time passes (which I enjoyed, but not everyone does)!
Happy Holidays!!
Connect with PHILADELPHIA Cream Cheese:
website | facebook | twitter | pinterest
Yield: 10-12 servings
Holiday Cheesecake Trifle
Prep Time
2 hours
15 minutes
Ingredients
3 cup broken pretzels
1 cup chopped pecans
1 lb (16oz) fresh strawberries, hulled and halved
4 kiwi, peeled and sliced
2 packages (8oz each) PHILADELPHIA Cream Cheese
1 can (14oz) sweetened condensed milk
1/2 tsp lemon juice concentrate
8oz Cool Whip
Instructions
In a large ziploc bag, add pretzels and pecans. Smash gently and set aside.
In a large mixing bowl (using an electric mixer or handheld mixer) beat cream cheese with sweetened condensed milk and lemon juice for 3-5 minutes until light and fluffy (scrape down sides of bowl as needed).  Fold in Cool Whip.
To assemble: pour half the pretzel mixture in bottom of a trifle bowl. Arrange half of the strawberries and kiwi on top of the pretzels (making sure to line them at the edges of the bowl first). Pour half the cheesecake mixture into the trifle and repeat the layers.
To garnish, add a few extra berries, kiwi, pretzels and pecans to the top. Cover with plastic wrap and refrigerate for at least two hours. Best enjoyed the same day!

"I have been selected by Kraft Foods to be an ambassador for PHILADELPHIA cream cheese. While I have been compensated for my time, my opinions are my own, and I have not been paid to post positive comments. Read my disclosure policy for more information!"