Holiday Gift Guide 2014
I thought it would be fun this year to put together a list of some of my favorite things! Each item has a link so that you can purchase it directly if you choose! So grab your credit card and get shopping!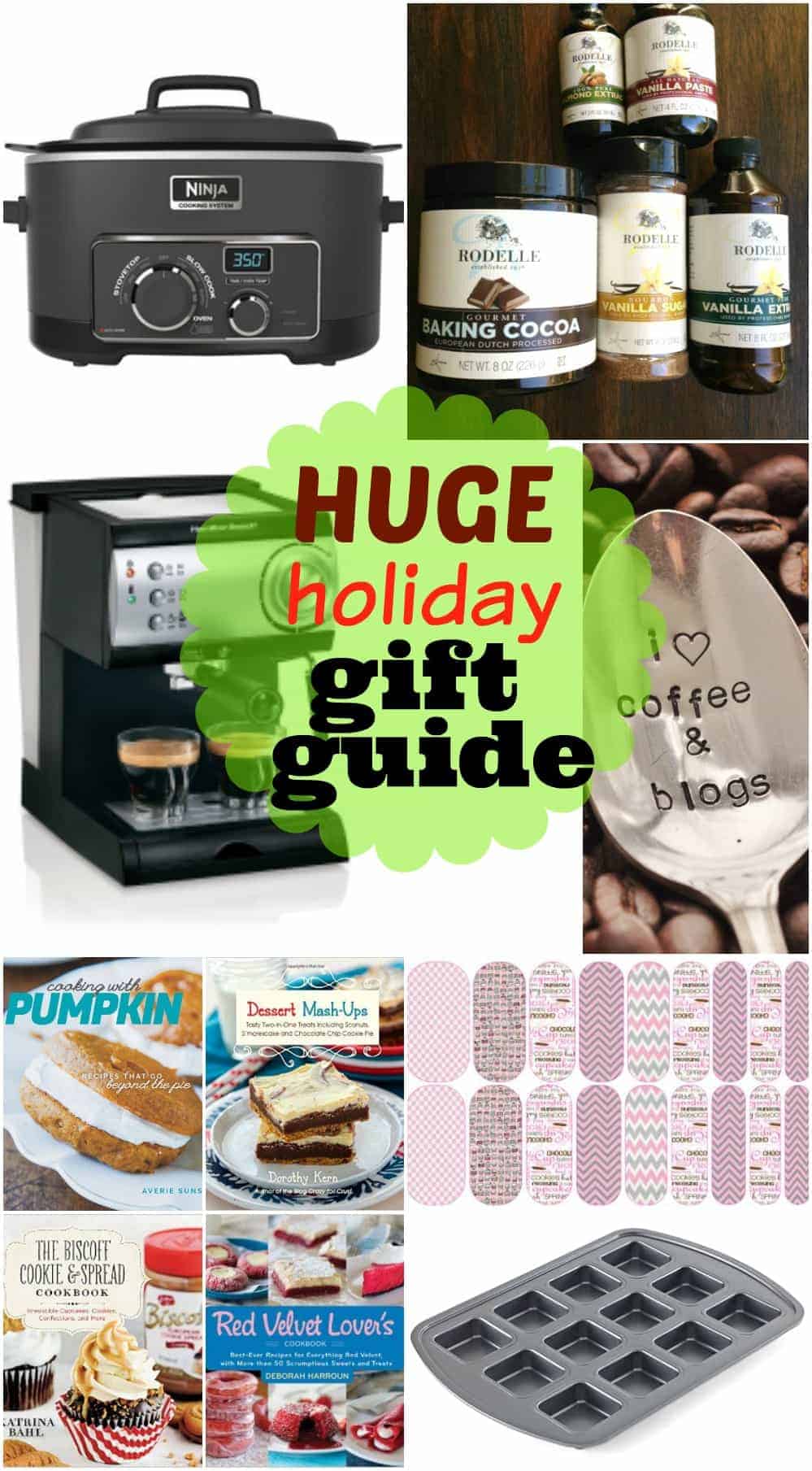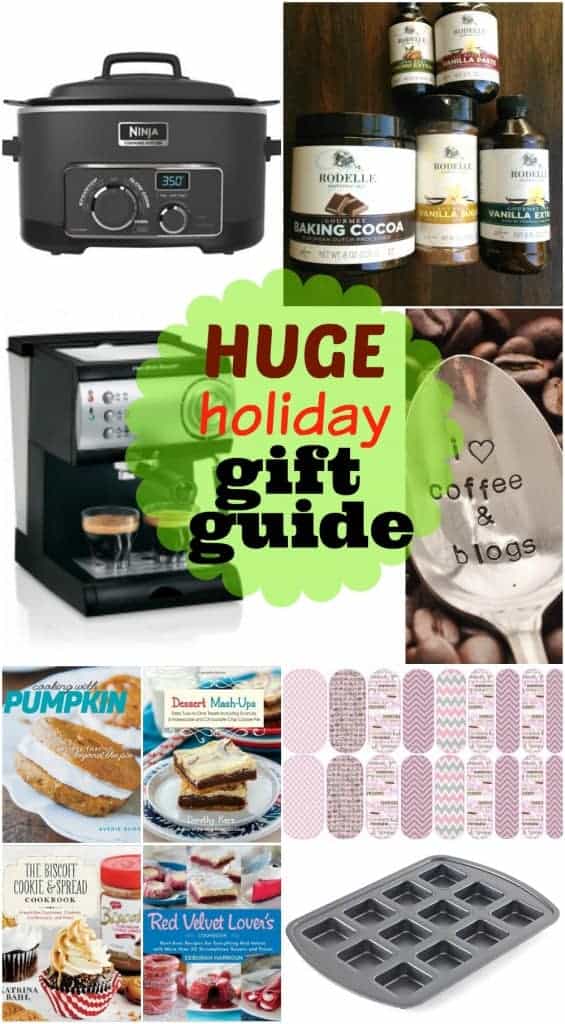 Each collage includes gift ideas that would be great if you just need one item, or order everything in the collage to make a great collection! I hope you enjoy this Holiday Gift Guide 2014!!
Be sure to check back later this week, I'll be hosting a HUGE giveaway with some of my favorite items from this list!!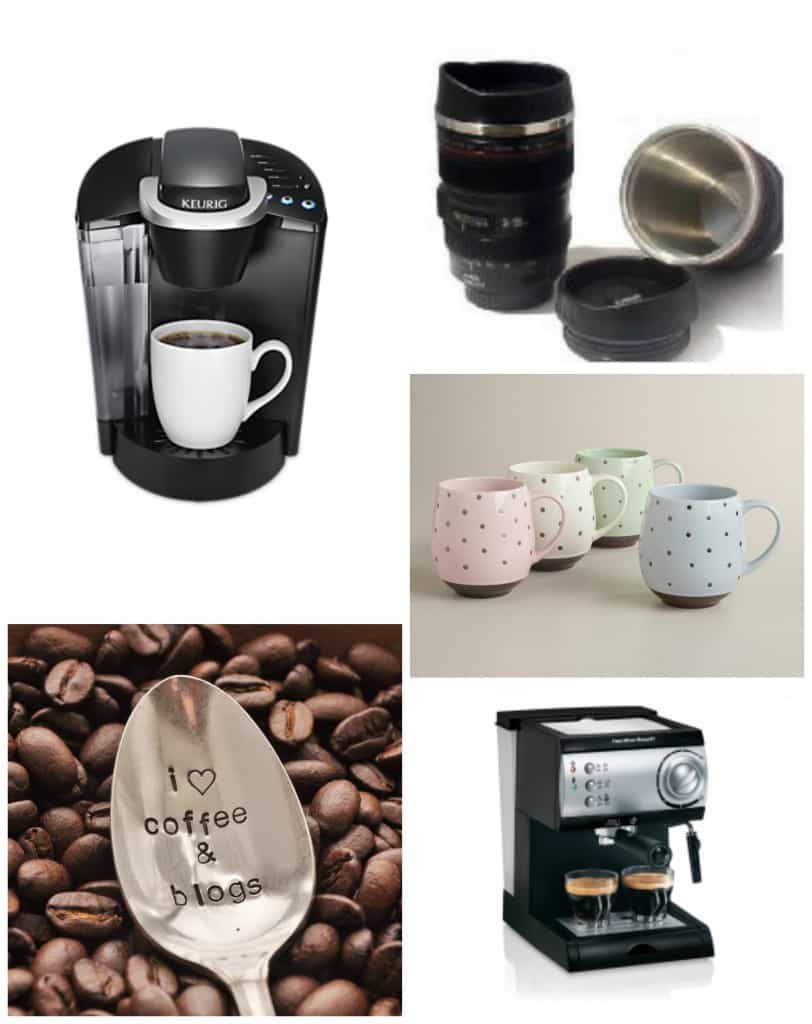 Of course my first collection is all about coffee! Surprised?
1. Keurig
. I couldn't survive without my Keurig. #firstworldproblems In all seriousness, a Keurig is a must have in all coffee lover's kitchens. Yes, I still have a coffee pot. But, while your coffee is brewing you can whip up a quick cup of joe. Oh, its afternoon? You don't want a whole pot of coffee? No problem for the Keurig! I gave one to my Grandma last year, she was pretty skeptical at first, but has recently told me how much she loves it!!
2. Camera lens coffee mug
How fun is this mug? The perfect gift for the photographer/coffee lover in your life!! This mug is on MY wishlist!
3. Dotted Coffee Mugs from World Market. I love these mugs. They would not only make a great Christmas gift. But also a great gift for a new parent. Cause what new parent doesn't survive on coffee (and the pastel colors just scream, welcome to the world of parenting)!!
4. Personalized Spoons from Jessica N Designs. I'm obsessed with this website. I want all the spoons. I bought the "i heart coffee & blogs" spoon, cause, duh. But the holiday ones are super cute too. Would be a fun hostess gift. Teacher gift. I'd love to get some to put on my holiday table this year! So very very fun! ***included in giveaway this week***
5. Espresso Maker from Hamilton Beach. I recently got this espresso maker to try out and see what I think of it. Well, it's safe to say we love it. My husband absolutely loves using this in the mornings. He can make a mean latte for me too!! ***included in giveaway this week***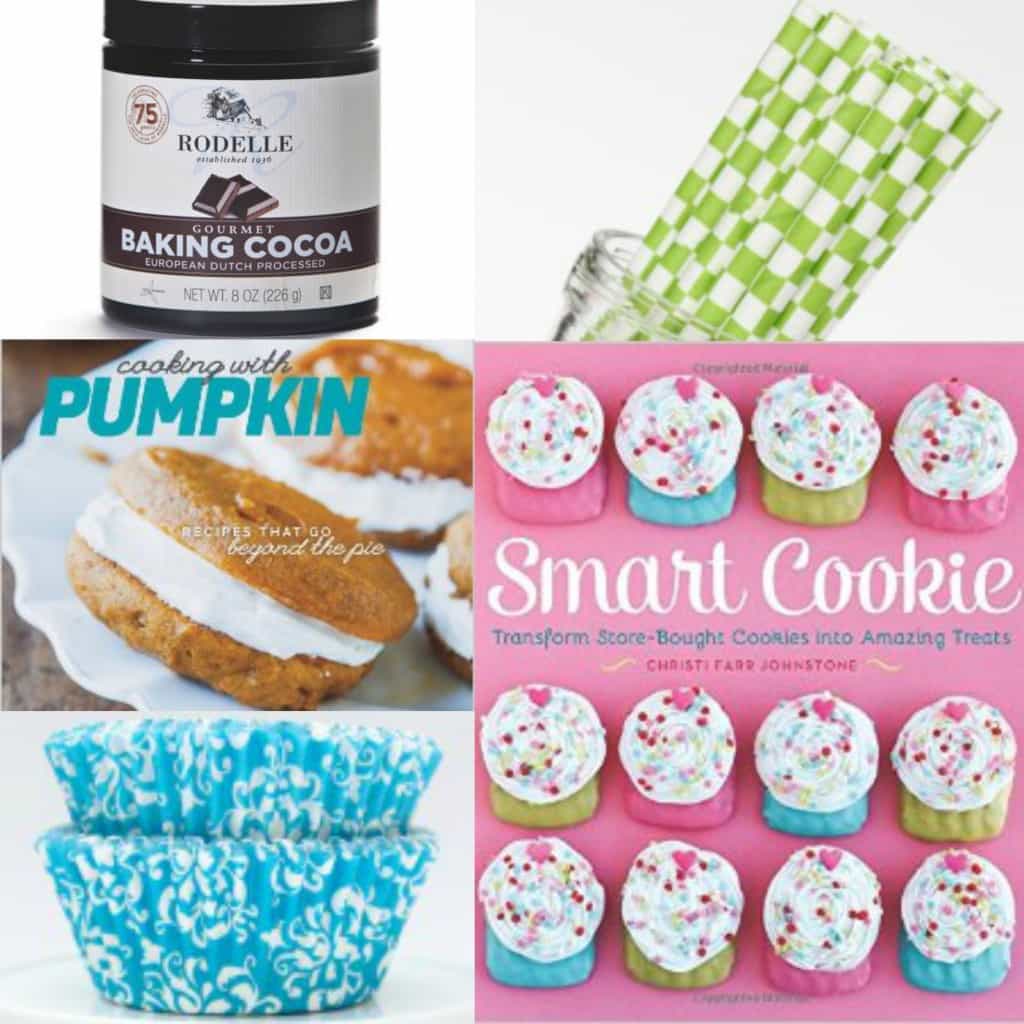 Is there a baker in your life? Or maybe you love to bake yourself? This group of gifts is for YOU!!
1. Rodelle Baking Cocoa. Hands down you guys, this is the best cocoa on the market, that's also reasonably priced. Most people think of Rodelle as vanilla makers…but their Cocoa is simply amazing. As you fill a gift basket for that special baker in your life, be sure to include some quality ingredients too, to get them started in the kitchen! ***included in giveaway this week***
2. Cooking with Pumpkin
by Averie Sunshine. I love this cookbook! I'm a bit pumpkin obsessed, so when one of my favorite bloggers put out a cookbook of ALL pumpkin, you can be sure I picked up a copy! ***included in giveaway this week***
3. Smart Cookie Cookbook
Take those store bought cookies and make something amazing!! Give this to the cookie lover in your life!
4. Sweets and Treats Boutique: Cupcake Liners and Paper Straws. I'm often asked where do I purchase my cupcake liners and paper straws. Sweets and Treats Boutique has been my go-to store for a couple years now. I love their cupcake liners. If you're tired of having to double line a cupcake because you can't see the cute print after baking, purchase some of these!! Only one liner needed, and you'll LOVE them!!!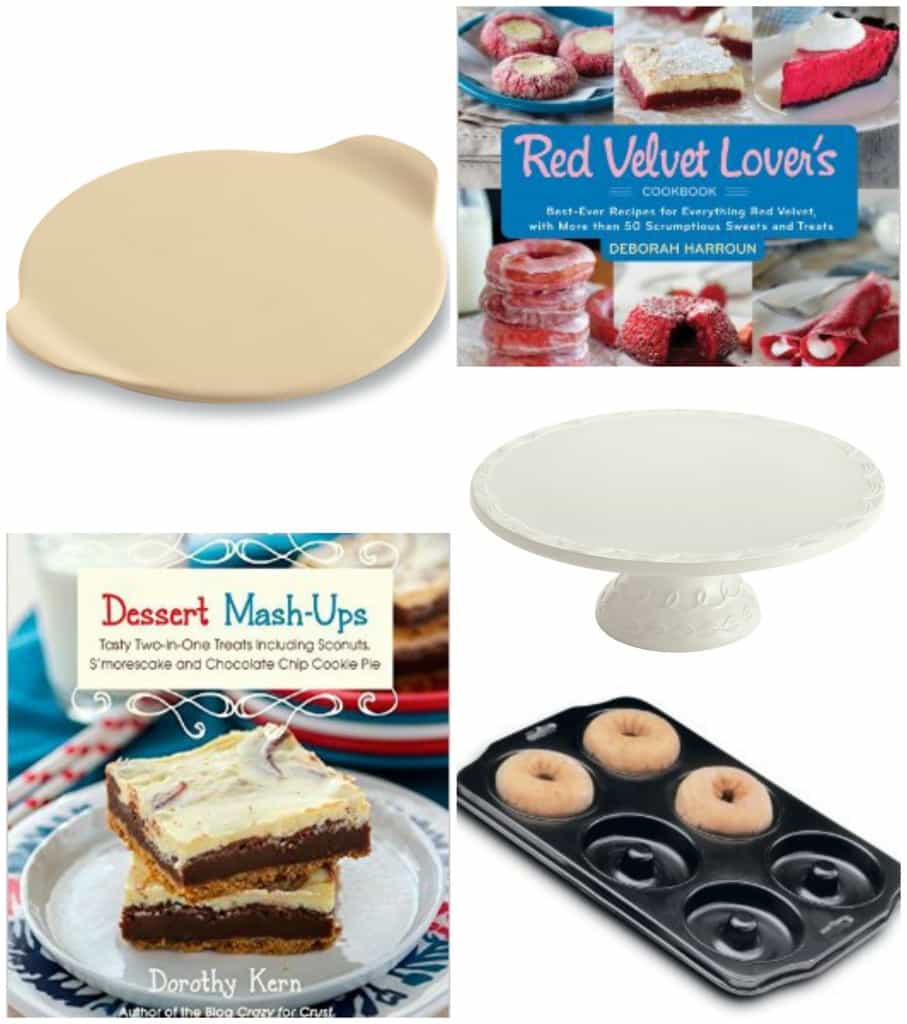 This collection is a fun one. Years ago I used to be a Pampered Chef consultant, so the pizza stone is a must have (I have two of them that have lasted me over 10 years now)! And look at the rest of the fun goodies in this collection!
1. Pampered Chef– large round stone. You guys. This is what I use to bake ALL of my cookies. And cookie cakes. And pizza of course. But mainly cookies! Makes a great gift too! **Pampered Chef product included in giveaway this week**
2. Dessert Mashups Cookbook
My good friend Dorothy from Crazy for Crust put out this awesome cookbook this year. I love everything in it. But it's no surprise since I love her blog too! I think you need to buy a cookie stone and this cookbook for yourself. Or someone else!! ***included in giveaway this week***
3. The Red Velvet Lover's Cookbook
Are you a lover of red velvet? Or do you know someone who can't get enough of it? Check out this awesome cookbook from a very talented blogger friend!! ***included in giveaway this week***
4. Still not sure what to get that baker in your life? Or looking for something fun for yourself? Cake Stand
are so fun to collect. I happen to have half a dozen, and this one is on my own wishlist. It's so pretty!!
5. Donut Pans
I've got a number of baked donut recipes on my blog, and I love having a couple of these donut pans in my cabinet!! Forget picking up donuts at the store when you make them even fresher at home!!!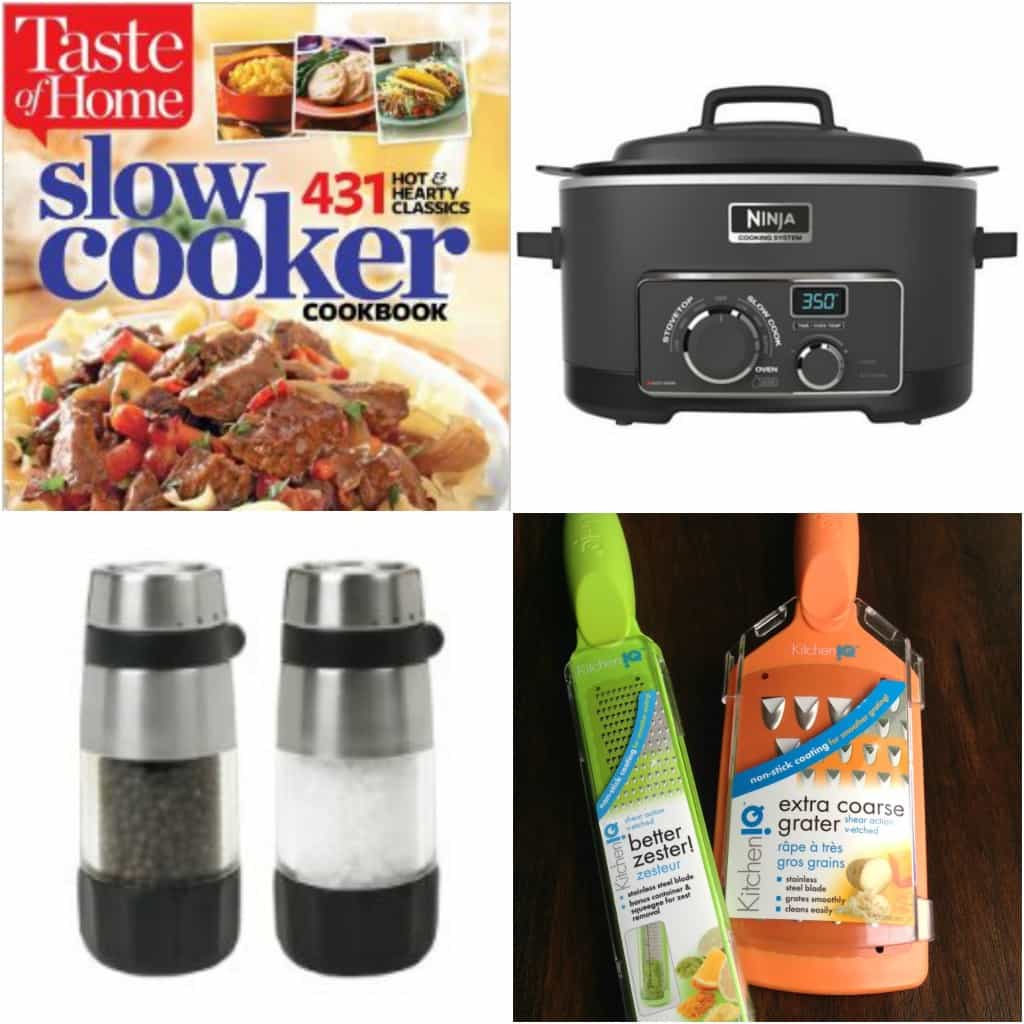 I love using my Slow Cooker, and I use mine all year long! Why not give the gift of stress free dinner to a family member or friend this year? Or how about asking for it for yourself? The above collection is a great start…just need the ingredients for the meal!
1. This huge Taste of Home Slow Cooker Cookbook
is one of my favorites! Every recipe I have tried has turned out awesome. I love how big it is too!! Worth every penny!
2. I have owned many slow cookers/crockpots and this Ninja Slow Cooker
is hands down my favorite! No liners needed because clean up is a breeze too!! ***included in giveaway this week***
3. OXO grinder set
No kitchen is complete without a salt and pepper grinder set. You'll love this one from OXO!!! So pretty too!
4. Kitchen IQ grater and zester
I have a set of these, and I love them! They stay sharp, come with a protective color, and grate and zest like a champ!!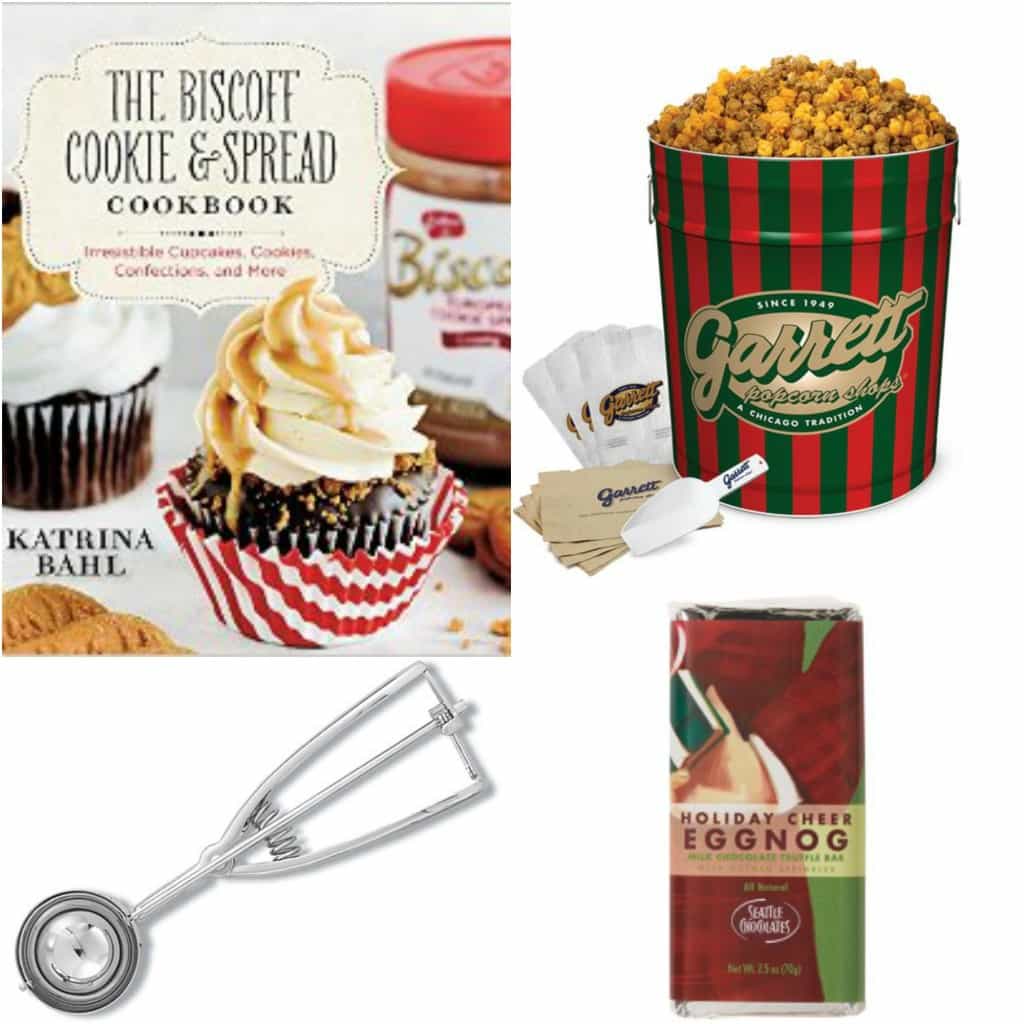 Another foodie gift collection. A delicious Biscoff cookbook, my favorite cookie scoop and some Popcorn and Chocolate gift ideas for coworkers, bosses, family and friends!!
1. The Biscoff Cookie & Spread Cookbook
Do you have kids with peanut allergies? My friend Katrina put out this gorgeous Biscoff cookbook and every recipes makes me drool!! Plus, Biscoff is safe for those peanut allergy families, and it's pretty incredible too!! YUM!! ***included in giveaway this week***
2. Pampered Chef Cookie Scoop. I've bought a lot of scoops in my day…and these scoops hold up to the test! They come in different sizes and are great not only for cookies, but cupcake batter, pancakes and more! **Pampered Chef item will be included in giveaway this week**
3. Garrett Popcorn. If you're looking for the perfect gift for a coworker, boss, family or friend….send them a tin of this incredible Chicago popcorn!! Not only is the classic cheese/caramel mix amazing, but they have some new holiday flavors you may want to check out! You'll definitely score points with the boss if you send this. Promise!!
4. Seattle Chocolates. Want to score more points? Ship popcorn AND some of these chocolates. The truffle bars are amazing, as is this Eggnog chocolate bar!! SO fun and festive. AND…be sure to include the hashtag #chocolategives to help donate a serving of fresh food to someone in need. For every item purchased and every hashtag used, donations will be made on behalf of Seattle Chocolates. I love when gift giving becomes something even bigger!! This is some chocolate you will feel good eating!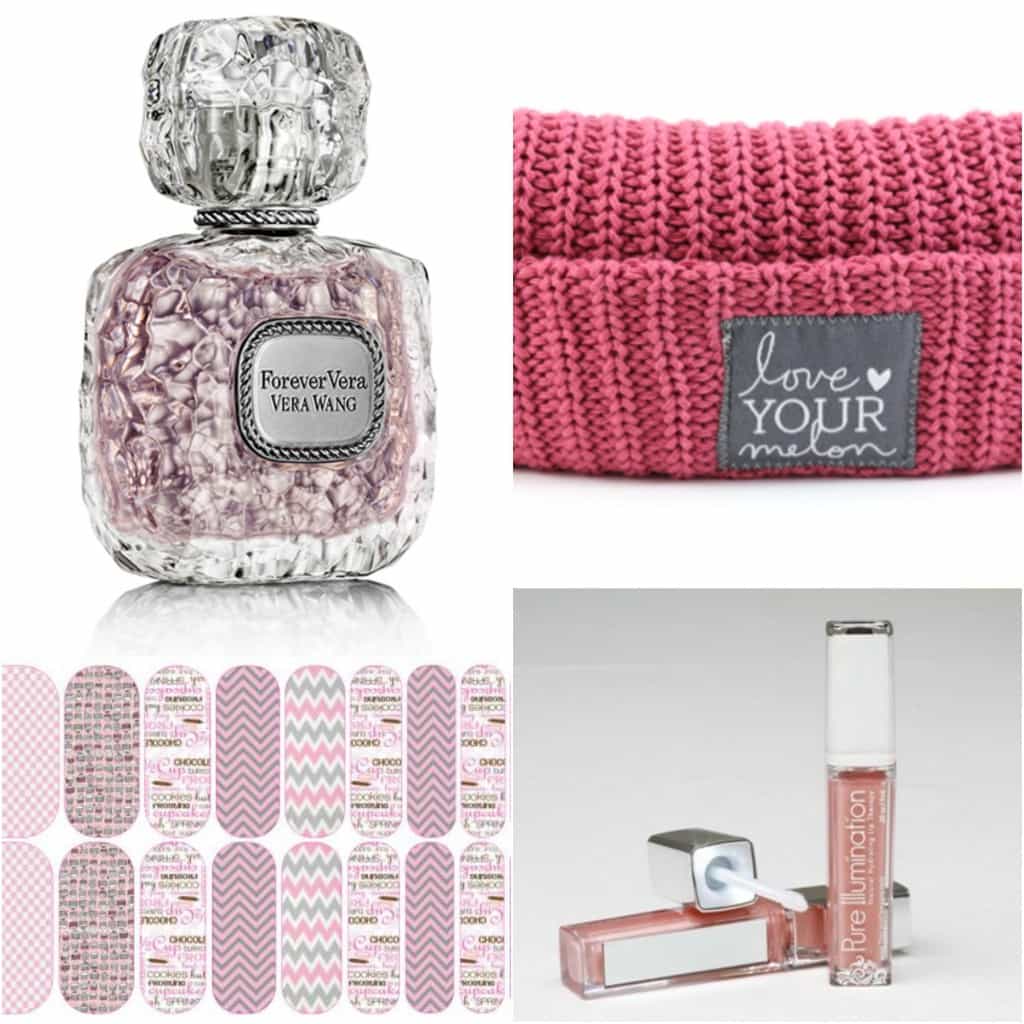 How about something girly. We foodie ladies are more than just food. We like to be pretty too! Haha!!
1. Forever Vera Wang Perfume from Kohls. Use that discount, Kohls card, or sale and pick up a bottle of this perfume. It's under $40 on sale, and oh my, that bottle, so pretty!!!
2. Love Your Melon. My daughter put these hats on her wish list this year. I had never heard of them. When I went online to look them up, you guys!! Another great cause. For every hat purchased, another one is donated to a child fight cancer! I love this!!! They have so many fun colors too, and there are other great products you can purchase! All for a good cause!
3. Jamberry Custom Nail Wraps. Have you tried Jamberry wraps yet? I am such a believer. I have very thin, brittle nails, and these wraps have totally strengthened and helped my nails grow. Plus they come in so many fun colors and styles, they make great stocking stuffers. Each wrap is enough for two manis and two pedis! Such a great deal. They always have a buy 3 get 1 free special going on too! This style pictured above is a custom wrap designed by my sister in law. There will be one up for grabs in my giveaway later this week. For now, got check out all the fun colors and styles, and order some today! ***included in giveaway this week***
4. Pure Illumination Lip Gloss
: This is by far my favorite lip gloss. Not only does it come in fun, pretty colors…but when you open it, there is a light! The bottle has a mirror on the side too….this is so handy!!!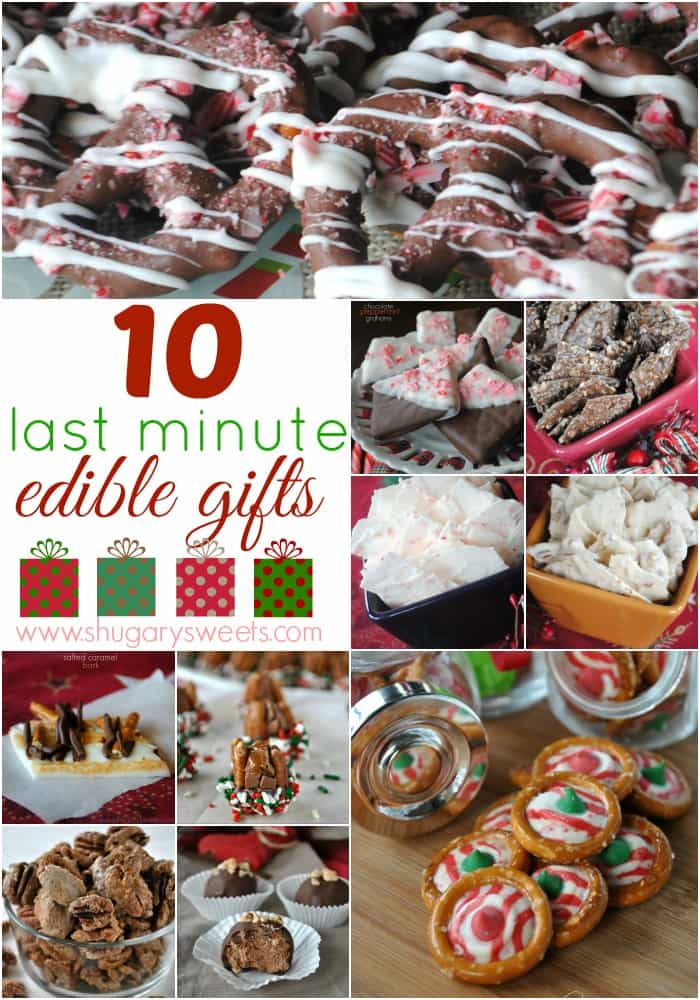 Finally. Are you just trying to save a little money this year? How about whipping up a batch of edible treats? These are TEN of my favorite last minute gift ideas!!! ENJOY!!!
I hope you all have a Blessed Holiday season. Happy Shopping and see you back here on Friday for one incredible giveaway!!!! Stay tuned!!
**Today's post has some affiliate links. See my disclosure page for more information. Thank you to everyone who clicks and reads my blog, I appreciate all your support. All opinions about these products are 100% my own!!**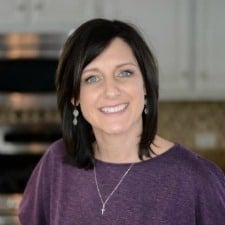 Aimee is a dessert lover (specifically rice krispie treats), workout enthusiast, self-taught foodie, and recipe creator. Her recipes have been featured in over 15 magazines, and her passion is to share her love of cooking with the everyday home cook! Learn more about Aimee.