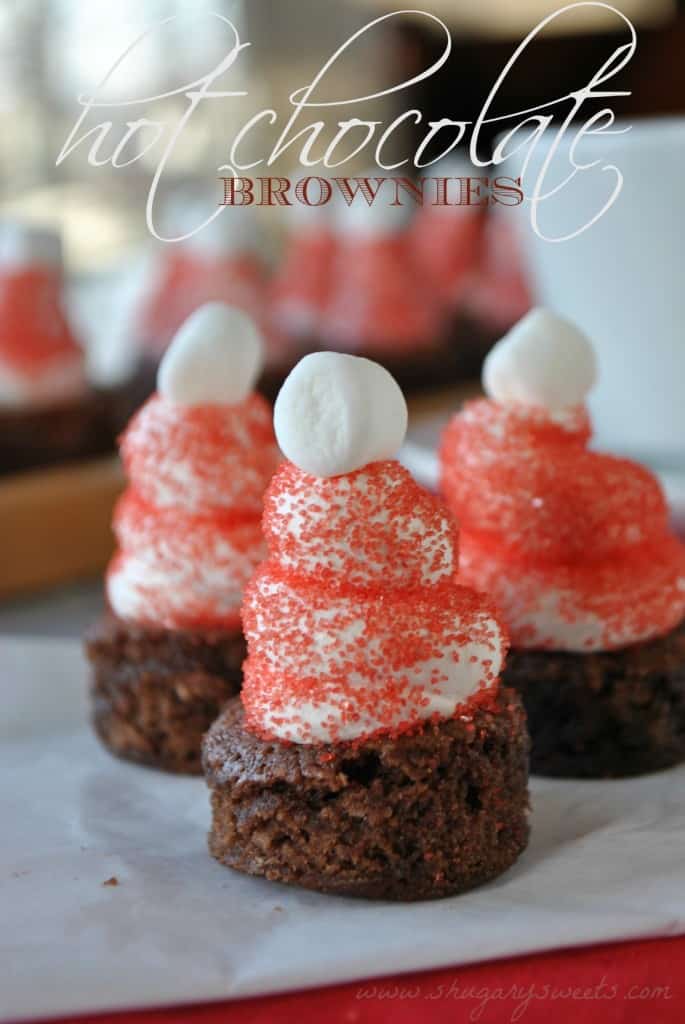 I know. Thanksgiving is in two days. I know you are frantically searching the web for the perfect turkey brine and sweet potato casserole.
But here's the thing. I'm not cooking this year. So, my mind is already focused on Christmas.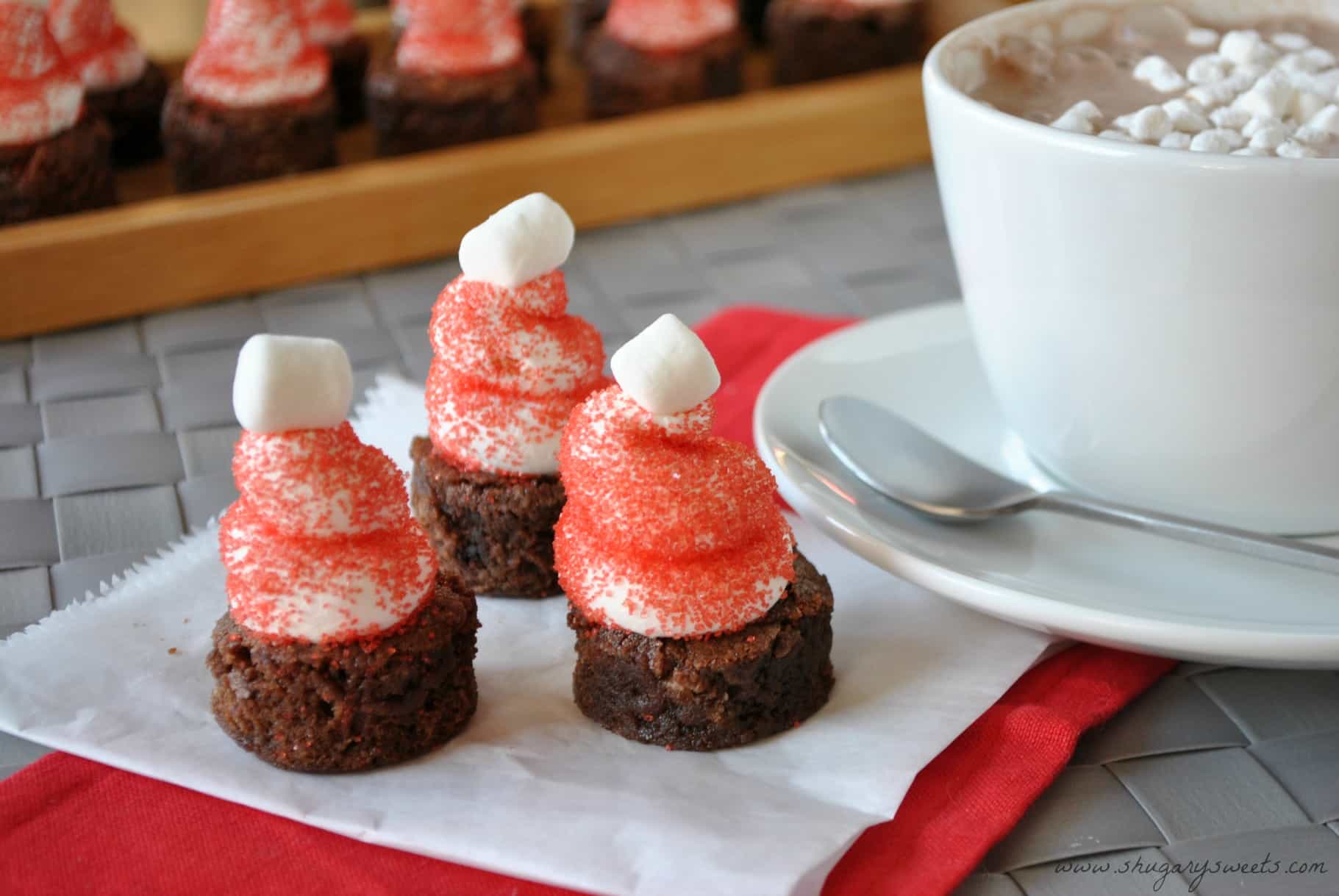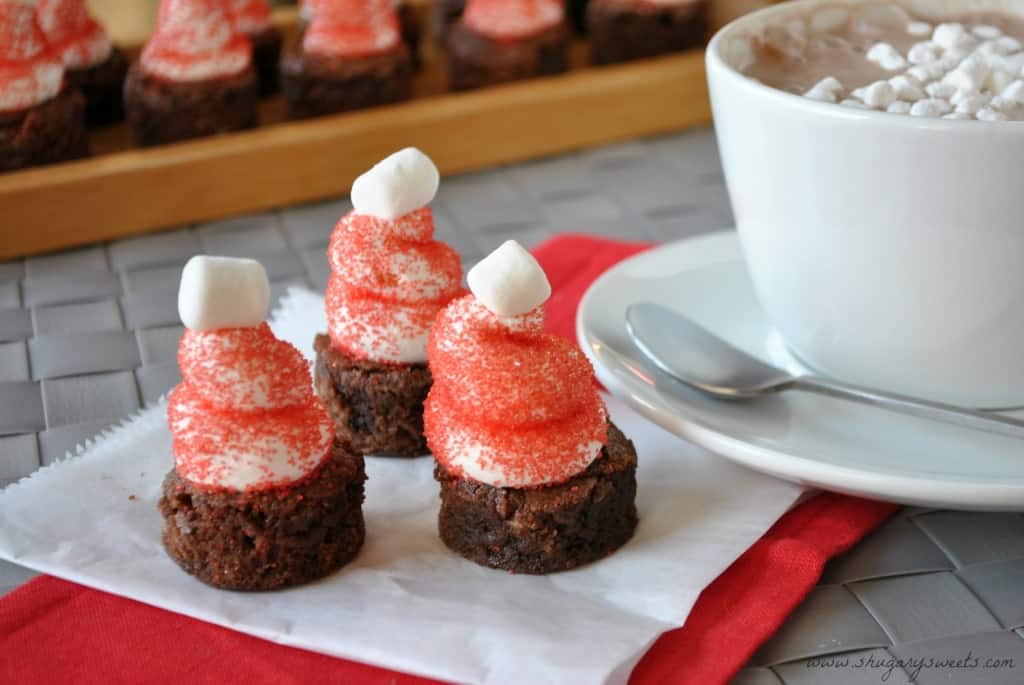 And I know there are some of you who don't live in the US, and don't celebrate Thanksgiving…so today, this post is for you!
These soft brownie bites are made with hot cocoa mix. And the frosting? It's Cool Whip Vanilla Frosting. Have you tried this yet? Seriously good. And totally easy.
The creamy cool whip is a perfect pair with the hot cocoa brownies. And I think Santa would approve, yes?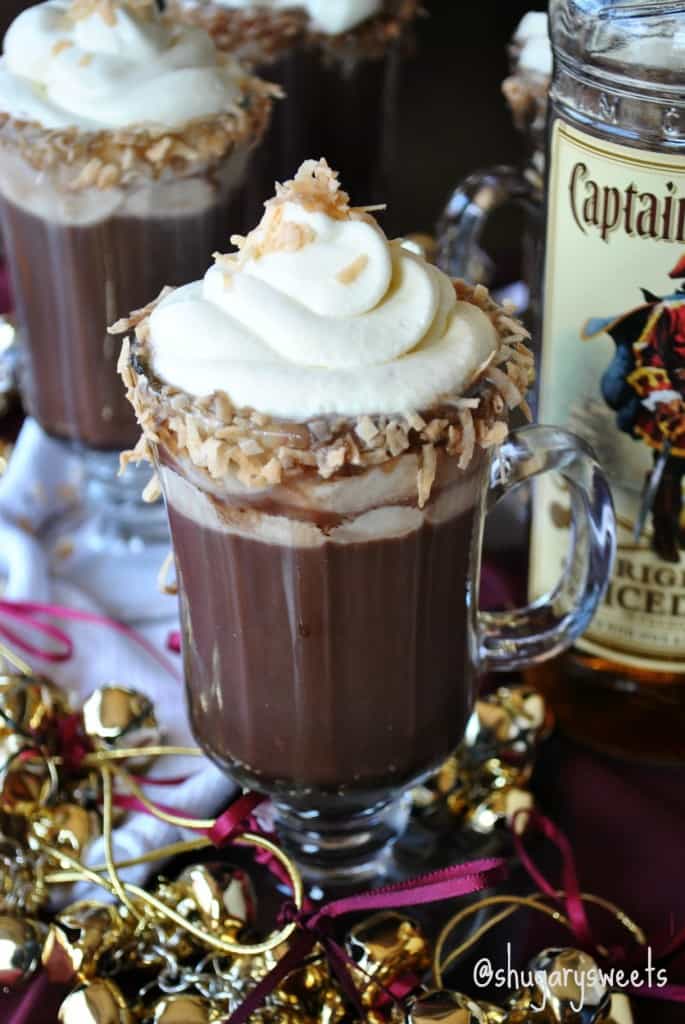 If you enjoyed this Hot Chocolate Brownie recipe, you may also enjoy these recipes….
 Pumpkin Pie Cupcakes with Cool Whip Frosting– perfectly spiced pumpkin cupcakes topped with a cinnamon spiked Cool Whip frosting! by Shugary Sweets
Mexican Hot Chocolate Cookies– these just look perfect, and sound amazing too! by Heather's Dish
Hot Cocoa Cupcakes– the most adorable chocolate cupcakes with Cool Whip, and cute peppermint garnish! by Hoosier Homemade
Yield: 30-36 brownie bites
Hot Chocolate Santa Hat Brownies
Ingredients
1 1/4 cup granulated sugar
1 cup flour
1/2 cup Swiss Miss milk chocolate hot cocoa mix
1/4 cup unsweetened cocoa powder
3/4 cup unsalted butter, melted
3 eggs
1 tub (10.6oz) Vanilla Cool Whip Frosting, thawed
sprinkles
mini marshmallows
Instructions
In a large mixing bowl, blend the sugar, flour, hot cocoa, cocoa powder, melted butter and eggs together. Mix until completely combined.
Line a 13x9 baking dish with parchment paper. Pour batter into parchment paper. Bake in a 375 degree oven for 22-25 minutes. Remove and cool completely.
Remove brownies from pan by lifting parchment paper. Place on cutting board. Using a 1 1/2 inch circle cookie cutter, cut brownies (save scraps in freezer for trifles!). Top each brownie with a swirl of Cool Whip frosting. I put my frosting in a pastry bag with an open tip and piped it onto each brownie. Immediately sprinkle with red sugar. Top with one mini marshmallow.
Eat immediately or store in refrigerator until ready to serve. ENJOY!