Hot Jalapeno Corn Dip is the perfect spicy snack for a tailgating party, movie night or potluck. It's easy to make with plenty of gooey cheese and just the right amount of heat!
A party isn't a party unless you have a few hot dips on the snack table. Everyone loves this Spinach Artichoke Dip and this easy Rotel Dip too.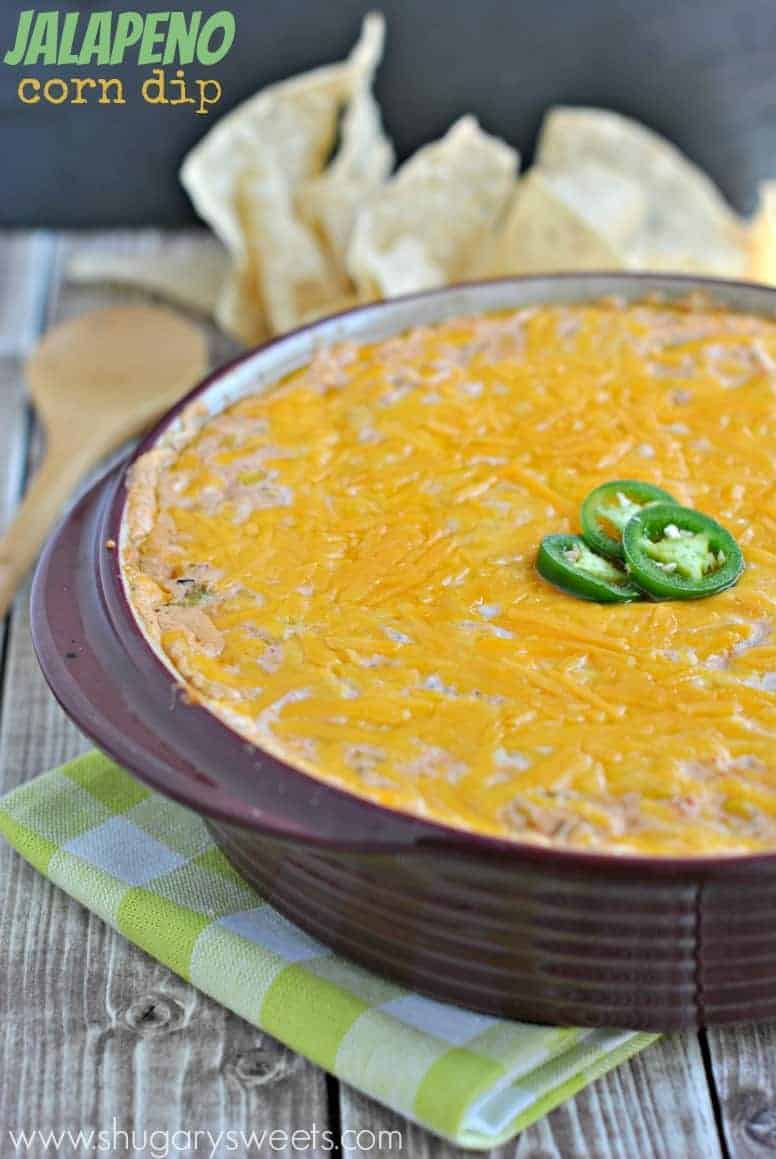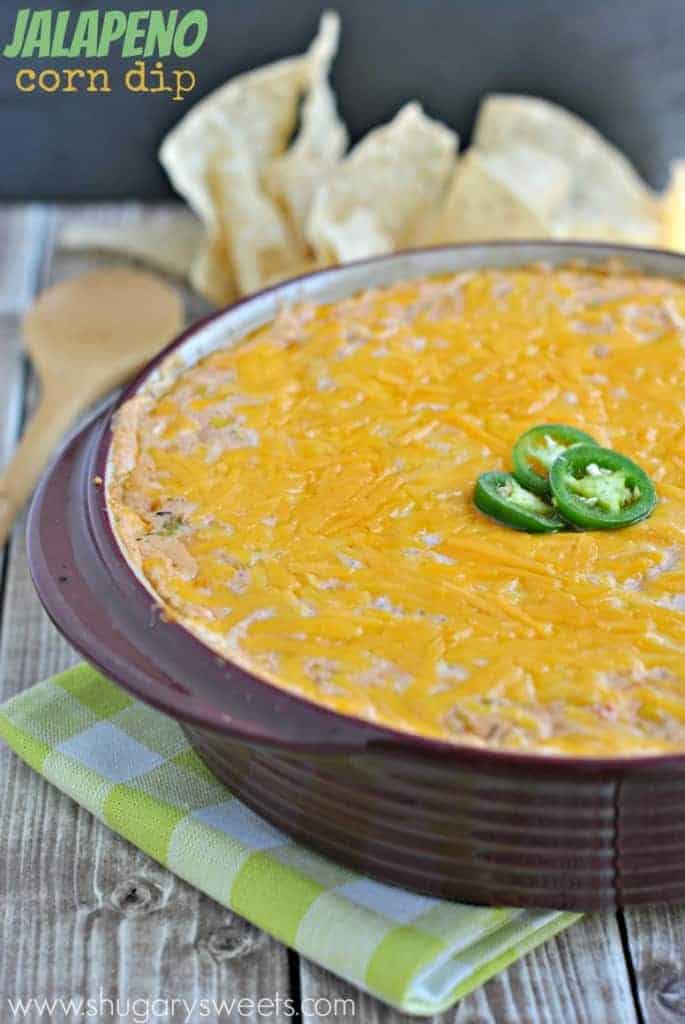 Why this Recipe Works
I'm always on the hunt for new snacks to serve at parties. Now that we are back home to Chicago, the weekends are regularly filled with visits with family and friends. And I try to never show up empty handed!
This recipe is based off one of my favorite dips: Jalapeño Corn Dip.
I swapped the sweet corn in the original recipe for Fiesta Corn to give it more color and flavor.
This hot dip has cream cheese instead of mayo for added tang.
Make it in the microwave or the oven! It's delicious both ways.
Ingredient Notes
Cream cheese and sour cream provide the base for this Hot Jalapeno Dip.
Salsa. You can use any kind of salsa you like here! The spicier the salsa, the spicier the finished dip will be.
Seasonings. A little garlic powder and ground black pepper add the perfect "oomph" of flavor.
Fiesta style corn. This canned corn that includes chopped red and green peppers. If you can't find it, feel free to use regular canned or frozen sweet corn instead.
Jalapeño. I use two peppers with the seeds removed. If you want a spicier dip, you can leave in some of the seeds—that's where all the heat is!
Cheddar cheese. Freshly shredded cheese melts quicker and smoother than packaged shreds. Buy the cheese in blocks, and shred it yourself before adding to the recipe.
Tips and Tricks
Making Hot Jalapeno Corn dip is as easy as mixing your ingredients together and heating until smooth and melted. jalapeño
Oven method: Bake the dip in a 1 qt. baking dish until hot and bubbly. This takes about 30-35 minutes.
Microwave method: For quicker preparation, heat the dip in a microwave safe bowl in the microwave for a few minutes until the cheese is melted. .
I like to reserve half a cup of cheese to sprinkle over the dip as the top layer right before eating. The melted cheese on top makes jalapeno dip looks extra delicious!
Recipe FAQs
What can I serve with Hot Jalapeno Corn Dip?
Serve this hot dip with tortilla chips, corn chips and crackers. It's also delicious as a dipper for bread and rolls.
Can this dip be made ahead of time?
Yes, you can assemble the dip up to 24 hours ahead of time. Store it covered in the fridge and heat just before serving.
Is it spicy?
The great thing about homemade dip is that you determine how spicy you want it to be. For a less spicy jalapeño dip, use a mild salsa and add less jalapeno.
If you want it to be spicier, use a salsa with more heat. Or add a few drops of your favorite hot sauce!
How do I store leftovers?
Leftover dip should be stored in an airtight container in the refrigerator. Reheat to remelt the cheese before serving.