Irish Banana Cream Pie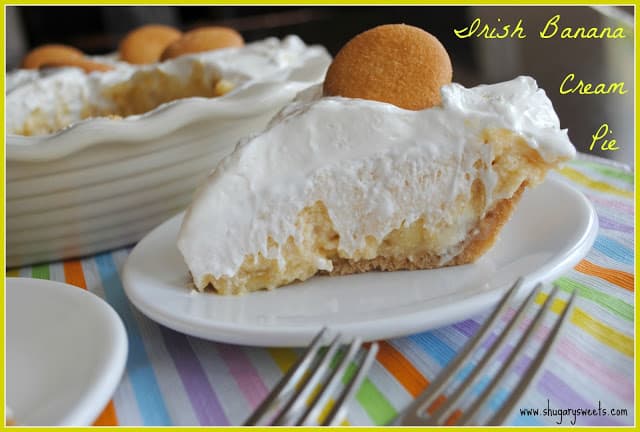 Happy "PI" Day! Did you notice there was no "e" on Pi? Yeah, my little math geek friend, Dorothy, invited me to be a part of this "pi party."
What? An excuse to make pie? Count me in!
My biggest struggle was trying to figure out what kind of pie to make. I wanted to do something for St.Patrick's day, so I was thinking something green, like Grasshopper. But then I still had this open bottle of Irish Whiskey from making these Boozy Brownies, and I knew the extra bananas on my counter would be a perfect fit!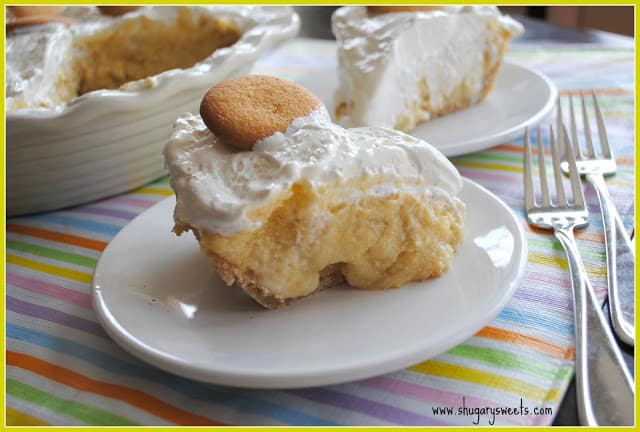 I also had a box of Nilla Wafers hidden in my pantry (along with some Oreos, m&m's, and other goodies). Does anyone else hide food?
I used the Nilla Wafers for the crust, and it was perfect!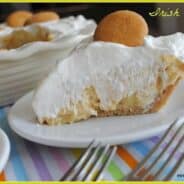 Irish Banana Cream Pie
Ingredients:
For the Crust:
1 1/2 cup Nilla wafer crumbs (see note)
For the Filling:
1 1/2 cup white chocolate, chopped
1/3 cup Bailey's Irish Cream
1 box (3.5 oz) Instant French Vanilla pudding
For the Topping:
8 whole Nilla Wafer cookies, for garnish
Directions:
For the crust, pulse Nilla wafers in food processor to make crumbs (see note below). Pulse in the sugar and melted butter. Press crumb mixture into bottom of 9inch pie pan. Bake in a 350 degree oven for 8-10 minutes. Remove and cool.
In mixer, beat heavy cream until stiff. In small saucepan melt white chocolate with Bailey's until smooth. Fold into heavy cream.
In small bowl whisk the pudding mix and the milk together. Pour into Bailey's and cream mixture.
To assemble, slice bananas and lay on bottom of crust. Pour pudding mixture over bananas and top with cool whip. Refrigerate 4 hours or overnight. Garnish with remaining cookies, slice and enjoy.**Note: To get about 1 1/2 cup of crumbs I used about 1/3 of a 12oz box of Nilla Wafers.
MAKING THIS RECIPE? Share it with me on Instagram using the hashtag #ShugarySweets so I can see what you're cooking up in the kitchen!