Layered S'mores Brownies with PEEPS Giveaway
Easter is only a week and half away! Are you ready?? Well these cute Layered S'mores Brownies with PEEPS might help get you ready!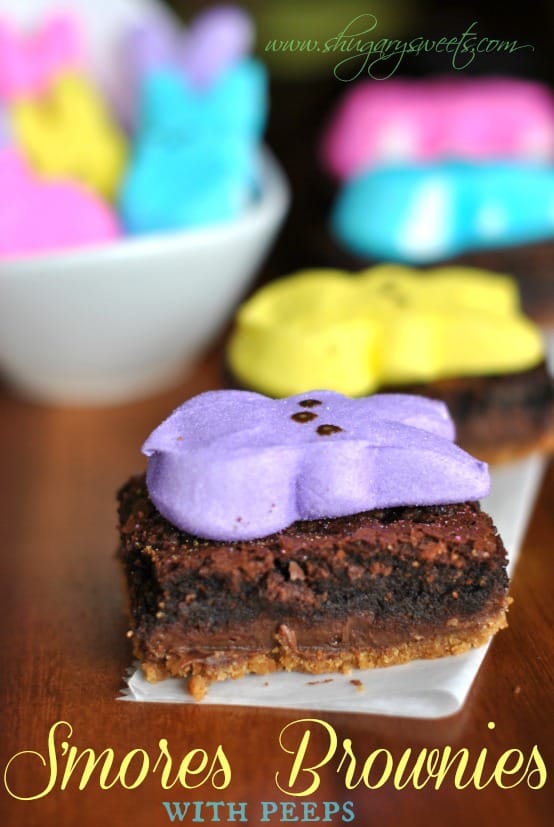 When I was a kid we always had PEEPS in our Easter baskets. The marshmallow oozed out and stuck to the jelly beans and plastic green grass. But it was fine with me because the PEEPS were the last thing I ate.
Why? I like them stale.
Weird, right?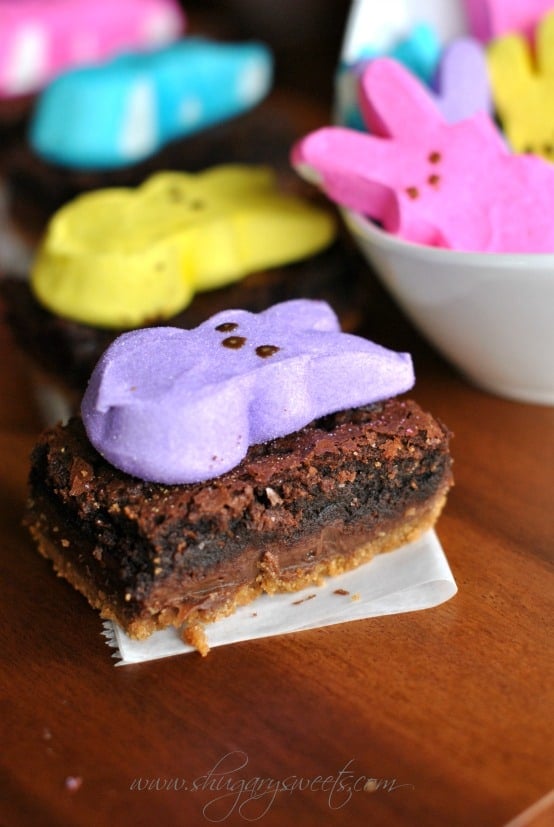 But in this recipe they are best fresh. So don't be pulling out your stale PEEPS for these brownies!
Speaking of these brownies, lets talk about the layers for a minute.
Last year I made some Chocolate Chip Toffee Fudge Bars. They had a delicious crust with a layer of fudge. So I decided to use that same crust theory on some brownies. Then it occurred to me that these brownies needed marshmallows! That's where the PEEPS came into play and the S'mores brownies became a reality!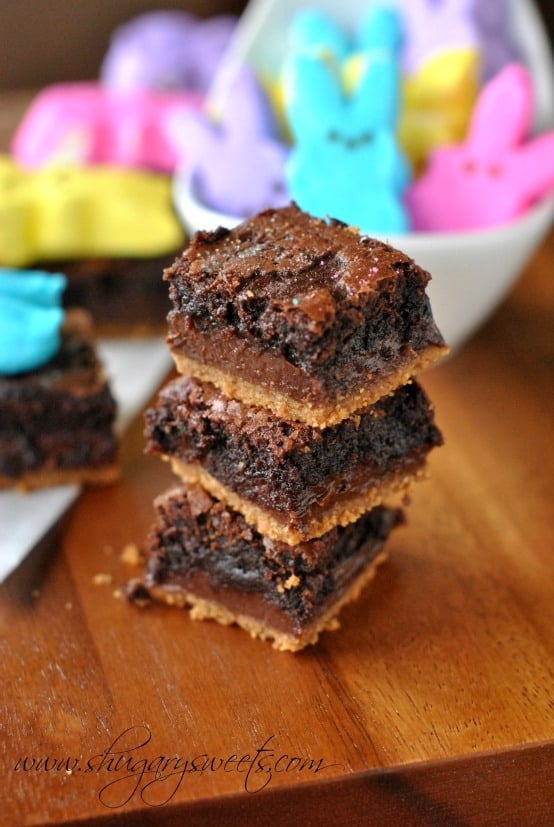 These brownies have a delicious graham cracker crust and a layer of rich chocolate fudge. They are then topped with some fudgy brownies (not cake-like please).
A PEEP sits on top of these cuties not only for the Holiday appeal but for the added marshmallow flavor! YUM. Be sure you scroll down to the end of this post for the recipe!!
Yield: 20 brownies
Layered S'mores Brownies with PEEPS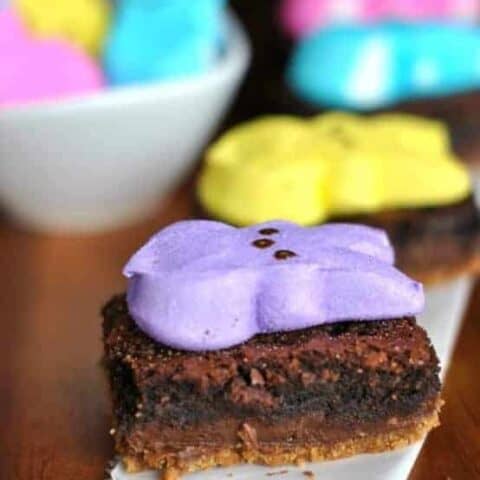 Easter is only a week and half away! Are you ready?? Well these cute Layered S'mores Brownies with PEEPS might help get you ready! Plus there is a PEEPS prize to win today too!
Ingredients
For the Crust:
2 cup graham crackers (about 13 whole grahams),
1/2 cup unsalted butter, melted
For the Fudge Layer:
1 can (14oz) sweetened condensed milk
1 bag (11.5oz) milk chocolate morsels
1 Tbsp unsalted butter
For the Brownies:
1 box (18.3oz) fudge brownie mix (I used Duncan Hines chewy fudge brownies for 13x9 pan)
20 PEEPS
Instructions
In a food processor, pulse grahams until fine. Add melted butter with a fork and press into the bottom of a parchment paper lined 13x9.
In a medium sized glass bowl, heat condensed milk in microwave for one minute. Add butter and milk chocolate morsels and return to microwave for 30 seconds. Stir until smooth (may need to heat an additional 30 seconds). Pour over graham crust.
Prepare brownie batter according to package directions (don't bake yet). Make sure you buy a brownie mix for a 13x9 recipe, and make the fudgy version (not cake-like). Pour brownie batter over fudge layer.
Place in a 350 degree oven for 35-40 minutes. Remove and press PEEPS into top, 5 across, 4 down. Allow brownies to cool completely in pan. Remove with parchment paper and cut into rectangles. ENJOY.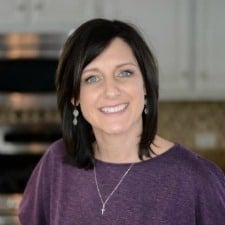 Aimee is a dessert lover (specifically rice krispie treats), workout enthusiast, self-taught foodie, and recipe creator. Her recipes have been featured in over 15 magazines, and her passion is to share her love of cooking with the everyday home cook! Learn more about Aimee.