Sweet Lemon cupcakes pair marvelously with anise extract. If you have a licorice lover in your family, you've GOT to make these Lemon Licorice Cupcakes.
Be sure to follow me on Bloglovin'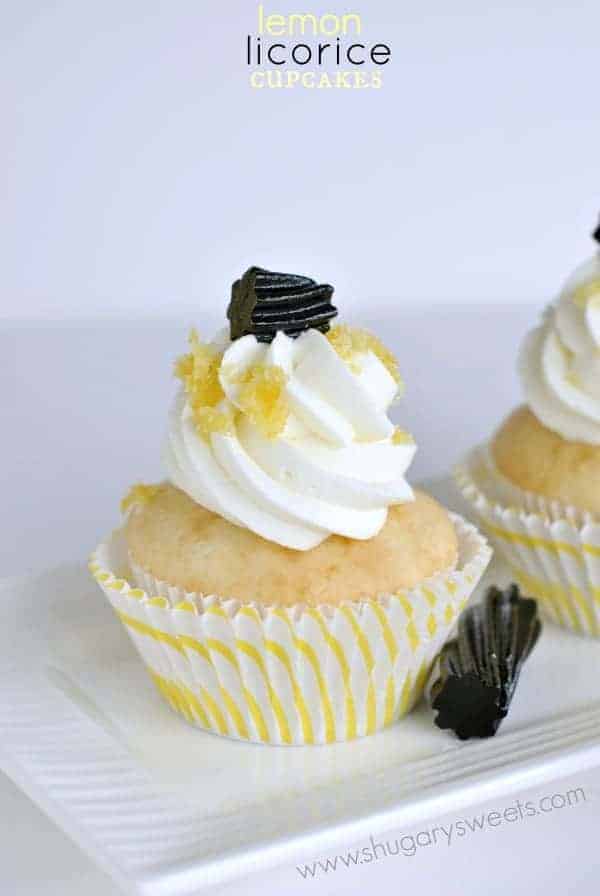 This is a very bittersweet post for me. Not because I've combined lemon and licorice (get it, bitter-sweet)…but because I'm in the process of saying goodbye.
Saying goodbye is not one of my strengths. Although, that's probably a good thing right?
This is where moving gets hard. You build friendships and make connections and then it's time to move. Granted we live in a day and age where keeping in contact is so much easier. But, being physically apart from people is hard.
Especially when it's friends that you see regularly. I've mentioned my friend Pilvi here on the blog (remember this Swedish Almond Cake and Blueberry Tart)? She has been my walking buddy, listening post, and Bible Study partner for several years! Her friendship (along with many others) is what has made the distance from family a little easier.
Last year when I was writing my Frosting Cookbook proposal, I had asked a bunch of friends some of their favorite frosting flavors. My friend Pilvi came up with today's flavor.
I find it only fitting, that as I say goodbye to this part of my life, I give a special shout out to her and this awesome flavor combo!
Now, I know there are a lot of licorice lovers out there like me. And I know many of you may be skeptical about this recipe. But from what I've learned, lemon and licorice are paired often in countries outside of the US. They are so smart.
One bite of this cupcake and you'll wonder why this flavor hasn't taken off here yet. But I hope to change that!
Have a licorice lover in your life? Give them the gift of these cupcakes. It's the right thing to do!!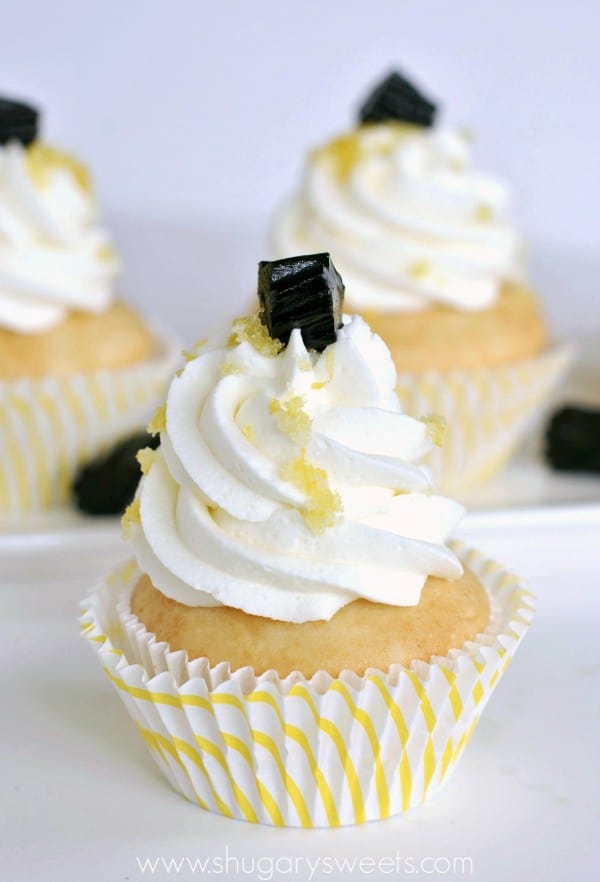 Connect with Shugary Sweets! Be sure to follow me on my social media, so you never miss a post!
Pinterest | instagram | Bloglovin'
Yield: 24 cupcakes
Lemon Licorice Cupcakes
Ingredients
1 batch [lemon cupcakes], prepared and cooled
1 cup unsalted butter, softened
1/2 cup heavy cream
5 1/2 cup powdered sugar
1 1/2 tsp anise extract
3 Tbsp granulated sugar
3 lemons, zested
black licorice pieces
Instructions
Prepare and cool cupcakes according to [directions]
In a large mixing bowl, beat butter, heavy cream, powdered sugar and anise extract for 3-5 minutes on medium high, until light and fluffy.
Spoon frosting into a piping bag (I used tip 6S) and pipe onto cupcakes.
In a small bowl, combine granulated sugar with lemon zest. Sprinkles over frosted cupcakes and top with a piece of black licorice.