Deliciously, easy Lemon Poke Cake made with a cake mix, lemon gelatin, homemade lemon curd, Cool Whip and some Nilla wafers! YOU WANT THIS. Today!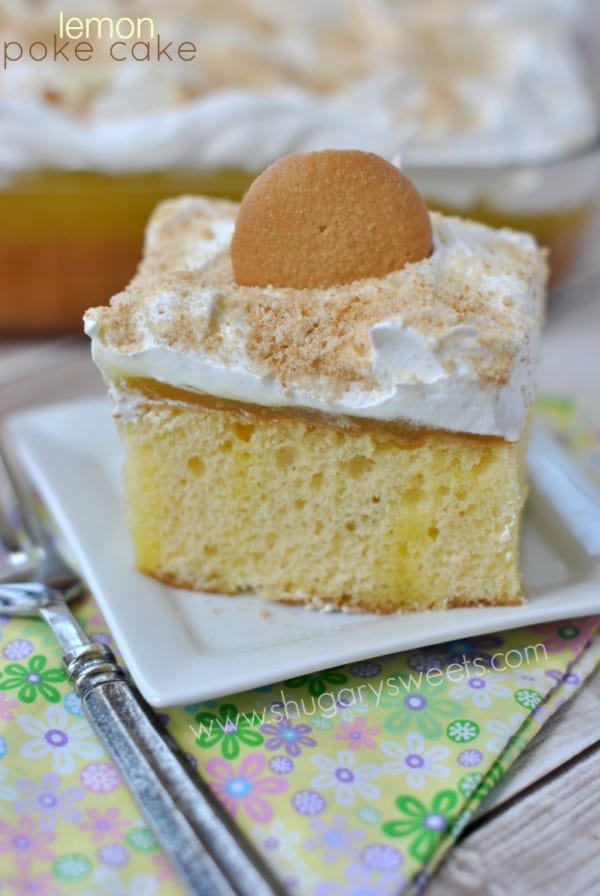 Making a poke cake is seriously one of the easiest things to bake for dessert. And they are perfect for bringing to potlucks, bbq's, and summer picnics! Everyone loves them!
If you're asking yourself, "what is a poke cake" let me tell you this, there are many answers to that question. Depending on who you ask!
Poke cakes are typically made using a boxed cake mix and a 13×9 baking dish. While the cake is warm out of the oven, you can do SEVERAL things: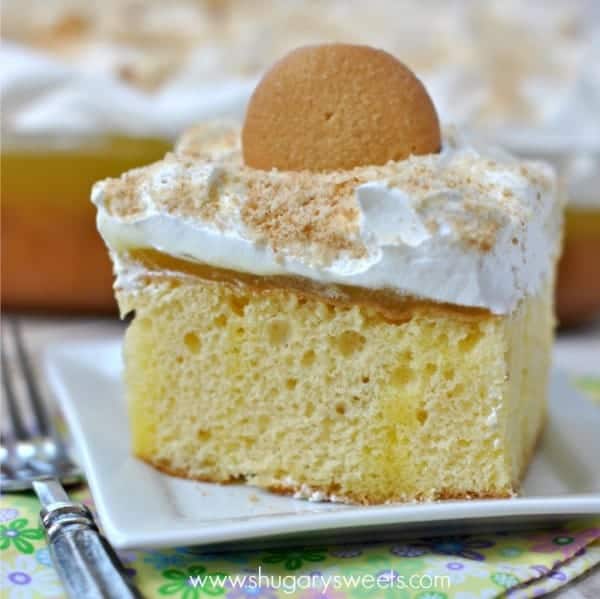 Growing up, my family always chose the last option. Adding gelatin. It's a perfect spring/summer treat! Growing up with a summer birthday, this was one of my favorite cakes. I LOVE frosting, but in the summer, this light and moist gelatin cake topped with Cool Whip is just PERFECT.
Lemon desserts are quite possibly my favorite type. I would choose a lemon treat over a chocolate treat. Is that odd? Anyone else with me on this?
By adding the lemon gelatin to the cake it makes it so flavorful and moist. Light and fluffy with a lemon twist!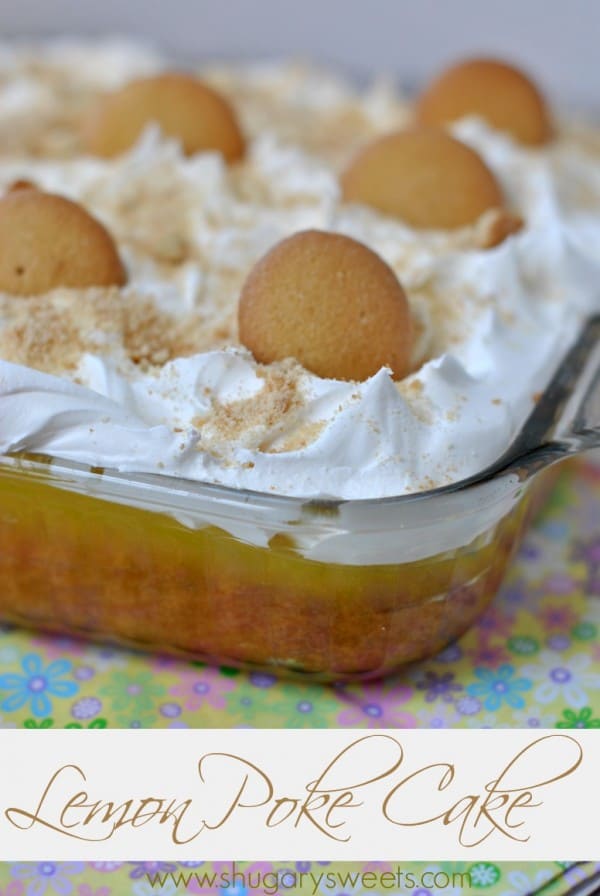 But I took it a step further. I made a batch of homemade Lemon curd. Have you made this before? It's really very easy. You can make this in advance so it's ready to use when you're ready to eat!
This poke cake needs to be refrigerated for about 4 hours after adding the gelatin. This gives the cake time to cool, and allows the gelatin to firm up. You can make it the night before and refrigerate overnight too! When you are ready to serve (or the day of) spread your homemade lemon curd over the top of the cake and then top it with Cool Whip. I added some crushed (and whole) Nilla Wafer cookies for a final touch to this cake!
Now, if any of you are a little worried (or hurried) to make this and want to skip the lemon curd part, I get it. Instead, you can substitute Lemon pudding. I've done this too. So after your cake has been poked, and your poured your gelatin on it, make up a quick batch of instant lemon pudding. Spread that over the top. Refrigerate the whole cake for 4 hours, or overnight. The gelatin will set nicely, and the top will have a delicious layer of lemon pudding. Some of which may have seeped into the cake, and that's totally COOL. Trust me. Top this with your Cool Whip and Nilla Wafers and you've still got a great Poke Cake recipe to share with family and friends! ENJOY.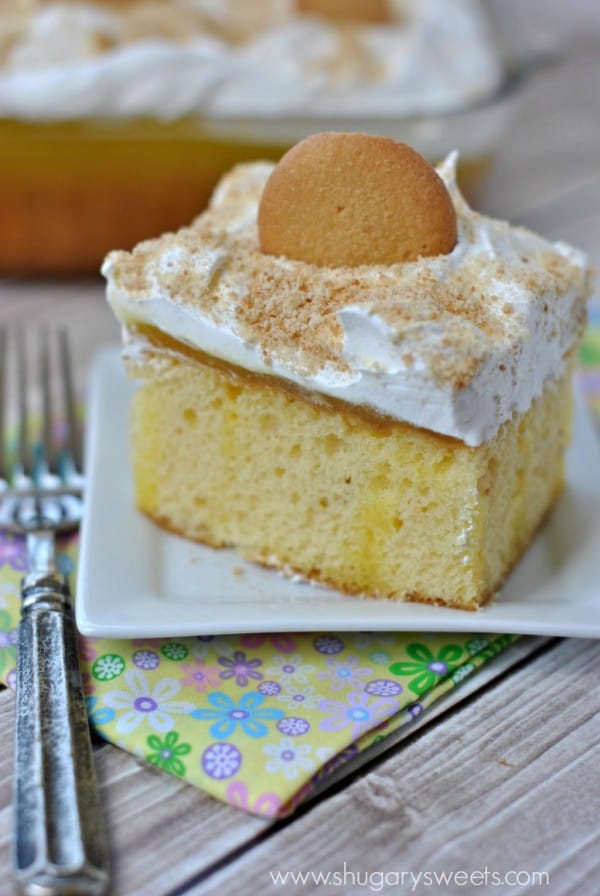 Connect with Shugary Sweets! Be sure to follow me on my social media, so you never miss a post!
Facebook | Twitter | Pinterest | instagram
MORE Lemon Desserts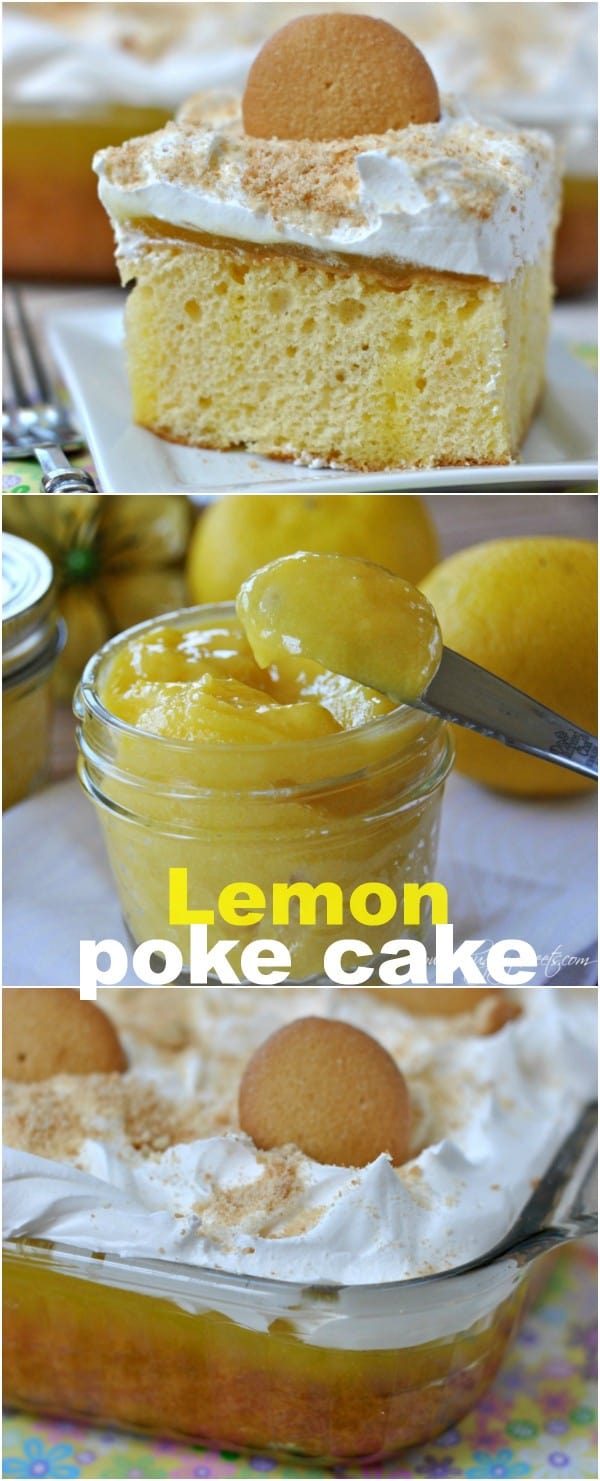 Obsessed with Lemon like me? Here are a few great desserts: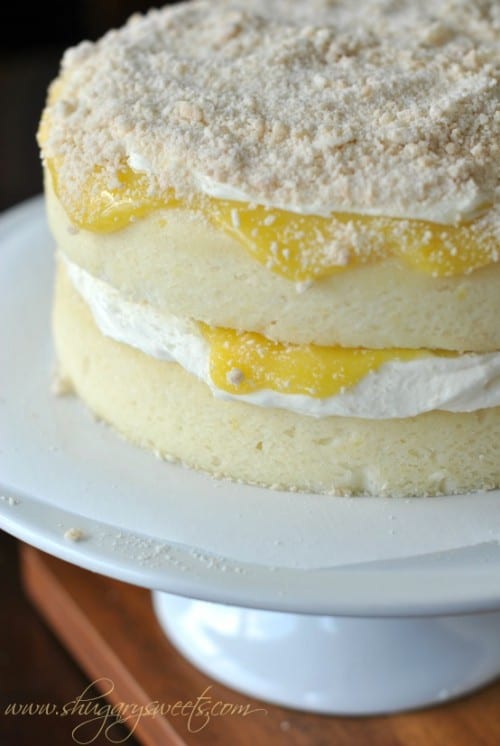 Lemon Cake with Creamy Filling and Lemon Curd
Gooey Lemon Cake Bars: an easy cake mix recipe!