This Loaded Potato Salad is full of cheese, bacon and green onions! A satisfying, flavorful side dish the whole family will love.
Serve today's potato salad along with BBQ Jackfruit Sliders for a hearty crowd pleasing meal.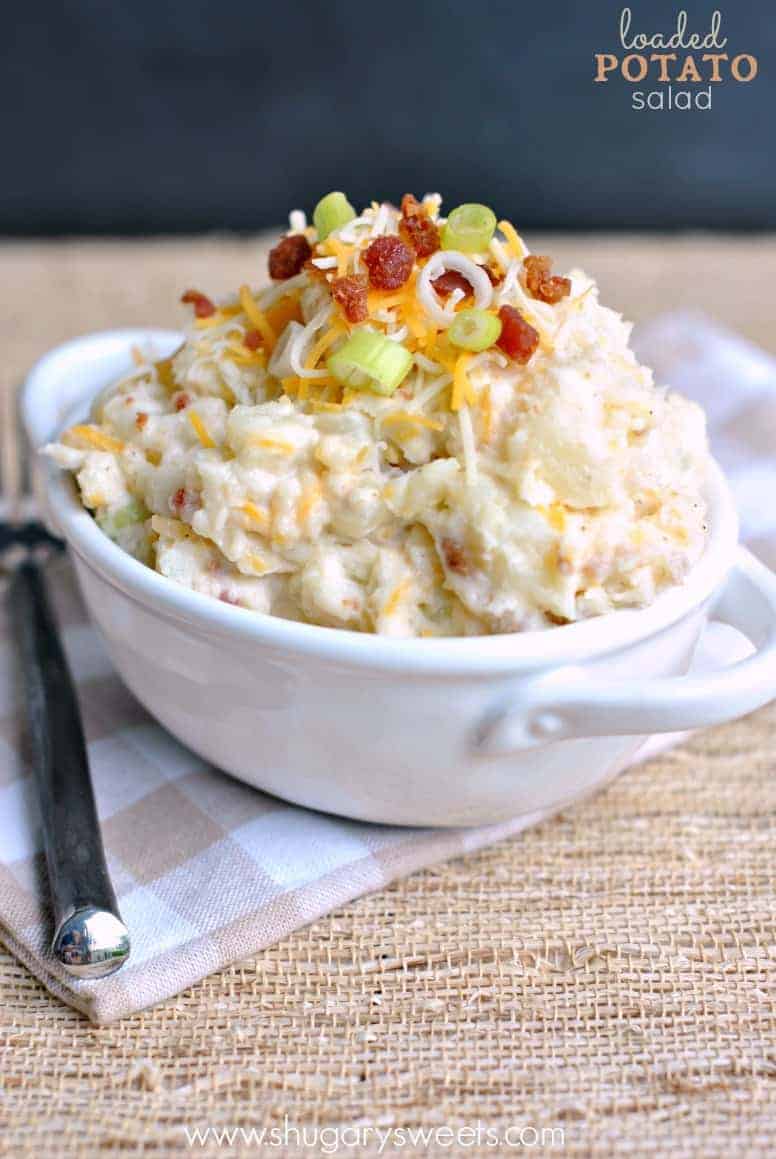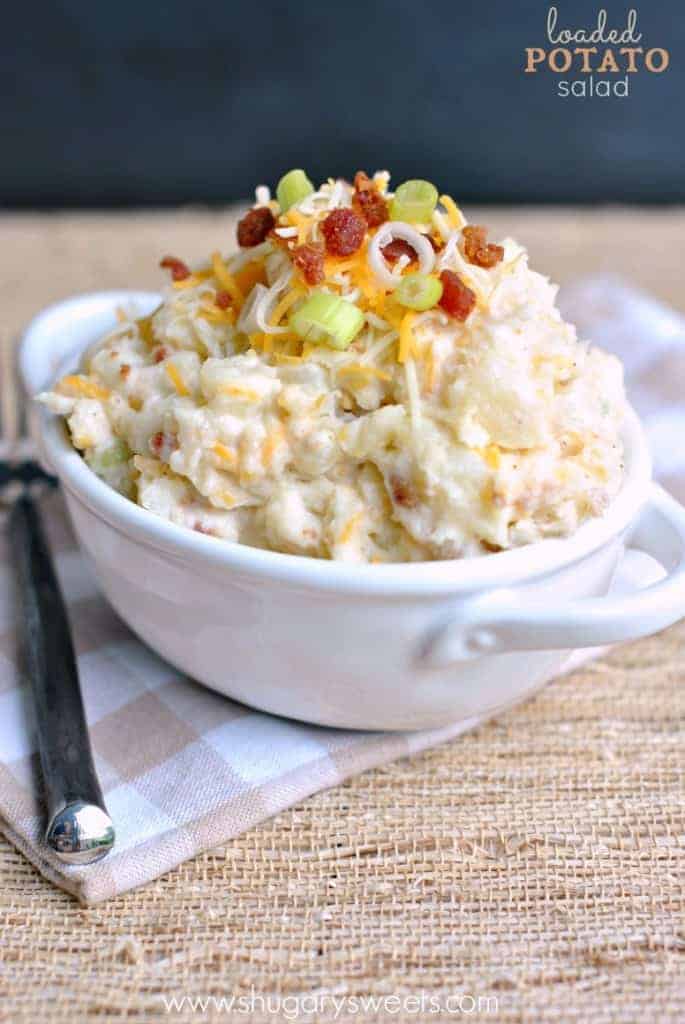 Why This Potato Salad is Best
Loaded Potato Salad puts a delicious spin on a familiar picnic favorite.
This cold side dish is loaded with potatoes, cheese and bacon.
Tossed with a tangy, creamy mayonnaise dressing.
Easy to make. You don't even need to peel the potatoes first!
Perfect for potlucks, barbecues or everyday dinners!
If you're looking for a more traditional version, check out this Potato Salad based on my grandma's tried and true recipe.
Have you ever had a warm potato salad? Try my German Potato Salad recipe and find out how delicious it can be.
But, back to the topic at hand. Let's make some Loaded Potato Salad for dinner tonight!
Ingredient Notes
Potatoes – I use red potatoes for potato salad. They have a lower starch content than other varieties which makes them perfect for boiling.
Mayonnaise – Make sure to use the REAL stuff! Not miracle whip.
Bacon – Cook on the stove (or oven) and crumble into pieces.
Shredded cheese – I use colby-jack.
Green onions – for a pop of freshness and color.
I also seasoned the salad with a little salt and pepper to taste. The bacon and cheese add so much flavor already that you don't need a ton of seasonings or spices in this recipe.
Tips and Tricks
Boil the potatoes whole unpeeled. After boiling, pinch the skin and it will slide right off. It's such a time saver!
My grandma always cut her potatoes really tiny for her potato salad. It keeps them fresh getting mashed when you toss them with the other ingredients.
She also only used Hellman's Real Mayonnaise. Trust me, it makes a difference.
Store loaded potato salad in the refrigerator until ready to serve. I think it tastes best when it's had an hour or so to chill. The flavors will blend beautifully.
Recipe FAQs
Can I use a different kind of potato?
Yes, you can. Round white potatoes or "salt potatoes" are a good substitution for the red ones here.
Russet potatoes can be used, but I suggest peeling them first. The skin is thicker and doesn't slide off as easily after boiling.
Do I need to peel the potatoes?
Nope! My grandma pre-peeled her potatoes, but I just pull the skin off after boiling. Works like a charm.
How do I keep potatoes from getting mushy in my potato salad?
Make sure to let your potatoes cool completely after boiling to prevent mashing.
Cutting the potatoes into smaller chunks will help too.
How long does loaded potato salad stay good?
Loaded potato salad is best enjoyed within 2-3 days of assembly. I love to make it a day ahead and let it chill overnight.
More Potato Recipes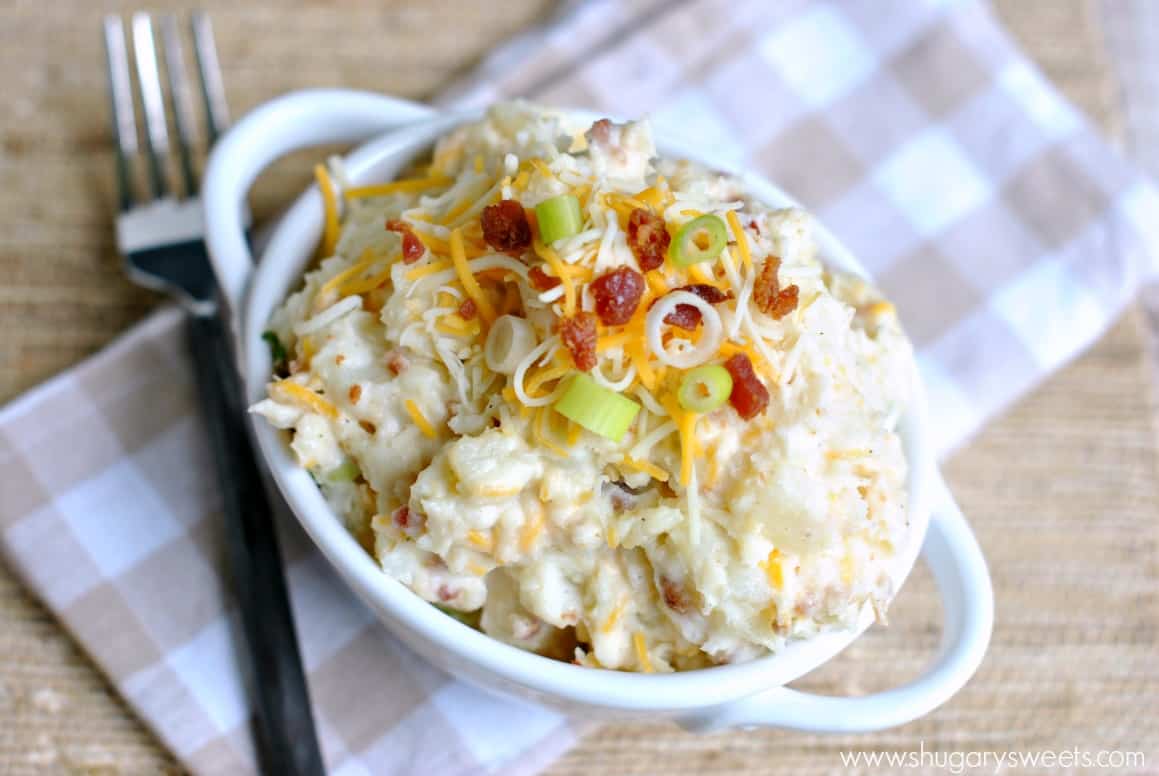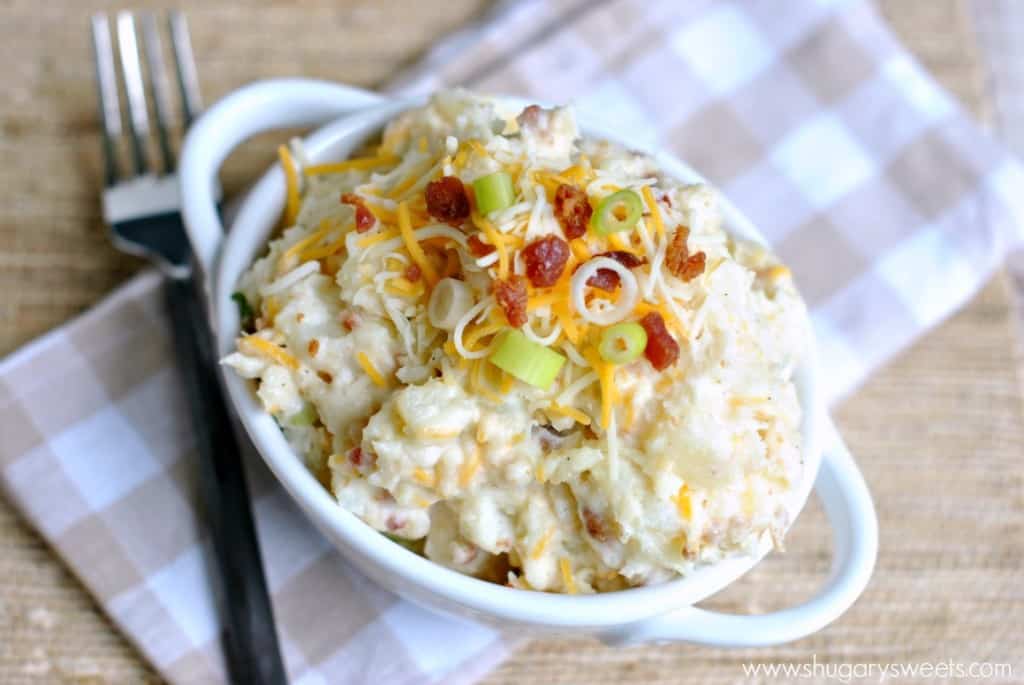 More Potluck Recipes
This Loaded Potato Salad is sure to be a crowd pleaser. I can tell you it definitely was a hit with my family! Loaded with bacon, cheese, and green onions!