Malt Ball Cookie Dough Bars
These Malt Ball Cookie Dough Bars are no bake treats that are perfect for Spring! I used Robin Eggs malt balls, but you can use Whoppers too!
Be sure to follow me on Bloglovin'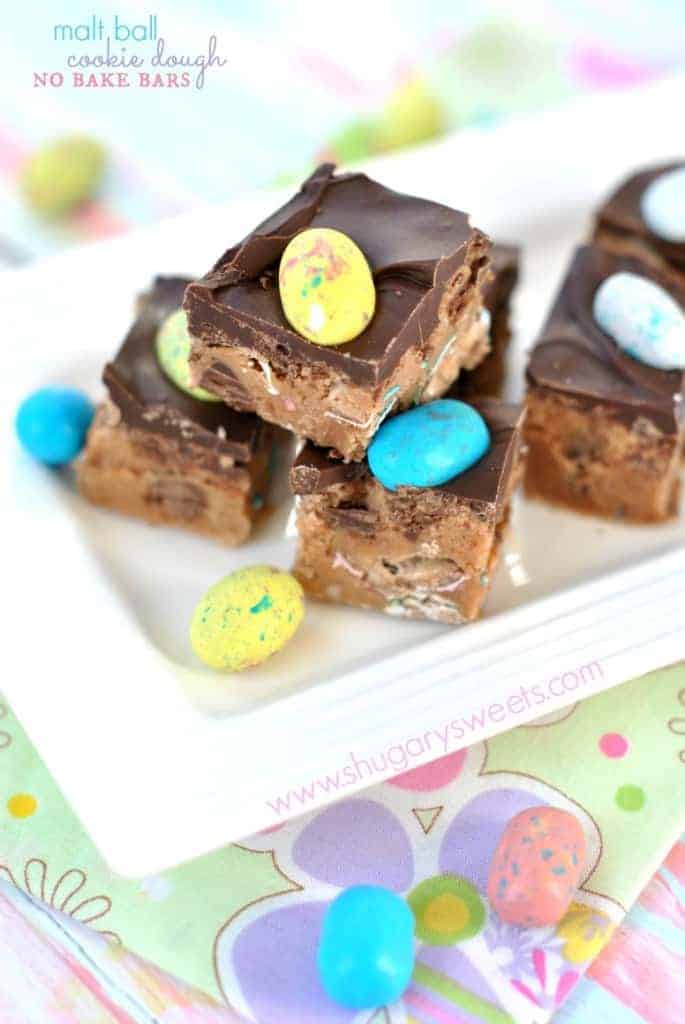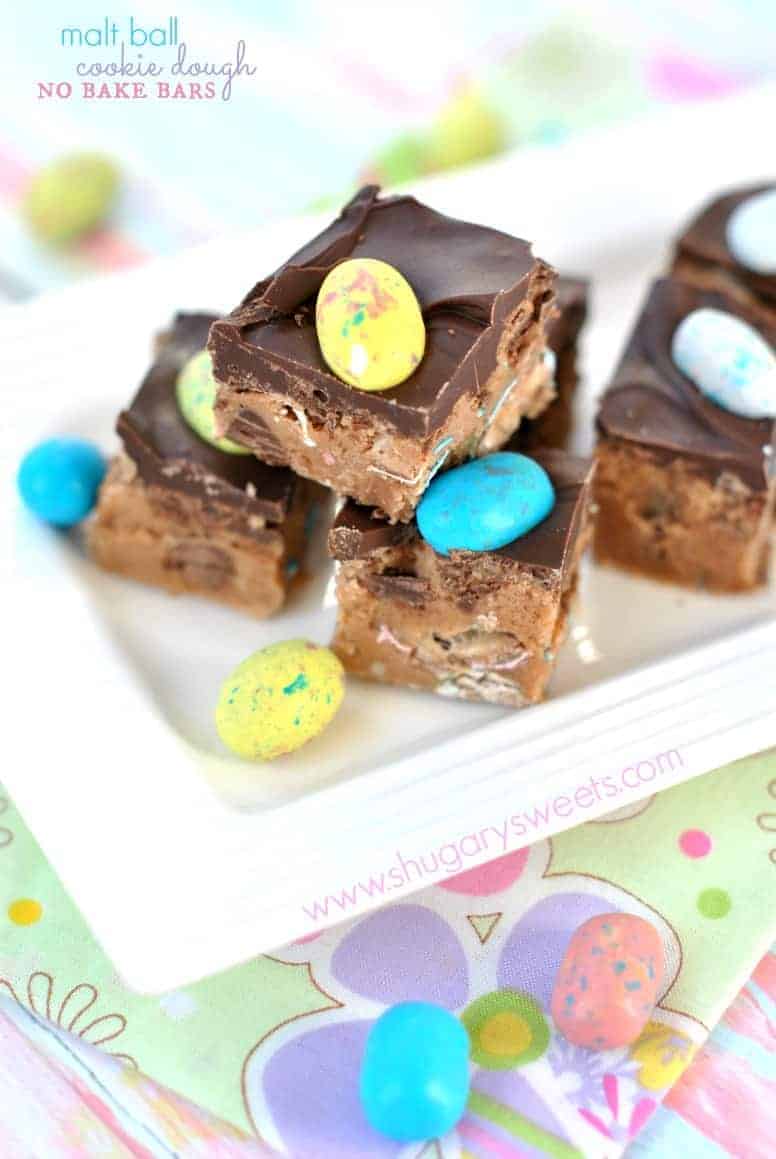 A few weeks ago I made some Peanut Butter Cookie Dough Bars, and my life changed.
Seriously, no bake cookie dough bars are going to be the next big thing. Move over cronut!
Okay, maybe it's not that big of thing. After my family polished off the entire batch of Peanut Butter Cookie Dough Bars I knew I had to try another flavor. I just happened to have several bags of colorful Robin Eggs in my pantry.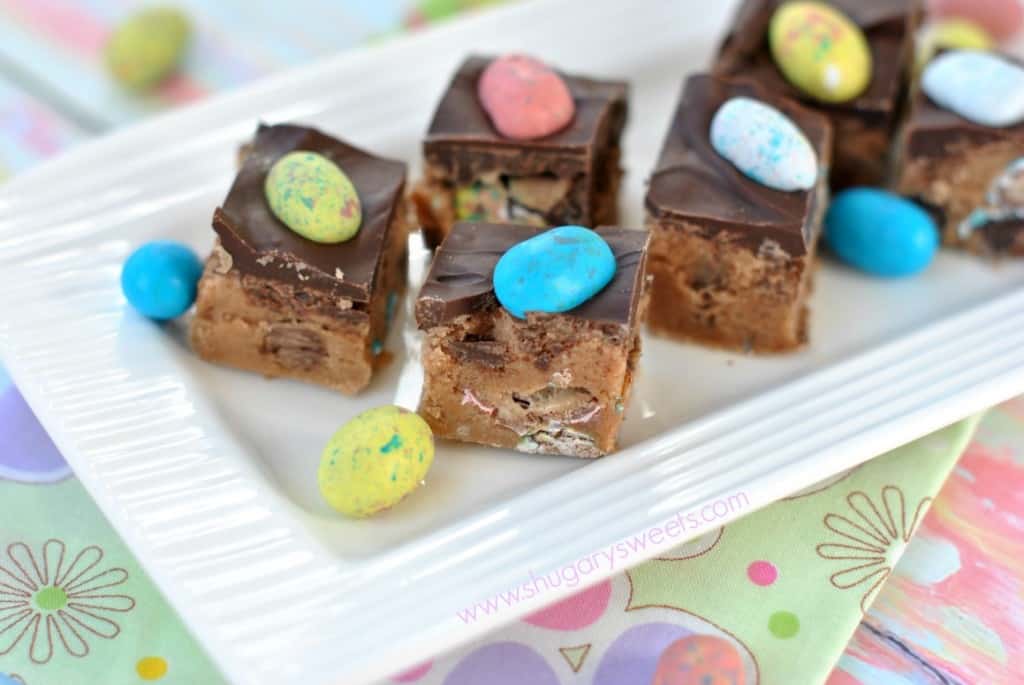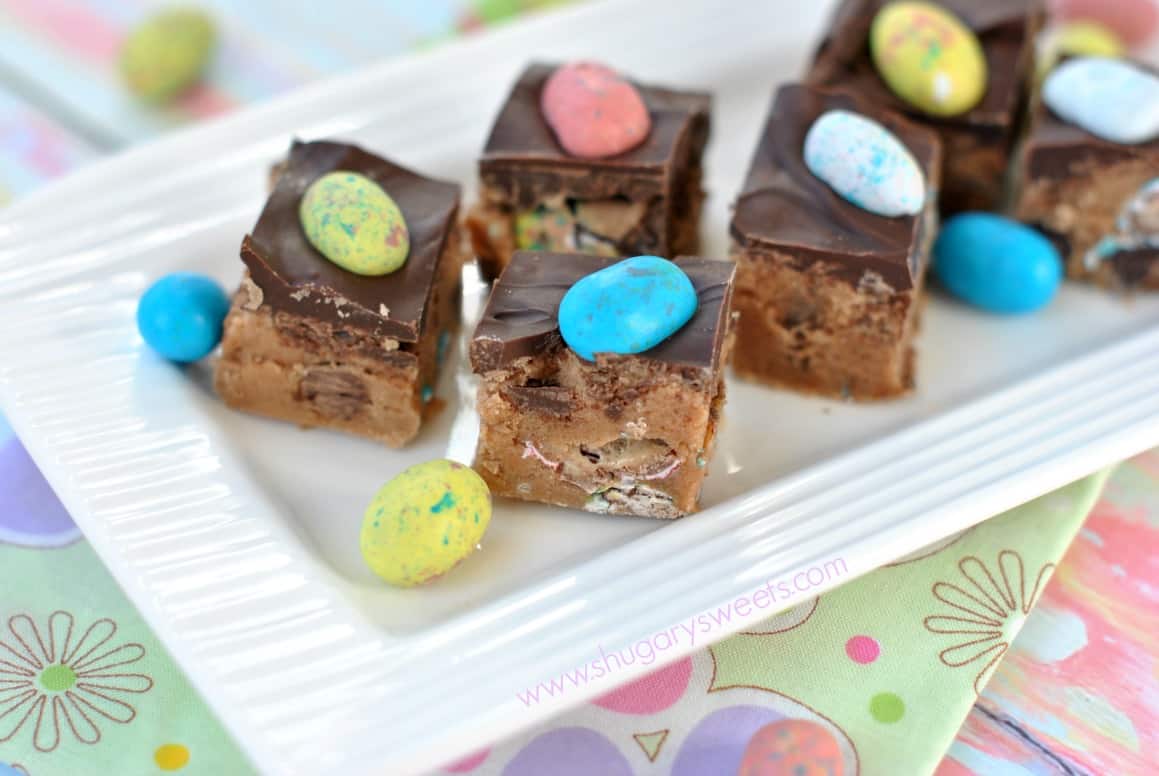 Instead of eating handfuls of them at a time, I put them in today's recipe. I also added some Rich Chocolate Ovaltine to the cookie dough. It added some chocolate flavor, and extra "malted" taste!
Do any of you buy Ovaltine? My kids have always LOVED it. Instead of buying gallons of chocolate milk or chocolate syrup…we use Ovaltine. It's also great in homemade milkshakes!
And Ovaltine is full of vitamins. So basically what I'm getting at, is you can eat these cookie dough bars and get your vitamins. I mean, seriously, health food (reaching??).
If you can't find Robin Eggs you can use Whoppers in this recipe. Add some colorful sprinkles on top of the chocolate and you've got a beautiful pop of color and fun!
Now, who's ready for some REAL spring time weather? It's not the same eating these colorful spring treats while the snow is falling outside! I'm ready to put my jackets and gloves away for awhile and enjoy some warm sunshine. Our Spring Break starts next week, and I am looking forward to turning off the computer (sorry friends) and enjoying the great outdoors! Be sure to follow me on Instagram so you can see what our adventure entails…..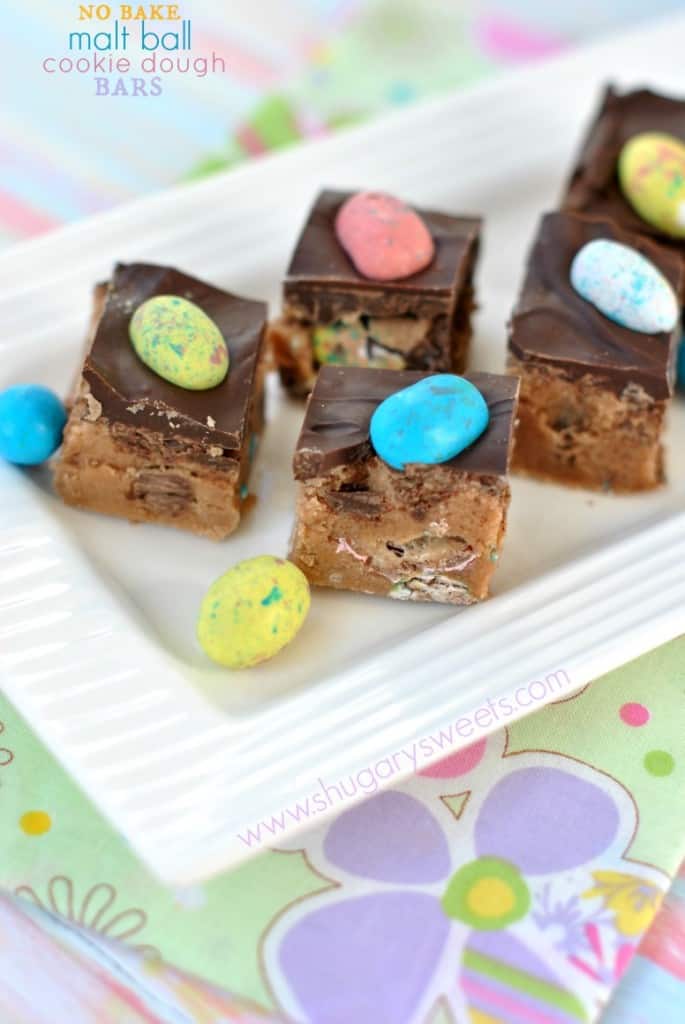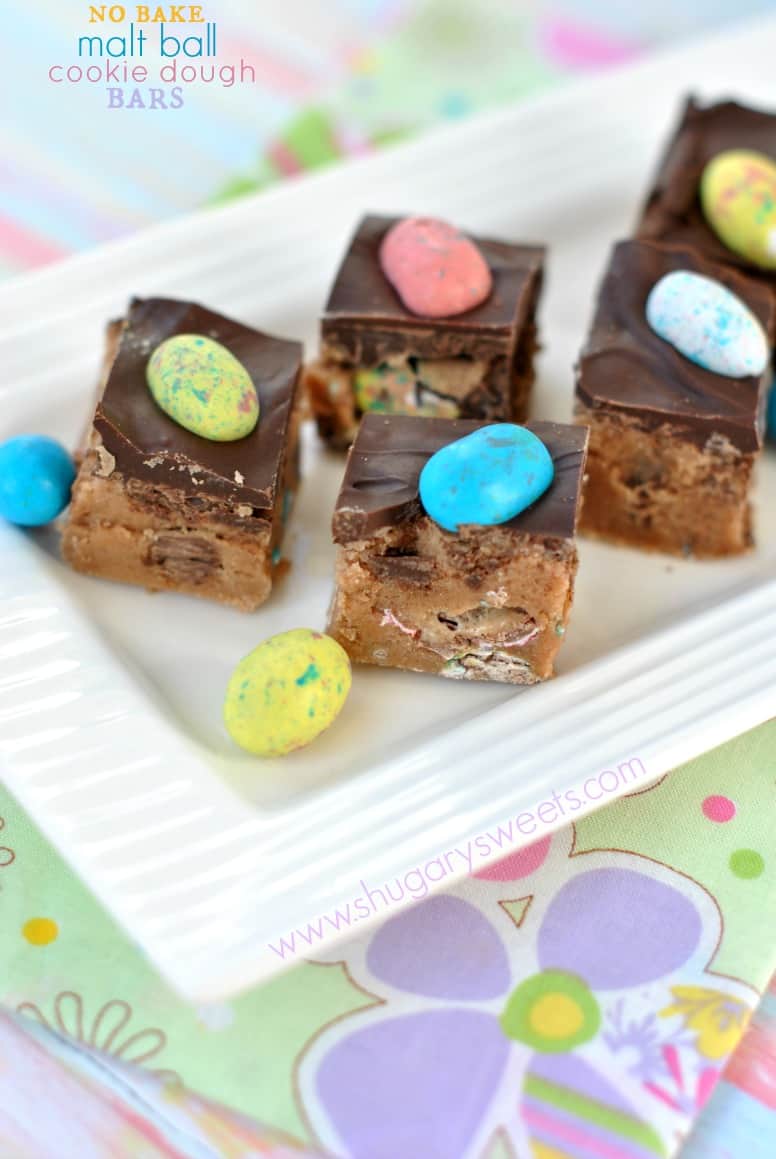 Connect with Shugary Sweets!
Pinterest | instagram | Bloglovin'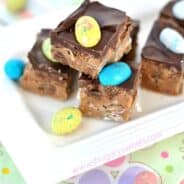 Malt Ball Cookie Dough Bars
Yield: 56 small squares
Prep Time: 3 hours, 15 minutes
Ingredients:
1/2 cup unsalted butter, softened
3/4 cup light brown sugar, packed
1 tsp vanilla extract
1/4 cup Ovaltine (rich chocolate malted milk powder)
1 3/4 cup all-purpose flour
1 can (14oz) sweetened condensed milk
1 cup malted milk balls (Robin Eggs/ Whoppers), lightly crushed
1 cup semi-sweet chocolate morsels
1 1/2 cup milk chocolate morsels
1/4 cup heavy cream
56 malted milk balls for garnishu
Directions:
In a large mixing bowl, beat butter and brown sugar until fully combined. Beat in vanilla and Ovaltine. Add flour and sweetened condensed milk, beat until blended. Fold in malt balls and semi sweet chocolate morsels.
Press dough into an 8inch square foil lined baking dish.
For the frosting, melt milk chocolate morsels with heavy cream in microwave safe dish for one minute. Stir and cook an additional 30 seconds until smooth. Spread over cookie dough.
Add extra malt balls to top of frosting in rows (where you will eventually cut into bites).
Refrigerate for 3 hours (or overnight). Cut into squares and enjoy.
Store in an airtight container for up to one week in the refrigerator. ENJOY.
MAKING THIS RECIPE? Share it with me on Instagram using the hashtag #ShugarySweets so I can see what you're cooking up in the kitchen!
Whoppers are one of my favorite candies….Here are some great Malt Ball recipes: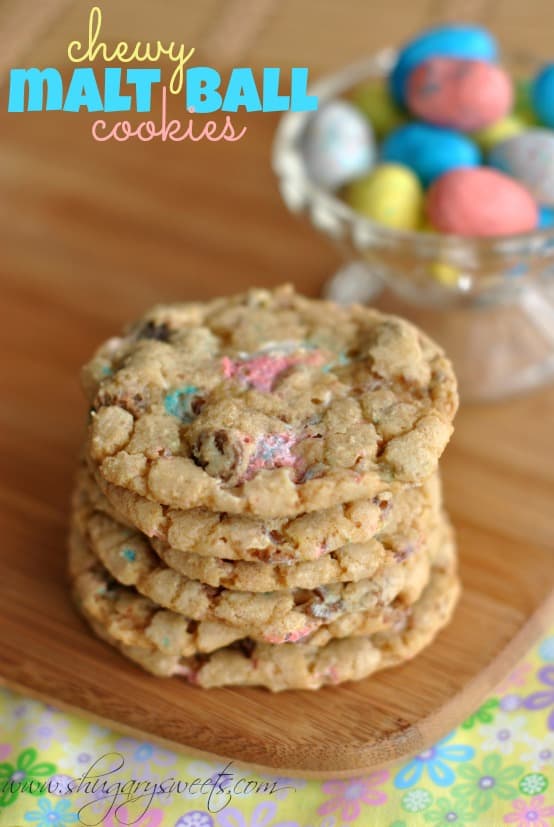 Chewy Malt Ball Cookies…can be made anytime of year using Whoppers too!
Whopper Cookie Bars…malted cookie base with a layer of fudge and crushed Whoppers. YUM.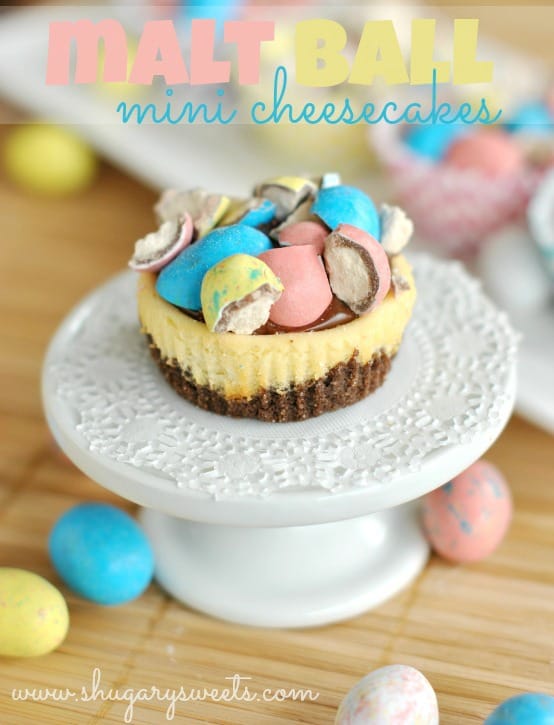 Malt Ball Mini Cheesecakes…delicious individual cheesecakes topped with chocolate ganache and crushed malt balls.
More Malt Ball recipes from my favorite blogs….