Maple Walnut Biscotti
Delicious, crunchy Biscotti with Maple and Walnuts. Grab your coffee and get dunking!
Be sure to follow me on Bloglovin'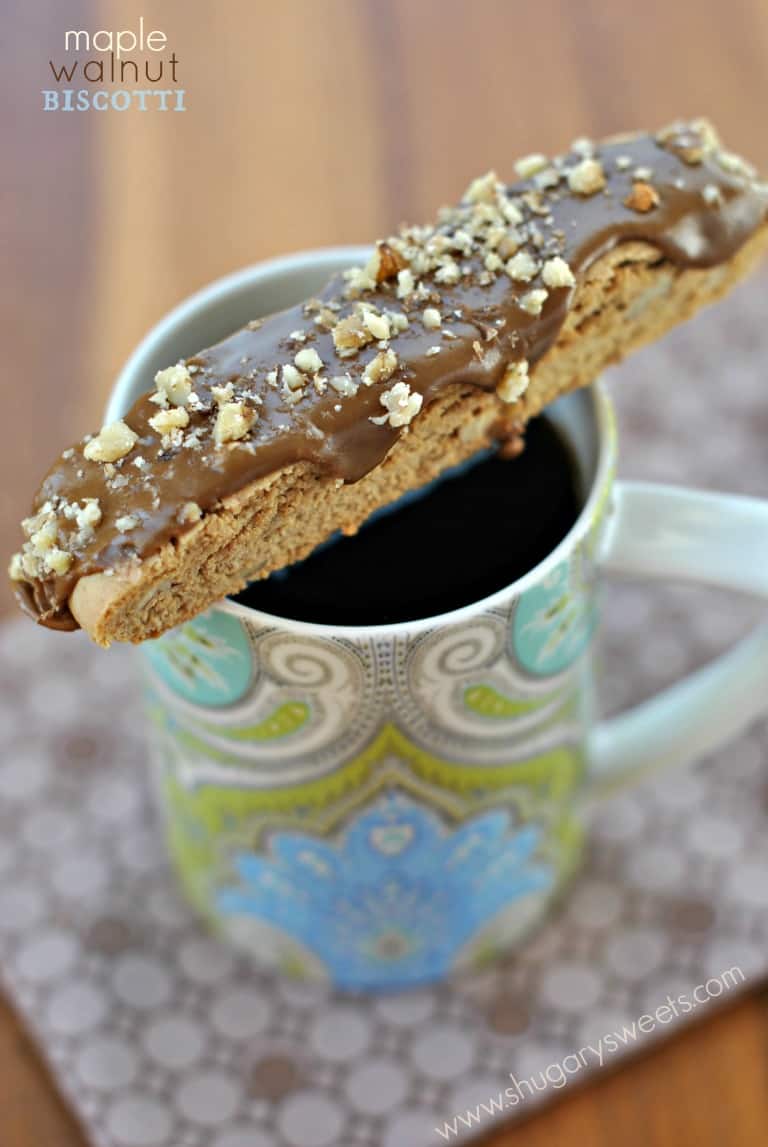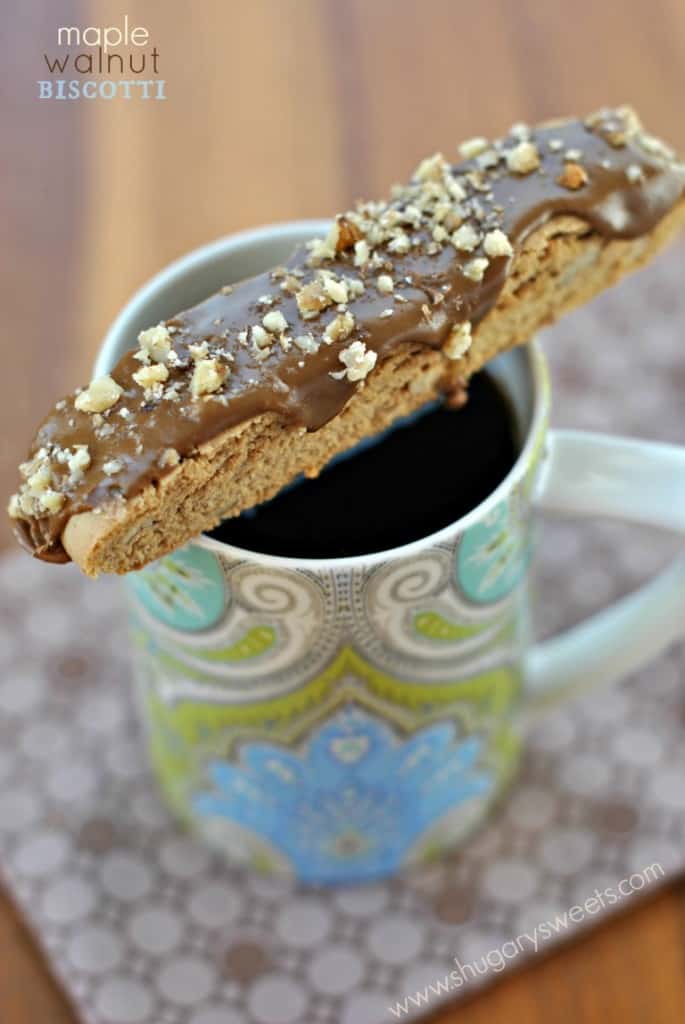 No month shall pass by without me sharing a new Biscotti recipe. This is my goal, anyways!
I know Biscotti recipes aren't as popular as brownies, or layered cake, or cookie dough. But I've got to keep it real around here.
And by keeping it real, you all need to know something. I love making biscotti! I think about new biscotti flavors CONSTANTLY.
I've said it before. Crunchy biscotti dipped in hot coffee is the world's most perfect breakfast. According to me. Ha!
I've also said this…biscotti is a breakfast cookie. WHY ISN'T THIS MORE POPULAR? Stop what you are doing and think about this. Cookies FOR BREAKFAST.
Has it sunk in yet?
Okay. Now that I think I have truly repeated myself for the umpteenth time, let's talk about today's biscotti recipe.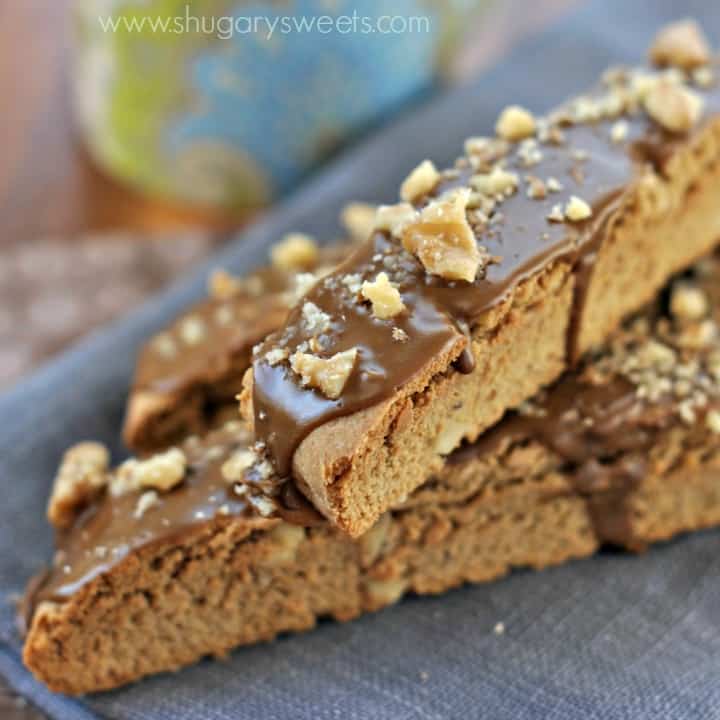 I kept this one simple by using maple flavoring and chopped walnuts. I wanted to add bacon bits, and I totally would have done it, because duh…MAPLE BACON…but, I had no bacon in the house. #firstworldproblems
I did make a delicious glaze (frosting?) for this biscotti. Give it about 30 minutes, and your glaze firms up nicely. Then, happy dunking my friends!
One of my Lenten goals is to fill 40 bags in 40 days (trash, donations, etc). My husband and I are not pack rats, so I thought this might be difficult. I have Amvets visiting every month, so clothing and such wouldn't be in my bags. On day one I grabbed a bag and headed to the basement. We have a small little kitchenette. I cleaned the drawers and cabinets and filled one bag easily for donation, and half a bag for trash. The next day I did my bathroom drawers and cabinets. It felt good to toss some old cosmetics! This weekend I got my husband involved and we cleaned out our garage, 7 trash bags filled and 3 bags for donation. I love the idea of simplifying my life. Our house.
Especially since during this challenge I worked on cleaning out my kitchen pantries (I have two). I was surprised (not really) at how much candy and chocolate I accumulate each holiday. You may have seen this on instagram!
All this cleaning reminds me to stop, sit down, grab my Bible, my coffee and enjoy some biscotti!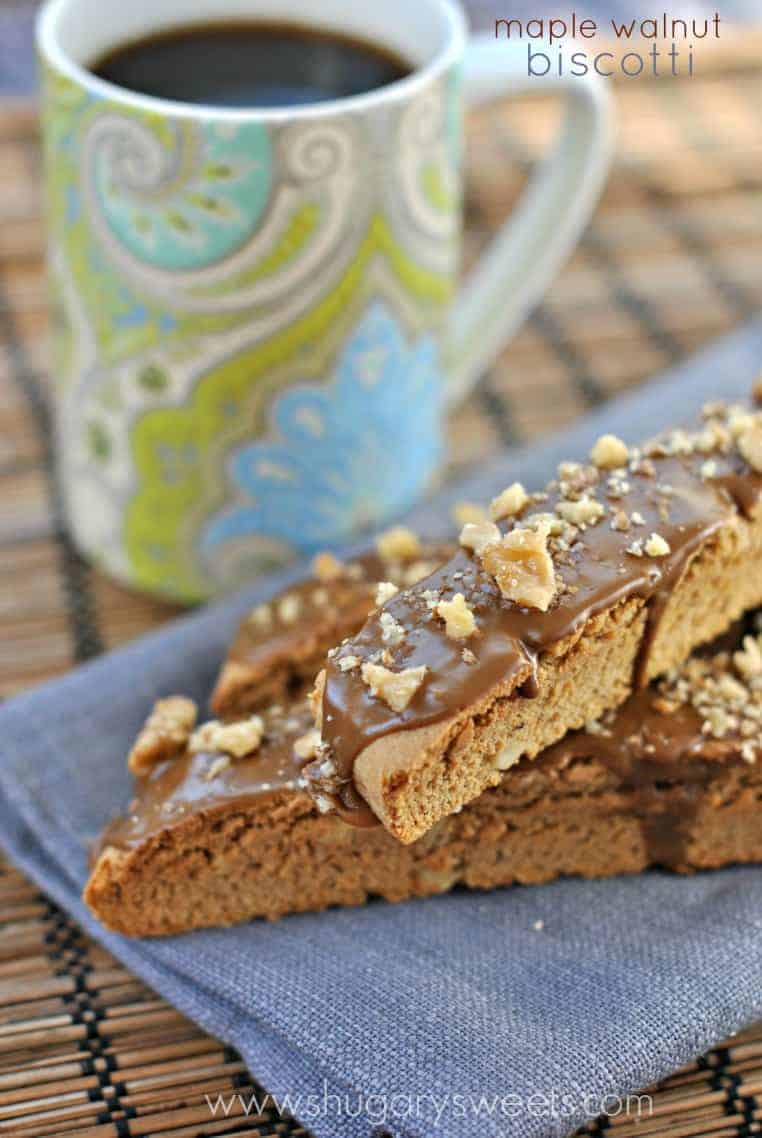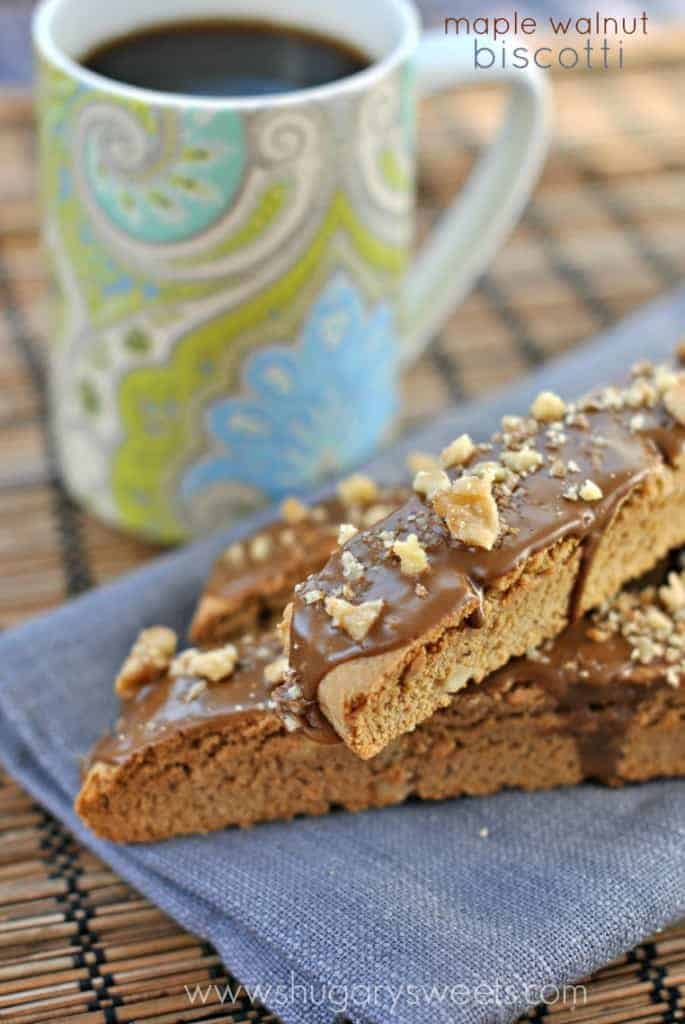 Connect with Shugary Sweets! Be sure to follow me on my social media, so you never miss a post!
Pinterest | instagram | Bloglovin'
Save your favorite recipes to your personal recipe box with the   

  button on all my recipes! Create a Meal Plan with your "favorited" recipes and the ingredients will automatically be added to your own Grocery List!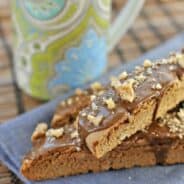 Maple Walnut Biscotti
Yield: 12 large biscotti
Prep Time:5 minutes
Cook Time:45 minutes
Ingredients:
For the biscotti:
6 Tbsp unsalted butter, softened
3/4 cup granulated sugar
2 large eggs
2 tsp maple flavoring
2 cup all-purpose flour
1 tsp baking powder
1/4 cup walnuts, chopped
For the glaze:
1 cup powdered sugar
1 Tbsp maple flavoring
3 Tbsp milk
2 Tbsp walnuts, chopped
Directions:
In a large mixing bowl, beat butter and sugar until combined. Beat in eggs and maple flavoring.
Add flour and baking powder, beating until fully combined. Fold in chopped walnuts.
Line a large baking sheet with parchment paper. Drop dough onto parchment, and using fingertips pat dough to a 13inch x 4inch rectangle. Dip fingers in flour to keep dough from sticking.
Bake in a 350 degree oven for 25 minutes. Remove and cool ten minutes. Slice into 3/4-1inch slices. Lay each slice on it's side and separate on the parchment. Return to oven and bake 10 minutes. Flip biscotti and bake an additional 10 minutes. Remove and cool completely before applying glaze.
For the glaze, whisk sugar with maple and milk until smooth. Spread onto the tops of each biscotti and sprinkle immediately with walnuts. Store in an airtight container for up to one week.
MAKING THIS RECIPE? Share it with me on Instagram using the hashtag #ShugarySweets so I can see what you're cooking up in the kitchen!
Maple Flavoring is such a flavorful addition to all kinds of recipes…here are a few of my favorites: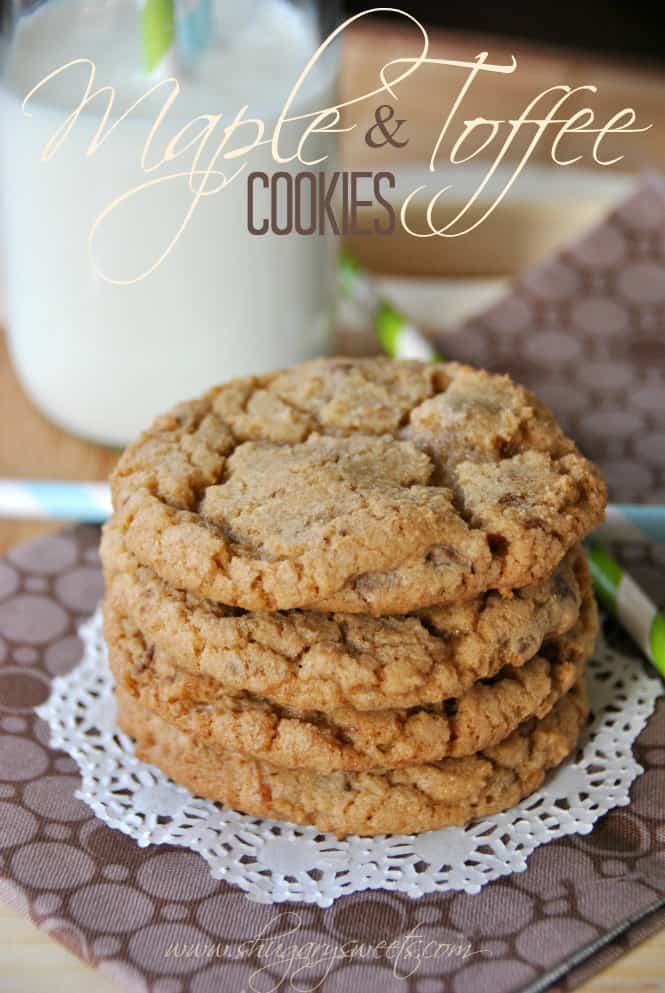 Maple Toffee Cookies. Chewy and full of flavor!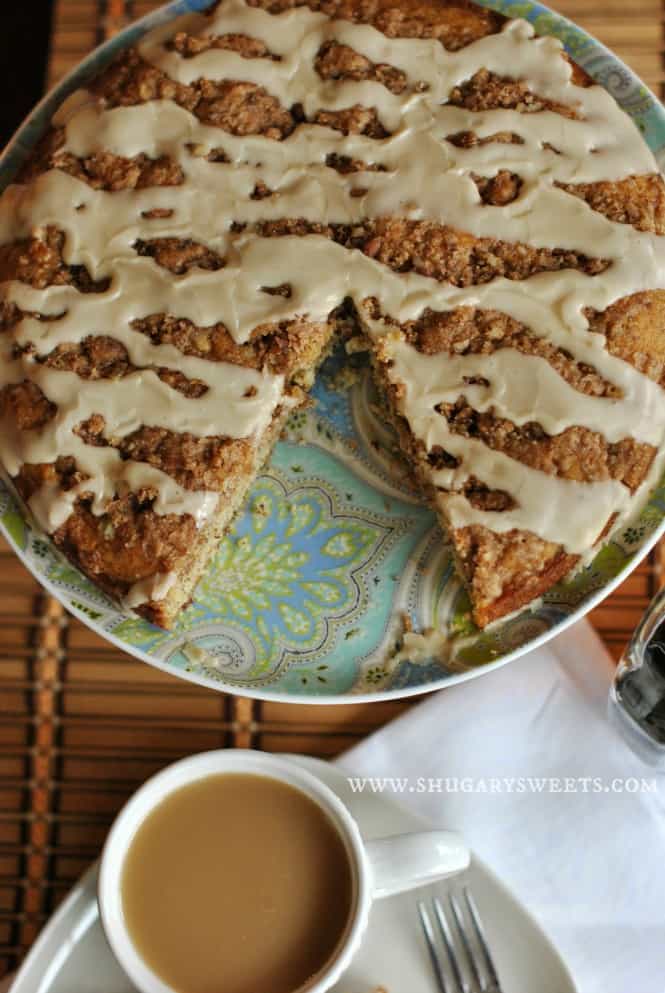 Classic Banana Streusel Coffee Cake with Maple Glaze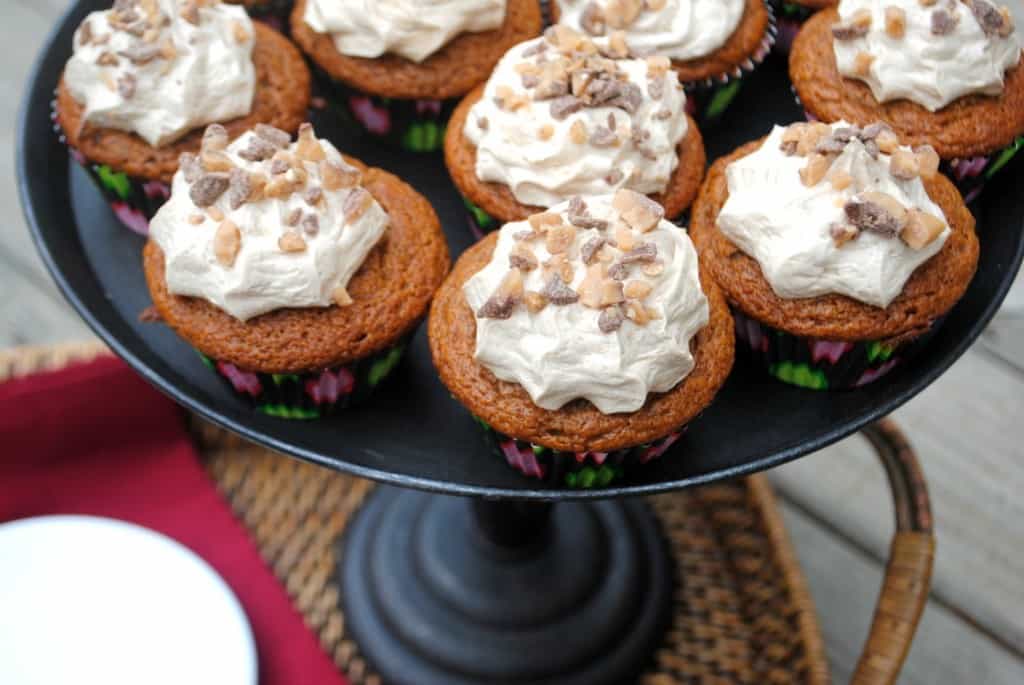 Pumpkin Cupcakes with Maple Toffee Frosting
Here are a few more Maple flavored goodies from my favorite blogs….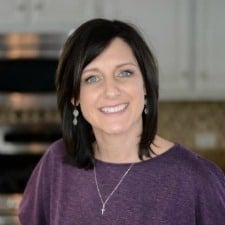 Aimee is a dessert lover (specifically rice krispie treats), workout enthusiast, self-taught foodie, and recipe creator. Her recipes have been featured in numerous magazines, and her passion is to share her love of cooking with the everyday home cook!